Summary
The IM.GYM offers 100 full-body workouts and supports up to 400lbs resistance, allowing you to train all your muscle groups. It can track and record your muscle condition in real-time, changes in strength, and adjust your workout intensity. It even recommends a custom workout that best fits your level and data. It's an all-in-one piece of equipment that gives you the most convenience, so you can exercise and stay fit from the comfort of your home.
Pros
Suitable for beginners and professionals even kids
Wide intensity coverage
Compact
No installation needed
Many fitness machines and devices have come out since the pandemic with the shut down of gyms and workout studios. Just recently, we were able to review the Muscle Rail Board and Repace, which both did well in the crowdfunding scene. And the latest to join the trend – or rather what has become the new norm – is the IM.GYM.
The IM.GYM is a smart home gym for essential weight training. You can also use it for bench press, squats, deadlifts, and other exercises. It even offers real-time, full-body tracking, and data-based exercise management to help you achieve your fitness goals faster. But with all the home gyms already on the market today, how will you know if it's the one for you? Here's a review to help you decide.
Overview
Going to the gym is a great way to stay fit and healthy. But sometimes, work and life get in the way. So if you can't go to the gym but want to ensure you get a good workout, a home gym is the answer. And if you haven't chosen one yet, the IM.GYM is worth considering, especially if you want to perfect your weight training.
The IM.GYM is a home gym that can train all your muscle groups. But unlike other whole-body fitness devices, it's rather compact. So you'll have no problem finding a place for it in your home. It also doesn't require annoying installations or setups.
Unfortunately, the IM.GYM is pricey at US$1,600. It's more expensive than some of the popular home gyms in the market, including the NOVA Gym. But as far as smart home gyms go, the IM.GYM's price isn't too bad. In fact, it's almost half of the price of Tonal. Even better, its price goes down to as much as US$848 if you catch its campaign on Kickstarter.
Features
Flexible Weight Support
When doing weight training, you need a weight that gradually increases over time to allow your muscles to grow properly. So when choosing a piece of equipment for such a purpose, you want something that will allow you to adjust the weight and intensity of your workouts.
Here's where the IM.GYM shines. It can support up to 400 lbs of resistance, providing you the maximum intensity coverage. And it's easy to do, too. Just add or reduce resistance bands as needed. There are 9 sets or 18 bands in total, so you'll have no problem getting the right level of resistance you want.
Personalized Training App
IM.GYM has its own app. It can record your performance in real-time while working out, providing you with an extensive data analysis that can help you reach your target goals and build a well-balanced body. Furthermore, it provides you with daily, muscle-based, and top-performance data, so you'll have a variety of measurements and analytics always on hand.
All the data recorded will be used to recommend the ideal daily workout for you. You can then either follow the recommendation or delete and add the exercises you want. You can also directly configure your target workout rep count and intensity.
But our favorite thing about the IM.GYM app is that it has a Game Mode, which can make your workouts more fun and challenging.
100+ Exercises
With IM.GYM, you have access to over 100 tutorial workout videos. You can do bench press, barbell curl, squats, deadlifts, and other important weight exercises. It's a complete solution, recommending workout regimens that best match your physical condition. This also makes it perfect for beginners, so you can easily plan your fitness journey.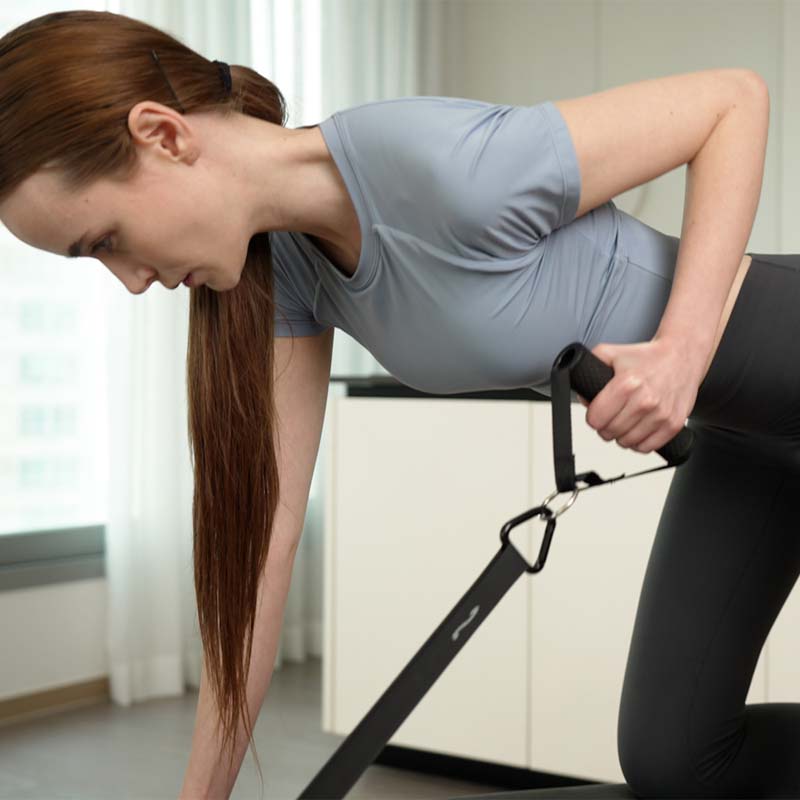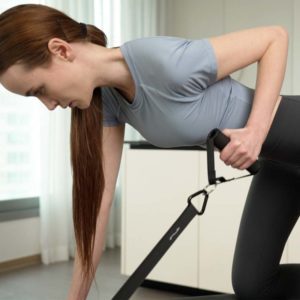 Specs
Power
Voltage Input DC9V 2.0A
Battery Capacity
DC 7.4V / 2,400mAh
Connectivity
Bluetooth
App OS
iOS / Android
Strength Tracking

Measure Range: 400 lbs
Measure Increment: 0.1 lbs

Device Size (W x D x H)
3.3 x 0.95 x 0.67 ft
Device Weight
26 lbs (11.79 kg)
Device Material
Aluminum, ABS
Bench Size (W x D x H)
4.1 x 1.26 x 1.5 (0.7) ft
Bench Weight
30 lbs
Bench Material
Steel, artificial leather
Accessories

Resistance Band: 9 sets (18 total)
Hand Grip: 2
Barbell: 1
Platform: 2
Cradle: 1
The most notable feature of the IM.GYM compared to other weight training home gyms is its weight support. It offers up to 400lbs while Tonal only offers up to 200lbs and the Nova up to 40lbs. With more flexible weight support, it can suit more people, regardless of level.
For beginners, for instance, 10 lbs of weight would be enough to feel the burn. For professionals, however, this is not enough since even weights of 200 lbs may not pose a challenge. So whether you're just starting, a professional, or somewhere in between, here's a good home gym for you.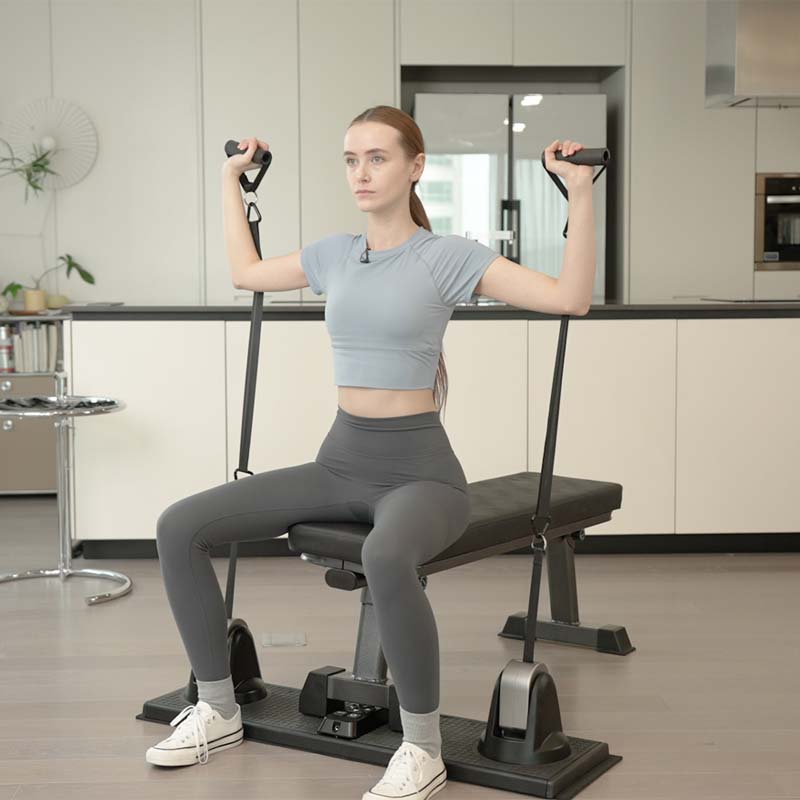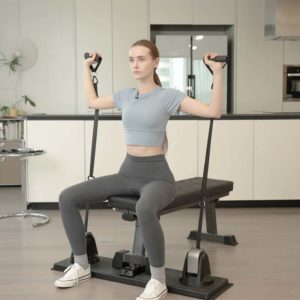 Design
The most impressive thing about the IM.GYM in terms of design and aesthetics is its size. Unlike other whole-body fitness machines, it's surprisingly compact. So you don't have to worry about a big piece of equipment taking up half of your living room.
Another thing we like about the IM.GYM is that it doesn't require any annoying setup or special installation unlike Tonal, which you have to fix to a wall. Just put it on the ground, attach the resistance bands, and you're all set. If you want to use the bench, just attach it to the device.
Additionally, the IM.GYM is incredibly easy to use. With a simple push of a button, you can adjust and lock in the length of your bands. There's also a bench foot switch that allows you to quickly adjust the bands for bench workouts. With this home gym, all it takes is a single push of a button to start working out.
Final Thoughts
If you are looking for the best home gym for weight training, the IM.GYM is a great choice. Offering up to 400lbs of resistance, it gives you the most in terms of intensity coverage. And since it's compact, you can easily set it up and store it when not in use.
Now, one of the biggest advantages of IM.GYM is that it provides you with a whole-body workout. Meaning, that you don't have to waste your time looking and buying separate pieces of equipment. With just one machine, you can target and build all muscle groups in the comfort of your home. Sure, the IM.GYM isn't cheap. But compared with other smart full-body home gyms, it's certainly a steal.