The technological advancements afforded to us in the 21st-century are not just limited to things beneficial to us as humans; there are incredible technological innovations being developed that benefit our pets also! Technology is constantly being developed to benefit and help our pets, as well as to make our lives easier when we are dealing with our pets. Pets can be very difficult sometimes, whether it be because of bad behavior or just because we do not have the time to look after them. With some of the technology we will mention in this article, however, you will never have an issue with your pet again.
In today's article, we are going to tell you about a few innovative technologies that will help you to train your dog better. Yes, we will be focusing specifically on dogs in this article, though it is worth mentioning that there is technology for all animals, and not just dogs. An important thing to say, before we get into the article, is that you should never use experimental technology on your pets and should only use well-reviewed and high-quality technology that has been through rigorous training beforehand.
Here are some innovative pieces of technology that will help you to train your dog.
Wearables
At the moment, dog wearables are becoming incredibly popular among pet owners. They enable you to track your dog's fitness, and while that does not necessarily benefit training them, it can be incredibly useful to find out how much exercise your dog does every day, and how you can improve upon it, or if it is too much, bring it in a bit. Monitoring your dog's daily activity is incredibly useful and can aid you in preventing them from developing diseases due to inactivity, and it can allow you to get a window into how they are doing physically. When you are training a dog, it is good to know how fit it is, and how much exercise it can manage. These wearables connect to your phone and allow you to track them online. They also have GPS built into them, which means if your dog were to escape, that you would be able to track it down. They can, in a way, also benefit your dog's training. Many of these devices have the ability to let you build virtual fences around your dog – if your dog strays out of your virtual fence it will send an alarm to your phone and let you know. This can help you to keep your dog out of places it shouldn't be.
Collars and Alarms
In the past, the use of electronic collars was quite common among dog owners who wanted their dogs to stop barking. Now, choosing the right barking collar does not mean that you have to administer electric shocks to your dog, which is frankly inhumane. No, now these collars come with little spray boxes that spray your dog every single time they bark. Keeping your dog quiet may be very important if you live in a built-up area. Equally, these collars can be useful in that many of them have alarms attached to them that will sound if your dog takes their collar off.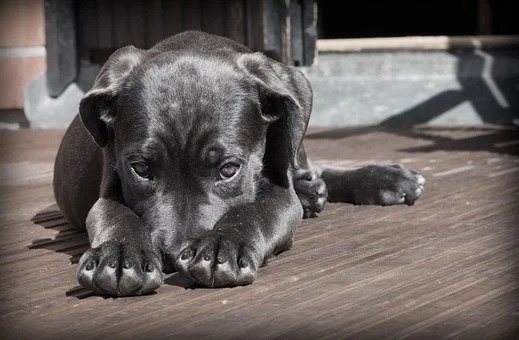 Surveillance
Part of training your dog is teaching it things it mustn't do, even in your absence. By installing surveillance features in your home, you will catch your dog if they are doing things forbidden to them in your absence. You can buy little boxes that go on the floor, that you can put in every room that your dog frequents, and they will catch them in the act of doing anything that they are not allowed to do. Some of these pieces of technology, amazingly, actually allow you to communicate with your dog remotely. This will mean that you can scold them anytime they do something you do not want them to do, such as, say, chewing up the cushions or scratching the sofa?
Safety Tech
For your dog, part of training is teaching them to be safe and to behave well. You can buy vests that keep your dog safe, supervise them, and keep people around them safe. People that are in danger, for example, can have the police notified when the dog pulls or tugs at the vest. You can train your dog to do this any time that a person may be in distress, which enables your dog to do it if it feels stressed and enables your dog to protect others.
These devices often also have a built-in GPS system, allowing you to find your dog if they runoff, which they often do. There are also heat detectors built into these vests, as well as a water sensor. If your dog is not as active as it usually is, these devices will connect with your phone and notify you that they are not feeling as well as they usually are. These pieces of technology are incredible and are a fantastic way to teach your dog new things and to just keep them safe. Nobody wants their dogs to come into harm's way, and with technology like this, they never will!
Fun Technology
Sure, training your dog is something that you will have to do, but do you want to just train them, or do you want to have fun with them? On the subject of technology for dogs, there are loads of things that you can buy for your dog that you can have a lot of fun with. Technology is released on a regular basis that is designed for you to have fun with your dog, so do not overlook it. While when training them you do not want them to be having too much fun, a bit of fun technology cannot hurt, can it? Technology is great and is always changing and developing, so why not do your dog a favor and invest in something that they can enjoy?
Technology is in a constant state of development. By the time that this article has been released, for example, there will probably be some new, awesome technology on the market. Thanks for reading us today, and we hope you take the time to invest in some of the pieces of technology that we have suggested.