We decided to complete an updated review of the Jabra 75t's in 2020 because of the updates made to the active noise cancellation wireless charging option. Jabra has always done a good job in the wireless earbud market and the Elite 75t raises the bar even higher.
CHECK TODAY'S PRICE HERE: No products found.
Jabra Elite 75t Review
Design

Features

Sound Quality
Summary
Jabra has produced a feature-packed pair of wireless earbuds while remaining small and lightweight. These are arguably the best AirPod alternatives and well worth your consideration!
Pros
✓ Well-designed and lightweight
✓ Comfortable
✓ Good battery life
✓ IP55
✓ USB-C
Cons
✗ Just above average sound quality
We previously reviewed the Jabra Evolve 65t and were impressed with the product, especially as a communications device.
The Elite 75t is certainly a better and more rounded pair of buds and more than a worthy successor! There have been some significant improvements, so let's jump into the review and take a look.
If you're short on time, feel free to skip to ahead to the different sections of the Jabra Elite 75t review:
Who are the Jabra Elite 75t for?
These are excellent for daily commuters. The recent addition of ANC has made these an excellent choice for those looking to block out noisy distractions.
These are great for office workers. The ANC inclusion and HearThrough feature make these an excellent choice to help maintain focus without cutting of your colleagues.
People who like the feature set of the AirPod Pros but not the design, these are a great alternative to the AirPod Pros. They're also cheaper.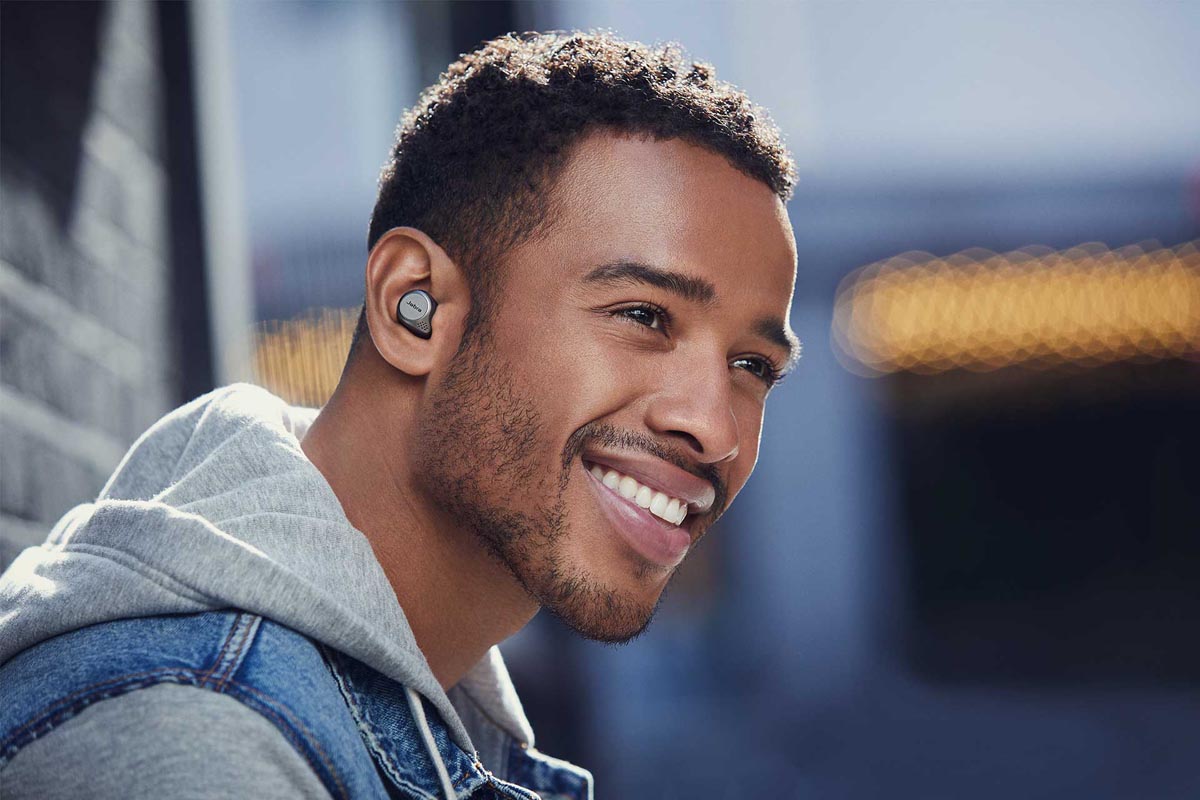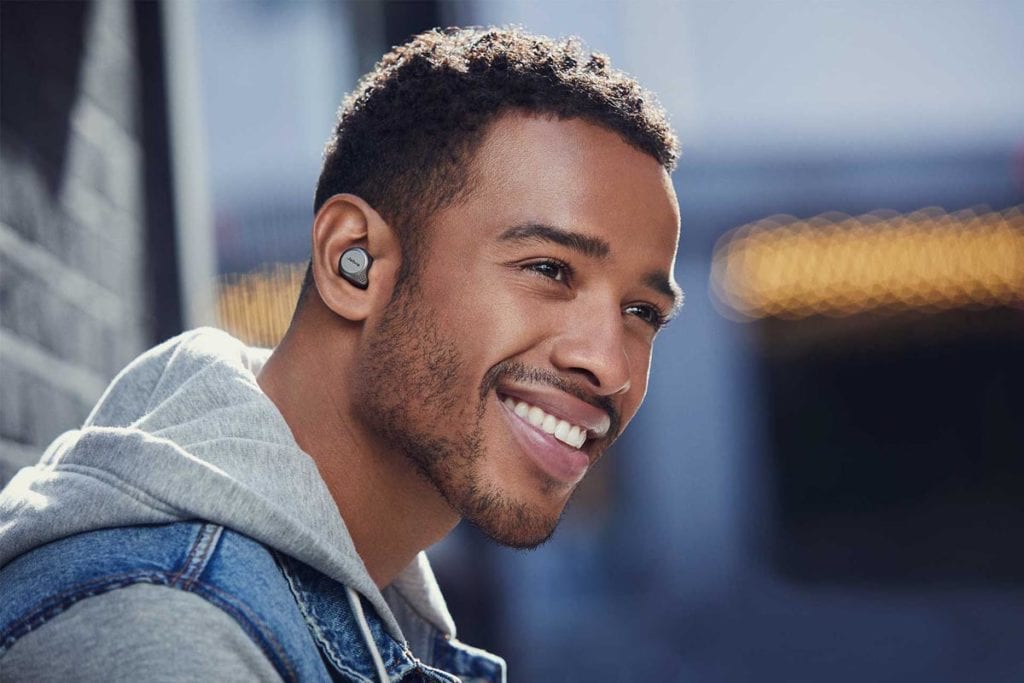 What are the Jabra Elite 75t like to use?
The  is a joy to use. They may not have the quick set-up tricks that the AirPods or Pixel Buds 2 have, but they do offer a very good user experience at almost every stage of use.
Pairing the Elite 75t
Unfortunately, the Elite 75t doesn't have the same (almost) instant pairing capability we have seen from Google and Apple's wireless earbuds but Jabra has still done a good job. Just as you would pair almost Bluetooth device, simply hold down the pairing button, or in this case, the buttons. There is a button on each earbud (the big Jabra logo button) which you need to hold down for 3 seconds. Then just access your device's Bluetooth settings to confirm the connection.
We really liked the fact that you can pair the Jabra Elite 75t to two devices simulatinously thanks to the Multipoint technology. This makes switching from the podcast on your phone, to your laptop's Spotify incredibly convenient.
Elite Comfort
If you've found wireless earbuds uncomfortable in the past then you must try the Elite 75t. These guys are insanely comfortable! This is primarily due to the brilliant compact and lightweight design. At just 5.5 grams, each earbud is barely noticeable and plays a large role in the unobtrusive design we love. They're also on the smaller side of the spectrum so if you have smaller ears, you're in luck.
The Elite 75t is a snugger, tighter fit than most other earbuds, but not uncomfortable. This is great for keeping them securely in your ears but also for sound quality and noise cancellation. More on that later. If they're not a good fit-out of the box, there are three different sized ear-tips or EarGels, as Jabra calls them, to try out.
One thing to note, is the controls are button-based which can result in pressing the earbud further into your when using the buttons. This wasn't a big deal for us but it is for some people, so it's worth mentioning.
Overall, The Jabra Elite 75t is one of the most comfortable wireless earbuds we have reviewed.
Controls
The Elite 75t utilise a hardware button solution on each earbud that works very well. Out of the box, the left and right earbud are used to control different aspects of the device through button presses. A single press will play, another press will pause, two presses will activate the voice assistant.
Volume control is spread across both earbuds, with volume down on the left and volume up on the right. It's not our preferred method for volume control (we'd prefer in on one bud) but it's certainly better than the AirPod Pros complete lack of on-device volume control.
However, if you're not happy with any of the controls, they are fully customisable in Jabra's Soundplus+ app. This allows the controls to be adjusted as you see fit to create a more convenient experience.
Overall, we were very happy with the Jabra Elite 75t controls out of the box, and the customisation is the icing on the cake!
You can view the controls PDF here.
Battery Life
The Jabra Elite 75t offer strong battery life at 7.5 hours of in-bud battery. This is up from 5 hours on the Elite 65t. The Elite 75t case can hold a further 20.5 hours bringing the total to a very very respectable 28 hours! The fact that Jabra has managed to increase the battery life while making the buds smaller and lighter is a real achievement and alone, makes them a worthy upgrade.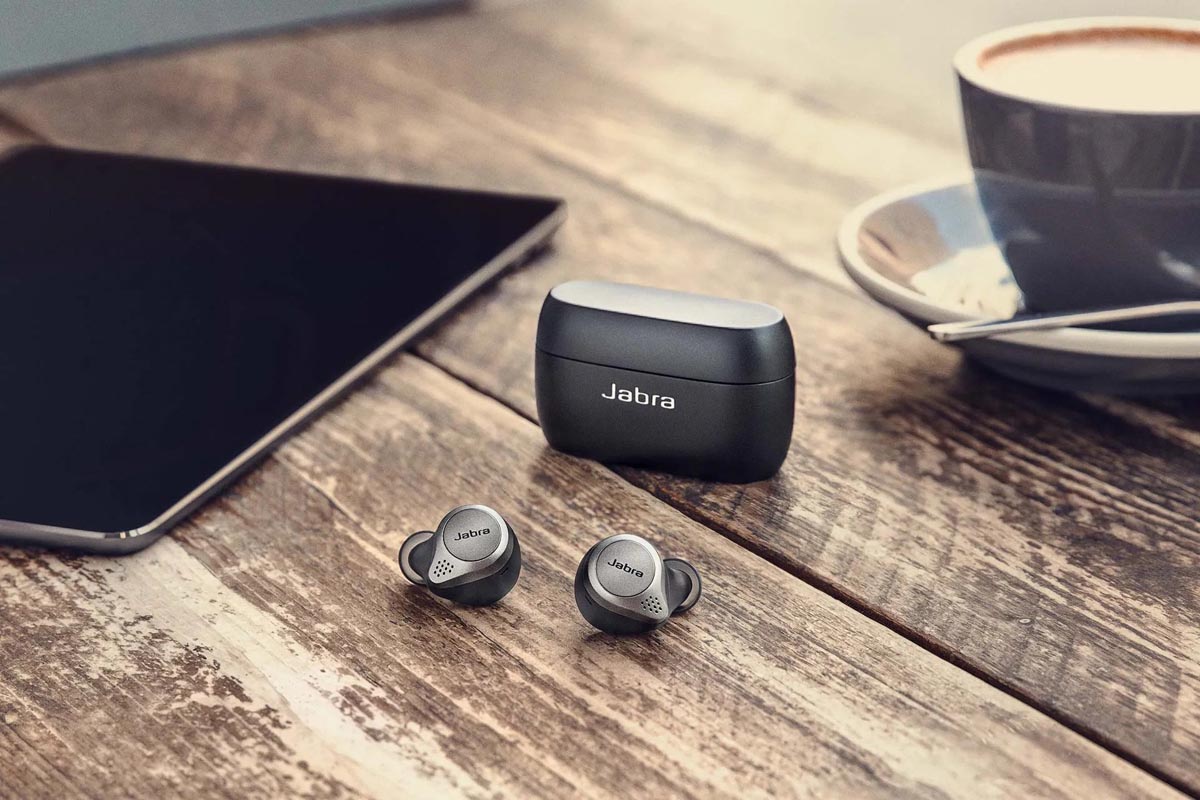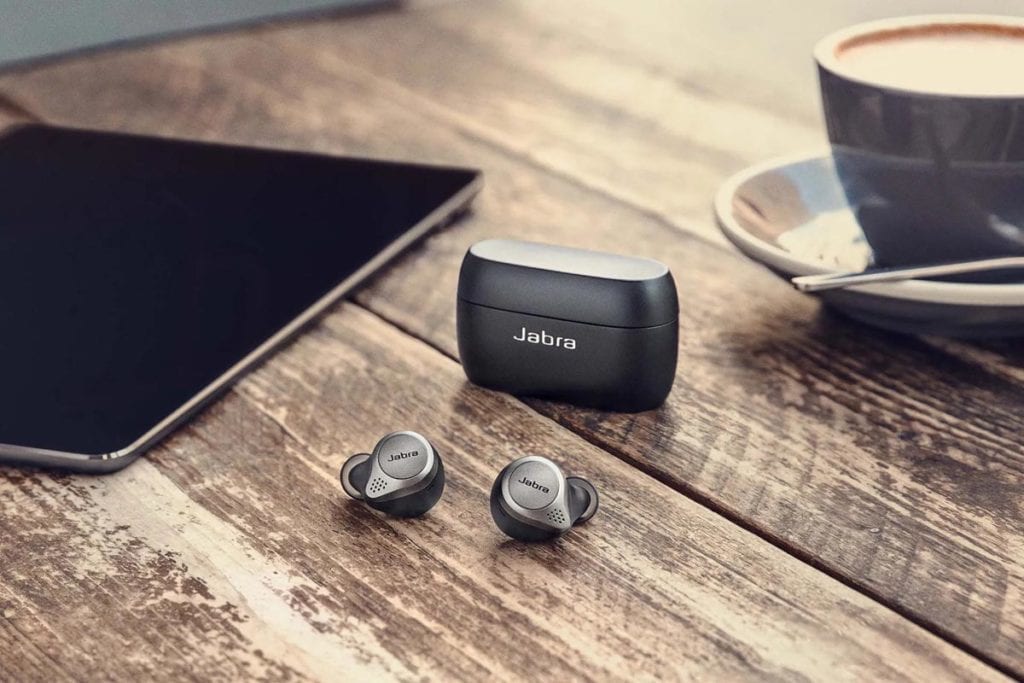 Charging Case
The lightweight and compact design of the Jabra Elite 75t earbuds is also present on the charging case. At just 1.2 ounces the charging case is lighter than the AirPod Pro's case and only slightly larger. The case is extremely pocket and housed in a robust plastic that will protect the case from any pocket scratches or drops.
The overall case design is way better than the Elite 65t. A much-improved magnetic opening mechanism has replaced the frustrating squeeze and flip approach that the 65t used. The case has also swapped out the micro-USB port for a USB-C port making the 75ts much more convenient for most people.
Unfortunately, there is no wireless charging capability on the base model, but for a bit more money you get it included.
Are they good for workouts?
In short, yes. The Jabra Elite 75t is an excellent pair of wireless earbuds for workouts. They have an IP55 sweat and dust-resistant rating making them immune to sweet or rain. This means they'll be fine in the gym and for runs in light rain.
However, because the Elite 75t lack ear hooks or other supports they can come loose from more aggressive movements. So, these will be fine for a weight session, but probably not so good for the skipping rope. From our experience, we found they stayed firmly in our ears during a workout, but this may not be true for different people doing different workouts.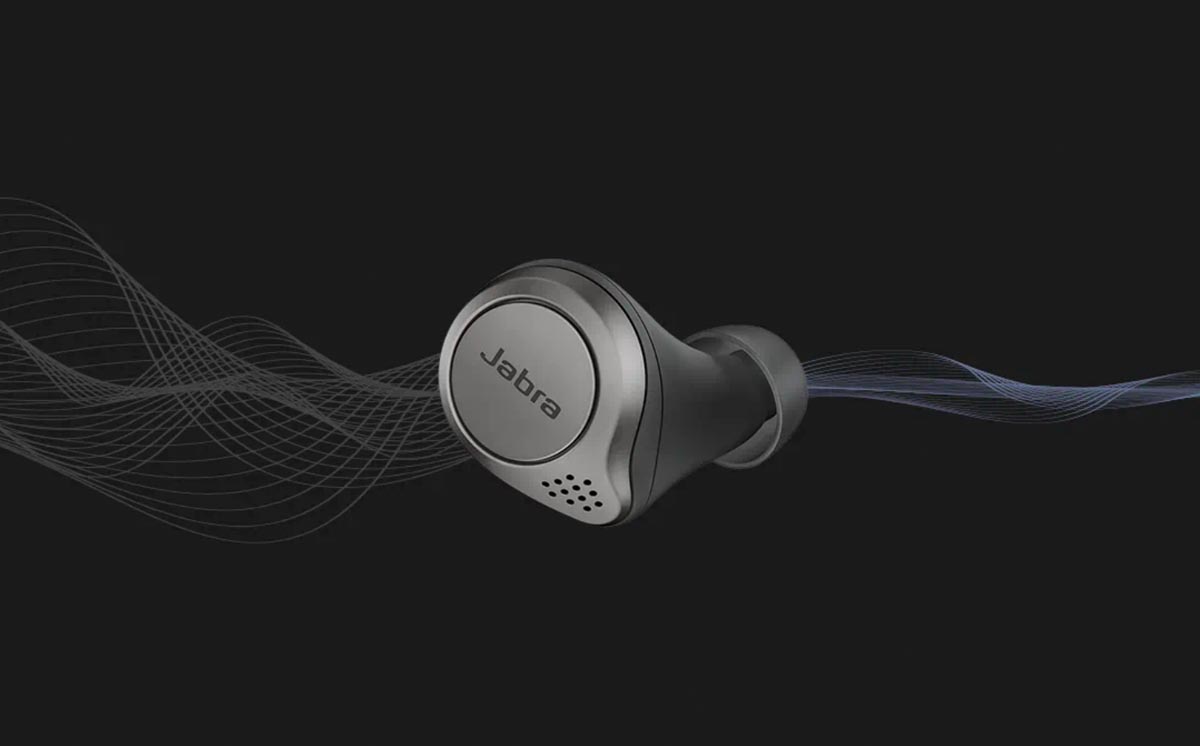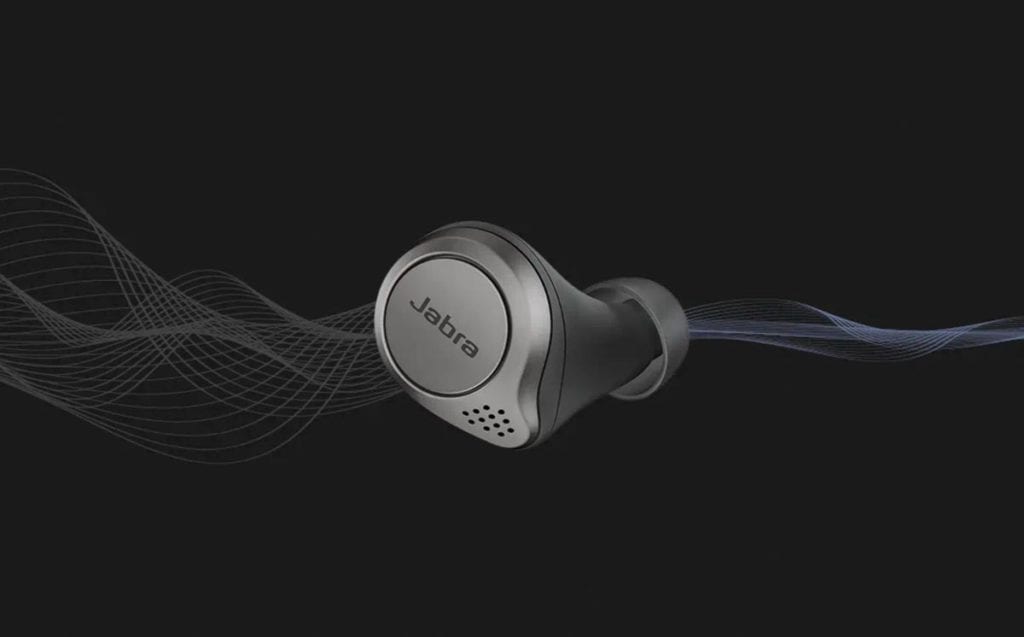 Are they good for productivity & focus?
Absolutely, yes, and they just got better! The recent addition of active noise cancellation has really increased the overall quality of the Jabra 75t and makes them ideal for productivity and focus. In addition to doing a great job blocking out distractions, they are also good for taking phone calls (for a pair of wireless earbuds anyway).
The microphone quality is better than the majority of its competitors. Yes, your voice will sound a bit distant and less clear than a mobile phone, but there's not too much difference in the call quality.
Are they good for going shopping or for a walk?
If you're worried about shouting down the roof while ordering a coffee or buying a new hat, worry not! Jabra has included Sidetone, which feeds through your own voice using the microphones to help you better hear yourself. This means you won't accidentally scare the barista. This feature in addition to the ANC makes the Jabra Elite 75t an excellent choice for just wearing out and about
Worthy of a listening experience?
Ehhh…not really. The sound quality of the Jabra 75t is slightly above average and still decent enough for a casual listener but audiophiles will be left disappointed. Let's take a look at things in more detail.
Bass Accuracy
We found the bass to be the worst part of the Elite 75t's sound profile. The low-bass sounded good but we noticed that the high-bass was a little weak. this resulted in some drums sound a bit hollow and distant.
Mid Accuracy
The Jabra Elite 75t has an excellent mid-profile and represented to vocals on tracks accurately and clearly. In fact, the mids are consistently well mixed across the range and have arguably one the best mids of any wireless earbud.
Treble Accuracy
The treble is decent, marginally better than the bass. The high fidelity sound we have heard from more premium earbuds is lacking. It's good enough to clearly and distinctively snares and cymbals but not in the same ultra-crisp fashion we've heard elsewhere.
The EQ
The Sound+ App allows for full customisation of the graphical equaliser as well as the option to choose from six preset sound profiles; Default, Bass Boost, Energize, Speech, Smooth, Treble Boost
Overall the EQ presets were good and made noticeable differences to the sound of the device, but honestly, our preference was the default profile. However, it's good they have included this option because it's not included everywhere.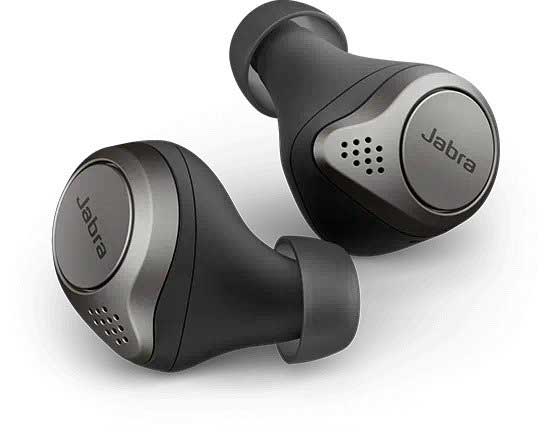 Aesthetics
The Jabra Elite 75t has a futuristic, sleek and refined design language that results in one of the best-looking wireless earbuds. The small form factor and dark colour scheme only add to their appeal. The charging case follows the same language and is an equally attractive object that will look smart on anyone's desk.
Jabra Elite 75t Review
Jabra has done a stellar job with the Elite 75t wireless earbuds. They are one of the more comfortable wireless earbuds available and are packed with features.
Now that Jabra has included ANC and the option to upgrade to a wireless charging case these have all of the features you would expect from a premium product.
It's for these reasons they were included on our list of best wireless earbuds to buy in 2020! The only real disappointment is the just above average sound quality, but it's not that noticeable.
No products found.
We hope that you enjoyed our Jabra Elie 75t review and that it has contributed towards making you a more informed consumer. We spend a lot of times on these reviews and would greatly appreciate it if you left a comment below!
FAQs
Yes, the Jabra Elite 75t is one of the best wireless earbuds for making calls. It has a top-notch microphone for the device category as well as great speaker drivers for audio quality.
Last update on 2022-05-20 / Affiliate links / Images from Amazon Product Advertising API
Yes, the Jabra Elite 75t recently added active noise cancellation (ANC) through an update patch. It's a good addition and certainly adds more value.
Last update on 2022-05-20 / Affiliate links / Images from Amazon Product Advertising API
No, the Jabra Elite 75t is IP55-certified meaning it is water and dust-resistant but not sweat-proof. We wouldn't recommend using these for any exercise.
Last update on 2022-05-20 / Affiliate links / Images from Amazon Product Advertising API
Yes, the Jabra Elite 75t has one of the best microphones of any truly wireless earbuds.
Last update on 2022-05-20 / Affiliate links / Images from Amazon Product Advertising API
The only significant different is the Active's addition of IP57-certification. This makes the 75t waterproof up to 1m of water.
Last update on 2022-05-20 / Affiliate links / Images from Amazon Product Advertising API
You should buy the Jabra Elite 75t if you make and take a lot of calls. They're pretty good for entertainment but truly ecel in a dual role of entertainment and communication. If you work from home or take a lot of calls for work, these could be for you.
Last update on 2022-05-20 / Affiliate links / Images from Amazon Product Advertising API
Full Spec List
| | |
| --- | --- |
| GENERAL | |
| Bluetooth Profiles | Advanced Audio Distribution Profile (A2DP), Audio/Video Remote Control Profile (AVRCP), Hands-Free Profile (HFP), Headset Profile (HSP), Serial Port Profile (SPP) |
| Packaged Quantity | 1 |
| Manufacturer | Jabra |
| HEADPHONES | |
| Bluetooth Profiles | Advanced Audio Distribution Profile (A2DP), Audio/Video Remote Control Profile (AVRCP), Hands-Free Profile (HFP), Headset Profile (HSP), Serial Port Profile (SPP) |
| Sound Output Mode | stereo |
| Active Noise Canceling | Yes |
| Frequency Response | 20 Hz |
| MICROPHONE | |
| Response Bandwidth | 100 Hz |
| Audio Input Details | |
| REMOTE CONTROL | |
| Audio Controls | answer/end, play/pause, volume |
| Controls | Volume, answer/end, play/pause |
| CONNECTIONS | |
| Type | USB 3.0 |
| Connector Type | 24 pin USB-C |
| MISCELLANEOUS | |
| Included Accessories | 3 pairs of EarGels, charging case |
| Compliant Standards | |
| | |
| POWER | |
| Run Time (Up To) | 7.5 hour(s) |
| MANUFACTURER WARRANTY | |
| Service & Support | |
| BATTERY | |
| Rechargeable Battery | rechargeable |
| Recharge Time | 2.2 hour(s) |
| Run Time (Up To) | 7.5 hour(s) |
| INTERNET OF THINGS (IOT) | |
| Intelligent Assistant Compatible | Alexa, Google Assistant, Siri |
| DIMENSIONS & WEIGHT DETAILS | |
| Width | 0.8 in, 1.4 in |
| Depth | 0.9 in, 2.5 in |
| Height | 0.6 in, 1.1 in |
| Weight | 0.2 oz, 1.2 oz |
| SERVICE & SUPPORT | |
| Type | |
| SERVICE & SUPPORT DETAILS | |
| Type | limited warranty |
| Full Contract Period | 2 years |
| GENERAL | |
| Manufacturer | Jabra |
Last update on 2022-05-20 / Affiliate links / Images from Amazon Product Advertising API