When it was first announced, the Lenovo Smart Clock was greeted with enthusiasm from every corner of the smart home community. In a world where voice-powered smart speakers are a dime-a-dozen, smart displays like the Lenovo Smart Clock offer a refreshing change of pace.
Combine a 4-inch smart screen with all the features you've come to know and love from Google Assistant, and you've got yourself the Lenovo Smart Clock. As a true two-in-one device, it offers the functionality of a smart speaker in a minimalist, alarm clock-shaped package.
So, is the Lenovo Smart Clock with Google Assistant worthy of becoming your go-to bedside device, or should you wait it out and stick with your good old fashioned alarm clock? Find out what we think in this Lenovo Smart Clock review and don't forget to let us know in the comments about your favourite smart home devices. We want to hear everything from the things you love, down to the things you hate.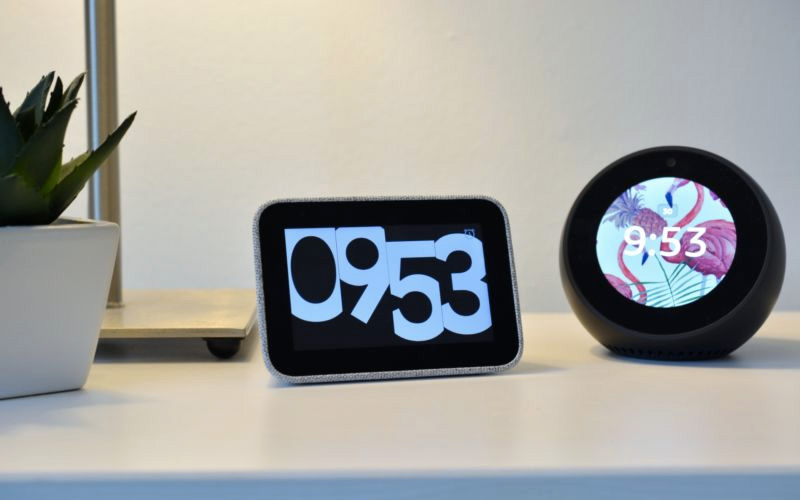 Lenovo Smart Clock With Google Assistant Review
If you've been impressed with Google's Nest Hub, chances are you'll be interested in the Lenovo Smart Clock. Shedding the bulky size of the Nest Hub in favour of a tiny footprint, this device is the perfect size for placing on a desk or bedside table. Best of all, the Lenovo Smart Clock offers full Google Assistant support at a fraction of the cost of devices like the Google Nest Hub Max.
While the Lenovo Smart Clock is a great device, it does come with a few drawbacks. For one, it isn't expected to support the new Continued Conversation feature, which allows users to have a more natural conversation with their Google Assistant. This means you'll have to say "Okay Google" each and every time you want to make a request. Not so much a big deal but it would be a lot easier if your device just learnt the art of conversation!
To be mindful of user privacy, Lenovo has included a physical mute button on the back of the clock that physically shuts off the microphone. This is a welcome feature, as it's reassuring to know Google Assistant won't be accidentally triggered in moments where more privacy is appreciated. You know where we're going here…
In addition to Google Assistant, the Lenovo Smart Clock can seamlessly integrate with your existing smart home setup. This means you can seamlessly control smart home devices and view security camera feeds from the comfort of your bedside. Users can also listen to music, podcasts, and online radio streams, but the smart clock doesn't offer video or photo support for whatever reason.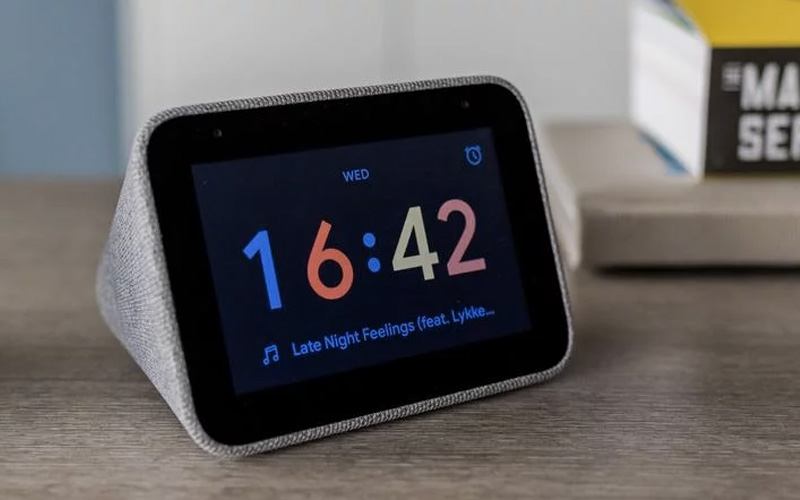 The Look Station
When it comes to the looks station, the Lenovo Smart Clock with Google Assistant is an attractive (yet minimalist) device. Personally, I love how it doesn't scream for attention when sitting on your desk. Instead, it subtly blends into the background (especially when it's not in use).
Compared to traditional alarm clocks, this smart clock is both far smaller and far easier on the eyes. I've come to love the extra bedside space that's been freed up, allowing me to comfortably fit a book and drink on my nightstand without issue. Okay, you could just use your smartphone as well but there's something really nice about having a separate alarm clock.
All in all, the Lenovo Smart Clock is sleek and surprisingly fun to use. While it won't be winning any awards for industrial design, that's not a bad thing. After all, sometimes the most straightforward designs provide the most enjoyable user experience. Not to mention that grey and black will blend with most interior decoration without a hitch.
In my eyes, that's precisely what you get with the Lenovo Smart Clock.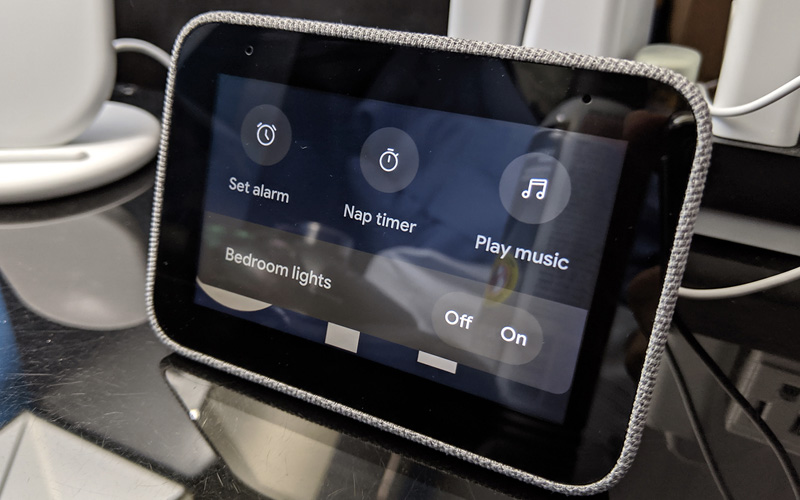 The Latest Features
When it comes to cutting-edge features, the Lenovo Smart Clock is surprisingly lacking in this area. However, what it lacks in features is made up by its function. As a smart clock, it is intended to do a few key things.
For example, you'd expect a smart clock to tell time, provide support for voice assistants, and seamlessly integrate into your existing smart home setup. Thankfully, the Lenovo Smart Clock knocks these basic features out of the park. However, it would of been nice to see the smart clock do some other things as well. When you have gadgets like the Apple Airpods (2nd Gen) throwing insane features into a tiny device, it makes you wonder why bulkier devices cannot amp up the technology.
–
Full Feature List
That said, the Lenovo Smart Clock with Google Assistant comes with all the features you'll need, including:
An excellent design that will fit complement any nightstand
Easy to use alarm clock functionality (duh!)
Numerous different clock face options
Plug-and-play smart home support
A respectable speaker, especially for the price
Top-notch microphone & full Google Assistant support
On second thoughts, I don't think there's anything else we'd expect out of a smart clock.
–
Inside The Box
The unboxing experience is relatively basic, which compliments the form-over-function approach taken by the Lenovo Smart Clock. Unlike Apple products, Lenovo don't seem to spend too much time on a seamless unboxing experience. But we're okay with that. Inside the box, you'll find:
The Lenovo Smart Clock
Power cable
User Guides
From here, setting up the device is a simple plug-and-play affair. If you've ever used a smart home device, you shouldn't have any issue getting your new smart clock up and running. If you do, then chances are the device is not very smart at all.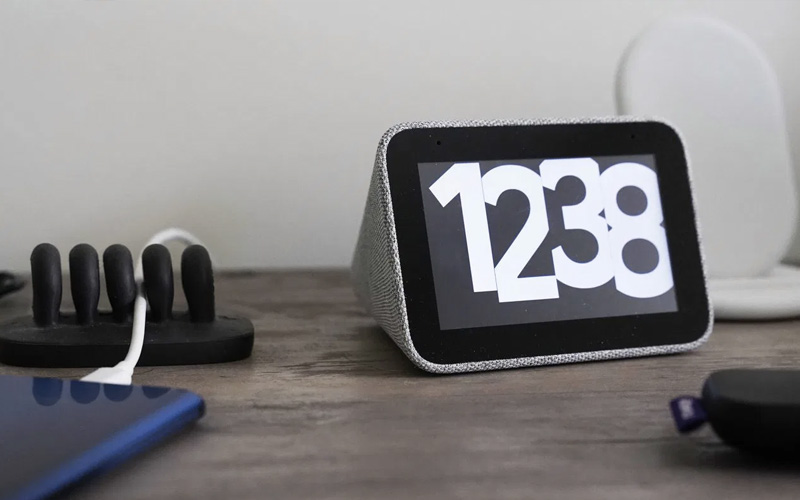 Lenovo Smart Clock With Google Assistant Cost
While the Lenovo Smart Clock may seem like a luxury device, it is actually surprisingly affordable. At last check, it's currently available at retailers throughout Australia, often for less than AU$100. For example, Officeworks currently carries the Lenovo Smart Clock with Google Assistant for only AU$99. Therefore making this a complete steal!
–
Is The Lenovo Smart Clock A Good Value For The Money?
At the end of the day, the Lenovo Smart Clock is really just a fancy clock. With this being said, if you're in the market for a new alarm clock (or are looking to expand your smart home setup), this device is a great option. As someone who personally owns this device, I can say that this is by far the best alarm clock I've ever owned.
In fact, I'd argue that the ability to say, "Hey Google, set the alarm for tomorrow morning" right before drifting asleep is well worth the AU$100 by itself. Combine this incredible convenience with excellent smart home features, and you've got yourself a great device.
–
Aesthetics

Features

Total Value
Lenovo Smart Clock Review Summary
The Lenovo Smart Clock with Google Assistant brings your old fashioned alarm clock into the future with a minimalist design and impressive features. It's a great choice for anyone looking to expand their smart home setup to the bedside table.
Pros
Seamless Setup.
Google Assistant Ready.
Surprisingly Affordable.
Cons
Lacking Features.
Not Winning Design Awards.
Content Disclaimer: Our 'Lenovo Smart Clock Review' is totally independent and has not been commissioned by the company in any capacity. Mr Gadget has not received any endorsements for this writing including financial reimbursement, free advertising or the Lenovo Smart Clock by way of gift. If you purchase this item via an affiliate link on our website, we may receive a small commission from the seller. We hope you enjoyed!