LensHD Review Summary
Summary
The LensHD is potentially a bespectacled person's new best friend, allowing you to get your glasses spick and span at the push of a button. Its microfibre sponges are tough yet exceptionally soft and the device's off-centre rotation ensures that all the corners of your lenses are well taken care of, no matter the design. Toss all those cleaning rags of yours in the bin, the LensHD can take it from here.
Pros
Ultra-soft microfibre sponges work wonders at cleaning your lenses without the threat of damaging them
Off-centred rotation means that no corner of your lenses are left behind
Wipes away even the peskiest of substances
Cons
Not quite as handy as simply walking around with a decent cleaning cloth
Having to carry around sun or eyeglasses is hassle enough without needing to incessantly clean them every time you take them out of their case or every so often while using them. It gets even more annoying when you forget your microfibre cloth and have to make do with a rough shirt or strip of tissue paper. With the LensHD, you can finally leave manually cleaning in the past and have a handy little gizmo do it for you instead.
This hands-free cleaning station looks to streamline the process of cleaning your precious glasses through a mix of delicate sponges and an unorthodox movement pattern that do their job in under a minute. But can it really get rid of those tougher messes and is it more convenient to carry around than a simple microfibre rag? We're going to find out those answers and more, in this LensHD review.
Don't have the time to read through the whole review? Just click any of the links below and we'll take you right to that section.
Overview
The LensHD is a mobile glasses cleaning station about the size of your average portable speaker. It accommodates glasses of various different shapes and sizes and thoroughly cleans them using a couple of ultra-soft microfibre sponges that move in an off-centred rotating pattern.
It accomplishes this with minimal input from the user and takes extra care not to scratch or damage your lenses. You won't have to worry about tougher stains or smudges either, since the LensHD was built and tested to get rid of the toughest and grimiest of messes. And to top it all off, the cleaning station is wonderfully compact, allowing you to take it around with you when you're on the go.
Features
Off-centred Rotation
While you'd expect the LensHD's sponges to just spin around in a regular circle, they actually move in an irregular motion that sort of spirals outwards to ensure that all corners of your glasses are properly cleaned. No skimping on those edges, which is especially important to oddly-shaped lens designs.
Ultra-soft Sponges
The LensHD's sponges are made out of microfibre fabrics that are a hundred times finer than the average human hair, giving it an incredibly soft feel that will never leave scratches or scuffs on your lenses. That's not to say that it isn't tough. These little guys are more than capable of applying enough pressure for a thorough clean, no matter the dirt or mess.
Innovative Design
The station itself was designed to be incredibly easy to use, flipping open with a single button and featuring a hassle-free insert system. Doesn't matter what kind of glasses you're rocking, the LensHD makes cleaning remarkably easy.
Extensive Testing
This device has undergone some extensive testing, with its cleaning system being pitted against some of the toughest things your glasses could possibly face. From ketchup to wasabi and even blotches of heavy cream, the LensHD can wipe it up in no time without leaving any greasy residue.
Single-button Cleaning
You won't have to worry about a complicated setup process or a bunch of buttons with the LensHD. All you have to do is place your glasses in the device, close the hatch, and press a singular button and the station takes care of the rest. Just take your freshly cleaned glasses out of the doohickey after less than a minute, ready for use.
Easy to Clean
Sometimes even the cleaner needs cleaning. Luckily enough, detaching the LensHD's sponges and cleaning wheels couldn't be easier, and getting them cleaned up is just as simple as washing one of your old cleaning rags.
Specs
| | |
| --- | --- |
| Dimensions | 165 x 76 x 89 mm (6.5 x 3.0 x 3.5 inches) |
| Fabric Type | Washable Ultra-Soft Microfibre Fabric |
| Cleaning Time | ~ 1 minute |
Build & Design
The LensHD is essentially an all-white rectangular cuboid with a few grey highlights thrown in on its sides as well as the power button. It flips open from the top outwards, revealing an inverted "V" shape where your glasses sit and two openings on either corner of the back portion to allow the temples of your glasses to pass through.
You will also like the Solar Watch V3.
There are four pairs of sponges inside the LensHD at any given time, two on each side of your glasses' lenses. It's a very clean, minimalistic look overall that'll probably be well-liked by most people and its portable size is a huge advantage since it allows you to carry it around in your bag with ease.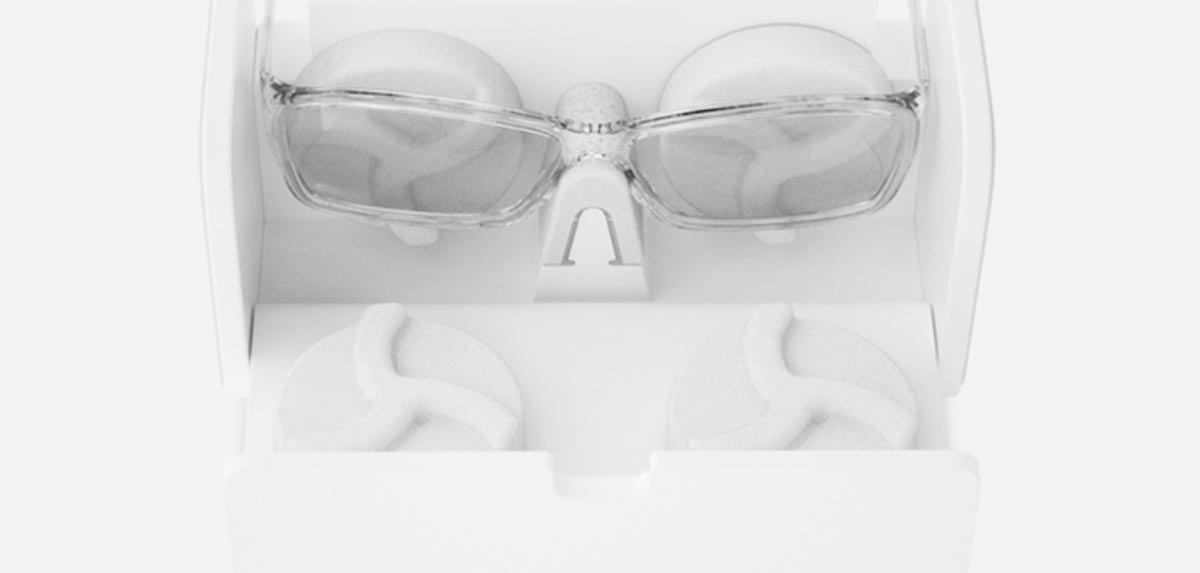 How does it work?
You honestly don't even need instructions to work the LensHD. That's how user-friendly it is. You started off by making sure the device is plugged in, then you pop open the cleaning station by pressing the button on top of the device.
After that, you add a few sprays of cleaning solution on the sponges and gently place your unfurled glasses on the inverted "V" shape, with its temples extended outside the machine. From there, you close up the gadget and hit the grey power button in front. After about a minute of cleaning, you just pop open the LensHD once more and take out your freshly buffed glasses, good to go.
[wd_hustle id="220″ type="embedded"/]
Conclusion
If you're looking for a better way to clean your sun or eyeglasses, then the LensHD is just the ticket. Not only does it take away the hassle of manually rubbing out smudges and dirt from your lenses by making the process entirely automatic, but its premium microfibre sponges do so delicately and effectively, eliminating the threat of accidental scratches and marks.
It's wonderfully easy to use as well, requiring a single button to pop open the device and another one to get it to start cleaning. It works against the toughest of sludges too, whether it's coffee, ketchup or anything in between, and it's small enough that it should fit easily in pretty much any bag or backpack. It may not be as handy as the conventional lens cleaning cloth, but the LensHD is a heck of a lot easier to use and exceedingly less strenuous on your hands.