Logitech has found great success in the gaming keyboard niche throughout the years, providing gamers with excellent mid-ranged entries like the Logitech G Pro as well as more budget-conscious products such as the G213 Prodigy.
CHECK TODAY'S PRICE HERE: See at Amazon
30 Second Review Logitech G915 TKL
Design & Build -

9/10

Features -

8.6/10

Ergonomics -

7.5/10

Typing Quality -

7/10

Battery Life -

8.2/10

Total Value -

8.4/10
Summary
If you were a fan of the G915 but preferred something a little more compact, the G915 TKL makes the switch from full-sized to tenkeyless in flawless fashion. You still get the magnificent performance and comfort of the GL switches, the low-profile sexy design, and the beautiful per-key RGB capabilities without having to sacrifice an ounce of sturdiness.
As a bonus, you even get 25% more battery life. If you're after a compact wireless gaming keyboard then the Logitech G915 TKL deserves to be at the top of your list. Now all you have to do is find a way to come up with 180 bucks.
Pros
✓ Gorgeously designed and very well-built
✓ Logitech GL switches perform wonderfully
✓ Lengthy battery life
✓ LIGHTSPEED wireless technology performs great
✓ Logitech G Hub is user-friendly as always
Cons
✗ Even on sale, its price tag is significant
The Logitech G915 TKL is their top-of-the-line offering that adopts the G915's fantastic wireless performance and beloved design then shrinks it down to a more portable size. Just because it's more compact doesn't make it all that much cheaper, however, as its price tag puts it in the same group as the extravagant Razer Turret.
In this Logitech G915 TKL review, we're going to find out how well it compares to its older brother and if it really is worth its hefty price point.
Don't have the time to read through the whole review? Just click any of the links below to navigate to that particular section:
What is the Logitech G915 TKL?
Swiss-American tech company Logitech has been developing computer peripherals for almost two decades now and is now known as one of the leaders in the industry. In more recent years, they've been focusing on gaming gear with their Logitech G line of products, which include gaming headsets, mice, keyboards, webcams and more.
The Logitech G915 TKL (the "TKL" here stands for "Tenkeyless") is, in essence, a miniature version of last year's G915 – a wireless gaming keyboard that's considered by many as one of the greatest ever released.
The G915 TKL retains the stellar wireless technology, sleek design, and high-end performance that made its predecessor so great but trims off the macro buttons and Numpad to create a more compact experience that comes with improved battery life.
Unfortunately, the G915 TKL also brought along the original's premium price tag, debuting at a whopping $229.99. That's only around 20 bucks less than the Razer Turret. Luckily for fans of the little keyboard, you can usually find it for around $180 these days, though the white colourway still goes for full price.
Editor's note: The G915 TKL made it onto our list of best gaming keyboards 2020!


Features
Switches
The G915 TKL utilizes the brand's proprietary Logitech GL mechanical switches that come in 3 varieties: GL Clicky, GL Tactile, and GL Linear. As their names suggest, the GL clicky focuses on a more satisfying click, the GL Tactile features enhanced tactile feedback, and the GL Linear is geared more towards smoothness.
Connection
It's primarily a wireless keyboard that utilizes Logitech's impressive LIGHTSPEED 1ms technology but can also connect to your PC via Bluetooth or its 1.8-metre long braided USB cable.
Battery Life
This keyboard boasts an impressive 40-hour battery life even with its RGB per-key effect enabled, which is a significant improvement over its predecessor's 30 hours.
Media Controls
While it may not have as many as the original, the G915 TKL still has independent buttons for music playback, wireless and Bluetooth toggle, Game Mode, and RGB control, as well as the awesome volume wheel. The only thing missing are the buttons for the onboard profiles.
RGB Lighting
It features full RGB capability that incorporates Logitech's LIGHTSYNC technology that allows for per-key customization across 16.8 million colours.
Software
As with most of their gaming products, the G915 TKL uses Logitech's intuitive G Hub software to allow you to customize the keyboard's RGB lighting to suit your tastes and remap your function keys to give you a better edge when gaming.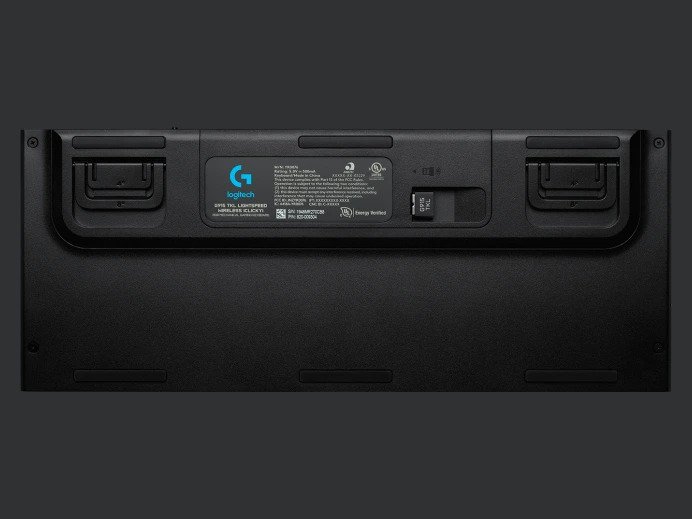 Logitech G915 TKL Specs
| | |
| --- | --- |
| Dimensions | 36.8 x 15 x 2.2 cm |
| Weight | 810 g |
| Switches | Logitech GL switches |
| Dedicated Media Controls | Yes |
| Connection Type | LIGHTSPEED Wireless, Bluetooth, USB wired |
| Cable | 1.8 m braided USB cable |
| RGB Lighting | LIGHTSYNC capable with up to 16.8 million colours |
| Number of keys | Tenkeyless – 87 keys |
| Software | Logitech G Hub |
Aesthetics
Just like its older brother, the G915 TKL is one of the slimmest gaming keyboards around thanks, in part, to its thin, laptop-like keys and shallow switches. It's a tenkeyless keyboard, meaning it nixes the Numpad to save some precious space.
The G915 TKL rocks an aluminium alloy face panel that gives the illusion of brushed steel and contrasts nicely with the keyboard's jet black keys. The media buttons sit on the peripheral's top row with the volume wheel sitting comfortably on the top-right corner, while the tasteful Logitech G logo glows cooly in blue on the opposing side.
Aside from the fantastic LIGHTSYNC capable RGB lighting that offers per-key customization, there's really nothing about the G915 TKL that gives up its gamer status except for the tiny Game Mode button. This makes it perfect for gamers who prefer a more low-key aesthetic and calling it the best-looking ultra-thin keyboard wouldn't be an overstatement.
What's it like to use?
Don't let its small size and light weight fool you, the G915 TKL feels remarkably sturdy on account of its aluminium front panel and steel re-enforced base which is increasingly important given its designation as a gaming keyboard.
Keystrokes on the GL keys feel remarkable comfortable and precise, with its shortened key height and shallower switches. For users like myself who enjoy doing their typing on a great laptop keyboard, the G915 TKL should feel like home. And the added ability to choose between a variety of switches gives it a nice layer of personalization.
Setting up the keyboard couldn't be simpler. Just plug in the wireless receiver to your rig and you're good to go. If you prefer a wired connection then hook up the braided USB cable instead, though it's worth pointing out that G915 TKL weirdly uses a micro USB connection towards the keyboard instead of something more mainstream like a USB Type-C. Definitely an odd choice but not one that should affect performance in any way.
Customizing your RGB settings and programming your extra buttons is made hassle-free thanks to the always excellent Logitech G Hub software which should have you creating your own dazzling RGB presets in no time.
Final Thoughts
You'd think that transitioning from a full-sized gaming keyboard to a tenkeyless one would entail giving up a lot, but the G915 TKL shows us that doesn't have to be the case. It was able to bring across the stunning form factor, tasteful RGB lighting, and magnificent switches that the original was known for, while still managing to keep almost all of its functionality intact and even one-upping its predecessor's battery life.
It's deceptively sturdy too and shouldn't have a problem dealing with its fair share of angry keystrokes of frustration. Perhaps the only thing about this keyboard that would give you second thoughts is its high price tag.
Price reduction
Logitech G915 TKL
Features low-profile mechanical keys and an ultra-slim design
Logitech's Lightspeed wireless connectivity offers users fast 1 ms...
Package Weight: 810.0 g
Country of Origin: Switzerland
But if you can afford the price of admission, the Logitech G915 TKL is hands-down the best wireless tenkeyless gaming keyboard money can buy.
FAQs
A tenkeyless keyboard is a keyboard without the righthand Numpad and surrounding keys. The purpose of this design is to remove any unwanted or rarely used keys to create a more optimised gaming keyboard.
Last update on 2022-05-15 / Affiliate links / Images from Amazon Product Advertising API
Yes, the Logitech g915 is easily one of the best tenkeyless gaming keyboards on the market. It has superb build quality, low latency and a nice aesthetic.
Last update on 2022-05-15 / Affiliate links / Images from Amazon Product Advertising API
Simply plug in your Logitech g915 Tkl into a USB port using the included Micro USB to USB Type-A cable. It will take approximately 4 hours to charge from empty to full and last 40 hours or so from full charge.
Last update on 2022-05-15 / Affiliate links / Images from Amazon Product Advertising API
You can also choose from GL Linear, GL Tactile and GL Clicky switches on the Logitech G915.
Last update on 2022-05-15 / Affiliate links / Images from Amazon Product Advertising API
Last update on 2022-05-15 / Affiliate links / Images from Amazon Product Advertising API