Summary
With the Magnito Mouse, you will never have to lose or forget your mouse ever again. Using a powerful magnet, it can stick to your laptop or tablet when not in use or when you're on the go. As a bonus, you can also use it to control your smartphone and tablet or even use it as a clicker for giving presentations or lectures.
Pros
Can be used as a clicker or remote control
Comfortable to use
Wide compatibility
Inexpensive
Cons
Magnetic pad can look out of place
Can't work without a mouse but always tend to misplace or leave it behind? Or maybe, you find carrying a separate piece of equipment too much of a trouble? Yes? Well, then the Magnito Mouse may just be the device you need.
Featuring a powerful neodymium magnet, Magnito is a mouse that you can attach to your laptop or tablet. This way, you will always have fast and easy access to your mouse no matter where you go. As a plus, you can also use it as a remote control for taking pictures and giving presentations.
Now, with the many good mice that are already on the market, how does the Magnito Mouse compare? More importantly, should you even consider trying it? Find out here.
Overview
Currently, there are already plenty of good working wireless mice on the market. Some of the most popular ones include the Logitech POP Mouse, Logitech Pebble M350, and the Apple Magic Mouse. Not to mention that there's always a new mouse coming out with each one claiming to be smarter and more convenient than the rest. Just recently, we did a review on Vanzy, which is a new wearable mouse that allows you to control all your devices with just gestures.
Now, the problem with new tech mice like Vanzy is that they can take hours or even days to figure out – and not everyone has the time for that. The Magic Mouse, on the other hand, is only good if you use Apple gadgets. As an alternative, you may consider Logitech's POP Mouse or Pebble M350 – but only if you don't mind always carrying another device with you. Add that with your clicker for presentations and laptop or tablet, and your hands will be full before you know it.
To avoid such inconvenience, Ventaron designed a simple mouse that goes where you – or your device – go. Just stick the Magnito to your laptop or tablet, and you can forget about it. And because it functions as a remote control as well, you don't have to purchase or carry around another piece of equipment with you. Easy and less hassle.
In terms of price, the Magnito Mouse isn't the cheapest mouse you'll find. At US$47, it's pricier than the Logitech POP Mouse and Logitech Pebble M350, and many others. It is, however, cheaper than Apple's Magic Mouse. The good news is, that you can get the Magnito Mouse at as low as US$33 if you catch its campaign on Kickstarter.
Features
Magnetic
What makes Magnito Mouse unique is its ability to stick to your devices. Using a powerful neodymium magnet, it can attach to laptops and tablets without a problem. You can shake, run, flip, or even jump with it on your device, and it won't fall off. This is great, especially if you often move between rooms or different locations.
For devices that are not magnetic enough or tablets with a non-magnetic cover, you will have to use and attach the Magnito Pad first. This is simply a 3M sticker that the mouse can grip firmly. It doesn't leave any marks and it's powerful, too. Take note, however, that the Magnito Pad looks like a patch. It's plain and offered only in black or navy. For some, it may not look good, and they may find it out of place when attached to their laptops.
Remote Controller
Another thing we like about the Magnito Mouse is its remote control function. When paired with your device, you can use it to play the previous or next track, adjust the volume, go to the next slide, or even capture a video or picture. This is great when you are watching videos, listening to music, and taking group photos or self-portraits. It's also perfect for conferences, lectures, and presentations since you no longer have to bring a separate clicker.
Connects to Two Devices
Need to use a mouse or remote control for different devices? The Magnito Mouse has you covered. It has a button on the back, which you can use to toggle between two devices at once. So you can connect it to a tablet or phone and switch between them as needed.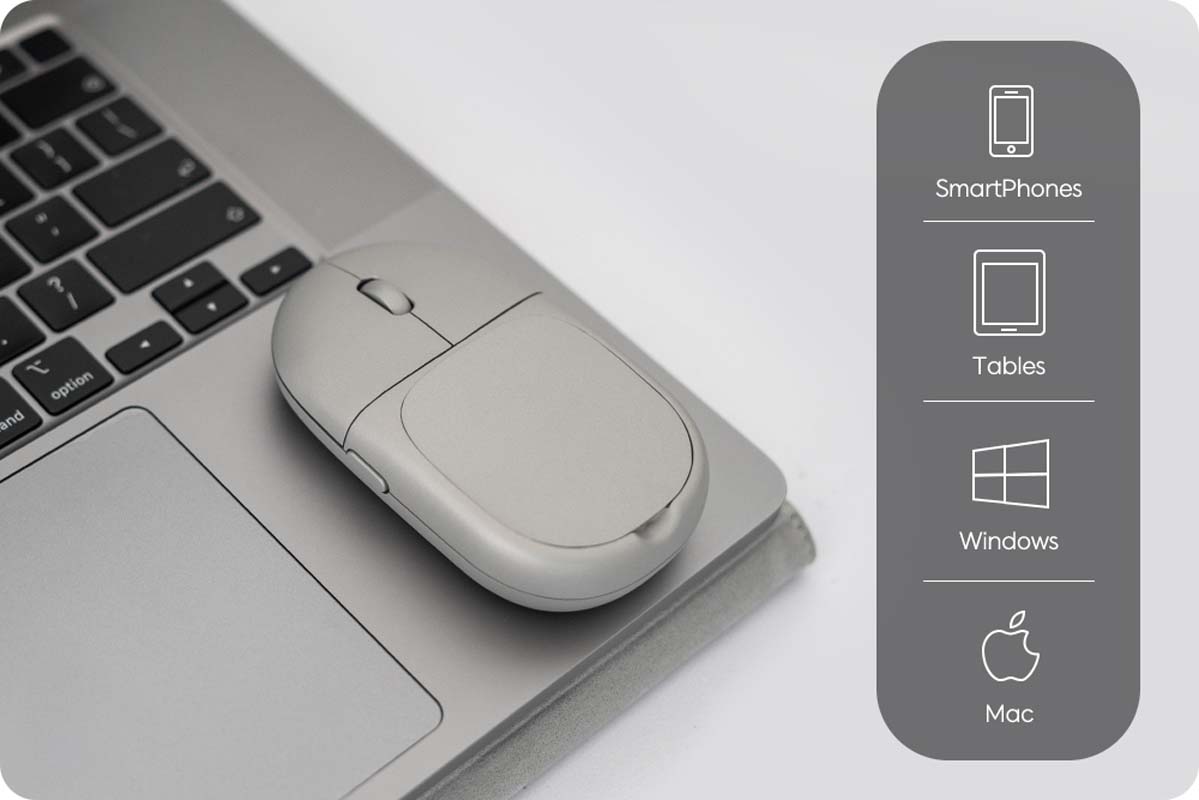 Specs
| | |
| --- | --- |
| Size | 2.4 x 4.0 x 0.9 inch (61 x 103 x 23.5 mm) |
| Weight | 78g |
| Material | ABS + Galvanized steel |
| Blietooth Version | Bluetooth 5.0 |
| Scroll Wheel | Non-slip |
| Battery | AAA x 2 (not included) |
| Battery Life | 8-10 months in power saving mode (8 hours of daily use) |
| Power Saving Mode | 0.8mAh after 5 sec: 0.06mAh after 30 min |
| Standby Mode | Up to 18 months battery life (may vary with environmental conditions) |
| Compatible OS | Windows 10, 11 or later, Linux, Chrome OS, Mac OS 10.14 or later / iPad OS 13.4 or later, Android 7.0 or later |
| Bluetooth Range | 33 – 50 ft |
| Switch Lifespan | 3 million times |
| Sensor | Optical sensor |
| Adjustable DPI | 800-1200-2400 |
The Magnito Mouse connects to your devices through Bluetooth 5.0, which means it is faster and has a wider maximum range than accessories that supports Bluetooth 4.0, such as the Apple Magic Mouse. This gives you a smoother and more stable connection, allowing you to control your devices at a distance of up to 50 feet. As a mouse that can also function as a remote control, this is very important.
Another advantage of Bluetooth 5.0 is that it consumes less power. So you can use the mouse longer before needing to change its batteries. Speaking of batteries, the Magnito runs on AAA batteries, which also makes it cheaper than rechargeable ones. Such batteries are easy to find, so you'll have no problem in case you run out unexpectedly. Plus, you won't have to worry about any internal battery that will soon start to waiver.
We also like to mention the Magnito's max DPI, which is higher than what you will find on other mice focused on productivity. The 2400 maximum is more than enough for you to easily track the cursor across any resolution or monitor size.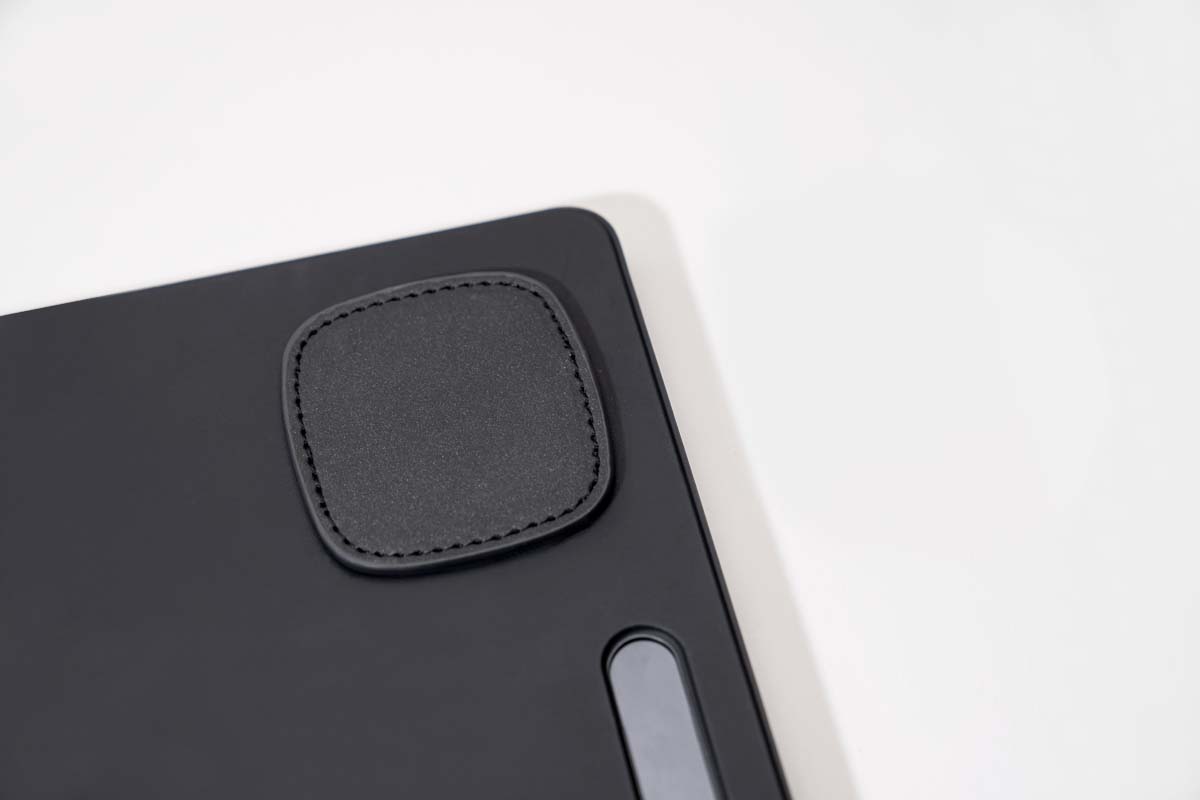 Design
Ventaron has incorporated a pebble design on its Magnito Mouse, which is pretty common on computer mice. One example is the Logitech Pebble M350. So why pebble? Well, mainly because it provides the ultimate comfort even after long use. Its soft curves and oval shape fit perfectly in your hand, giving you the best grip possible.
The Magnito Mouse is available in three colors: Silver, White, and Space Gray. Is it the most elegant and stylish mouse we've seen? Not really. But it does look minimalistic and would perfectly go well with a laptop.
This mouse has a side button that allows you to adjust its DPI (Dots Per Inch) when in mouse mode. On the remote mode, you can use this button to take a photo or play the next slide in presentations.
Final Thoughts
With so many options, the question is: why should you go with Magnito? Well, if you are looking for a more convenient, lighter, and simpler mouse that won't take you hours or even days to figure out, then Magnito Mouse is a good choice. Sure it isn't as sleek or stylish as the Apple Magic Mouse or as smart as the new wearable mice coming out. However, it does work well as a productivity mouse and as a remote control for all your devices.
The Magnito is a great choice for individuals that are always on the go. It's lightweight and sticks to your devices, so it's easy to put away when not needed. Added with the remote control and clicker functions, it is a mouse that will provide you with the most convenience and productivity.