Do you live in an area with frequent power outages or unstable power supply? If so, then here's something you may want to check out. Said to be the "World's first modular power station with a detachable design," Mango Power Union is a battery system that you can integrate both in your home and outdoors. So not only will it serve as your backup battery in case of a power outage, but you can also use it on trips, parties, or when there aren't enough power outlets in your location.
---
Design & Build -

9/10

Features -

8.8/10

Battery Life -

9.1/10

Ports -

9.5/10
Summary
If you are looking for a reliable power station for your home, then here's the perfect product for you. With its 19 output ports, high-capacity 6,900Wh battery, and 4350W AC/DC rated power, the Mango Power Union can power all your devices and appliances – even a full-sized fridge. Since it's a modular system with a detachable design, you'll also have a portable backup battery when you need to go outdoors.
Pros
Detachable design for portability
Ultra-high battery capacity
High rated power with 6600W surge
Supports solar power charging up to 4000W MPPT
Now, there are a lot of power stations in the market, and many more are coming out. We've even reviewed some of them, including the Fremo X700, ElecHive 2200, and LEOCH – and they all claim the same thing: unrestricted access to power. So how exactly is Mango Power Union different, and how does it compare with other power stations? Let's find out here.
Don't have time to read the whole thing? Click on any of the links below to skip to that section.
Overview
Energy providers in Australia are pretty much reliable. But due to extreme weather events such as storms, bushfires, and heatwaves, it's normal to experience power outages now and then. So you should be prepared if you don't want to experience any inconveniences and reduce the risks for you and your family. And one way to do that is by investing in a reliable power station.
But the problem with some power stations is that they are either too expensive or underpowered with not enough battery capacity. Some also don't have enough ports to accommodate all your appliances and devices. Plus, many of them are inefficient, which means you are losing energy while using them.
To address these issues, Mango Power came up with a powerful backup battery with enough capacity and AC/DC output so you can run all your home's most important appliances. It's also equipped with a very efficient inverter so you can minimize energy loss while at the same time helping lower your energy bills. On top of that, compared to other power stations with almost the same capacity, Mango Power Union is surprisingly cheaper.
If you catch it on Indiegogo, Mango Power Union will be offered at only US$2,799 for Super Early Bird backers. This is way cheaper than the Bluetti EP500 Pro and Goal Zero Yeti 6000X, which are priced at US$4,129 and US$5,400 respectively. However, if you don't catch its campaign, it will be priced at a whopping US$6000. So better hurry.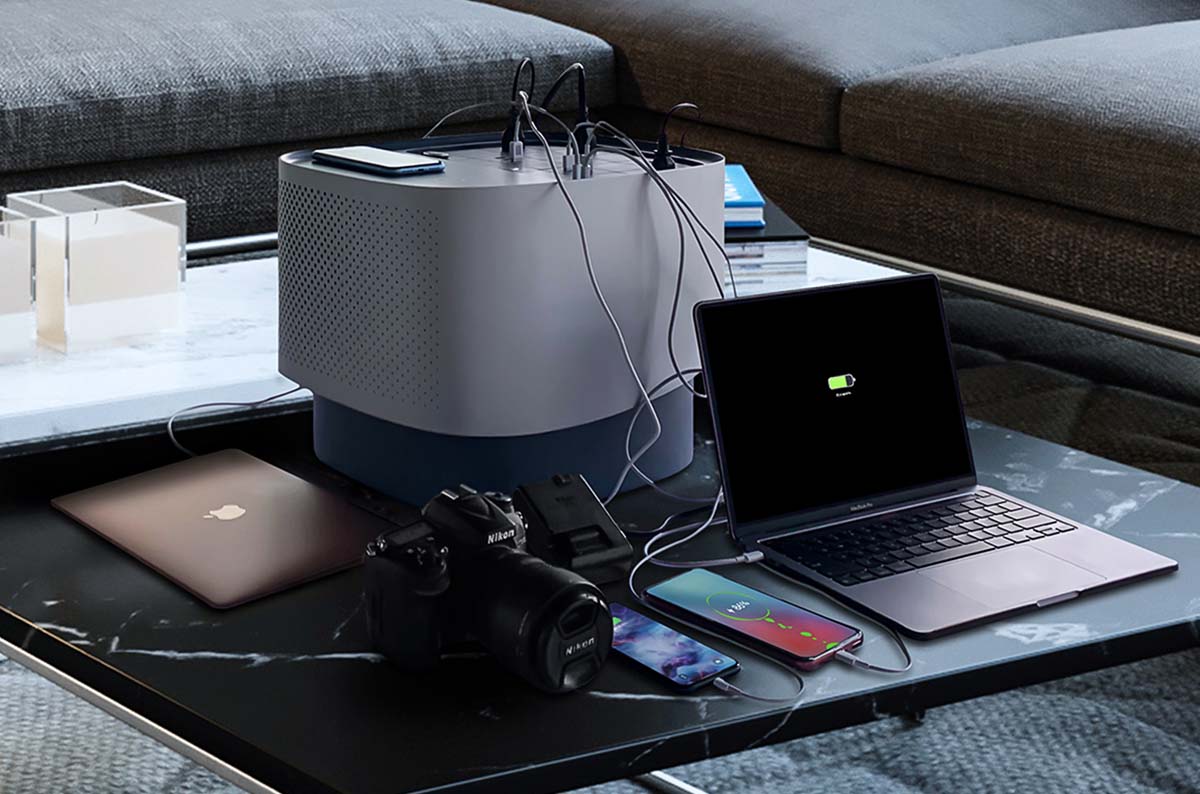 Features
Dual Inverter System
Mango Power Union is built with a dual inverter system (PV inverter and AC-DC inverter), which can support two 2,000W MPPT solar charging (16V-150V). This is a big leap and improvement from current power stations as it reduces the need for additional – and pricey – accessories.
Uninterruptible Power Supply (UPS)
For most power stations, you charge, store, and only take them out when the power goes out. And like power banks, you have to plug in the appliance or device you want to run. With the Mango Power Union, however, you just have to connect it to your home grid, let it charge, and leave it on standby. It will then detect a power outage and automatically repower your home. You'll only notice a slight flicker of lights, and after a few seconds, everything will be back to normal.
Efficient and Economical
Another thing we love about the Mango Power Union is that it's energy-efficient and economical. Promising 95% inverter efficiency, it can efficiently convert energy between DC and AC. Thus, you won't lose too much power while charging your devices or running your appliances. On the other hand, many of the products today are only averaging around 90 to 93% inverter efficiency.
The Mango Power Union can also help lower your electricity bills through its two operating modes, which are the following:
Time-Based Control Mode: You can set the time when to charge and discharge the battery according to your peak and off-peak electricity usage. If you are charged based on the time of day, then this is perfect for you since you can maximize your savings. For example, you can set the power station to charge only when the electricity is cheaper (off-peak hours).
Economical Mode: In this mode, the Mango Power Union will prioritize getting energy from green sources. So during the day, it will store all the solar energy it can get and power your home with it during the night. Furthermore, it will only draw power from the grid if you're using more than what your solar panels generated.
Safe
Aside from performance, Mango Power also guarantees the safety of its machine. While most power stations are only equipped with 2 or 3 basic processors, the Mango Power Union is built with 9 high-speed processors. The Battery Management System (BMS) includes the following:
Over Voltage Protection
Overload Protection
Over Temperature Protection
Short Circuit Protection
Low-Temperature Protection
Low Voltage Protection
Overcurrent Protection
Expandable Capacity
What's amazing about the Mango Power Union is that it allows you true power independence. Unlike other power stations that only function as a backup battery supply, you can use the Mango Power Union to create your mini power plant. Through the company's mPanel Smart feature, you can stack up to 10 batteries together or have access to 69,000Wh of energy.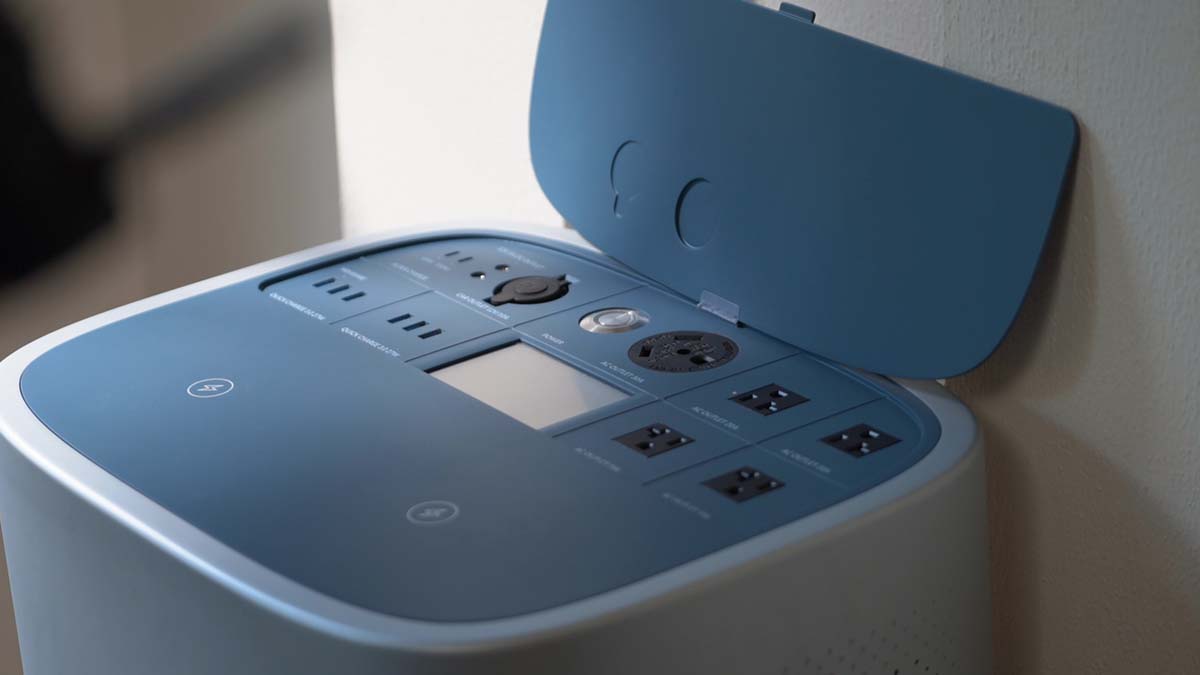 Specs
Product
Mango Power Union

(Mango Power Home + Mango Power Move)

Mango Power Move

(Detachable Portable Power Station)

General
Net Weight
154.3 Ibs

(70 kg)

55.1 Ibs

(25 kg)

Size
17.6 x 13.6 x 31.7 in

(446 x 346 x 805 mm)

17.6 x 13.6 x 13.1 in

(446 x 346 x 333 mm)

Working Temperature
-4°F to 131°F (-20°C to 55°C)
Warranty
36 Months
Certifications
Meets US and International Safety and EMI Standards
Smart Charge
Yes
Running Noise
<45dB
Battery
Battery Capacity
6,900Wh
2,300Wh
Cell Chemistry
EV Class LFP Battery Cell
Lifespan
Capacity Retention >80% of original capacity after 4000 cycles

Capacity Retention>50% after 7000 cycles

Input
Charging Method
AC Wall Outlet, Solar Panel
AC Charging
3,300W
1,300W
Solar Charging
2,000W MPPTx2 (16V-150V)
2,000W MPPT (16V-150V)
Inverter
AC Output Power
4x20A+1X30A+1X40A(backup) / 4,000W
4x20A+1X30A / 2,000W
Max Surge Power
>6,600W
>3,300W
Maximum Power Point Trackers
2x, Support Both Roof and Portable Solar Panels
Inverter Efficiency
Up to 95%
New Inverter Tech
GaN/SiC 3rd generation semiconductor
24/7 Seamless Home Backup & UPS
Yes
Yes
Backup Essential Circuits Connection
4000W/40A
N/A
Scalability
Up to 10 devices 69,000Wh/40,000W Extension
N/A
Output
Output Ports
19
18
AC Output
4x20A+1X30A+1X40A(backup) / 4,000W
4x20A+1X30A / 2,000W
USB-A (6x)
QC 3.0 27W
USB-C (1x)
PD 100W
USB-C (1x)
PD 65W
Wireless Charging Pad (2x)
15W
Car Power Output
12V/10A
DC5521 Output(2x)
12V/5A
Touch Screen
Size
4.3 in (10.9 cm)
Resolution Ratio
480 X 800
Screen pigment
16.7M colors
The most notable features of the Mango Power Union are its large battery capacity and output power. With a total of 6,900Wh capacity and 4,350W AC/DC power output, it's currently one of the most powerful power stations available today. This is far superior to Goal Zero Yeti 6000X's 6,000Wh capacity and 2,000W AC rated output or Bluetti EP500 Pro's 5,100Wh capacity and 2,000W AC. So with Mango Power Union, you'll have enough power for your TVs, AC units, and even a full-sized refrigerator during a power outage.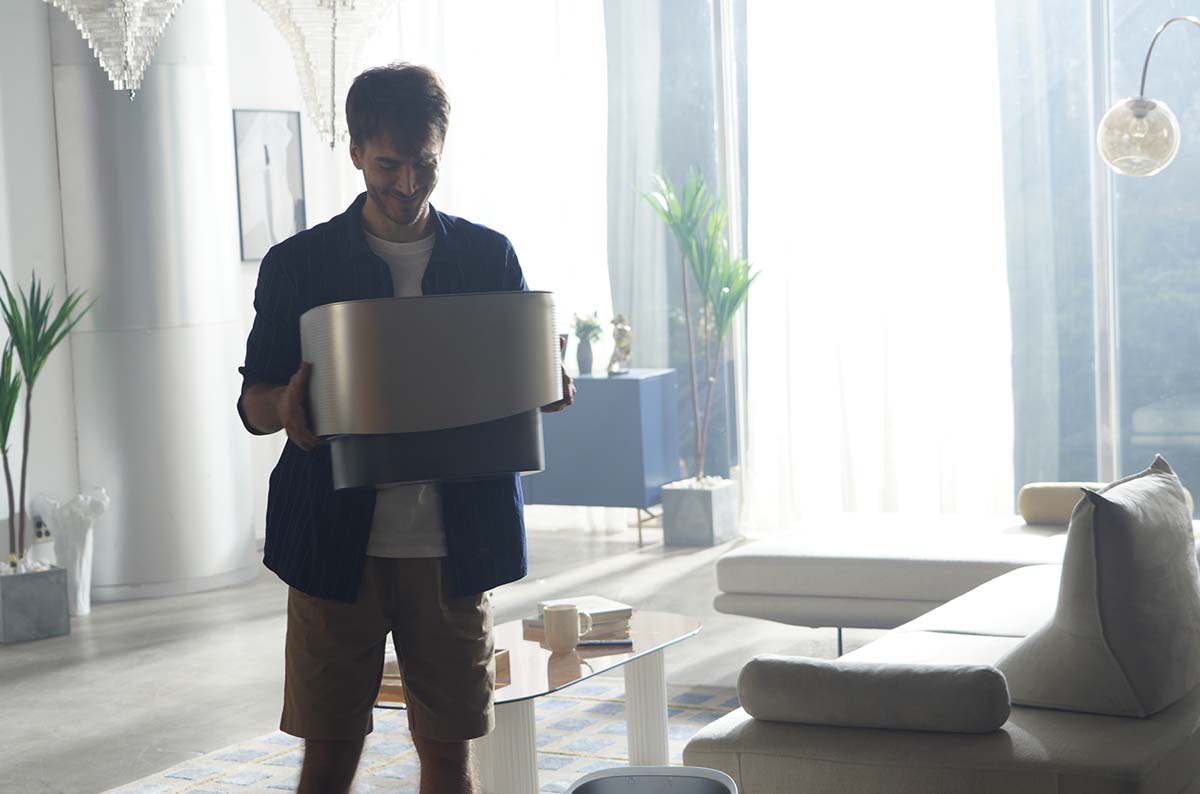 We also like to point out the Mango Power Union's battery lifecycle. This is an incredibly important feature to look for, especially in a power station, as it will give you an idea of how long the battery can last. In this case, it's rated with 4000 cycles to 80% capacity and 7000 cycles to 50%, which is almost three times longer than the industry standard of 2000 cycles. It can also last longer than the Goal Zero Yeti 6000X, which has only 500 cycles to 80% capacity. So how long can you use Mango Power Union? Well, 7000 cycles are equivalent to 10 years!
Design
Probably the most unique feature of the Mango Power Union is its detachable design. See, it consists of two parts: the bottom (Mango Power Home) and the top (Mango Power Move). When connected via the company's patented connection, which is called mUnion, they form the Mango Power Union.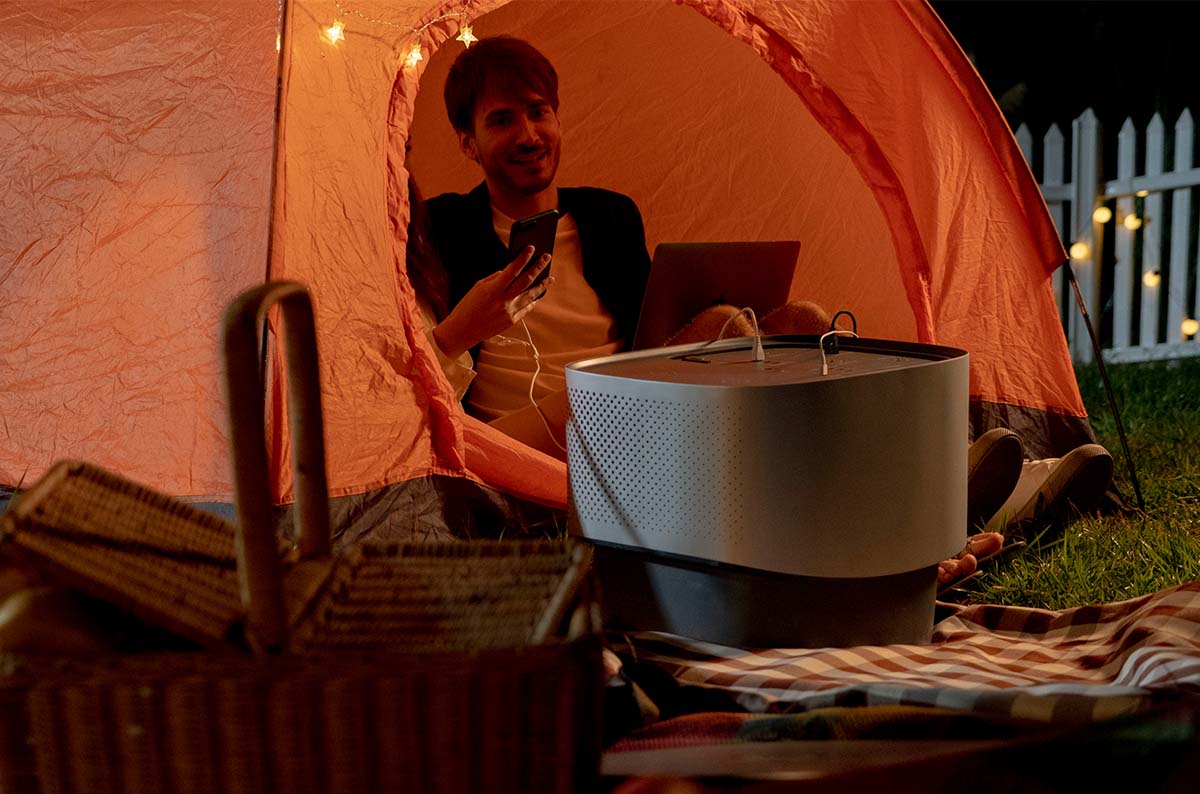 With this design, you can just take the Mango Power Move when you need a power station on the go. Equipped with a 2,300Wh capacity and 2,000W AC output, it's still packed with a lot of juice to power all your appliances while you're on a road trip, camping, working at the garage, or any activity outdoors. Furthermore, it's also light and portable. It only weighs 25kg, which is heavier than the Jackery Explorer 1500 (16kg) but lighter than the Bluetti AC200P (27.5kg). It has hidden handles too, which makes it easy to carry around and transfer.
Final Thoughts
When it comes to power stations, you have to choose either between having enough power or portability. But with the Mango Power Union, you don't have to. With an ingenious detachable design, you'll have all the power you need even for your most power-hungry appliances at home while at the same time having a separate battery that you can easily take on trips, vacations, and other outdoor activities.
Overall, with its high-capacity battery, high rated power output, multiple output ports, and surprisingly affordable price (if you catch it on Indiegogo), the Mango Power Union is one of the best power stations we've seen so far. It even has UPS and expandable features, which allow you full control over the energy in your home.
Make sure you check out the Indiegogo campaign for more information and great discounts!