Mindnap is an innovative new product that aims to help improve your ability to meditate anywhere, anytime. This smart device connects to a companion app to help guide and monitor your progress.
[wd_hustle id="142″ type="embedded"/]
Mindnap Quick Review
Summary
Mindnap is the newest meditating device and app to help you calm down faster and focus better. Thus, allowing you to reach deeper levels of relaxation. It offers something a bit different from the well-known meditation apps and is certainly worth considering if you want to improve your mental state.
Pros
All app content is free to access
Can track your progress
One time payment and not subscription-based
Cons
The additional leather case is a bit expensive
Don't have time to read the whole thing? Click on any of the links below to skip to that section:
Overview
Meditation is said to make you calmer, improve focus, and help you deal with anxiety and insomnia. It's also believed to reduce stress and help you be less reactive. However, meditating doesn't come easy for some people. This is why meditation apps and instructors are such big hits.
However, hiring an instructor and paying a premium on applications can be expensive. For instance, 10 sessions with an instructor will cost you around US$180. On the other hand, applications require monthly or yearly fees. There are also apps with lifetime memberships, but they can be extremely pricey. Headspace, for example, costs US$399.99 for permanent access, US$12.99 monthly, or US$94.99 yearly. Of course, there are cheaper meditation app options too with some even offered for free, but with limited features.
To address all these, Mindnap combined a device with an app and offered them at an affordable price. With a retail price of US$150, it is cheaper than hiring a personal coach or paying a lifetime membership on applications. Together, they act as your meditation coach and guide you in reaching higher and deeper levels of focus and relaxation.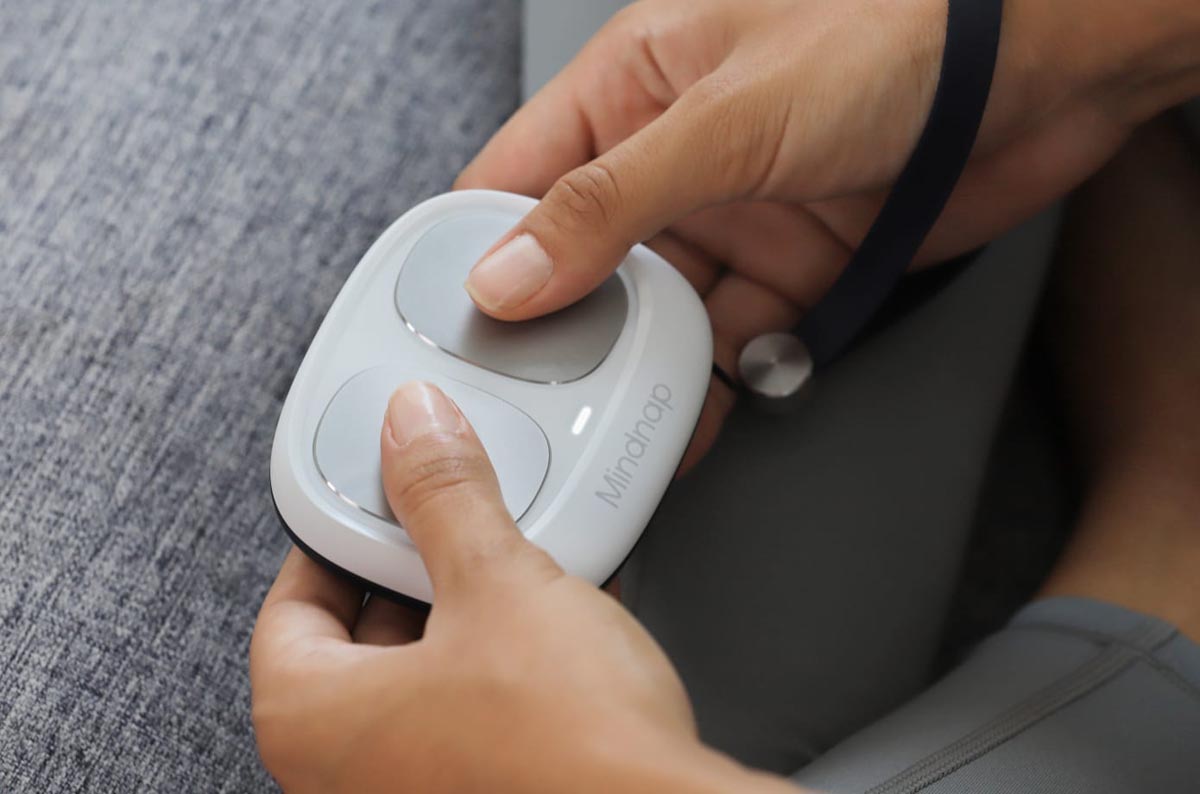 Features
Application
The Mindnap App includes audio lessons and meditation and breathing exercises. It can also collect and analyze your data, as well as present you with visual feedback. Through the app, you can always keep track of your progress and meditation performance.
Meditating Device
The Mindnap device is designed to guide your breathing through gentle vibrations. Simply inhale when the vibrations become stronger and exhale when they are softer. This will provide you a clear way to getting the right breathing or rhythm.
Mindnap's device is also said to detect your mental state through its built-in biosignal sensor. This will allow you to accurately monitor your meditation stage and physical status.
Specs
| | |
| --- | --- |
| Dimensions (L x W x H) | 75mm x 95mm x 25mm |
| Shell Material | Silicone |
| Charging  | USB Type-C |
| Connectivity  | Bluetooth 5.0 |
| Weight | Less than 100g |
| Battery Life | 6 hours |
| App Compatibility | Android and iOS |
It's great that the Mindnap device utilizes a USB Type-C cable. This ensures convenient and faster charging. In fact, it only takes an hour to fully charge the Mindnap. The use of vibrations to guide your breathing is also different since most meditating devices today use brainwaves, such as the BrainLink Pro and Muse S.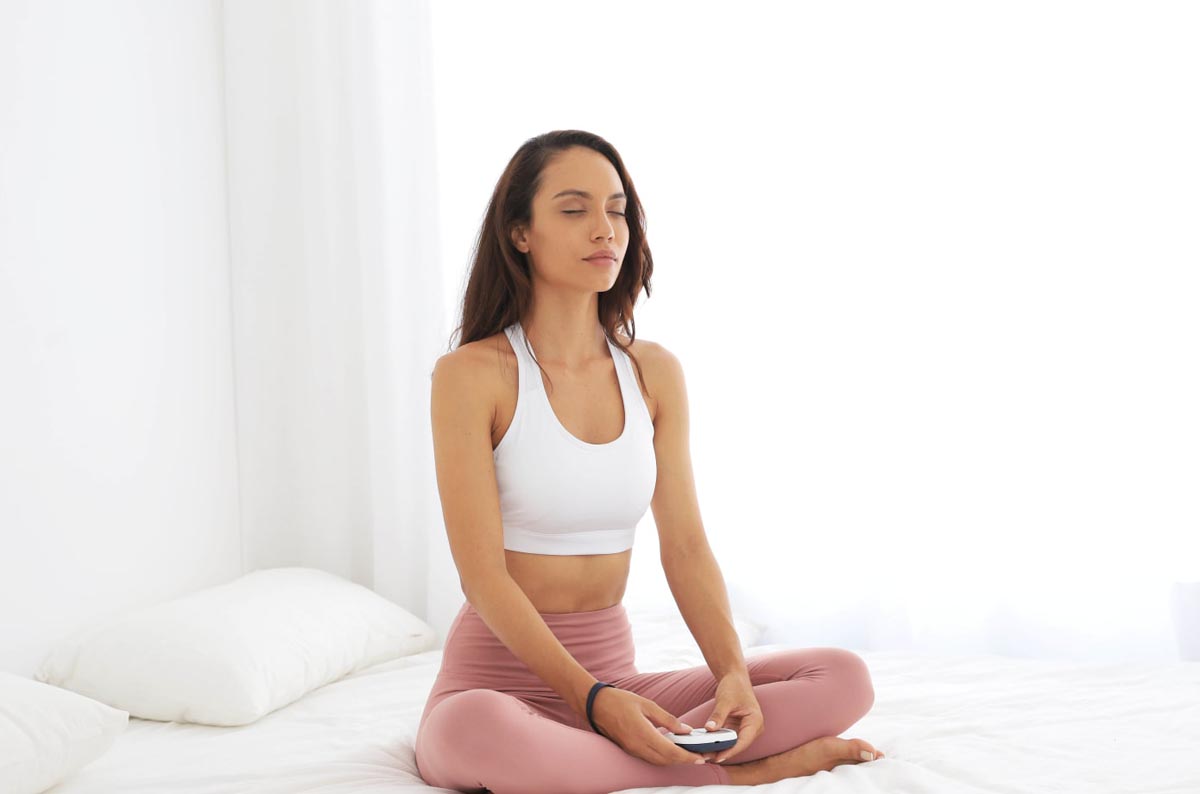 Aesthetics
The Mindnap device is light and portable. So you can take it everywhere you go. It even comes with a flannel bag for convenient and safe storing. The device is available in 2 colors: Ocean Blue or Earth Yellow. This gives Mindapp a little variety. You can also purchase leather cases in the same color schemes for an additional $20.
What we love about Mindnap's design is that you don't have to wear it. It's comfortable to use and doesn't draw attention, unlike the Muse Headband and Thync.
Mindnap Review: Final Thoughts
There are tons of meditating apps on the market, and they pretty much offer the same things – lessons and breathing exercises. But what makes Mindnap stand out (besides its one-time payment), is its use of an actual device to help you control your breathing, This is something you can hold, feel, and take with you anywhere you want to go, so you can always meditate no matter where you are.
[wd_hustle id="142″ type="embedded"/]