Summary
Aside from the usual option of connecting with your smartphone, tablet, iPad, laptop, and other smart devices, the MOGABI also features a built-in speaker and a foldable body for extreme portability. You can use it to record your tunes and voice without having to worry about the noise too. Overall, if you are looking for a smart guitar that sounds and feels almost like a real guitar, then the MOGABI is certainly a good choice.
Pros
Simultaneous vocal and tune recording
Long battery life
Works on its own (no need for a speaker, amplifier, phone, etc.)
Cons
Expensive
Takes 3 hours to fully charge
From smart chopping boards to smart water bottles, there's always a "smarter" version of almost every product. So it's no surprise that even musical instruments today have their smart counterparts. There's the HyVibe, Jamstik, Xkey Air, and Poputar, to name a few. We've also done a review on MOPLAY, which is among the newest smart drums around. And soon, with the launch of MOGABI on Kickstarter, another smart guitar will be available to the public. But before it does, here's everything you need to know about this new "all-in-one" smart guitar.
Can't read the whole thing? Just click on any of the links below to skip to the section you're interested in.
Overview
There are a lot of smart and portable guitars in the market. Sure, most of them can produce the same sound. However, many of them don't "feel" like a real guitar, which makes hammer-ons and pull-offs impossible. Some also rely on separate Bluetooth speakers, amplifiers, and connecting with other devices to make a sound, making playing guitar a bit of a process.
With MOGABI, however, these are non-issues. Said to be all-in-one, this smart guitar has a foldable body and a built-in speaker. So you can easily carry it around whenever and wherever without needing to take extra equipment with you. On top of that, it offers sound recording. Meaning, recording your tunes will be faster and more convenient as you no longer need to get a microphone, amplifier, and go to a studio just to do so.
In terms of price, however, the MOGABI is very expensive. With a retail price of US$1,100, it's pricier than some of the popular smart guitars around, including the jamstik+, Jammy G, and Artiphon Instrument 1. Even its discounted price on Kickstarter, which starts at US$660, is still more expensive than the guitars we've mentioned.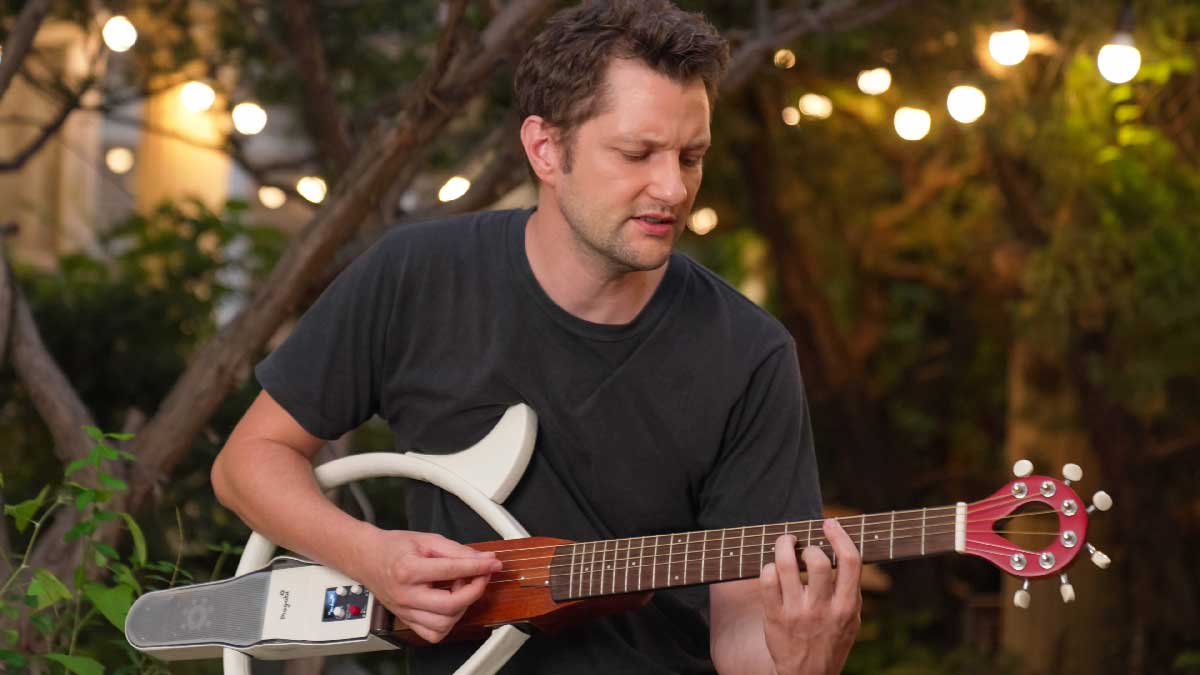 Features
Original Sound Recording
For many guitarists and musicians, inspiration and tunes can come at anytime and anywhere. So having a recording device will certainly be handy. But the problem with using a separate device is that you'd have to find a quiet place to record and maybe use other equipment, including an amplifier. With MOGABI, however, you don't have to worry.
Equipped with original sound recording and 32GB internal memory, the MOGABI allows you to register your tunes without any noise interference. So you can play and record by the beach, a construction site, park, and shopping mall. You can also access any piece of recorded music immediately. Just connect your phone or any device via the included C-type cable. This way, you can edit, copy, and share your recordings on the go.
Microphone Connection Port
Do you like recording songs and not just tunes? Well, the MOGABI is a perfect choice. Pushing the limits in smart guitars and recording technology, the company upgraded its hardware to allow users to record their vocals together with their guitar tunes through the microphone port – again with no noise interference.
Reverberation
Another thing we like about the MOGABI is its reverb function. Now, you can adjust the reverberation volumes on the guitar itself by turning the recording button.
Multi-Playing
MOGABI features a Mix Mode that allows you to play alongside your favorite artists and songs. So if you're tired of playing alone or want to perfect a specific song, then here's a guitar that can help you out.
Specs
Color

Black
White
Red
Gold
Blue
Wood

Size

Folded: 27.7 x 3.3 x 3.5 inches (703 x 84 x 88 mm)
With rest frame: 41.9 x 12.6 x 1.8 inches (1065 x 320 x 45 mm)

Weight
Approx. 5.95lb (2.7kg)
Neck
Mahogany Field 22.8 inches (580mm) plezo pickup
Guitar String

Acoustic: Mogabi Strings 012 guage
Classical: Mogabi Strings ¾ size

Speaker

2 x 40mm full-range 4W
1 x passive radiator (40 x 83 mm)

Mainboard

High-performance MCU with Digital Signal Processor (DSP)
2 Audio Codec 32GB SD memory B/T (Near Field Communication)
V4.0 Lithium-ion battery
Digital control volume
Switch (encoder)
4 OLED display

External Device Connection

Headphone out
Line out
Charging port
USB-C Port for mobile phone and PC connections

Additional Components

12V charger + plug
C to C data cable
8 pin to C converter (iOS)
Head cap (PE)
Fabric bag
4 picks (random)
4mm hexagon wrench
Like every other smart guitar, MOGABI also features Bluetooth pairing. So you can connect it with your phone, computer, etc. Not only that, but it also allows sharing function. For instance, if you're part of a band and did not have enough time to practice one of the songs, then you can share your tunes via recording.
Another feature that's unique to the MOGABI is its built-in full-range speakers. Unlike other smart guitars on the market, you don't need to connect the MOGABI to a separate speaker, amplifier, or other device. But if you do want extra power for your sounds, you can utilize the 5.5 line out port to use it with an amp. On the other hand, if you want to play but don't want to disturb others, you can just connect your headset to the earphone jack.
It's also worth mentioning that MOGABI is equipped with 2600mA lithium-ion batteries that can last up to 6 hours straight. So if you enjoy performing outdoors, then this is definitely a good choice for a smart guitar. Keep in mind, however, that it'll take around 3 hours to fully charge it.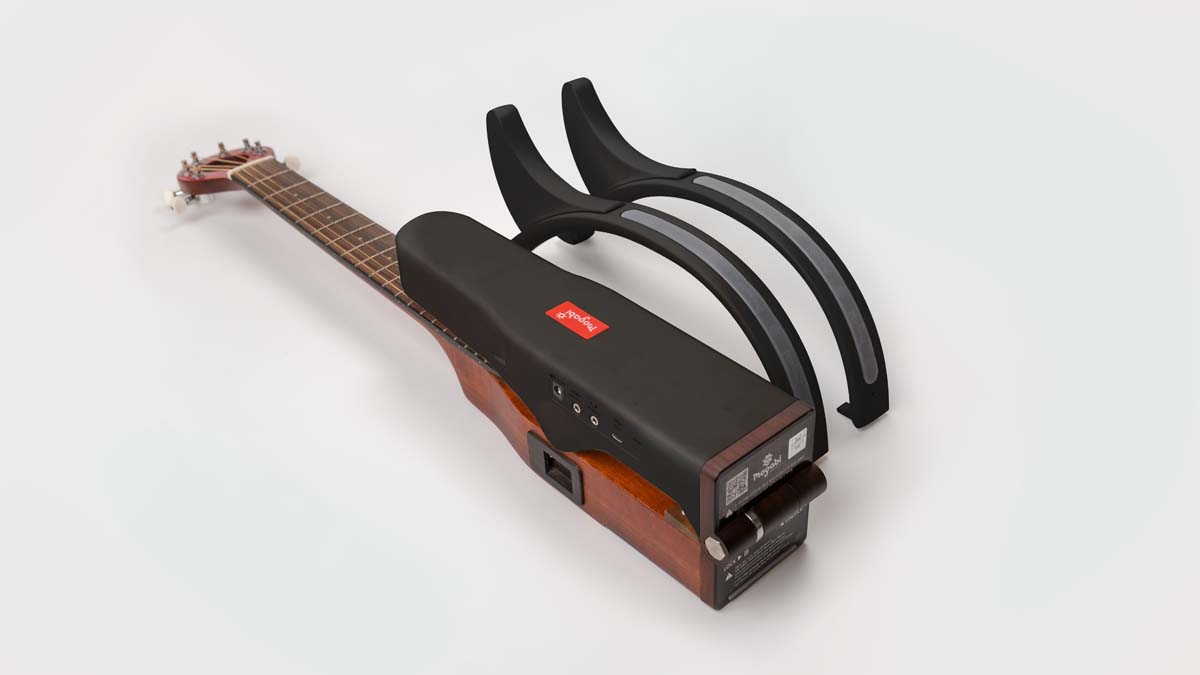 Design
One of the key features of MOGABI is its portability, even as a full-length guitar. Unlike most smart guitars with 12 (Artiphon Instrument 1), 15 (Jammy G), or lesser frets, MOGABI has 20. But since its body is structured with the neck and audio box separate from each other, you can easily fold it and put it inside the bag. And with no soundbox, the MOGABI's size and weight are cut down drastically.
That said, the MOGABI is one of the most portable and easy to carry full-length smart guitars around. Thus, making it the perfect companion on business trips, vacations, or whenever you need to take a guitar with you.
In terms of design, MOGABI also adapted the analog and retro style. Sure, it's considered an electric guitar, but it's still built with acoustic and classic strings, mahogany neck, and rosewood keys, which gives it a more delicate sound and sensation. And with the detachable rest frames, this guitar looks minimalistic, modern, with a touch of retro.
Final Thoughts
With its long battery life, portability, and simultaneous voice and original sound recording, the MOGABI looks very promising. It might as well be at the forefront in smart guitars. Not only does it produce the same sound as a real guitar, but it also feels and plays just like one.
Also, the MOGABI can function on its own – no need to connect with your smartphone, iPad, tablet, computer, or even amplifier every time you need to play the guitar. As long as you're in the mood to play some music, just take out the MOGABI from its bag, assemble, and you're good to go. Simple and convenient. Now, is that worth spending a few more hundred dollars than other similar products? Well, that's for you to find out.