MORECUP Quick Review
Summary
If you are looking into shifting to menstrual cups, MORECUP is a great option. Since it offers all sizes in a single cup, you no longer have to go through the trouble of finding the right one to fit you. With it, you can also start saving more and avoid monthly expenses on sanitary pads and tampons.
Pros
Eco-friendly and cost-efficient
You can use it longer than pads and tampons
Less odor
Cons
It may be uncomfortable at first
Removal can be messy
So how exactly is MORECUP different from pads, tampons, and other menstrual cups around? Let's find out here. Looking for something? Click on any of the links below to skip to that section.
Overview
MORECUP is a small and flexible cup that you wear inside your vagina during your period. It is meant to catch and collect your flow instead of absorbing it as sanitary pads or tampons do. It's easy to use and easy to maintain. Plus, it's more economical and cost-effective too. Since MORECUP is a semi-permanent product, you can reuse it for a much longer time. Thus, making it cheaper than other sanitary products for women.
With a retail price of US$35, MORECUP is within the average price of menstrual cups. It's at the same price point as Lunette and Femly Cup but cheaper than The Diva Cup and Lena. At this price, you can save more with MORECUP since it can last for about 6 months or even 10 years. Whereas in tampons or pads, you are looking to spend an average of $50 to $150 yearly, which is a lot more expensive.
Now, menstrual cups are nothing new. Once you get the perfect fit, using one can provide you with significant convenience. However, the problem with menstrual cups today is that you have to try a few to find the right size for your body. But with MORECUP, this is no longer an issue. You can always find the size that will fit you perfectly without needing to go through such an unnecessary process.
Read more: Terraplanter – Crowdfunded Hydroponic Planter
Features
Self-Customizable
The biggest and most important feature of the MORECUP is its self-customization. Most menstrual cups are available in different sizes – Small, Medium, and Large – since women have different vaginal lengths. Now, as a first-time user, you may have to go through different products and sizes to find the perfect fit. Remember, menstrual cups will only work if you get them to perfectly match your body. But the problem is, trial and error can be inconvenient and costly. To fix this, Spark Factory designed a product that can offer all three sizes in a single cup. It comes in one standard size, which you can trim accordingly to match your body and comfort level.
So if the first size (Large) feels uncomfortable to you and causes leaks, you can cut the first ring to make it Medium. Again, if it doesn't feel right, just trim and you'll end up with Small. With this product, you can avoid the tiring process of finding the right cup size. To make it even better, MORECUP already comes with its own cutter.
Safe to Use
MORECUP is made with FDA-registered 100% medical-grade silicone, which is completely safe to use. This is an incredibly important feature to look out for since you'll be inserting the menstrual cup into your body.
Easy Maintenance
Since MORECUP is made of silicone, you can easily wash it in water. There's also a convenient brush included in the package that allows you to thoroughly clean the product. Once you are done washing it, just dry it and you can use it again or store it back in its container. You can also clean your MORECUP with boiling water. This can help eliminate viruses and bacteria that were not fully removed by just running water.

Size and Capacity
Size
Dimension
Large

Opening: 1.7 inch (43 mm)
Length: 3.05 inch (77.5 mm)
Capacity to holes: 0.78 fl oz (23 ml)
Capacity to rim: 1.2 fl oz (36 ml)

Medium

Opening: 1.6 inch (40.5 mm)
Length: 2.85 inch (72.5 mm)
Capacity to holes: 0.78 fl oz (23 ml)
Capacity to rim: 1 fl oz (32 ml)

Small

Opening: 1.5 inch (38 mm)
Length: 2.65 inch (67.5 mm)
Capacity to holes: 0.78 fl oz (23 ml)
Capacity to rim: 0.9 fl oz (27 ml)

Stem Length
0.9 inch (23 mm)
As you can see, MORECUP can hold more or less 1 ounce of liquid. This is significantly more than the amount any sanitary pad or tampon can hold. See, the average amount of menstrual blood per month for every woman is around 15 ml. MORECUP is more than capable to accommodate that as it can hold 27 to 36 ml while tampons and pads can only absorb 5 to 9 ml of fluid. This is why you can only use such products for 2 to 3 hours. But with the MORECUP, you can wear it for up to 12 hours. For those with heavy flows, this is a perfect solution. You'll feel more comfortable and you don't have to change as often as you would with other products.
Design
While they may look alike, menstrual cups actually have different shapes. There are elongated ones, or also known as bell-types, and there are sphere types. Bell-types offer an easier and more comfortable fit while spheres are capable of holding more menstrual blood.
Now, to achieve all of these advantages, MORECUP was designed to combine the two shapes. This resulted in a round design, which helps make it easy to wear and remove. Furthermore, this shape allows better adhesion, preventing leaks and discomfort.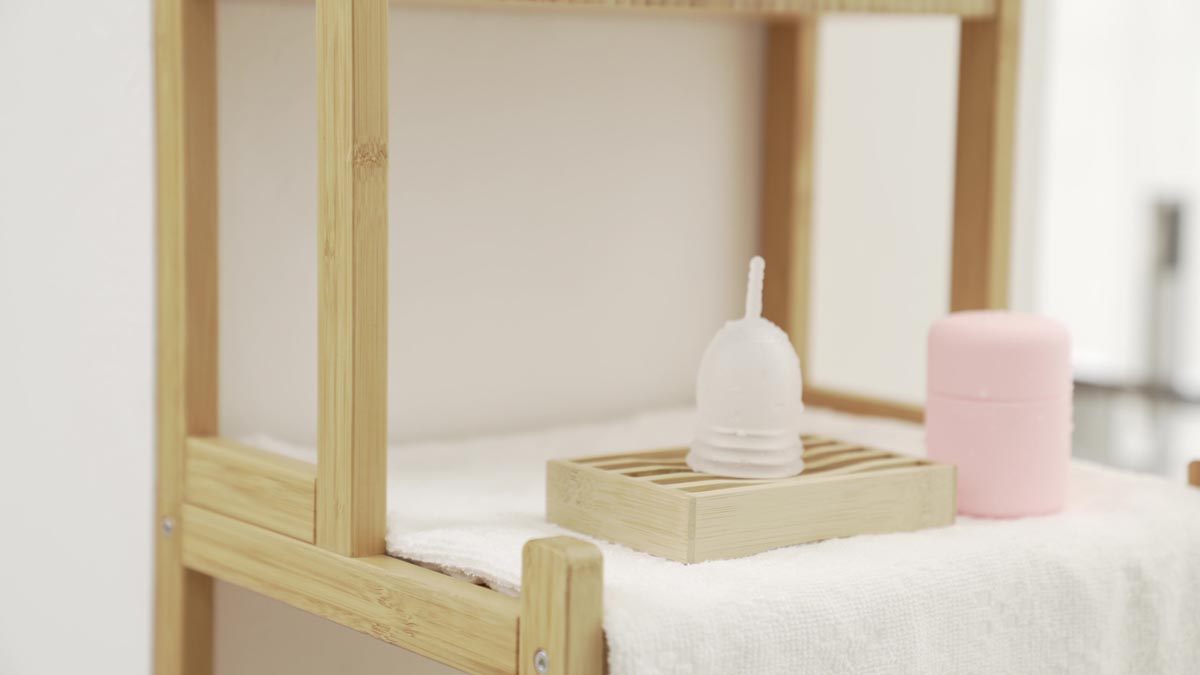 Final Thoughts
Overall, as far as sanitary products for women go, MORECUP is a perfect choice. It offers the same benefits as menstrual cups, such as being eco-friendly, wallet-friendly, and longer period of use. It can also hold more menstrual blood than even super-absorbent pads or tampons, which makes it a better option for heavy flow days.
But what really makes MORECUP unique is that it solves the problem with other menstrual cups. It features the three most common sizes in a single cup. So depending on your comfort level, you can customize the product all on your own. No need to spend more on other cups and no need for some trial and error. Thus, saving you time and money.
Find out everything you need to know and support this campaign by checking out their Kickstarter campaign.