Design & Build -

0/10

Features -

0/10

Sound Quality -

0/10

Mic Quality -

0/10

Battery Life -

0/10

Comfort -

0/10

Total Value -

0/10

MONITORS -

0/10

Image Quality -

0/10

Refresh Rate -

0/10

Ports -

0/10
Summary
Ongredients is a zero waste, eco-friendly, and 100% vegan cleansing ball that you can use from head to toe. Using only natural ingredients, it's a great shampoo, facial cleanser, and body wash for any skin type and the whole family.
Pros
Can be used from head to toe
Each package comes with 3 balls and a suds pouch
Zero waste and eco-friendly
Keeps skin healthy
Great for travel
Cons
Hair loss or disoloration may occur when not rinsed away thoroughly after use
Are you looking for a more eco-friendly and vegan alternative to your shampoo, body wash, and facial foam? Well, look no further. Power Player just launched Ongredients, a zero-waste vegan cleansing ball that's said to be good for you and the planet.
Ongredients is an all-in-one body care product. It's shampoo as well as a face and body cleanser, so you can use it from head to toe. It's also safe and perfect for the whole family – yes, including your kids. If this sounds exactly what you are looking for, continue reading to learn more about this neat new product.
Overview
Most people, admittedly including us, buy shampoos, body wash, and facial cleansers in individual plastic containers. Such products sit around the bathroom for a while and when empty, are thrown away and replaced with another bottle. And the same goes for conditioners, lotions, deodorants, and more. If all households are doing the same – buying, using once, and then throwing away – can you just imagine how many plastic bottles are ending up in the landfill?
Well, according to the Department of Climate Change, Energy, the Environment and Water, 1,000,000 tonnes of Australia's annual plastic consumption is single-use plastic. 84% of that is sent to the landfill, and only 13% is recycled. It further states that approximately 130,000 tonnes of plastic leak into the marine environment every year in Australia. Safe to say, we have a serious problem on our hands – and it will only get worse if we don't do something about it.
So what can you do to help the environment? Well, you can try reducing your use of plastics, which Ongredients can help you with. Since it's shampoo, body wash, and facial cleanser all in a single product, you can drastically cut the amount of plastic waste in your home. It even comes in a resealable paper pouch and suds pouch for true biodegradability.
In terms of price, the Ongredients costs US$60. While it sure isn't cheap, you have to remember that it's 3 products in 1. Plus, it comes with 3 pieces and a suds pouch, so it's already a great deal. Even better, backers through Kickstarter are offered big discounts. So instead of the original price, you'll only have to pay US$35 or US$40.
When compared to similar products, Ongredients' price isn't that bad. At US$60/3 pieces or US$20/piece, it costs the same as the Boscia Charcoal Jelly Ball – which is also a vegan and cruelty ball facial cleanser for adults. But while their prices are the same, Ongredients offer more as it can also be used as a shampoo and body wash. On top of that, kids can use it, too.
Features
Eco-Friendly
The Ongredients don't use any plastic. It slowly washes away as you use it, which means you'll leave no waste behind. It is also packaged in its own resealable paper pouch, which surprisingly does not tear. You can use it over and over for added sustainability.
Additionally, every purchase comes with a suds pouch, which is made with 100% all-natural plant ingredients. It can be used to keep the Ongredients, so it won't slip out of your hands as normal bar soaps do. Awesome, right?
Vegan and Cruelty-Free
If you're dedicated to using only vegan and cruelty-free products, then the Ongredients is a great choice. It does not use animal-based ingredients and is not tested on animals. It uses only all-natural and sustainable ingredients, so rest assured it is 100% vegan.
Safe and Healthy pH Level
One of the most notable features of Ongredients is that it has a pH of just under 6 while most facial cleansers in the market use an alkaline pH of 8. This is important if you want to have healthier skin since the ideal pH level is between 5.5-5.9.
Now, you might think that because it has a lower pH level than others, its cleaning power is weaker. Well, not quite. Compared to other vegan bar soaps, Ongredients can cleanse the skin surprisingly well, and it's even strong enough to remove makeup.
All Types of Skin
The Ongredients is compatible with all types of skin. Using only healthy and pure ingredients, it's perfect for even kids and those with sensitive skin.
All-in-One
This product is a shampoo, facial cleanser, and body wash all in a single ball. It makes a lot of bubbles, too. In fact, it's bubblier than many of the bar soaps around. Just put it inside the suds pouch, and you'll be able to later yourself from head to toe.
As a shampoo, however, make sure to rinse it away thoroughly after use. Not doing so may cause hair loss or discolouration.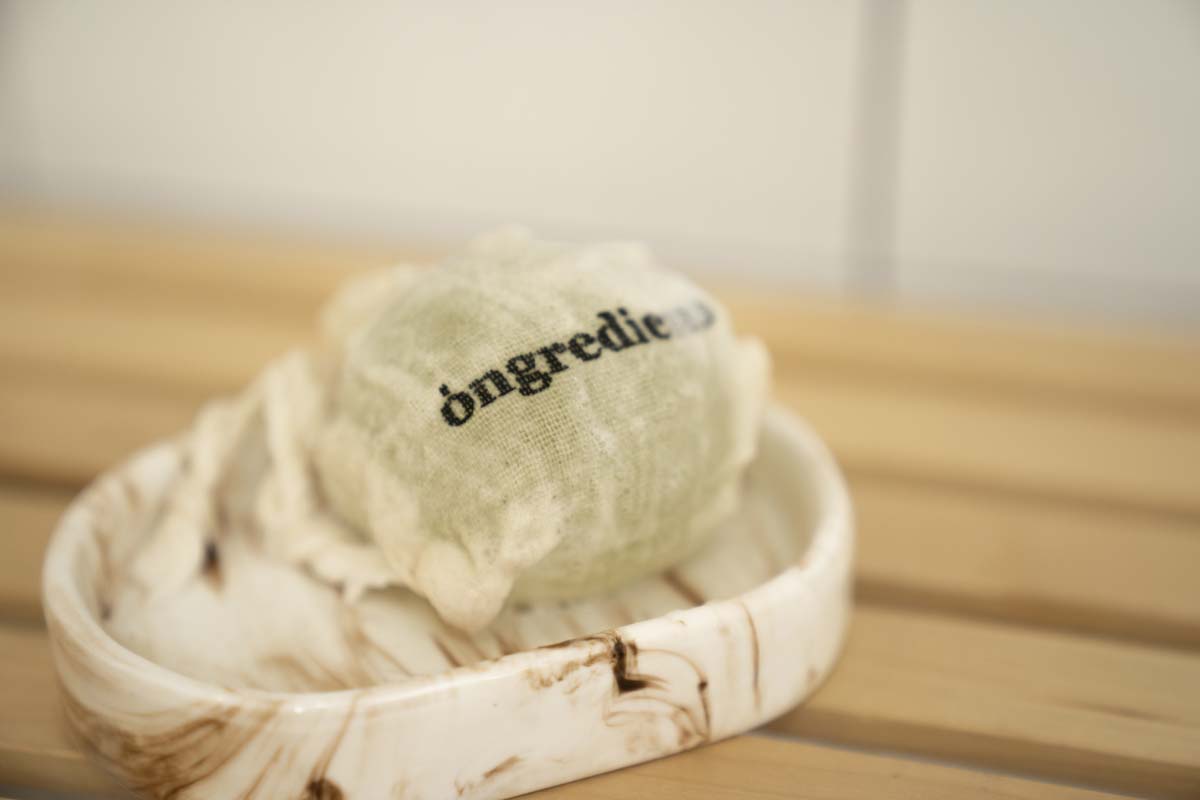 Specs
Volume and Composition

Wet: 110g (0.24lbs)
Dry: 40g (0.09lbs)

Components
Aloe, rose, and kelp extract
Compatibility
All skin types
Use-by
1 month after opening / 36 months before opening
Country of Origin
Made in Korea
What's great about Ongredients is that it only washes away the unnecessary waste from your skin. It then provides your skin with just the right amount of oils and hydration after cleansing. As a result, it will give you revitalized skin with no tightening.
All of these are possible due to the ingredients Power Play used in its products. To be specific, the Ongredients is available in 3 colours and ingredients: Aloe vera, Damask rose, and Marine Algae. These ingredients are all known to be packed with moisture. They are also commonly used on skin care products due to their deep hydrating capabilities and ability to keep your skin moisturized for longer. Then to make each ball smell better, an all-natural lavender fragrance is added, giving you a true floral aroma.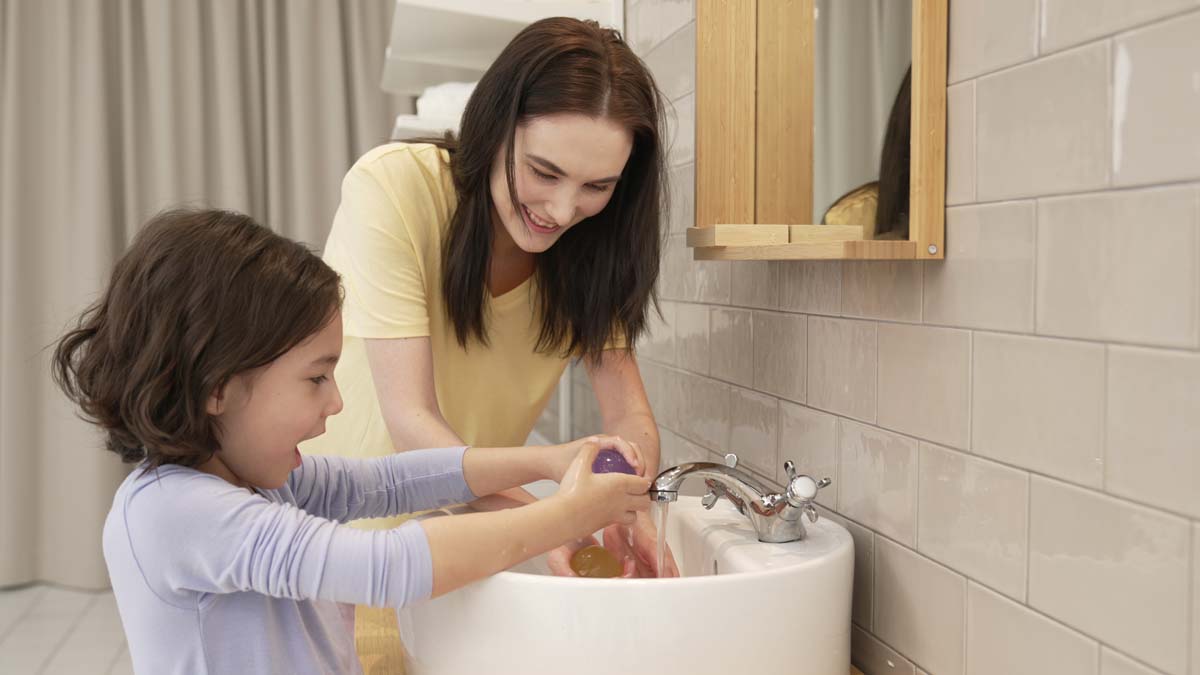 Design
The Ongredients is a ball, which gives it a more fun form factor compared to regular bar soaps. It's like a squishy jelly that kids will certainly have fun playing with during bath time. And you don't even have to worry about it tearing to pieces. While it's soft, it is also firm and able to retain its shape – as long as you don't apply excessive pressure or force.
Now, the thing about Ongredients' is that it's great for travelling and when you're on the go. It is small and light, plus it's a soap and shampoo in one. So you don't have to bring separate products with you all the time. This not only frees up space in your bag but also makes packing easier.
Final Thoughts
As a facial and body cleanser, Ongredients is a better alternative than most regular bar soaps around. Not only is it cuter and more fun, but it's healthier, too. With it, you can expect clean, hydrated, and better-looking skin. Plus, it uses only 100% natural ingredients. So it is safe, and compatible with any skin type and great for the whole family.
The best part about Ongredients is that it gives you a chance to help the environment. By putting together 3 products in 1 and using no plastics at all, you can significantly reduce the number of plastic containers that you will be throwing away. And if each one of us can do the same, then maybe we can do something about the increasing waste crisis in the country.