Summary
Here's a pillow that moves along with you. The Orbit Pillow supports your neck and spine and keeps you in the right posture when sleeping. With it, not only will you get a good night's rest but you'll also feel better than ever when waking up.
Pros
Foams are easy to use and clean
Quiet even when you keep moving around
Great support for neck and spine
Can be used for exercises
The Orbit Pillow is a rotating pillow that uses an ergonomic design to keep your head and neck squared to help you sleep better. Not only that, but it claims to help improve your posture, too. How exactly does it do that, and how is it different from the thousands of pillows around? Let's find out in this review.
Don't have time to go through the entire thing? Just click on any of the links below to skip to that section.
Overview
According to the University of Rochester Medical Center, your pillow should not only provide you with comfort but should also support the natural curve of your neck. If it is too high, it can put your neck into a position that can cause muscle strain on your neck, back, and shoulders. It should also be able to keep your neck aligned with your chest and lower back. So choosing the right pillow is key not only to getting a good night's rest but to also preventing pain.
Here is where the Orbit Pillow comes in. It is a pillow that moves with you, making sure that your head stays IN the pillow no matter how much you toss and turn. This means that you'll always have the right support for your neck and spine as well as the proper posture while sleeping or laying down. As a result, you will not only sleep comfortably through the night but you'll also feel better upon waking up.
Now, we haven't used or seen anything like the Orbit Pillow. But compared to other top pillow brands with the same purpose, it is significantly pricier. With a retail price of US$182, it's more expensive than both the EPABO Memory Foam Pillow and the Elviros Cervical Memory Foam Pillow.
You can, however, experience the Orbit Pillow at a much lower price if you catch its crowdfunding campaign on Kickstarter. Instead of the US$182, you can get as much as a 51% discount and pay only US$89.
Features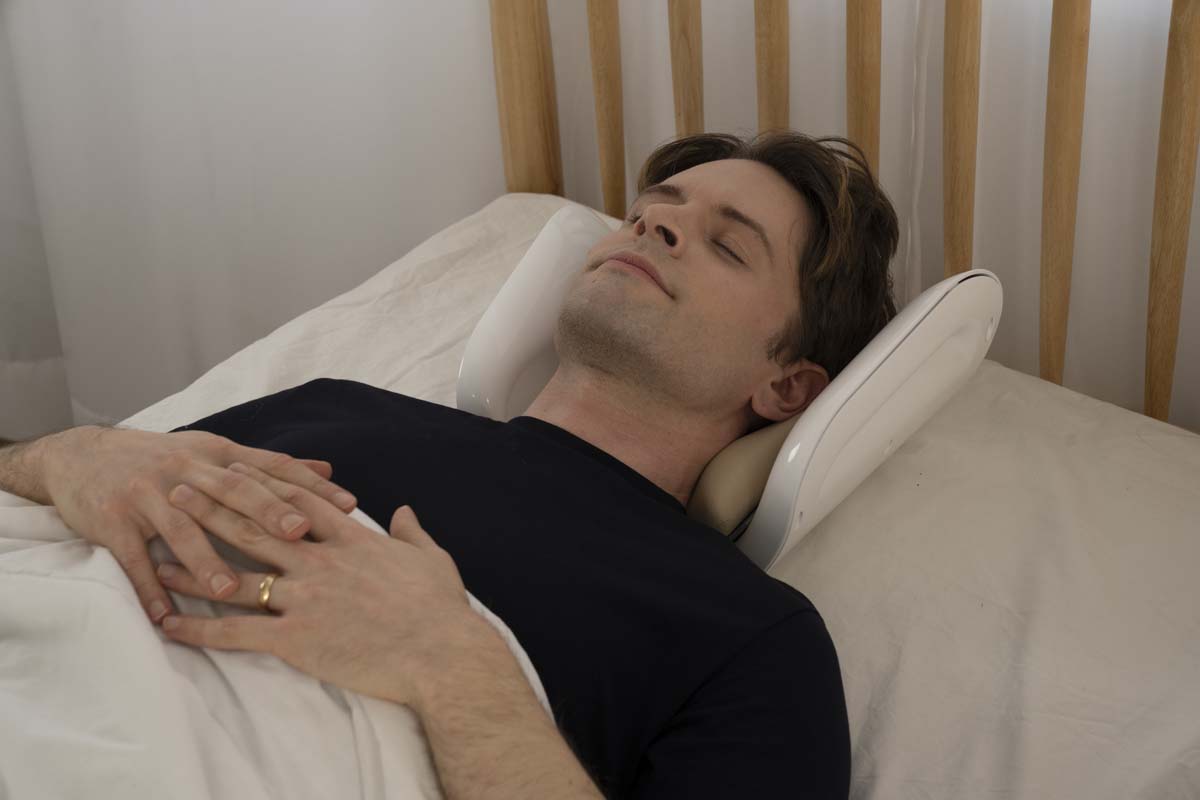 Moving Pillow
What's different about the Orbit Pillow is that it moves with you. It has an internal rotating panel that moves together with an external frame, allowing it to cradle your head and neck while laying down. So unlike with other pillows, your head will stay on the pillow even if you keep tossing or turning.
The best sleeping position is on your back. However, very few people can stay completely still and in that position while sleeping. But with the Orbit Pillow, you now can. Its moving design will help you keep a straight posture, minimizing any shifts that you may make while asleep.
Support for Spine and Neck
The Orbit Pillow has a C-Curve design that provides your neck and spine the support they need to keep you comfortable and prevent any pain. It is neither too low nor too high, so it won't put pressure and stress on your neck and shoulders. Specifically, it has a height of 2.7 inches, which is considered the best pillow height to ensure comfort and spine alignment.
Ergonomical Foams
Orbit Pillow comes with two foams: hard foam and memory foam. Both are designed to match the shape and spine curvature of your head. So you'll be comfortable while laying down. For sleeping, memory foam is more ideal. Like other memory foam pillows, it is soft, firm, and able to keep its shape. On the other hand, hard foam is better for stretching exercises. That's right, the Orbit Pillow is great for neck exercises, pilates, and other exercises, too.
Specs
Rotating Panel
Material: ABS Plastic
Dimension: 13.2 x 8.5 x 7 in
Hard Foam
Material: Integral Skin Foam
Dimension: 7.4 x 8 x 1.6 in
Memory Foam 

Material: 100% Memory Foam
Cover Material: Modal

Dimension: 7.4 x 8 x 1.6 in
There are many components of the Orbit Pillow. It has a foam, foam insert rotating panel, rotating panel rail foam, and rotating panel rail. It also has wheels, which enables it to move along with your head. Now, you might be wondering, will it make noise and be too distracting when you are asleep? No. Orbit Pillow's wheels are coated to make sure they're quiet all night. It works very smoothly, too. In fact, you may not even realize that it's already rolling along with you.
We also like to mention the two foams that come with every Orbit Pillow, particularly on how to care for them. The hard foam doesn't have a cover. But it is stain resistant, so you just have to wipe it down with a wet cloth or tissue to clean it. On the other hand, the memory foam has a modal outer cover, which you can easily remove and wash. The foam itself also has a waterproof cover that will help it stay clean and safe from dirt.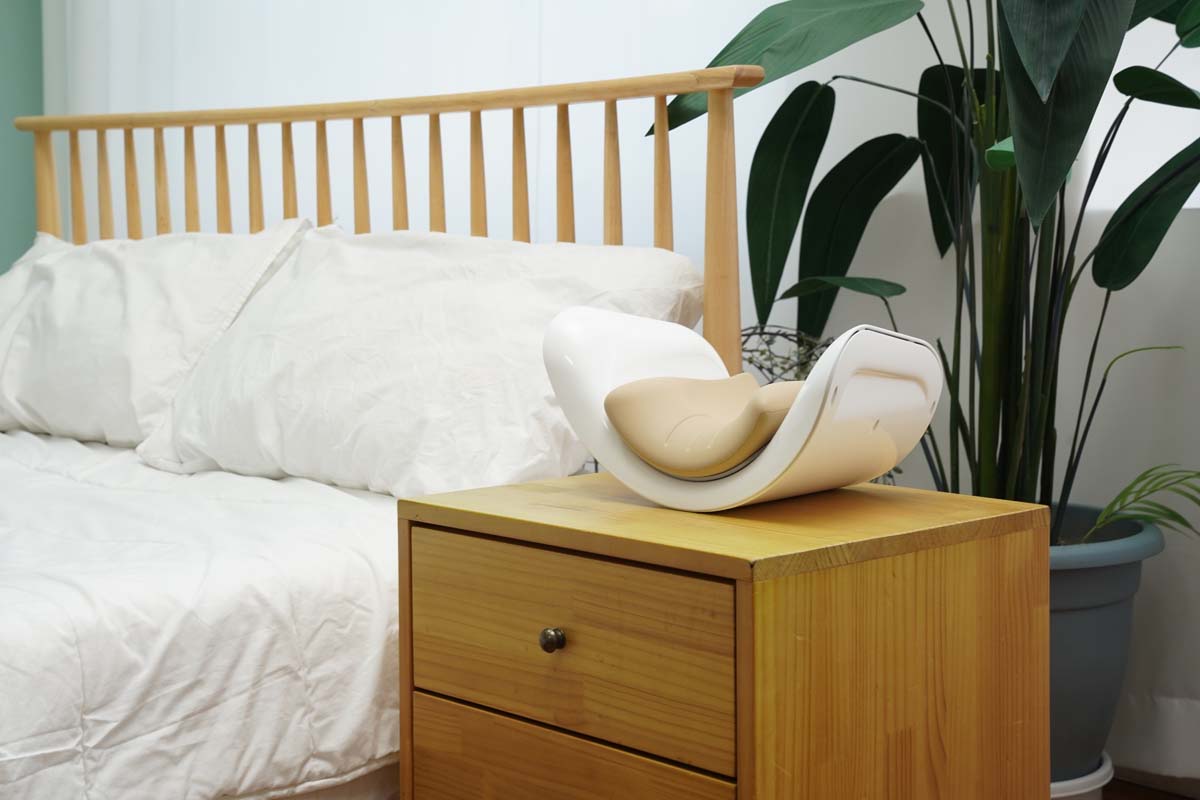 Design
The Orbit Pillow isn't anything like the other pillows you've seen before. It's not fluffy, doesn't lay flat on the bed, and has a U-shaped body that rolls along with your movements. It's like a travel pillow, so your head stays in place. Only, it has a frame and wheels, which allows it to move when you turn your head. That said, the Orbit Pillow is definitely weird.
Final Thoughts
Keeping the right posture is key to a good night's sleep – and the Orbit Pillow can help you with that. It is specifically designed to support and hold up your spine while sleeping, so you don't have to worry about the undue burden on your neck and shoulder muscles. It can help you reduce any pain and muscle strains, too. So with it, not only will you feel comfortable while sleeping but you'll also feel more relaxed and energized upon waking up.
If you don't mind its price and weird shape, the Orbit Pillow is a great choice for a pillow, so make sure to check it out on Kickstarter here.