Looking to make your desk, home, or office space more organized? The Origami might just be what you need. Inspired by the traditional origami paper folding art, Origami introduces an 8-piece "paper-folding desktop set." From your papers, books, magazines, pens, tape, card, documents, and even your phone, there's an Origami product to meet your daily office needs.
Let's find out more about this new line of products here. In a rush? Click on any of the links below to skip to that section:
Overview
Origami Desk Organiser Review
Summary
Make a good impression and be more productive with Origami's paper-folding desktop set. Beautiful, elegant, durable, and functional, every item is designed to meet your daily needs.
Pros
Modern and very beautiful
Durable
Functional
Many desk organizers today look very outdated that they no longer blend well in modern and minimalist offices or homes. On top of that, their lifespan is incredibly short that you'll probably replace them in just a few months. For instance, mesh metal holders will start rusting, paper magazine files will lose their shape, and plastic units might break. However, with the Origami, all these are no longer an issue.
Incorporating the traditional art of folding paper into its designs, Origami offers some of the most elegant and beautiful desk organizers around. It is 100% made of metal, making each item on the set solid and durable. The company also uses electroplating technology to prevent the products from rusting.
In terms of price, however, Origami is a bit pricey compared to other desk organizers. Prices start at €29 or around US$35 for a 3-piece set on Indiegogo. For the whole paper-folding desktop set, you'll need to pay €79 to €89 or more than US$95 to US$105. That's expensive considering that you can buy all-in-one desktop organizers for just under US$20.
[wd_hustle id="122″ type="embedded"/]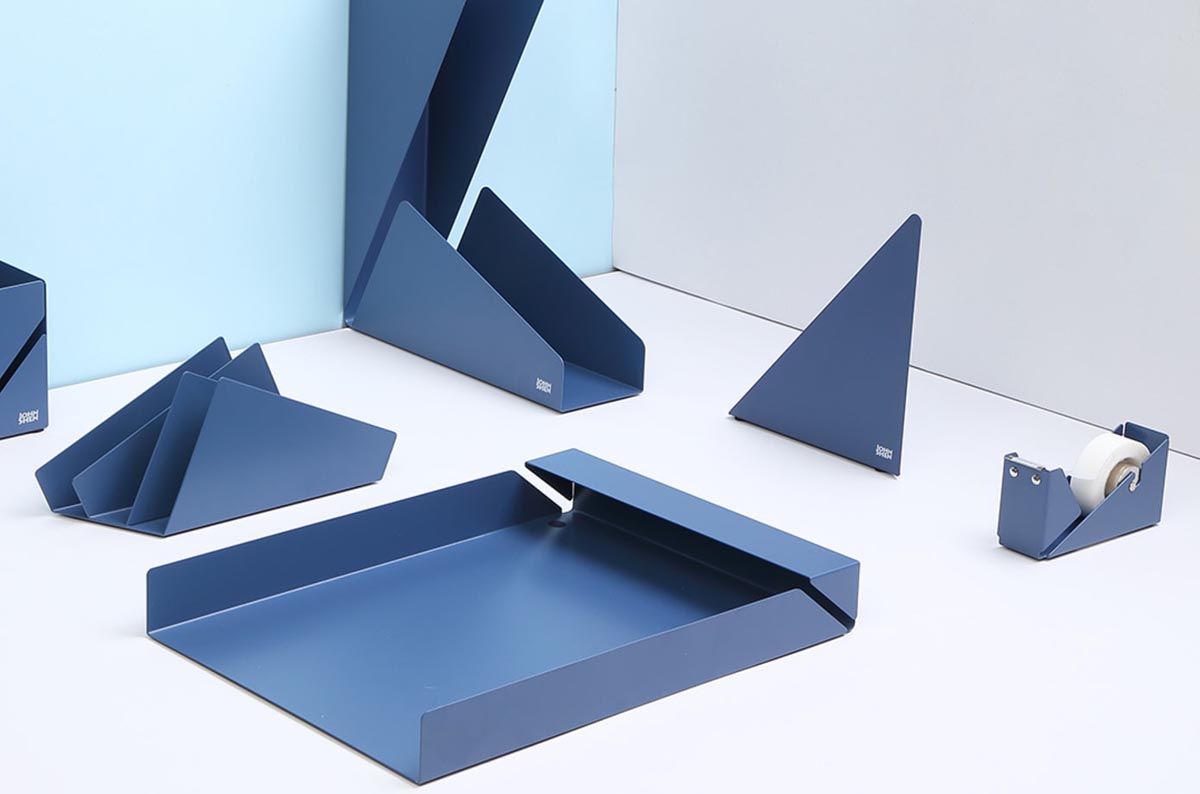 Features
There are 8 Origami products all in all. Here's a quick look at all of them.
Magazine File: This item is designed to hold your books, magazines, and other documents. It has a non-slip bottom and allows vertical as well as horizontal use.
Letter Tray: You can neatly store your paper sheets, letters, and other documents with this item.
File Sorter: This file sorter features three compartments, which you can use to keep your letters and cards.
Tape Dispenser: With this product, you can easily and quickly reach out for tape whenever you need it.
Memo Holder: Keep your memo pads and sticky notes all in one place with Origami's memo holder.
Pen Holder: This item can keep all your pens, pencils, and other writing materials neatly organized and stored.
Book Ends: Comes in 2 pieces, these book ends will keep your books organized. They are flexible and you can use them either horizontally or vertically.
Phone Holder: To complete its "paper-folding desktop set", there's a phone holder that can help you keep your phone stable and at a comfortable angle. You can also use this product in two ways: vertically or horizontally.
Specs
Item
Dimension
Magazine File

Thickness: 1.0 mm
Size: 9.5 x 3 x 11.9 in (242 x 77 x 301 mm)

Letter Tray

Thickness: 0.88 mm
Size: 12.5 x 9 x 1.65 in (318 x 230 x 42 mm)

File Sorter

Thickness: 0.8 mm
Size: 12.5 x 9 x 1.65 in (318 x 230 x 42 mm)

Tape Dispenser

Thickness: 1.0 mm
Size: 4.6 x 1.3 x 2.3 in (117 x 34 x 59 mm)

Memo Holder

Thickness: 1.0 mm
Size: 3.7 x 3.7 x 1.4 in (93 x 93 x 35 mm)

Pen Holder

Thickness: 1.0 mm
Size: 2.8 x 2.8 x 4 in (72 x 72 x 101 mm)

Book Ends (2)

Thickness: 1.0 mm
Size: 5.9 x 6.8 x 3.5 in (150 x 173 x 98 mm)

Phone Holder

Thickness: 1.0 mm
Size: 2.4 x 2.9 x 3 in (62 x 74 x 75 mm)
All 8 items are made of anodized metal, making them last longer than other organizers in the market. While there are other "metal" products around, most of them are made of only metal mesh. However, since Origami products are all-metal, the whole set can be very heavy. To be specific, all 8 pieces weigh about 4 kg.
Aesthetics
Here's where the Origami truly shines. All 8 products follow a geometric shape, which looks very minimalist and modern. The finish and texture also make them look more sophisticated than most metal organizers in the market. On top of that, all items are offered in different colors. If you want something more classic and versatile, black or warm gray is a great choice. On the other hand, if you want to make the items stand out more, blue is a nice color.
The Verdict
With its beautiful and sophisticated design, the Origami is certainly an eye-catcher. But more than that, every piece of the set is practical and functional. So aside from helping you keep your things more neat and organized, it will also make your space look better. Whether at home or the office, Origami is a great choice for a desk organizer.