Summary
With the OSOTEK Hotwave, you can save a ton of energy, time, and hassle when it comes to cleaning your floors. Even better, this machine can make your house the cleanest it's ever been.
Pros
Storage for accessories
Can separate solid and liquid wastes
Self-cleaning and drying
Has a long running time
Cons
Only suited to hardfloors
There's a product that combines mops and vacuums into one mean cleaning machine. The new OSOTEK Hotwave is a wet-dry mop vacuum with water-heating technology to help remove even the toughest dirt and stains on your floor. As a bonus, it can even clean and dry itself when not in use. Sounds just what you need? Here's everything you need to learn about this new product before catching its official launch on Kickstarter.
In a rush and can't go through the entire thing? No worries. Just click on any of the links below to skip to that section.
Overview
Usually, homeowners buy several tools and equipment to keep their floors clean. There's your trusty vacuum and mop. Some also use brushes and brooms. But keeping and maintaining all these things can be a bother. Not to mention that you have to clean most of them after use to prevent bigger problems in the future. For example, you can't keep your mop wet since it will breed bacteria.
With the OSOTEK Hotwave, however, you don't have to worry about all these. It is a 4-in-1 cleaner that can mop and vacuum your floors while cleaning and drying itself. This way, you won't have to use any other cleaning devices or get your hands dirty by cleaning them up after. You can simply take it out of its base station, do the job, and put it back.
Features
Hot Water Mopping
One of the unique features of the OSOTEK Hotwave is its use of water-heating technology. So when you mop, the hot water will help remove stubborn floor stains easily. Using hot water can also help kill germs and remove grease and dirt buildup faster than cold water.
Vacuum + Mop
The OSOTEK Hotwave is a vacuum mop combo, which can help make your floor-cleaning process faster, easier, and more efficient. With it, you no longer have to vacuum first before mopping since you can do both simultaneously. As it makes a pass over the floor, this device will pick up dirt, dust, and other particles just like a vacuum. At the same time, it will release water for mopping with just one push of a button.
What's great about vacuum mop combos like the OSOTEK Hotwave is that they won't push dirty water around your floors as traditional mops do. Instead, they have 2 tanks. One is used to store clean water and the other is for sucking up and holding the dirty used water. This way, the trail you'll leave behind will not only be clean but dry as well.
Multiple Modes
The OSOTEK Hotwave offers multiple modes to cover different conditions. It has a "Turbo Mode" for removing heavy dirt like sauce and grease in the kitchen. It has an "Automatic Mode", which is ideal for cleaning daily residue and stains in your home. Plus, it has a "Water Absorbing Mode" when you need to clear out dust, dirt, and pet hair or absorb water in your bathroom.
Self Washing and Drying
One of the things we love about the OSOTEK Hotwave is its ability to wash and dry itself. Since a wet mop can cause bacteria to grow, this is an incredibly handy function.
This device can clean its own roller brush using hot water when placed back on its smart base station. Once this "heat bath" process is complete, the base station will then automatically shift to the drying mode and start blowing hot air. This way, residue moisture will be removed, bacterial breeding can be avoided and odors are eliminated.
Now, the self-cleaning function is not really unique to the OSOTEK Hotwave. Other vacuum mop combos, like the BISSELL CrossWave X7, have a self-cleaning cycle, too. The drying function, however, is a different story as we haven't seen anything with it.
Infrared Sensor
The OSOTEK Hotwave is said to have a built-in infrared sensor that can detect the mess on the ground. Depending on, it will then prompt the machine to adjust its suction level. Such a feature not only improves your cleaning efficiency but will also prolong the device's runtime. Additionally, it's said to have an "Auto Mode" as well, which can adjust the suction power and water flow.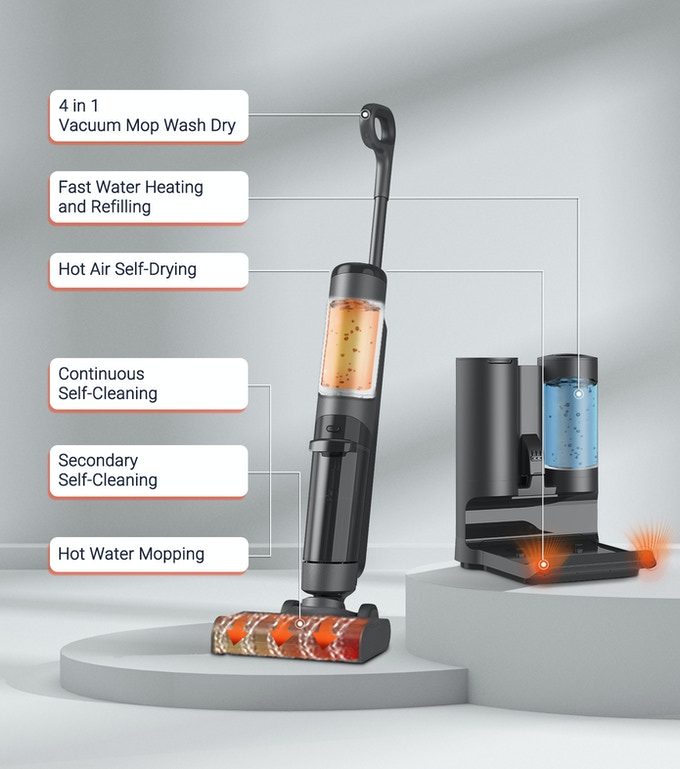 Specs
Based on its preview on its company's website, here's what we can gather about the OSOTEK Hotwave's specifications:
Battery Capacity
4,000mAh
Runtime
Approx. 35 minutes
Vacuum Mop Water Tank 
Base Station Water Tank
3000mL
Modes

Strong Mode
Automatic Mode
Suction Mode

Max Water Heating Temperature
178°F
The OSOTEK Hotwave offers a bigger clean tank capacity of 750mL compared to the BISSELL CrossWave X7, which has 18oz or around 532mL capacity. Even its used water tank capacity is bigger with 640mL compared to BISSELL's 12-15oz or 355-444mL. This means you can use the OSOTEK Hotwave longer before needing to refill it. Add that with the 3200mL water tank in the base station and you can skip refilling the device for almost a week.
Another notable feature of this machine is its running time. Uninterrupted, it is said to last for 35 minutes. This is pretty impressive since you'll have more time to get the job done. This is longer than BISSELL CrossWave X7's 30 minutes max or the Shark VACMOP Pro's 11-12 minutes on average.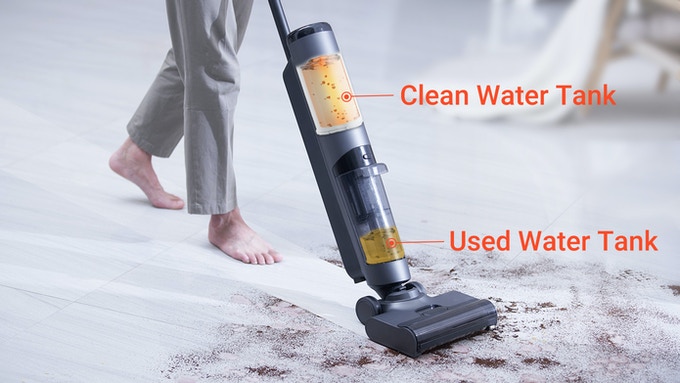 Design
At first glance, the OSOTEK Hotwave looks very much like other vacuum mop combos. In fact, it looks just like the Tineco Floor One S3. They both even have an LED display, which is something others don't have. For the OSOTEK, its LCD shows its battery level, dirt sensing, and other settings. It also comes with its own base station that can take quite a bit of space in your home. Available in black and white, this device looks pretty modern and minimalist, too.
Final Thoughts
Cleaning your floors can be quite a task. Usually, it entails sweeping or vacuuming and then mopping. But really, who has the time to do all that, right? With the OSOTEK Hotwave, not only will cleaning floors be quicker and easier, but it also makes it more convenient. With this machine, you no longer have to switch from different products to keep your floor sparkling clean. Even better, you don't have to worry about cleaning after your cleaning equipment anymore.
There are certainly a lot of claims about this new product. From a built-in infrared sensor to an intelligent voice prompt. While all these additional functions are great on paper, we're yet to see if they can apply them to the actual product. That said, from what we're seeing now and if all goes accordingly, the OSOTEK Hotwave can definitely be the complete solution to your floor-cleaning needs.
Make sure to check ou the Kickstarter here.