Summary
The Oyo Nova manages to squeeze a full-body workout machine into a two-and-a-half pound frame, effectively giving you up to 40lbs of resistance to work with wherever you choose. Its current lack of a smartphone app is a bummer but you shouldn't let that stop you from picking up what is potentially one of the greatest portable gyms to date.
Pros
Lightweight yet sturdy
Allows for a wide range of exercises
SpiraFlex technology feels amazing
Cons
A smartphone companion app would've been a great inclusion
Between work, errands, and the scarcity of functional gyms because of the pandemic, finding the right time to stay in shape can be a tall order. That's why it's so important to have a device like the Oyo Nova handy. It's a portable gym that makes use of the same technology used by NASA to allow you to have a workout session no matter where you are.
Question is, is it really as space-aged and effective as its creators say it is? In this Oya Nova review, we're working up a sweat to find out if this truly is the best portable gym around.
Can't spare the time for the entire review? Just click any of the links below and we'll take you right to that section.
Overview
Oyo Nova was created by Paul Francis – an architect turned industrial designer and inventor who went on to establish Oyo Fitness. It's the successor to the widely successful Oyo Personal Gym and currently sits comfortably as the most highly-funded fitness-based product in the history of the Kickstarter platform.
It utilizes advanced SpiraFlex resistance technology to provide users with a potentially intense workout session without requiring the device itself to be bulky or heavy just to support it. You won't need any extra equipment either, such as benches or stools, since you'll be able to perform effective workouts in any position. In fact, thanks to SpiraFlex technology, you'll be able to do more than a hundred different exercises covering all parts of your body, just like how the astronauts do it in space.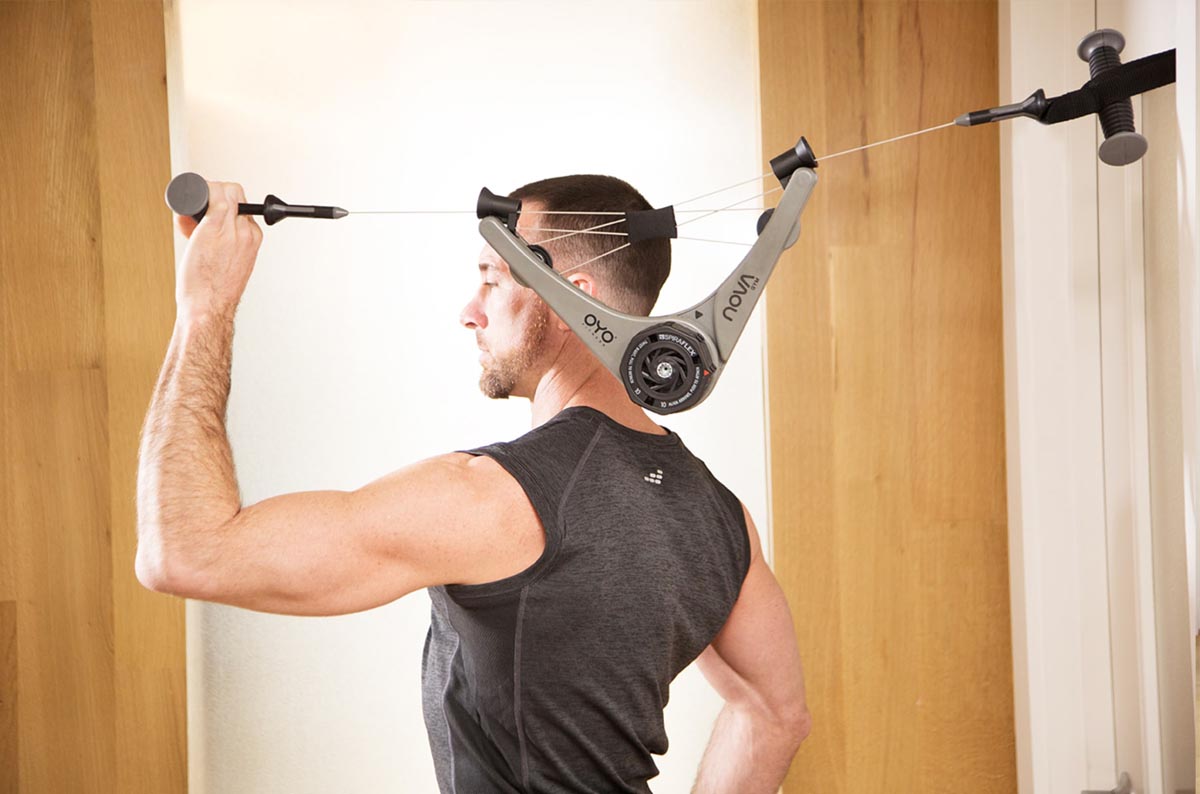 [wd_hustle id="200″ type="embedded"/]
Features
Improved Design
The Oyo Nova has been substantially improved over its predecessor, featuring a tougher build and higher resistance for a more vigorous workout. It allows for up to 40lbs (18kg) of resistance in each hand, no matter what position you're in, but someone manages to keep its frame at the surprisingly light weight of 2.5lbs (1.12kg).
Same Efficacy as Free Weights
After thorough testing, it was concluded that SpiraFlex technology offers identical improvements in strength and muscle gains when compared to those who utilize free weights. So you'll get the same effectiveness minus the weighty feel and need for momentum.
Sturdy Build
The Oya Nova is crafted out of tough stainless steel cables that can easily handle high resistance exercises and its T-Handle grips are made out of easy-to-hold materials that make it effortless to handle the intense resistance.
DoubleFlex Activation
The Oyo Nova uses a unique adduction and abduction system that allows for a more balanced workout that doesn't require verticality and allows you to do all kinds of exercises regardless of your position. As a plus, you won't need any additional equipment, like chairs, benches, or anything of the sort.
Tons of Free Workout Programs
Purchasing the Oyo Nova grants you access to a wide variety of exclusive workout videos, including the following:
28 Day Beginner Program: This is your basic introductory course that focuses more on Oya Nova's core exercises.
30 Day Standard Program: Here you'll start incorporating more advanced exercises during more frequent and longer workout sessions compared to the previous level.
Oyo 10 Week Challenge: This is an even more intense training program that helps users shed around 17 pounds of weight on average.
Unlimited access to more than a hundred different exercises and 50 workout vids.
If you like this then you'll like the Trigger Point Rocker, which helps alleviaste chronic back pain.
Specs
Physical Specifications
| | |
| --- | --- |
| Material | Combination of an engineered polymer, steel, and rubber |
| Weight | 2.5lbs (1.1kg) |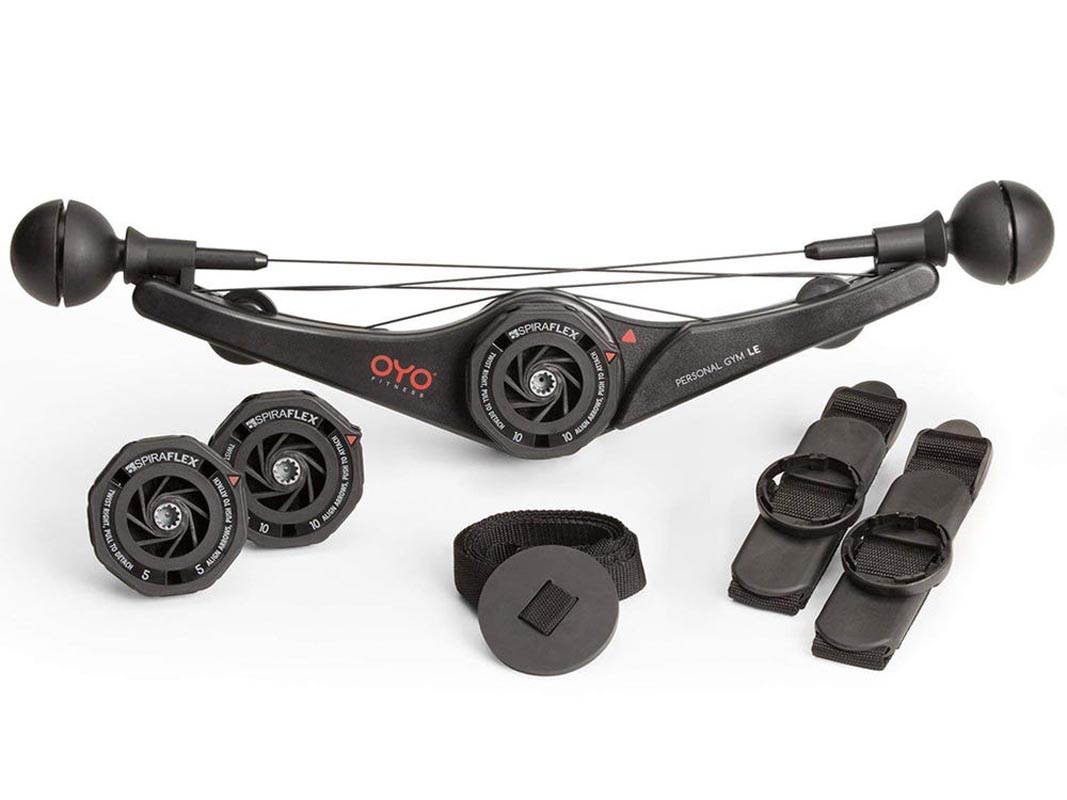 Package Inclusions
Oyo Nova Gym
Four 10-pound FlexPacks that provide up to 40lbs worth of total resistance
Door and leg attachment
18 weeks worth of workout programs (digital downloads)
Nutritional guide (digital download)
Free online streaming workout and exercise videos
Build & Design
The Oya Nova is an impressively built device that manages to boast a remarkably sturdy frame despite its relatively small size. It sports a boomerang-like arched shape that can be widened or narrowed as you see fit and it has a couple of T-Handles attached to either end. These handles are connected to cables that you'll use for various different workouts.
It's worth noting that the cables are made out of stainless steel, so there's no questioning their quality when it comes to toughness. The portable gym itself is also equally as sturdy as it's created using a mix of an engineered polymer, steel, and rubber, while the T-Handles are lined with comfortable rubber grips to make them easier to hold. All in all, the Oyo Nova does a great job of remaining portable without sacrificing anything in the form of durability, allowing you to easily work out whether you're at home, work, or on a trip.
You may also be interested in the Moon Pod, a modern take on the bean bag.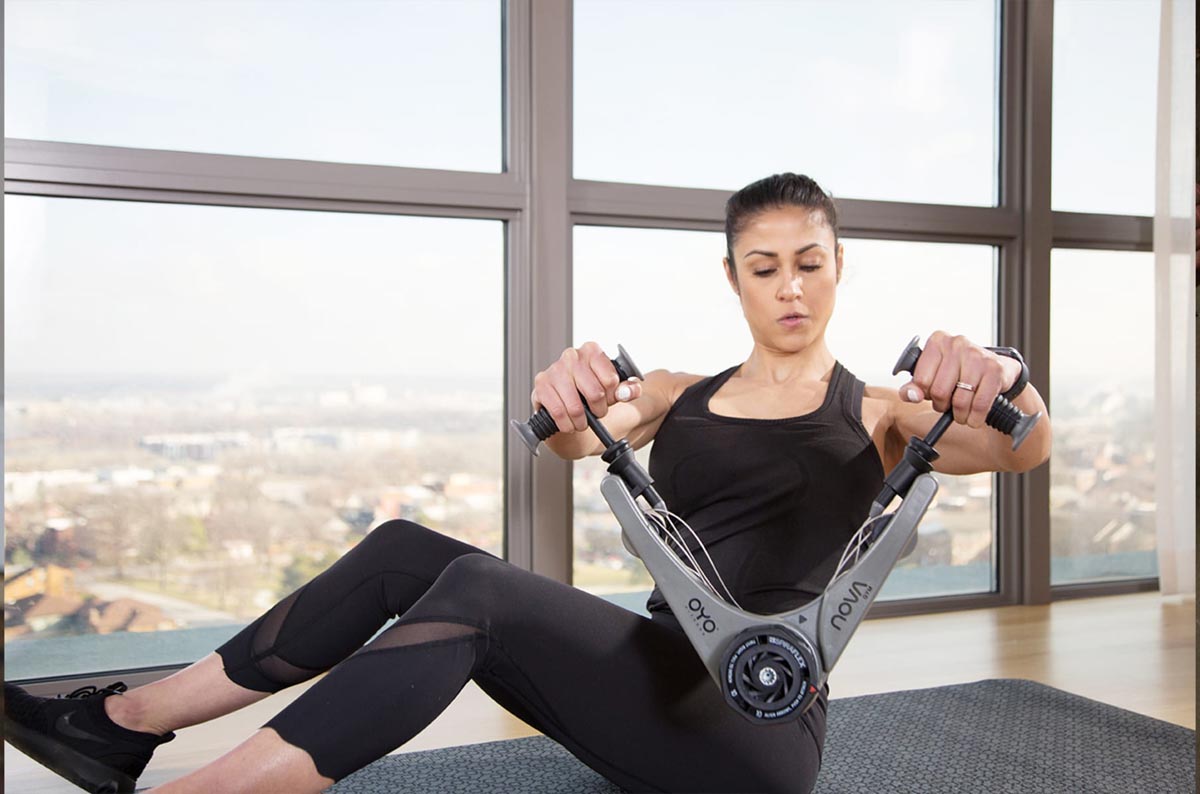 What's it like to use?
Unlike most portable gyms, the Oyo Nova doesn't have all that many moving parts so using it is exceedingly simple. All you have to do is set how many FlexPacks you want to work with – each one provides around 10lbs worth of resistance – and you're good to start whatever workout you have in mind.
The T-Handles are soft enough that your hands never feel strained even at maximum resistance and the collapsable design of the device allows you to perform a multitude of exercises for a wide range of body parts. It also makes it easy to fold and store or take with you. As portable gyms go, the Oyo Nova is among the simplest ones we've come across considering the number of exercises it offers.
[wd_hustle id="200″ type="embedded"/]
Final Thoughts
Oyo Nova provides the perfect gym solution for fitness buffs who are always on the go or people who are struggling to find the right way to exercise given the ongoing pandemic situation. It's compact enough that you can take it with you anywhere you go yet provides an intense enough workout that even seasoned gym enthusiasts will feel satisfied.
It seems there used to be an OYO companion app for your smartphone that you could use to watch all of their content though, as of this writing, only links to their YouTube and Vimeo channels are available on their website, leading me to believe that the app was likely discontinued. That's a bit of waste since it would've been really handy.
Minor hiccup aside, Oyo Nova is one of the best and most comprehensive portable gyms we've ever come across.