Pico is a new technology designed to make sure your plant journey succeeds from the very start. It is one of the most successful Kickstarter campaigns, receiving more than $1,500,000 funds and 17,751 backers in 2020. Soon after, it was launched on Indiegogo where it received another $200,000+ in funding. So what made it such a huge hit?
[wd_hustle id="110″ type="embedded"/]
Summary
Pico covers all your plant's needs to make sure it thrives from the start. This is a great device, especially for those who are new to planting and those who just can't seem to keep up with the demands of growing a plant.
Pros
Multiple mounting options
Energy-saving
Telescopic LED lights grow with your plants
Cons
Only compatible with ornamental plants
In a rush? Click on any of the links below to skip to that section.
Overview
If you are having a hard time keeping your plants alive, this may just be the answer you are looking for. With LED light and self-watering features, Pico makes growing plants easy. It removes the guesswork on when to water and how much to give your plants. It also provides their much-needed sunlight, or at least its equivalent. So you don't have to ever worry about having to put your plants outside.
Now, there are other plant-growing systems with LED lights and self-watering features, like the , Urbipod Indoor Garden, and the . However, none of them can be mounted on walls just like the Pico.
While the other systems can accommodate 3 or more plants, Pico grows only one. This makes it smaller, lighter, and look better. Since it is small, you have the option to hang it anywhere in your home. Also, this makes the Pico much cheaper than the others. For instance, the Smart Garden 3 costs $99.95, Urbipod at $229, and the Harvest Slim is sold at $149. On the other hand, Pico costs only $34 per unit on Indiegogo.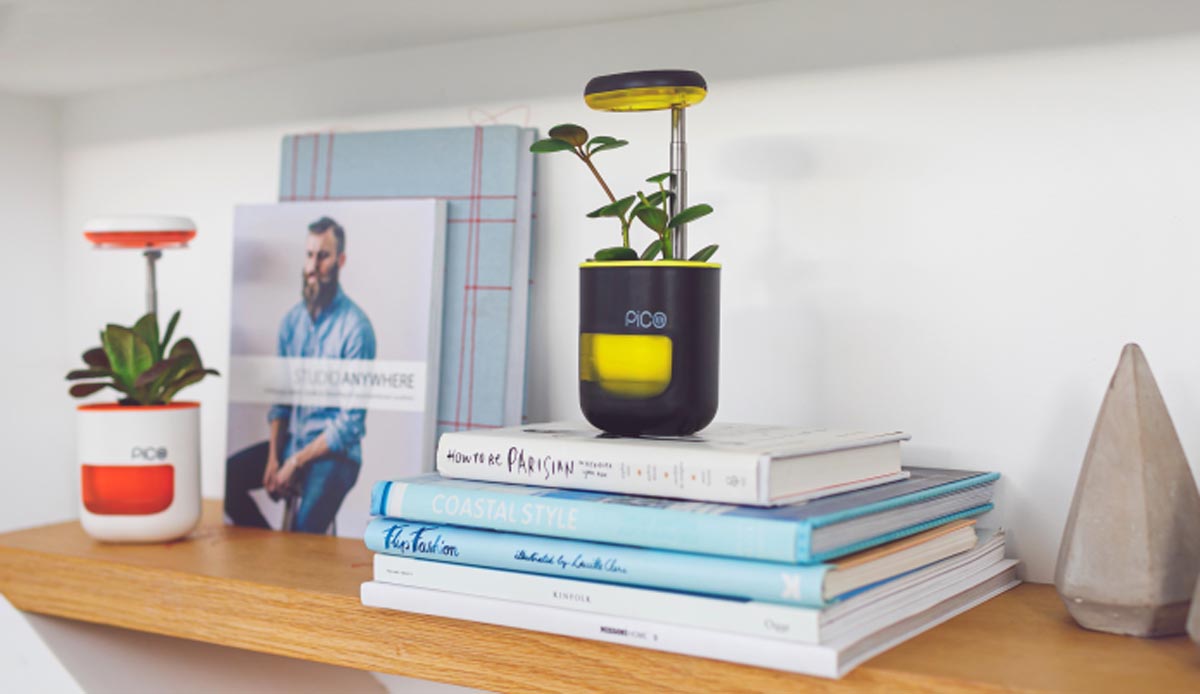 Features
Multiple Mounting Options
Since most pots take up space and require to be placed on flat surfaces, you are often left with limited choices. But with Pico's multiple mounting options, you can have plants anywhere you want them. Like every other plant pot, you can put down Pico on tables, desks, bathrooms, and cabinets. And because Pico comes with 3 interchangeable mounts, including magnetic, velcro, and wall mount, you can also hang it on your fridge, wall, and glass windows.
Self-Watering System
Pico's self-watering system works with capillary action and gravity. This allows it to function without any power, motor, or pump. Such a design will ensure your plants will receive the same amount of water every time. Thus, removing the guesswork on how much water you should use.
LED Lights
Pico is equipped with multi-spectrum LED horticultural lights from OSRAM, giving your plants complete autonomy from the sun. These lights will provide the energy your plants need to grow. So you don't have to move or carry the plant outside just for sunlight. The LED lights are mounted on a telescopic arm, which you can adjust as your plants grow.
Specs
LED Light
4 Horticultural OSRAM LED (white, red, and blue)
Power Requirements
Any USB Type-C charger output with 5V 1A and above
Material

Body: Food-safe BPA-free ABS and PC
Telescopic arm: Stainless steel
LED heatsink: aluminum

Telescopic LED Light Max Length
8.5" (22 cm)
OSRAM is at the forefront in plant lighting. So it's nice to know that Pico is sourcing its LED lights from a reliable and reputable company, which many industries and researchers have also worked with – including NASA.
Pico uses the least amount of power compared to similar products. Using a 5V 1A charger, it consumes 5W, which is much lower than the Harvest Slim at 20W and even the Smart Garden 3 at 8W. So with Pico, you are more likely to save money on your electric bills.
Aesthetics
In terms of aesthetics, Pico looks like a futuristic pod for plants. The telescopic arm to hold the LEDs, however, is the opposite since it reminds us of those antennas from vintage radios. It is available in a variety of colors, including Burnt Charcoal, Krispy Mint, Tangy Orange, and Oh-So-Lemon, all adding a touch of fun to your home.
Pico is incredibly small and lightweight compared to other herb and plant growing systems. It's also the only one with a decorative design to it.
What's It Like to Use
Pico will arrive in your home preassembled and ready to use. Just add soil, your preferred seed, and some water. Then plug it in and watch your plants grow. It's that easy. It can store and water your plants for a week. You can use the transparent window in front to know when to top up. But typically, you'll need to put water in once a week.
You can grow most ornamental plants in the Pico. This includes lavender, pilia, succulents, and many herbs like mint and basil. You can even plant some veggies or fruits, such as chili peppers and cherry tomatoes. It would have been perfect, however, if the Pico can also accommodate bigger plants. Or maybe the company could offer different sizes? Currently, the height limit of which your plants should grow with Pico is 22cm or 8.5 inches.
Conclusion
Growing plants has never been easier with the Pico. With its self-watering system and LED lights, this device is perfect for those who can't keep up with the maintenance plants require. Using Pico, you don't have to take your plants outside or near a window to make sure it receives enough sunlight. You don't have to worry about your plants outdoors when the weather isn't great. More importantly, you won't have to worry if you are giving too much or too little water ever again. Overall, the Pico is one of the best planters to make sure your plants stay healthy… and more importantly, alive.
Last update on 2022-05-20 / Affiliate links / Images from Amazon Product Advertising API