Welcome to our review of the Plantronics RIG 500HD. This the perfect headset for those looking to improve their gaming performance on a budget. Good audio quality and a good gaming experience go hand in hand. The 7.1 surround sound provides a more immersive experience, while also allowing you to actually hear where your enemies are. Top of the line gaming headsets cost as much as a budget gaming rig these days.
So, the question is, will the Plantronics RIG 500HD improve your K/D ratio, or do you need to splash the cash on a more premium headset?
CHECK TODAY'S PRICE HERE: See at Amazon
Plantronics RIG 500HD Review
Aesthetics

Features

Total Value
Summary
An excellent gaming PC headset for those who want to improve their gaming experience without breaking the bank. These will do everything you need them to do.
Pros
Excellent Value For Money
Good Sound & Mic Quality
Surround Sound
Trusted Brand
Cons
Some Sound Leakage
Lack Of Adjustability
There is nothing more frustrating for avid gamers than having a poor audio experience. Before online multiplayer games became mainstream, most gamers just used their stereo speakers. As soon as Quake became a thing, people quickly realised the huge advantage that PC headsets offered.
This advantage became more and more pronounced as the in-game sound design developed into a more sophisticated system. In today's world, no headset means no team communication, no verticle audio and no hearing those faint footsteps.
Keep reading our review of the Plantronics RIG 500HD to see if they're right for you!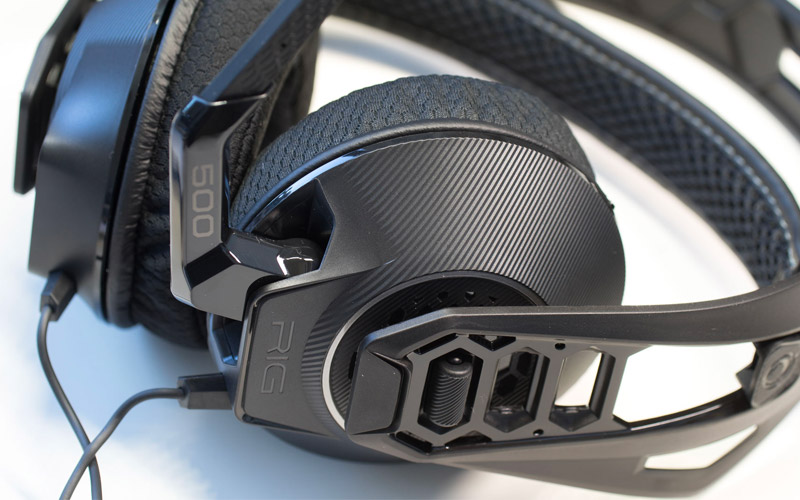 Who Are These For?
The Plantronics Rig 500HD is perfect for those looking to improve their PC gaming experience on a budget
For those of you that tend to break nice things
For those of you looking to buy a friend or family member an affordable gift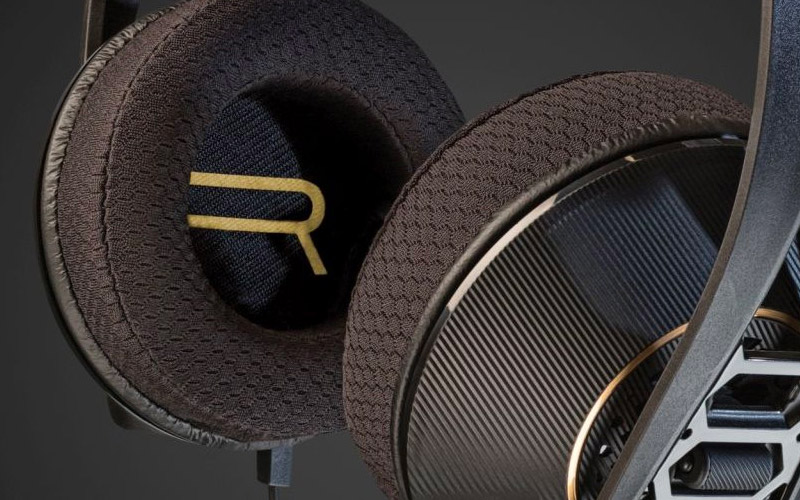 Plantronics RIG 500HD Sound Review
With gaming headsets, it's pretty much all about the sound quality (and a bit about the mic quality). We tested these on a few different games (Fortnite, Gears 5 & Sekiro Shadows Die Twice). Fortnite is probably the most reliant on accurate sound placement of the three, and we were impressed.
Fortnite Battle Royale is a third-person shooter which is very challenging from a sound design perspective due to the complex movement the game encourages. We had no trouble listening to footsteps and identifying where the enemy was. It certainly improves the enjoyment of the game, and over a long enough period should improve your performance too!
The Plantronics RIG 500HD has a great sound quality overall for the price point. The lows feel thick, which really adds to the atmosphere of more cinematic games. The mids offer a warm, clean tone that is perfect for games that require a lot of team communication. The mids are also good for more heavily story-based games. The highs were fine. Not outstanding, but not annoyingly tinny by any means. Overall this PC headset does a stellar job for its price point.
In addition to good sound quality, the Plantronics RIG 500HD comes with Dolby 7.1 surround sound audio. This feature plays a large part in the effectiveness of these as a gaming PC headset. The surround sound feature adds a lot of atmosphere as well as more information as to where your enemy is. If you decide to use these for watching a movie, then you won't be disappointed either.
The Geeky Stuff:
Highest Frequency of 20000Hz
Lowest Frequency of 20Hz
32 Ohms Impedance
Passive Noise Reduction
A Sound Pressure Level Of 110dB/mW
40mm Driver Unit Size

The Microphone
The Plantronics RIG 500HD comes with a removable microphone that's critical for online multiplayer games. We enjoyed a few squad games of Fortnite with some friends and by all accounts the sound clarity was perfect. Of course, this isn't going to replace a quality standalone microphone. But it will do a fantastic job of getting your point across and not annoying your teammates! The microphone has a nifty feature where you can flip it up when it's not in use, which will also automatically mute the microphone. Very cool. This will save a dreaded Alt+Tab mid-game when you need to speak to somebody quickly IRL.
The Geeky Stuff:
Has A Noise Cancelling Microphone
Highest Frequency of 10000Hz
Lowest Frequency of 100Hz
Removable Microphone
Mic Sensitivity of -45dBV/Pa

The Design
It's apparent that most of the budget was put into delivering a well-tuned pc gaming experience. That's not to say that the Plantronics RIG 500HD is badly made because they're not. But the design is purposely quite thin, with a lot of cutouts to save on material costs. However, the black angular design with gold detailing looks futuristic and "high-performance".
Although Plantronics opted to use plastic, it does not feel cheap and has a sturdy feel. There is a little bit of creaking when moved in certain ways, but this will never happen while wearing them.
The ear cups are attached with a simple yet effective method. One each side of the headset there are three holes which connect with the ear cups themselves. Although this limits the wearer to just three heights, its simplicity also prevents breakages.
There are two possible options for ear cups, only one of which comes with the box, with the other sold separately. Noise-cancelling ear cups come as standard, and they are comfortable. The foam has a nice balance between softness and firmness and is not irritable to the skin in any way. They are large in diameter, meaning those of you with big ears will be just fine. Over our 8-hour gaming session, we didn't feel any discomfort at any point.
–
In The Box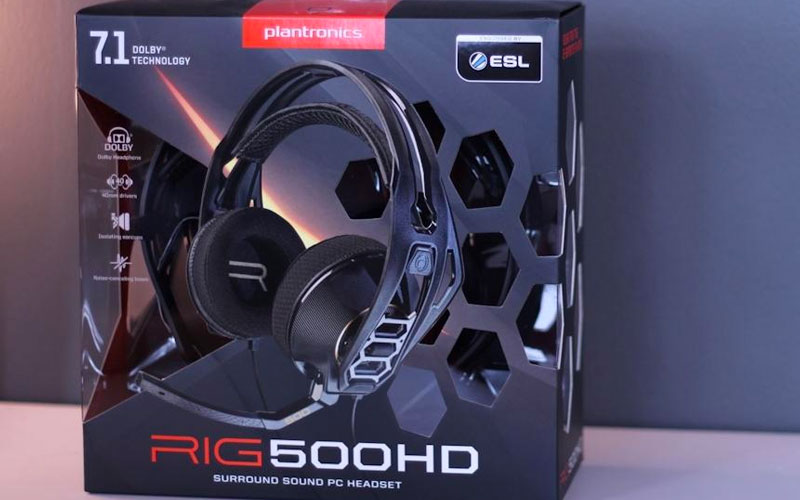 This is an area where there could be some improvements. There's really not much of an experience like with more premium product unboxings, but what can you expect at the price point. First thing you will notice from the box is a cloth headset band, the headset's frame and the ear cups. Each of these is individually packed and requires assembly. If you're looking for the microphone, worry not, it's already pre-attached.
Aside from the above, all you really get is a bunch of stickers and boring stuff. We can't hide the fact that this is poor packaging and offers nothing to the owner, however, at least the product itself is good.
–
Conclusion
The Plantronics RIG 500HD review was an enjoyable experience and strengthened our opinion of the Plantronics budget headset range. For the price, it is tough to find a better option. With a very nice blend of quality design, lightweight materials, sound clarity and a decent microphone, the Plantronics 500HD should be carefully considered.
Plantronics RIG 500HD
Flexible, durable headset frame
Self-adjusting headband for stable comfort
7.1 Dolby technology (PC software)
Hey you, yes you! We've just written a review on the Rig 800lx. Check it out, you might prefer them!
Content Disclaimer: Our 'Plantronics Rig500 HD Review' is totally independent and has not been commissioned by the company in any capacity. Mr Gadget has not received any endorsements for this writing including financial reimbursement, free advertising or the Rig500 Headset by way of gift. If you purchase this item via an affiliate link on our website, we may receive a small commission from the seller. We hope you enjoyed!
Last update on 2022-05-20 / Affiliate links / Images from Amazon Product Advertising API