We're huge fans of Plantronics headphones here at Mr Gadget and wanted to bring you our Plantronics Rig 800lx review. Plantronics is well known in the gaming headset spaces for their value for money, comfort and good sound quality. All of these qualities were found in our review of the RIG 500HDs, so let's find out if the Rig 800lx lives up to the same high standard.
CHECK TODAY'S PRICE HERE: See at Amazon
30 Second Review
Design & Build -

7.8/10

Features -

7.9/10

Sound Quality -

7.4/10

Mic Quality -

7.2/10

Battery Life -

8.4/10

Comfort -

8.2/10

Total Value -

8.6/10
Great value for money!
These really are a quality wireless gaming headset. They tick almost every box and exceed the quality of their cost. I would argue these are the comfiest pair of wireless gaming headphones I have worn. There are very slight issues with the mic and bass but nothing that bother the average user.
Pros
Super comfy
Dolby Atmos
Nice Aesthetic
Good Value For Money
Cons
Very minor bass distortion
Mic very slightly worse than some others
If you're a bit short on time feel free to skip ahead to the different sections of our Rig 800lx review:
Overview
The key selling point of the Rig 800lxis the inclusion of Dolby Atmos. Dolby Atmos generates a much more complex soundscape allowing gamers to better locate the origin of an in-game sound. It also produces more complex and believable soundscapes for better immersion when playing a game or watching a movie. Of courses, there are a lot of other aspects to the 800LXs that need considering when writing a review, so let's jump into them.
Plantronics Rig 800LX Audio Quality
I was genuinely very impressed with the out of the box sound profile. To me, it felt very balanced across the lows, mids and highs, all of which complimented one another. The bass is certainly a full, but not overpowering. They don't deliver the large soundstage effect that much pricier gaming headsets can deliver but Dolby Atmos closes this gap quite significantly.
I tested the Rig 800lx on my PC and Xbox One and was equally impressed on both devices. In fact, I believe that they sounded pretty much identical across both platforms, which can only be a good thing. If you're like me and you play on different devices, you don't want any changes to the sound profile.
Plantronics includes a voucher to redeem for a subscription to Dolby Atmos which elevates the surround sound capability significantly. This is a nice touch.
Overall, you'll be very impressed with the sound produced by the Rig 800lx. The only downer is that the bass does start to distort at high volumes and bassy tracks.
The Geeky Stuff
Let's take a quick look at the hardware and speaker specs:
Headphone impedance: 32 ohms
Headphone frequency response: 20 Hz–20 kHz
Headphone drivers: Dynamic 40 mm
All of these are pretty much standard for a wireless headset at this price point. However, it is worth noting that these are well-suited to both gaming and movies. I wouldn't recommend them as your main headphones for music, but they do a good enough job for a casual listen.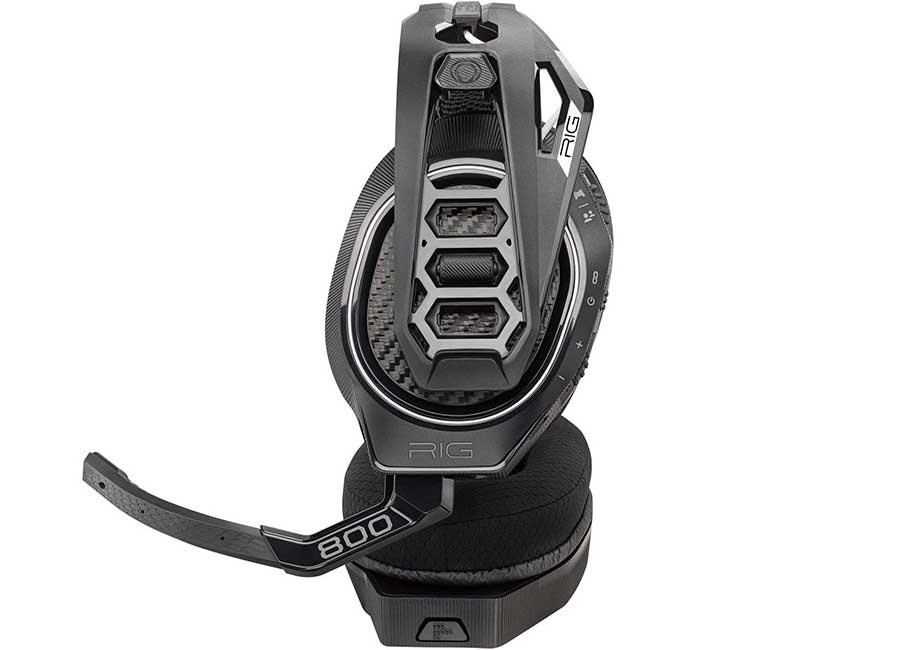 Plantronics Rig 800LX Mic Quality
What is a gaming headset without a microphone? Gaming is becoming a much more social activity and increasingly reliant on chatting in real-time to your teammates. Without a mic, you're missing out on a lot of in-game experience and potential game-winning communication.
Honestly, I was a little disappointed with the microphone. It wasn't awful, it just wasn't that good either. The feedback from my friends was that it was fine but not noticeably better than the RIG 500HDs mic. Which, given there is a relatively large gap in cost is a bit frustrating. However, I can safely say that the overall design of the microphone is superior to that of the 500HD's.
The Rig 800lx has a foldout microphone design, which works well and is easily positioned. It also has the flip-up to mute function we see across a lot of these headsets, but still a nice inclusion.
The Geeky Stuff
Here are the mic hardware specs and what you can expect from them:
Mic pick-up pattern: Uni-directional
Mic sensitivity: -45 dBV/Pa
Mic frequency response: 100 Hz–10 kHz
The Uni-directional microphone is designed to focus on picking up sound from one main direction. This microphone does a good job of this and clearly picks up the wearer's voice much more clearly than the ambient room sound.
Mic sensitivity is just a measurement of how efficiently the microphone converts soundwaves into, you guessed it, sound. All you need to know here is that -45 dBV/Pa is standard and well-tuned for its purpose.
Finally, the mic frequency describes the range of sound it can pick up. This more than enough for the purpose of a gaming headset.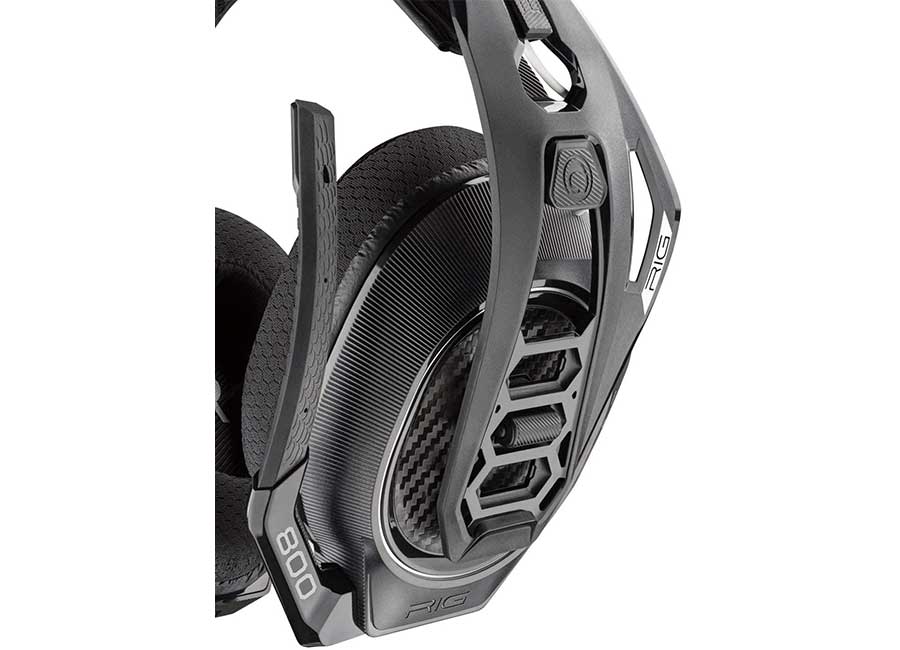 Look Station
I love the way Plantronic headset look. While almost every other headset manufactures is attempting to create the sleekest and minimalist design possible, Plantronics does the opposite. These things look like they going to improve your aim, increase your K/D ratio and teabag your opponents!
They have sharp, aggressive lines and angles that look like a spaceship. The colour scheme is equally aggressive with a near-monochrome pallet. It is primarily black across the main body, with grey used as the accent colour. All in all, a design that I personally really like. However, if this type of style is not your thing, you have been warned!
Comfort
The Rig 800LX is well-built. The frame of the headset is made from a relatively 'cheap-feeling' plastic, but don't let that fool you. This means that the Plantronics 800XL is a light-weight, flexible and robust gaming headset. These fell off of my desk a couple of times and I was not worried in the slightest. They're so lightweight and flexible that they can easily take a drop from desk height. Saying that I wouldn't recommend testing it over and over again as they drop at a particular angle and bust the mic.
Attached to the inner of the plastic frame is nice, breathable cushion padding. The padding can be found across the headband and of course the ear cups. The headband is super comfortable and because they're so lightweight, you barely notice any pressure on your head. The ear cups are large and did not agitate my ears at all, even after long gaming sessions. This is because of the memory foam material used, which you can't really go wrong with.
The ear cups can be adjusted by inserting them into three different sockets on the headset. This means depending on the size of your head, you should be able to find a position that works for you.
If comfort is one of your priorities these are well worth your consideration.
Battery Life
The battery life of the Rig 800lx is very good at a claimed 24 hours. To be honest, I never fully tested the battery life exactly, but I can say that I only need to charge it a four of five times over the course of two weeks. And this is with daily gaming involving voice chat. 24 hours is slightly above average for a headset and better than almost every other wireless gaming headset at a similar price point.
To charge the device you use a micro-USB (no USB-c) with a claimed fast charge capability of delivery 90 mins of use from a 30 min charge. That's pretty good.
Plantronics Rig 800lx Review Summary
I found these a joy to review. The Rig 800lx is a quality piece of kit at an affordable price point. Although some people may hold issue with the plastic material, for me it's a great compromise to get a pair of super comfy gaming headphones with great sound at this price point. The mic may lose some points as well as the bass distortion, but you can't have everything at this price.
Well, there it is! I hope you found the Rig 800lx review helpful and informative. If you have any questions, leave them in the comments below!
Last update on 2022-05-18 / Affiliate links / Images from Amazon Product Advertising API