Design & Build -

0/10

Features -

0/10

Sound Quality -

0/10

Mic Quality -

0/10

Battery Life -

0/10

Comfort -

0/10

Total Value -

0/10

MONITORS -

0/10

Image Quality -

0/10

Refresh Rate -

0/10

Ports -

0/10
Summary
Whether you are going on a trip, to school, buying groceries, or going to the park, here are versatile, lightweight, waterproof, and durable bags to give you all the extra space and convenience you need. From a pouch to a backpack and a shopping bag to a picnic mat, with the Bags in Bag line, you decide how you want your bag.
Pros
Lightweight and portable
Recyclable and eco-friendly
Durable and waterproof
Cons
Only available in a white base color
The Pocket Backpack and Mat Pack are eco-friendly, portable, and transforming bags that are soon to hit the crowdfunding scene through Kickstarter. They are offered by Bags in Bag, which is a brand already manufacturing and selling bags on Amazon. Both products promise more functionalities than your average bags. But how exactly are they different and, more importantly, are they worth trying out? Let's find out with this review.
Don't have time to read the whole thing? No problem. Just click on any of the links below to skip to that section.
Overview
Just like the BTBAG, which is a versatile backpack that we've had the chance to review, items that have more than one function offer more convenience. Not to mention that it offers more savings as well since you don't need to buy another item.
The Mat Pack, for instance, can act as both a mat and a shopping bag. This makes it the perfect accessory for picnics, the beach, or other outdoor activities. When folded, you can use it to store food, drinks, and other small items. When unfolded, you can have something to sit, lie down, exercise, and relax on. It's also great when going to the grocery or when shopping around.
On the other hand, the Pocket Backpack is great for travel and vacation. When folded or when in its pouch form, it is very light and won't take too much space in your luggage or bag. Then when you buy too many things while on your trip, or you suddenly need more storage space, you can simply unfold it and use it as a backpack.
Now, the Pocket Backpack is not the only or the first foldable bag on the market. On Amazon alone, there's the TRIPPED Travel Backpack and Zomake 25L Backpack. But we have to say, the Mat Pack is ingenious and unique. While there are a lot of folding mats, they can't be used as bags.
In terms of price, both Bags in Bag varieties aren't too bad. With the Pocket Backpack priced at US$57 and the Mat Pack at US$59, they are pricier than many of the foldable backpacks and shopping bags around. However, they're also more affordable than some of the top folding bags on the market. Plus, if you catch its campaign on Kickstarter, you can enjoy both bags at a much cheaper price. For Super Early Bird backers, the Pocket Backpack will only be offered at US$27 and the Mat Pack at US$29.
Features
Transforming
One of the biggest selling points of the new Bags in Bag line is its ability to be folded or unfolded into another shape or form, depending on your needs. The Pocket Backpack can be carried as a pouch and spread into a backpack, while the Mat Pack can transform from a shopping bag into a mat. Pretty convenient, right?
Eco-Friendly
We all know it – plastic is bad for the environment. While paper bags are a good alternative, it is not durable enough for most uses. Groceries, for example, can get heavy and cause these types of bags to tear apart. Now, to address this and reduce the impact of plastic bags on the environment, Bags in Bag designed a shopping bag that utilizes an eco-friendly material – which is DUPONT's Tyvek fabric.
This material does not emit any harmful substances if buried underground. When burnt, it only emits CO2 and edible water. It's also a Plastic Number 2 type and 100% HDPE recyclable.
Lightweight
Both the Pocket Backpack and Mat Pack are very lightweight, making them perfect for travel and outdoor activities. You can easily carry them around and only take them out when needed. The backpack weighs only 248g, and the mat pack is at 284g. To give you an idea of how light these are, an average modern roll of toilet paper weighs about 227g, and a hockey puck is about one-and-a-half times as heavy as 250g.
Reliable
Of course, you'd want a bag that not only stores your things but also protects them from the elements, right? Well, with the Bags in Bag, you don't have to worry about harsh weather or contamination. This is because the material used is waterproof yet highly breathable. It can shed rain, snow, and pills. It can also repel water and keep your belongings safe at all times.
Since both bags are made of waterproof material, the Pocket Backpack and Mat Pack are also very easy to clean. You can just wipe it to remove stains and dirt.
Specifications
Specs
Pocket Backpack
Mat Pack 
Weight
8.74 oz (248 g)
10.01 oz (284g)
Dimensions

Folded (Pouch): 8.7 x 7.9 x 1.4 inches (22 x 20 x 3.5 cm)
Unfolded (Backpack): 15.7 x 12.6 x 5.5 inches (32 x 40 x 14 cm)

Folded (Shopping bag): 19.3 x 17.3 inches (49 x 44 cm)
Unfolded (Mat): 34.6 x 56.3 inches (88 x 143 cm)

Material
Tyvek fabric
Tyvek fabric
What's different about both bags is their material. Made from Tyvek fabric, it is as thick as paper and lighter than cloth. However, with a density of 0.38g/cc, it is more durable than both materials. So it's capable of carrying a heavy load. How heavy? Well, unfortunately, Bags in Bag did not mention the weight capacity of their bags.
Its campaign does show that the Mat Pack can handle 6 1.5L bottles of soda while the Pocket Backpack can easily store laptops and iPads. Also, using its dimensions, we can assume that the backpack can carry about 17L. On the other hand, the mat itself measures 88 x 143 cm. So it is big enough to fit an adult or 2 adults sitting down.
While the use of Tyvek fabric is different, this doesn't mean that Bags in Bag are the only ones to do it. There are already a lot of bags made from such material, including the VonNova Lunch Bag and Sherpani Mia.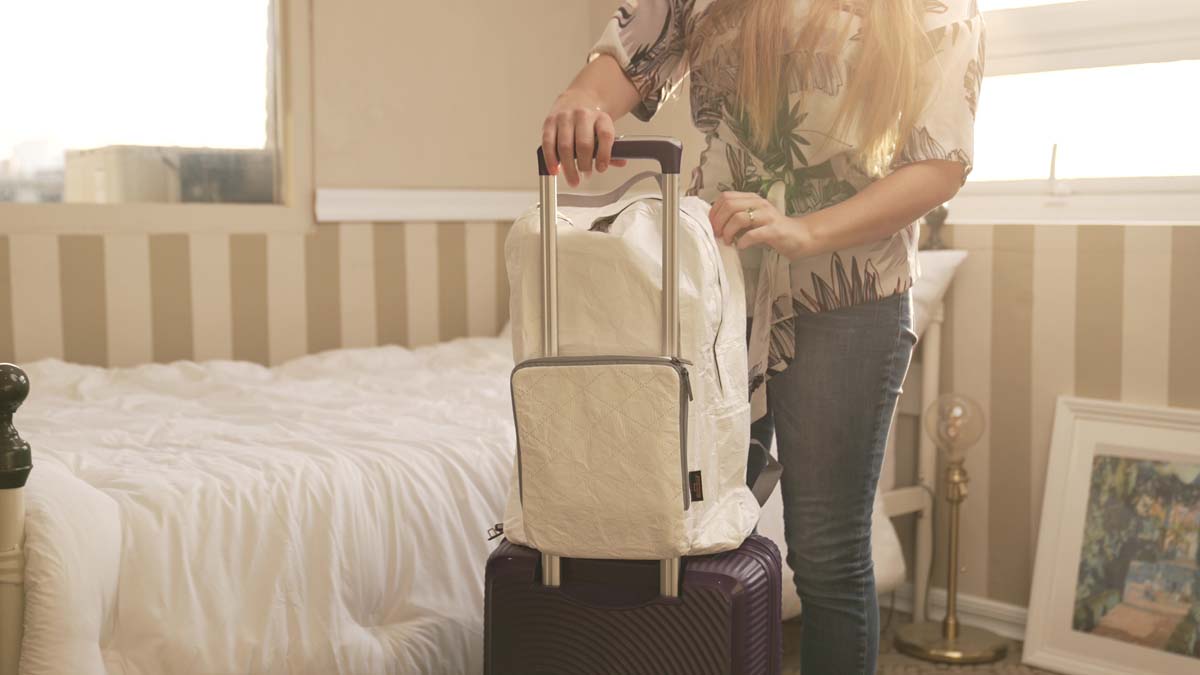 Design
Personally, we don't like how the two Bags in Bag look. Made from Tyvek fabric, they are so much like paper, which doesn't exactly give the most luxurious or elegant look and feel. And like paper, it shows all the folds, creases, and signs of scrunch. For some, this is not flattering but for others, it may add a unique touch. That said, Tyvek as a backpack, may not be for everyone.
We also don't like that both the backpack and mat packs are only available in white. Sure, you can choose from a variety of colors for the zippers, handles, and linings. However, the base color would only be white. It would have been nice to see some color variety, like brown or black.
On the other hand, the good thing about the Bags in Bag's design is that both are incredibly easy to use. Folding back the backpack into a pouch is simple and the same goes with the Mat Pack.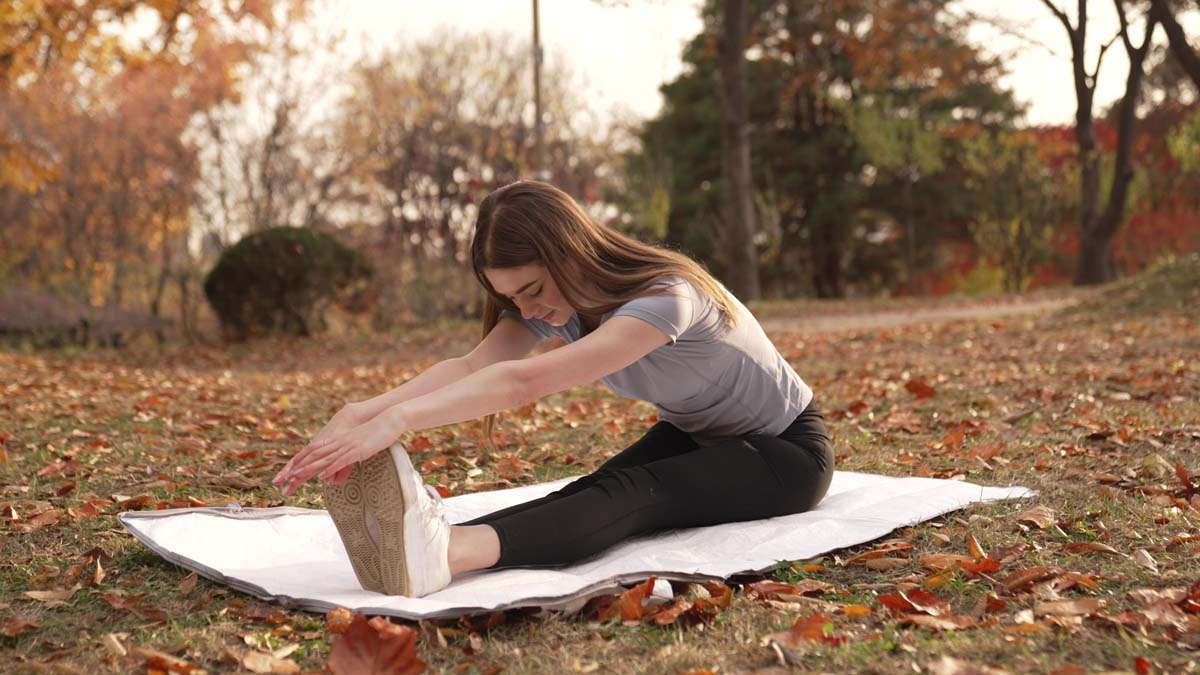 Final Thoughts
If you are looking for a light and versatile travel bag, then the Pocket Backpack is a great choice. It's pretty durable and water-resistant, so you can rest easy knowing your belongings are safe and protected from the elements. It is soft and foldable too. You can easily fit it into your luggage, purse, or even your pocket for convenience.
On the other hand, if you're looking for a versatile, strong, and light shopping bag that you can use over and over again, then you can't go wrong with the Mat Pack. Doubling as a mat, it even makes as the perfect picnic, beach, and outdoor accessory.
Sure, the new Bags in Bag line are not the most attractive or luxurious bags in the market. But with their remarkable convenience, reliability, and eco-friendliness, they make great bags for travel, school, running errands, and just everyday use.
Make sure to check out the Kickstarter campaign here.