When temperatures outdoors reach freezing or if you are suffering from conditions like Raynaud's Disease, arthritis, or stiff joints, you're better off with heated wearables. And if you are looking for a pair, either of socks or gloves or both, you might want to check out Quanta Vici.
[wd_hustle id="121″ type="embedded"/]
Quanta Vici Review
Summary
Quanta Vici products perform better than many heated wearables today. It has a longer battery life and it can generate the exact amount of heat you want every single time. To make it even better, you can easily control it with your phone.
Pros
Long battery life
Temperature regulating
Easy and fast charging
First introduced on Kickstarter as the "First ever smart heated gloves and socks", Quanta Vici was fully funded in just 2 hours. So what is it and how does it compare with other heated products? Let's find out here.
Looking for something? Click on any of the links below to skip to that section.
Overview
Quanta Vici, like all things today, are smart wearables. Meaning, you can connect and control them with your smartphone. And it's no gimmick. This actually makes these gloves and socks more efficient in providing your desired temperature.
Unfortunately, these gloves aren't exactly cheap. At $199, they are costlier than other popular heated brands like Savior Heated Gloves and Snow Deer. But if you're used to purchasing high-end heated gloves, like Hestra Power Heater Gloves or Outdoor Research Lucent, then you'd find them rather affordable.
The same goes for the company's heated socks, which also costs $199. While they aren't the cheapest pair in the market, they aren't the most expensive either. Lenz Heated Socks, for example, are more expensive. At this price point, you can save more money and buy the Quanta Vici socks and gloves as a set.
To be clear, however, Quanta Vici is not the first brand to offer heated products that you can control through your phone. Lenz, which has been around since 1987, offers heated products that you can control through an app.
Features
Temperature Regulation
Quanta Vici gloves and socks allow you to stay warm and comfortable at your preferred temperature. The company uses built-in sensors that can measure the temperature inside the wearables, regulate the heat, and keep it at the same temperature level.
Also, Quanta Vici doesn't use low, medium, or high heat settings. Instead, they offer precision, allowing you to choose the exact temperature you want up to 131℉ (55℃).
Smart Wearable
You can connect your Quanta Vici gloves and socks to your phone and control them via the application, which will be available for both iOS and Android. With your phone, you can perform the following:
Set the temperature
Access warranty checks, updates, and support
See how much battery is left.
Customize low, medium, and high heat settings (for using the wearables without your phone)
Access Anti-lost / Anti-theft option
Voice control
Turn on the night visibility light
Quick Charging
Charging these smart wearables is quick and convenient. Just use a USB Type-C charger and you're ready to go. The Quanta Vici products are compatible with power banks as well. So there's no need for wall charging. This feature also allows you to use such wearables while charging.
Specs
Temperature Range
Up to 55℃ (131℉)
Battery
7.4V with 2,200mAh (500-600 cycles of recharging)
Waterproof Level
IP67 waterproof rating
Charging
USB Type-C
Materials

Gloves: 75% recycled polyester and 25% spandex
Socks: Wool, nylon, and spandex

Certifications
FCC, UL, CE, RoHS
The Quanta Vici products feature a 7.4V battery with a capacity of 2,200mAh. Its battery specs are pretty much the same as that of Snow Deer (gloves and socks) and Savior Heated Gloves. But surprisingly, the Quanta Vici promises longer battery life. Here's a quick comparison.
Brand
Battery Life
Quanta Vici Heated Gloves and Socks

High: 6.5 hours
Low: several days

Snow Deer Upgraded Heated Gloves 

High: 2-2.5 hours
Medium: 3-3.5 hours
Low: 6-6.5 hours

Savior Heated Gloves

High: 2-2.5 hours
Medium: 3-4 hours
Low: 4-5 hours

Snow Deer Heated Socks

High: 2-2.5 hours
Medium: 3.5-4.5 hours
Low: 5-7 hours
Heated products that can last for several days? Seems quite a stretch, right? But if it can last that long, Quanta Vici may just have solved one of the biggest problems with today's heated products – short battery life.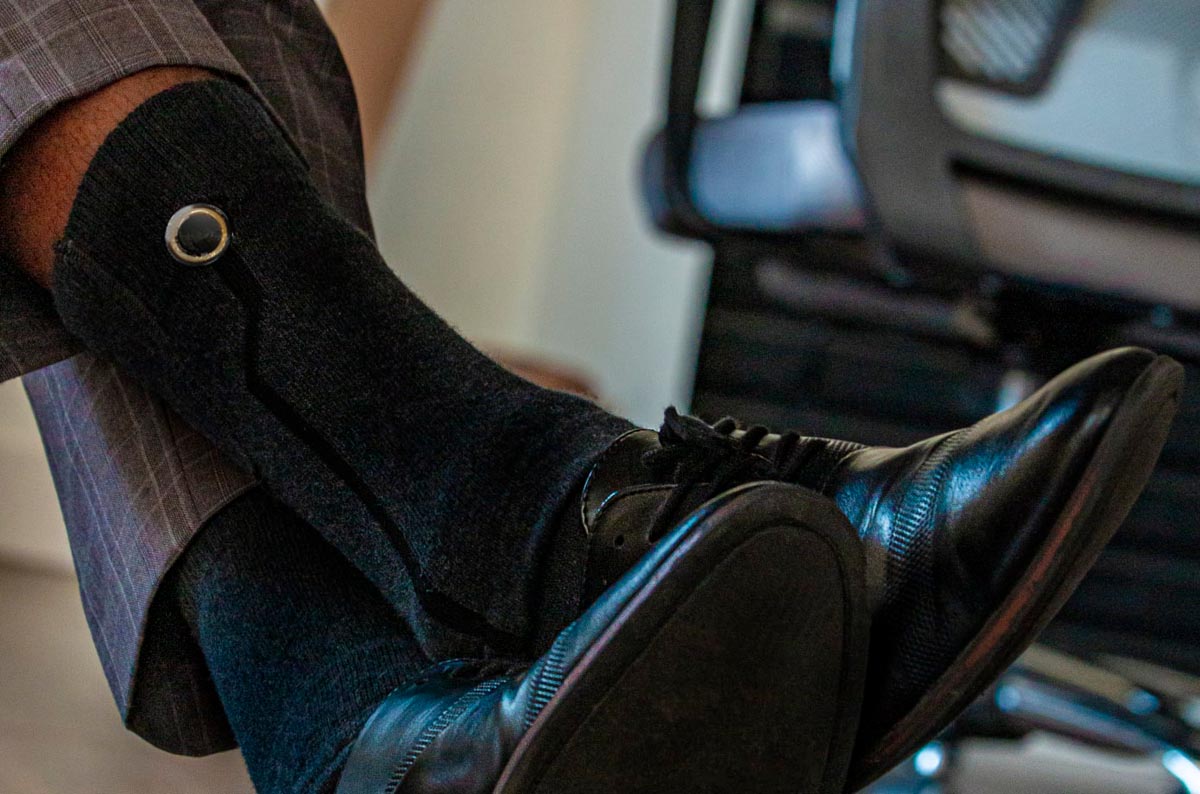 Aesthetics
Quanta Vici gloves look very simple and ordinary. They are thin and lightweight with touchscreen-friendly fingertips and an anti-slipping grip texture on the palms. So if you need gloves that will provide you both warmth and dexterity, this is a great choice. On the other hand, the socks are designed for full comfort. They are breathable with arch support, anti-blister cushion, and shock absorption.
Both the smart gloves and socks feature a bright RGB LED that you can use for extra visibility at night when walking or running.
Final Thoughts
Efficient, convenient, and offering the longest battery life, Quanta Vici tops many of today's heated wearables. They can do better in keeping you warm even in the coldest conditions and while they may be a little pricey compared to many heated products, they are certainly not the most expensive. Overall, the Quanta Vici is very promising, at least on paper.
[wd_hustle id="121″ type="embedded"/]
Last update on 2022-05-15 / Affiliate links / Images from Amazon Product Advertising API