While gaming keyboards and mice are surely their bread and butter, Razer also has an extensive list of excellent headphones that includes the widely loved Kraken series as well as the innovative and steeply-priced Razer Nari Ultimate that we tested out just a few weeks ago. With them being all about video games, they were bound to cash in on the growing competitive gaming market soon enough, which is what they were doing with the Razer BlackShark V2 Pro.
CHECK TODAY'S PRICE HERE: See at Amazon
Razer BlackShark V2 Pro Review
Design & Build -

7.4/10

Features -

8.2/10

Sound Quality -

8.1/10

Mic Quality -

7.3/10

Battery Life -

8.3/10

Comfort -

7.8/10

Total Value -

8.3/10
Summary
While the Razer BlackShark V2 Pro's high price may turn away budget-minded gamers, it certainly brings the excellent audio and comfortable design that made its wired counterpart so great and manages to take it to new heights with its low-latency wireless connectivity and revamped microphone. If you're itching for a quality gaming headset that also works wonderfully for making calls and listening to music, then you really should give the BlackShark V2 Pro a closer look. Just be prepared to shell out a pretty penny.
Pros
Very comfortable
 Fantastic Microphone
Low profile look suits both work and play
Low-latency wireless connection is perfect for competitive games
THX Spatial Audio has the potential to give you an edge in video games
Lengthy battery life
Razer Synapse is awesome
Cons
Pretty expensive
Overexagerated bass profile may cause certain genres of music to sound muddy
The headset's hinges seem prone to damage
This premium piece of wireless hardware was designed to give gamers an edge through a seamless connection, badass mic, and top-shelf audio technology.
But with loads of impressive wireless gaming headphones dominating the market, including the supremely comfortable and surround-sound infused Steelseries Arctis 7, Razer has their work cut out for them in justifying their hefty price point.
In this Razer BlackShark V2 Pro review, we're going to figure out what sets it apart from its wired older brother and if it really is worth saving up for.
Time is important. So if you don't much to spare and can't get through the whole review, just click any of the links below to skip directly to that section:
What is the Razer BlackShark V2 Pro?
While the Razer Blackshark V2 Pro was built for gamers looking for that trademark Razer audio experience sans the pesky cable, it's not limited to gaming enthusiasts on account of its great sound quality and upgraded microphone.
It works just as well for listening to your favourite tunes or binging on Netflix as well as for video calling friends or business group meetings since working from home is the hottest thing right now.
Some people may find it tough to stomach its $180 price point which is a whopping 80 bucks higher than its near-identical wired counterpart and $30 pricier than the Steelseries Arctis 7, but the BlackShark V2 Pro's THX Spatial Audio and stellar mic give gamers just enough reason to consider the Razer.
Editor's note: The Razer BlackShark V2 Pro made in onto our list of best gaming headsets 2020 and best pc gaming heads of 2020.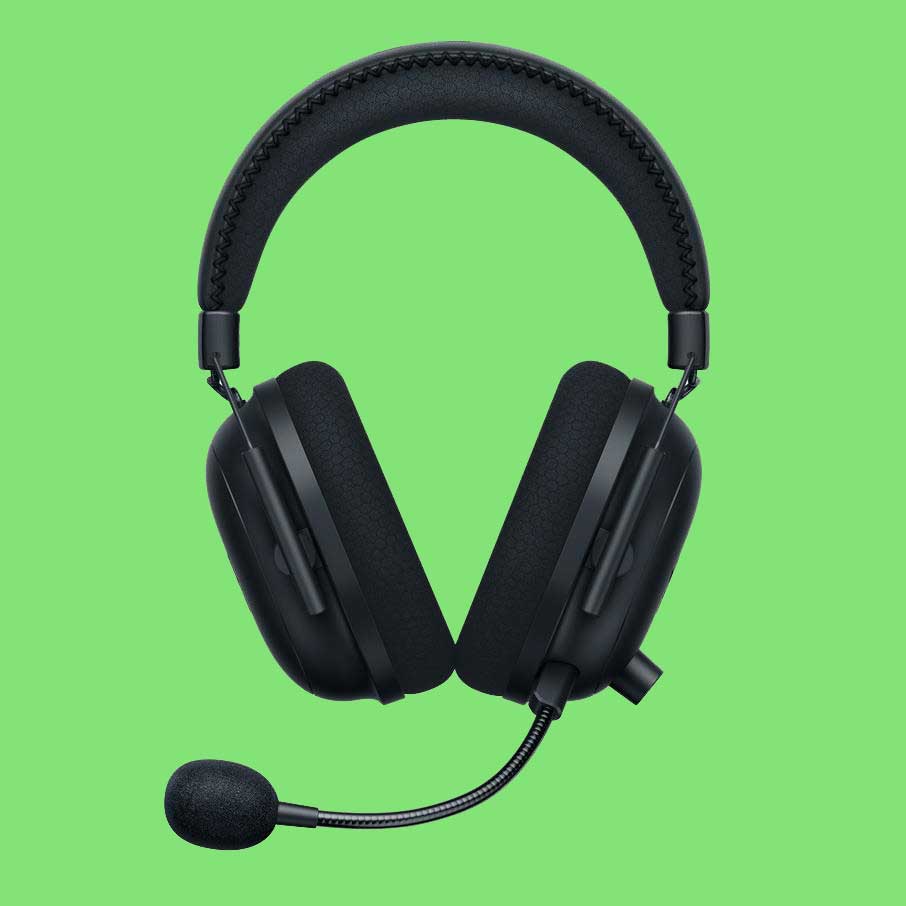 Features
Battery Life
One of the BlackShark V2 Pro's strong points is its lengthy battery life that allows you to go for more than 23 hours on a single charge. That's just as impressive as the Arctis 7 and far superior to the Sennheiser GSP 670's 16 hours. You'll a have to keep it plugged in for 3 hours to get it back up to full juice.
Stand/Carry case
This wireless headset doesn't come with a stand but it does include a stylish black Razer carrying pouch with neon green strings.
Noise cancellation
The BlackShark V2 Pro doesn't have active noise cancelling but offers decent passive noise cancellation that can block out high-frequency sounds like the humming of a refrigerator or air-conditioner. Unfortunately, it struggled to dissipate lower and mid-ranged frequencies like nearby car engines and side chatter inside the room.
Software
The Razer Synapse software suite has always been one of the best in the business and the BlackShark V2 Pro utilizes it splendidly, featuring a wide array of customization options that include playback and microphone equalizers, power-saving controls, volume adjustment, surround sound settings, and more.
Connectivity
Another one of the BlackShark V2 Pro's best features is its fantastic low-latency wireless connectivity that's essential for a quality experience when gaming or making video calls. Connecting wirelessly works perfectly with PC and PS4 but isn't supported by the Xbox One. Alternatively, the headphones come with a 1.37 metre-long 1/8″ TRRS audio cable that you can use to connect to you PC or any of your consoles, but doing so forgoes the stellar THX Spatial Sound feature.
Sound Quality
The BlackShark V2 Pro provides loud, punchy bass that works great with video games and action movies. The lower frequency of explosions and car revs are exaggerated nicely to give them a more resounding oomph. The same can't be said when talking about music, however, as the bass may come across as a little muddy and overdone.
Its strongest quality is its mids, allowing dialogue, vocals and lead instruments to sound crisp and crystal clear. The lower-mids could use some work on account of then overblown bass, but it doesn't affect the mid-quality all that much.
Overall, the BlackShark V2 Pro's treble performance is solid and instruments come across well-defined and pleasant to the ears. Mid-trebles are a little overemphasized at louder volumes which may cause higher-pitches letters to sound shrill, but not so much as to ruin your listening experience.
THX Spatial Audio – which is essentially surround sound – is only available in wireless mode and when connected to a PC and works wonderfully with most games. It can even provide you with an edge in some competitive titles like Warzone and PUBG by giving you a better idea of where your enemies are located by the noise they make. All in all, the BlackShark V2 Pro sounds best when gaming, but its solid audio profile makes it great for listening to tunes and watching shows as well.
This pair of headphones comes with a detachable boom mic that sports above-average recording quality that sounds full but may sound a little different than your normal voice. Its speciality lies in its superb noise handling abilities that can block out ambient sounds in even noisier environments like internet cafes and rowdy living rooms. That makes it great for gaming and work.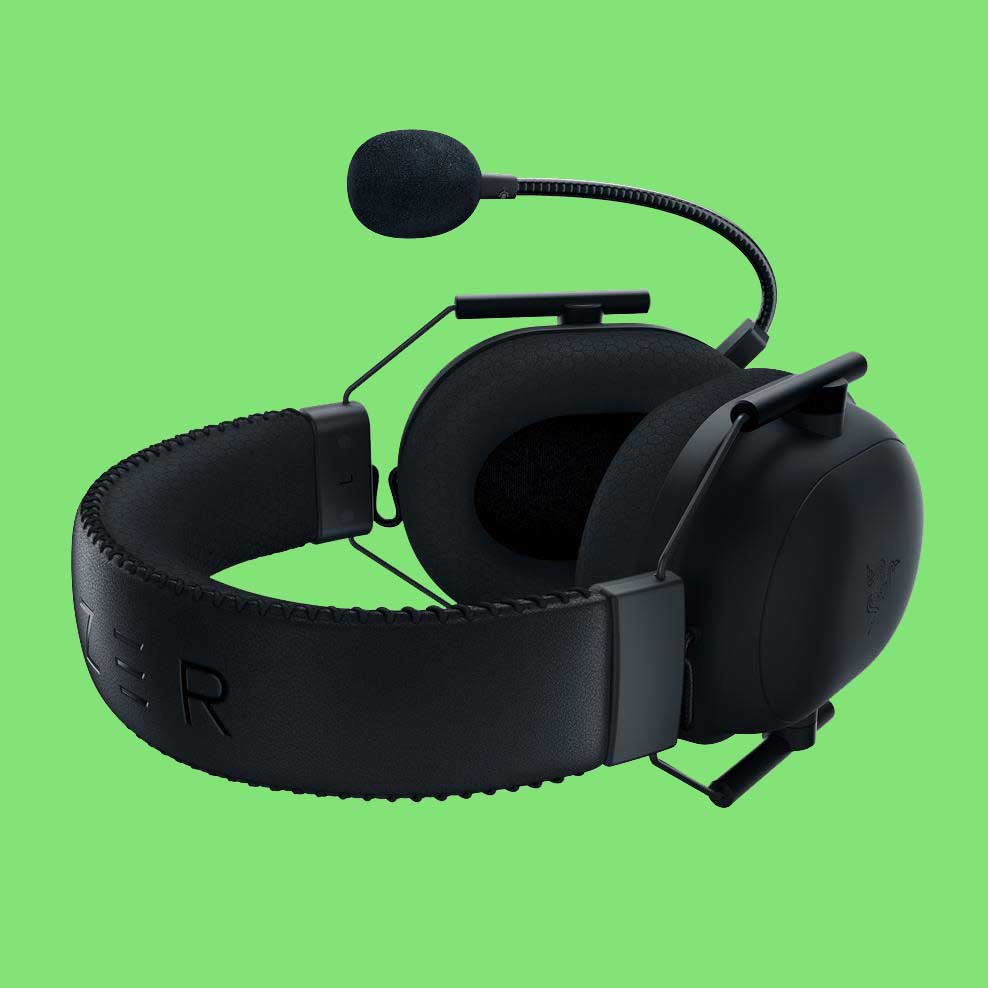 What's it like to use?
The BlackShark V2 Pro feels fairly sturdy due to a good mix of metal and reinforced plastic, though the hinges might be the first to go after extended usage. They feel incredibly comfortable to use thanks to the oversized earcups and generous padding and they clamp down gently enough around your head that they don't wear on you even during longer sessions. This gentleness, however, means they aren't very well suited for workout programs or moving around too much, as they're likely to fall off.
Using the headphones is as simple as can be since it only has a handful of buttons all located on the left side. The buttons feel solid and of high quality, though the power and mic mute buttons have near-identical shapes and sizes making it easy to mistake them for one another.
I don't think I need to elaborate on how annoying that can be. To set up the BlackShark V2 Pro, all you have to do is plug in the wireless transmitter then turn the headphones on and you're good to go. Customizing them is just as easy thanks to the fantastic Razer Synapse software that's intuitively designed to make all of the peripheral's features very accessible.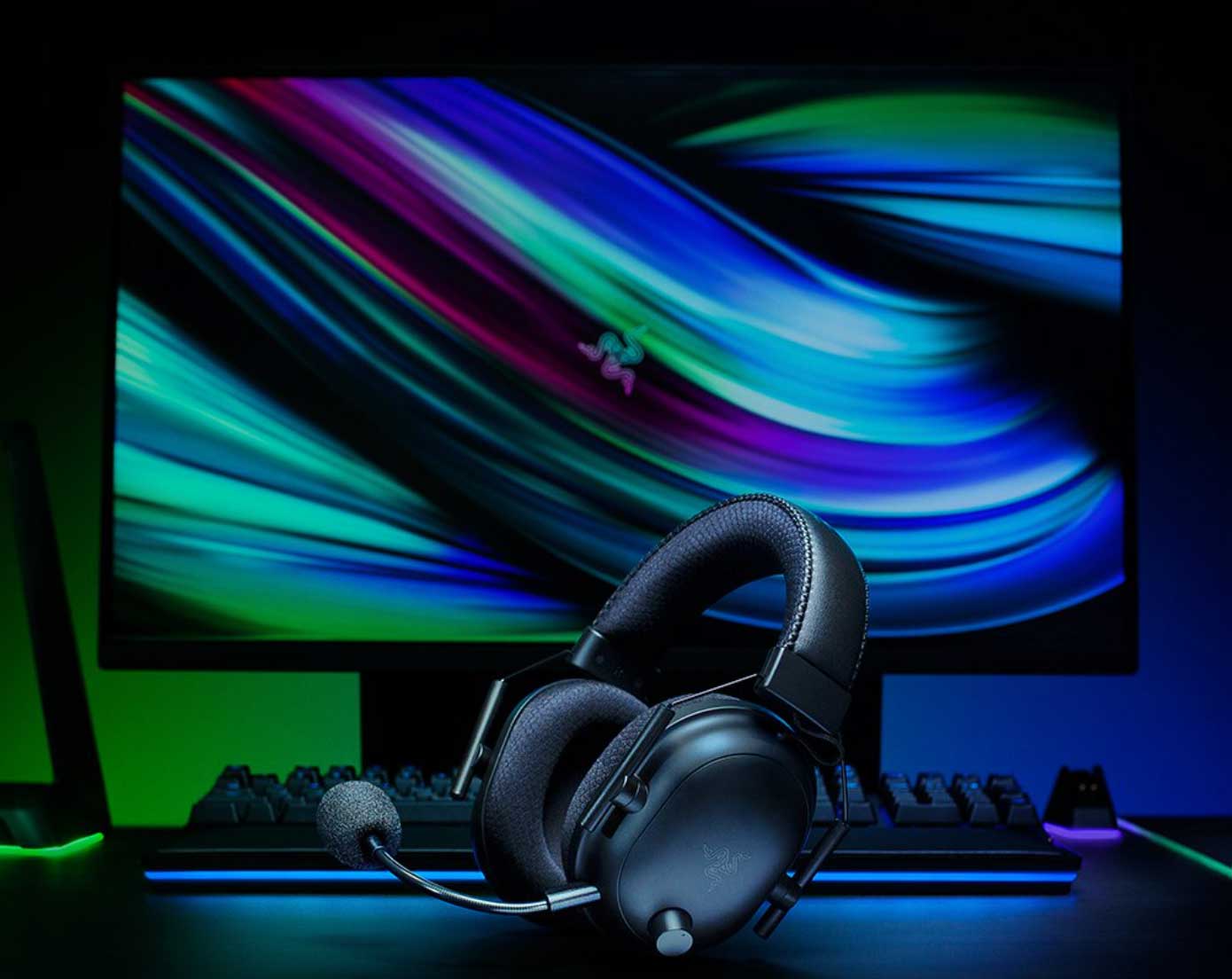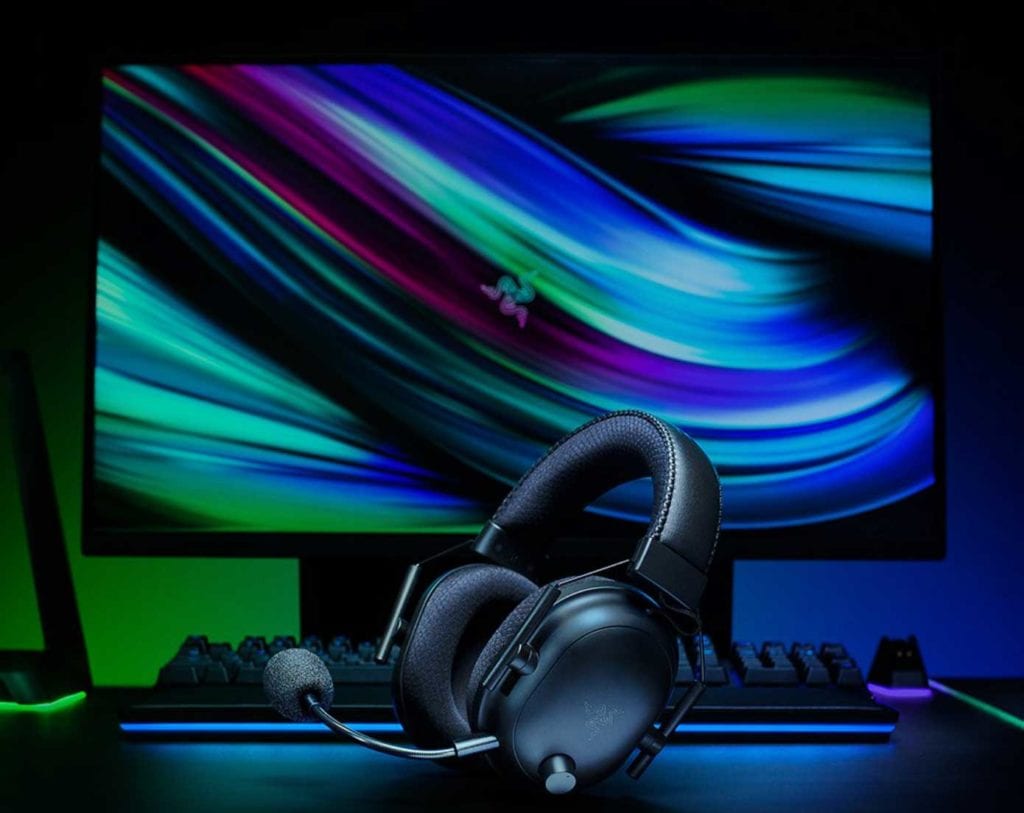 Aesthetics
Razer's BlackShark V2 Pro looks almost identical to its wired twin brother, with the exception of trading in the bright green triple snake logo for a more muted black one instead.
Its oval-shaped earcups give it a functional aesthetic and feel nice and spacious to use, while its sleek, matte black colourway and plastic/metal build is a rather stark departure from Razer's often louder offerings, making it seem more appropriate for use outside of gaming.
If you're in the market for a gaming headset that's more on the minimal side, the Razer BlackShark V2 Pro has the right idea.
BlackShark V2 Pro: 1 Minute Review
The BlackShark V2 Pro is perfect for fans of the original that are looking to go wireless. It comes with the original's cool form factor, comfortable design, and solid sound quality but steps up its mic game quite a bit, making it great for gaming, social media, and even video conferencing for work.
Razer Blackshark V2 Pro
The #1 Best-Selling Gaming Peripherals Brand: Source - The NPD Group, Inc....
THX 7.1 Surround Sound Capable: Provides industry-leading audio realism for...
2 Modes of Connection: Enjoy lossless audio for low-latency wireless gaming...
All-Day Comfort: Soft breathable memory foam ear cushions that prevent...
Its hinges feel a little flimsy and its hefty price might makes it hard to recommend over the Steelseries Arctis 7 which is not only cheaper but shares the same long battery life and also comes with surround sound. Nonetheless, the BlackShark V2 Pro is still one of the best wireless gaming headsets on the market… if you can afford it.
Last update on 2022-05-15 / Affiliate links / Images from Amazon Product Advertising API