The Razer BlackShark V2 X is a streamlined version of the Razer BlackShark V2 Pro and cuts out most of the luxury but keeps the features that matter most in a gaming headset. It then slaps an affordable price tag on it and budget gamers rejoiced, joined hands and live happily ever after – or did they?
CHECK TODAY'S PRICE HERE: See at Amazon
30 Second Review: Razer BlackShark V2 X
Design & Build -

6.6/10

Sound Quality -

6.8/10

Mic Quality -

8.3/10

Comfort -

7.5/10

Total Value -

8/10
Summary
Even with its cheap build and lack of software support, you'll be hard-pressed to find better gaming headset than the BlackShark V2 X in terms of audio quality, design, and Surround Sound technology at the $60 price range. If you've been dying to join the Razer ranks but could never afford it, here's your chance.
Pros
Quality sound
Excellent mic
Handsome low-profile design
Lightweight and comfortable
Great Surround Sound
Cons
Cheap build
Lack of Razer Synapse support
Mediocre trebles
Minimal controls
Requires a USB connection to use the Surround Sound app but doesn't include one
The question is, did Razer cut away too much in search of affordability? We're going to see just how well their entry-level offering holds up, in this Razer BlackShark V2 X review.
If you're pressed for time and can't read through the entire V2 X review, just click any of the links below and we'll take you right to that section:
What is the Razer BlackShark V2 X?
To simplify things, the Razer Blackshark V2 X is pretty much the V2 minus the USB sound card, detachable mic, and some cut corners in terms of materials. It does still come with most of the good stuff, including the premium comfort, sleek low-profile looks, and excellent sound quality.
It also sports a much cheaper $60 price point, especially by Razer's standards, putting it in the same boat as the slightly more affordable SteelSeries Arctis 1 and Astro A10. It is, by all means, a gaming headset, though the fact that it was made by Razer should've already tipped you off.
If that didn't make it obvious enough, its aviation-style design surely will, though its muted colours and sleek form make it subtler than most headsets of its variety.
Editor's note: The Razer BlackShark V2 X made into the list of best budget gaming headsets.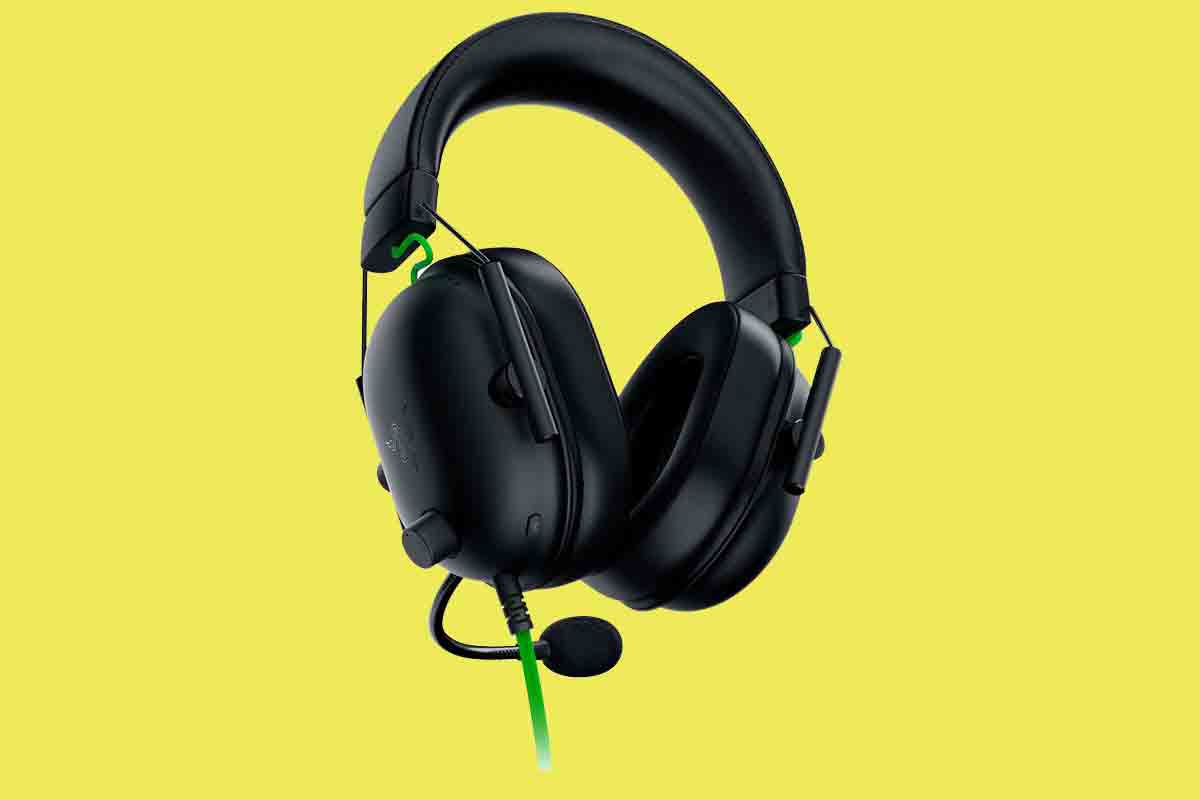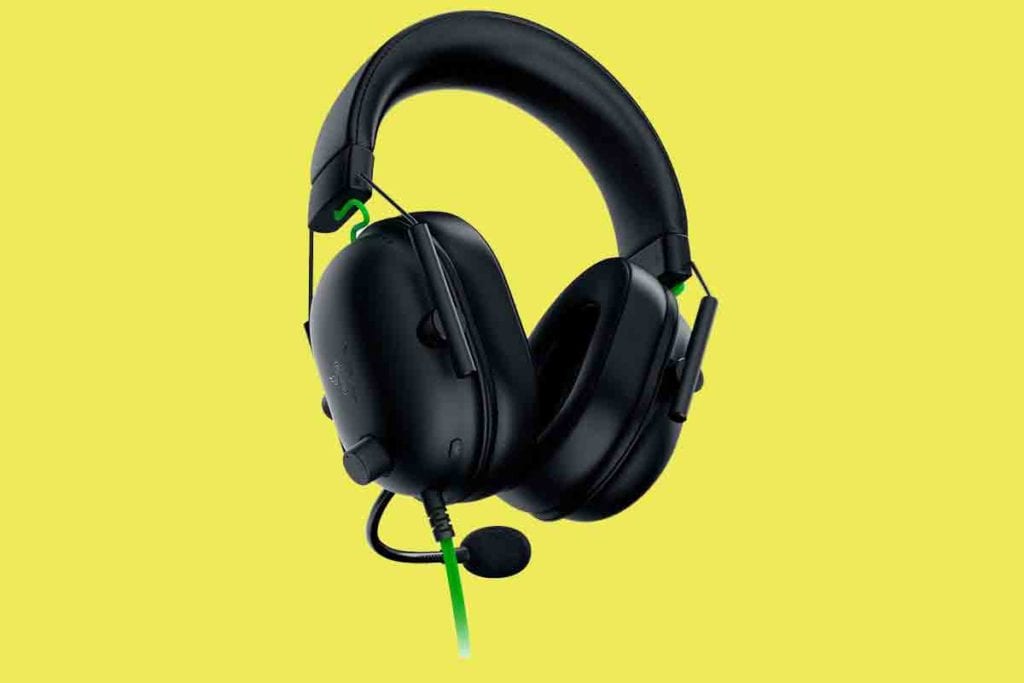 Features
Connectivity
The BlackShark V2 X is exclusively a wired headset that connects to devices via a 3.5 mm audio cable. It also comes with a Y-splitter for mic and audio support on PCs.
Surround Sound
The headset offers 7.1 Surround Sound that can only be enabled on Windows 10 and requires you to download a special app via a code included with the peripheral.
Noise Cancellation
It doesn't include active noise cancellation technology but it does have decent noise isolation when it comes to treble and mid-range sounds. This allows it to block out high-frequency noises like planes flying by or air conditioner humming, as well as moderately loud environments. Unfortunately, it has a tough time isolating bassier sounds like nearby traffic.
Accessories
Inside the box, you can expect to find the peripheral itself, along with a Y-splitter, Razer stickers, and a black soft pouch with neon-green ties.
Software
Oddly enough, the BlackShark V2 X isn't supported by Razer's proprietary Synapse app. It does, however, come with a download code for its companion Surround Sound software but that's about as far as it goes when it comes to customization. Weirder still is the fact that you need a USB connection for the app to function which is notably absent from the box. Odd indeed.
Sound Quality
Despite its budget price, Razer made sure to include an excellent pair of drivers under the hood. Its bass profile is deep and punch and has that overexaggerated quality that's expected from a gaming headset. The mids are perhaps its most impressive characteristic, as vocals, voiceovers, and musical instruments come across full and clear.
In contrast, the trebles could've used a lot more love, with higher frequencies missing the mark by a large margin which causes your overall listening experience to seem duller and slightly muffled. The Surround Sound feature may not have the same precision of the THX Spatial Audio that's found in some of their more premium headsets, but it works surprisingly well and provides fairly accurate positional audio and a noticeably wider sound stage/
I tested it with a few hours of Resident Evil 2 Remake and the moans and groans of off-screen enemies felt directionally precise, leaving me in a perpetual state of dread as I made my way through the Racoon City Police Station. Also, the lacklustre trebles did little to dampen the game's rich audio experience, with gunshots feeling satisfying and the atmospheric musical score, keeping me on my toes at all times.
For a lower-end peripheral, the BlackShark V2 X has a top-notch microphone that offers marvellous recording quality. Your voice sounds accurate yet clear and impressively natural. Its noise isolation is also amazing since it's able to mitigate even noisier environments like gaming cafes.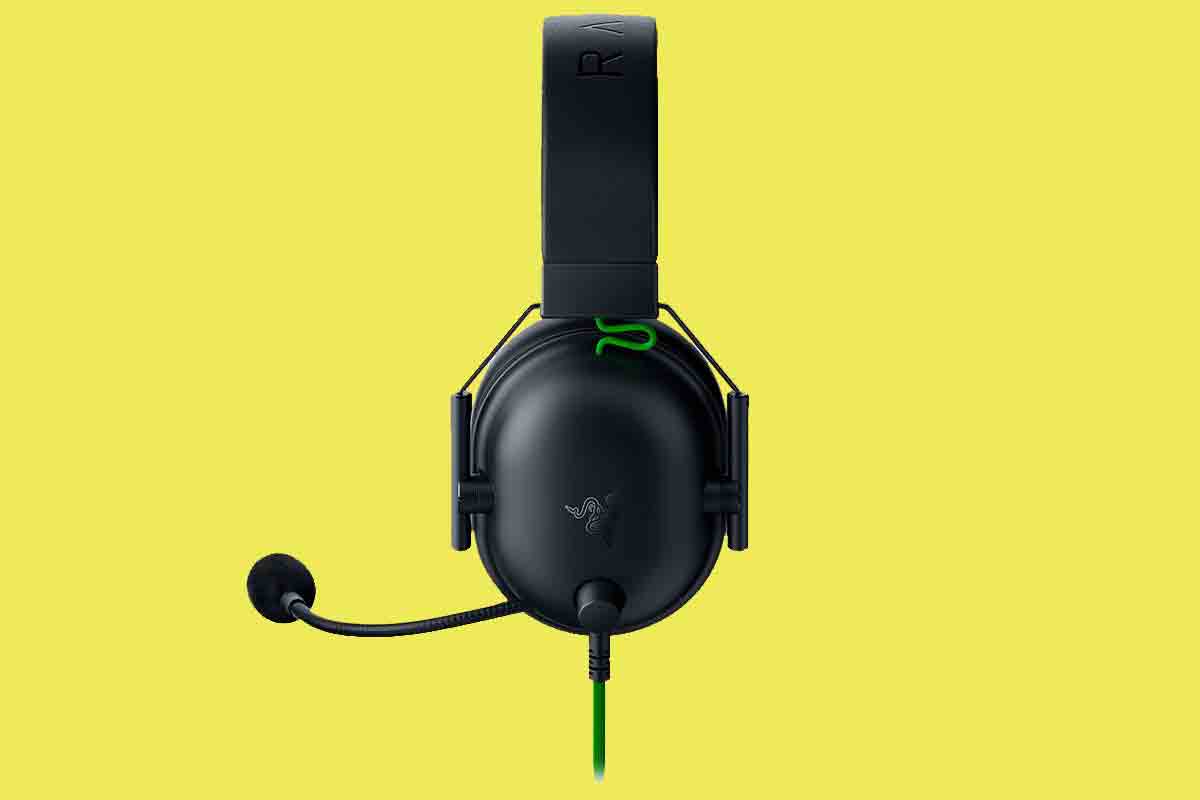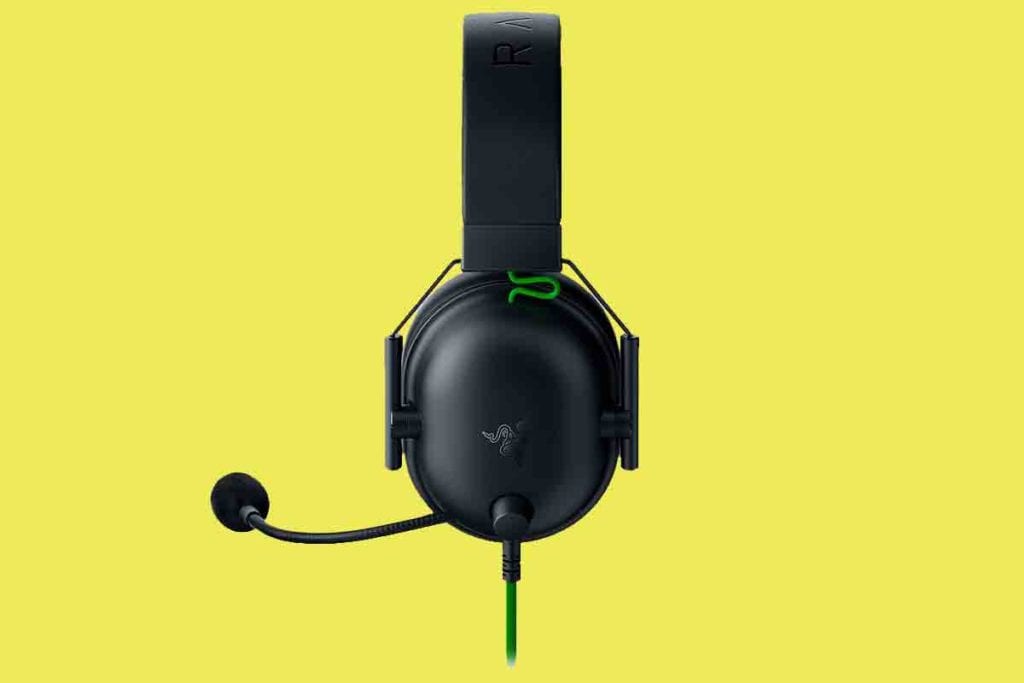 What's it like to use?
Since the BlackShark V2 X is a wireless headset that uses a 3.5 audio jack, there isn't much to setting it up beyond plugging it into your favourite device and throwing on the headset. On the road to achieving a cheaper peripheral, Razer threw out most of the extra buttons, leaving it with only a volume knob and a mic mute button. On the bright side, they do feel good to use but most gamers will be pining for some extra controls.
One of the more disappointing aspects of the headset is its lack of Razer Synapse support which severely cripples its customization options. In its stead, Razer included a download code for a Surround Sound app that you can use to enable the feature, though it works only with Windows 10 PCs.
One of the biggest advantages that come with streamlining the headset is its lightweight which, when mixed with some densely-padded memory foam ear cups, makes for an extremely comfortable listening experience even during drawn-out sessions. This featherweight quality also makes it remarkably stable, sitting on your head steadily even after sharp movements.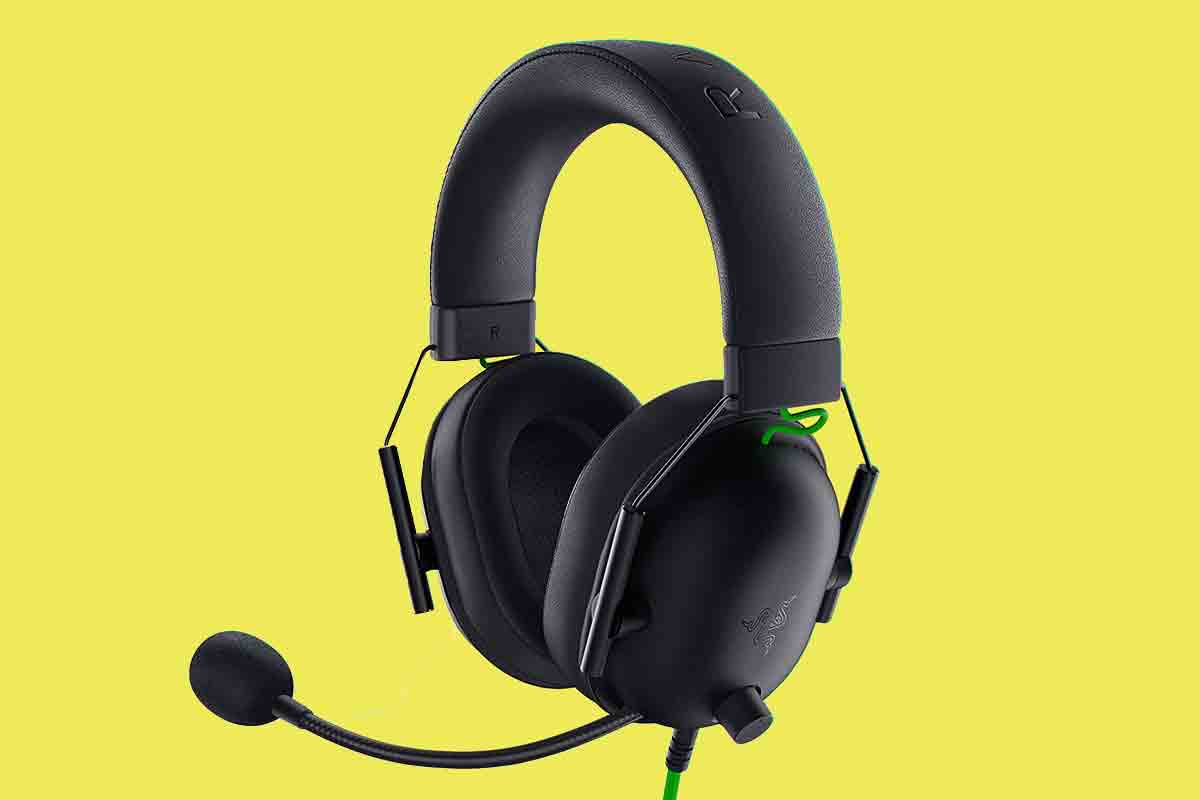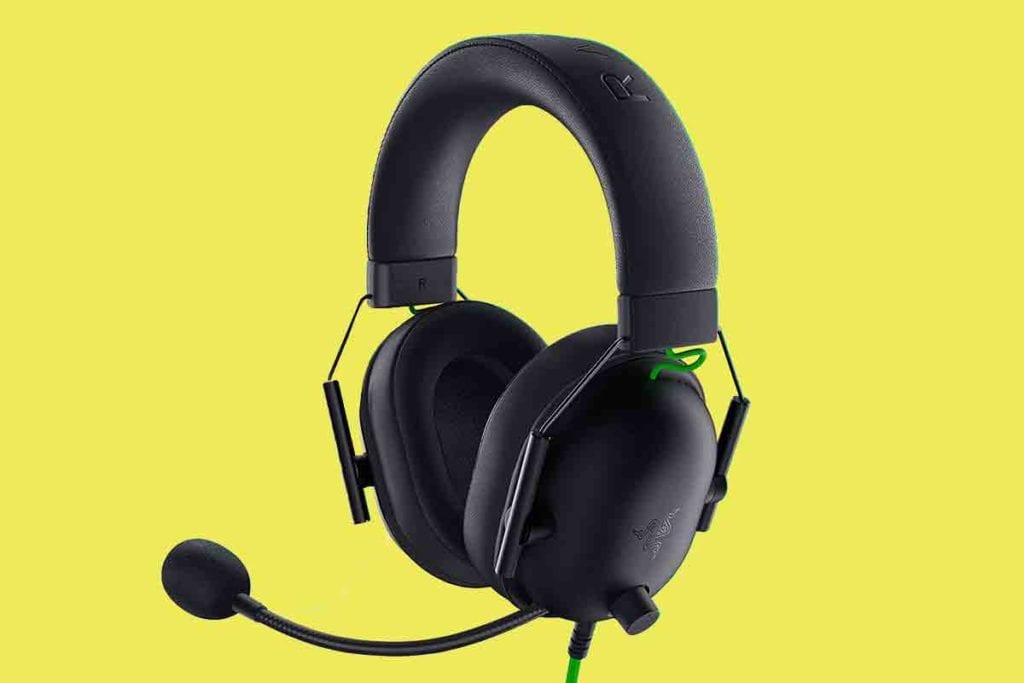 Aesthetics
The BlackShark V2 X looks a lot like its predecessor – the V2 – minus its neon-green Razer logo (now replaced with a deeper black one) and some visible stitching on the headband. The black braided cable has also been replaced with a plasticky neon-green one that's a lot more rigid and not exactly pleasant to the touch.
Otherwise, the two headsets look pretty much identical, sporting oversized egg-shaped ear cups that are held up by forked arms and are connected to a thick, well-padded headband. It's matte black all around, save for the cable and a short green electrical cord between the ear cups and headband. As Razer headsets go, it's a lot more low-profile but still sleek and handsome, making it great for minimalists or those who plan on using it outdoors.
As expected from a budget peripheral, its build isn't the best. The reinforced plastic material that the ear cups are made of is durable enough, but the forked metal hinges are thin and flimsy not unlike those found on a metal clothes hanger, making them prone to disfiguration and breakage. The exposed cord is also dangerous as it could easily get hooked on to something and yanked out of the headset.
Final Thoughts
Razer succeeds in minimalizing their BlackShark V2 model by getting rid of most of its bells and whistles but maintaining its core competencies. Despite its lack of customization options and shoddy build, the BlackShark V2 X manages to shine thanks to its terrific sound quality, exceptional mic, and solid Surround Sound capabilities.
Razer Blackshark V2 X
Product Type: Headphones
Package Quantity: 1
Country of Origin: United States
240g lightweight design with breathable memory foam ear cushions for...
And since it's a wired headset, you can pretty much use it with anything that has a 3.5mm port. At sixty bucks, you're getting one of the best budget gaming headsets on the market.
Last update on 2022-05-15 / Affiliate links / Images from Amazon Product Advertising API