With the Razer Huntsman Elite, Razer has managed to develop a revolutionary keyboard that marries mechanical switches with groundbreaking optical sensor technology to supposedly provide users with unprecedented actuation speeds.
Question is, does the Huntsman Elite really live up to all its hype? And how well does it compare to today's gaming keyboards after putting on a couple of years? That's what we're here to figure out in this Razer Huntsman Elite review.
CHECK TODAY'S PRICE HERE: See at Amazon
30 Second Review: Razer Huntsman Elite
Design & Build -

8.5/10

Features -

8.3/10

Typing Quality -

8.1/10

Total Value -

8.3/10
Summary
Even two years down the line, the Hunstman Elite is still the fastest in the business and is easily the greatest gaming keyboard for typing. It's easy on the eyes as well on account of its gorgeous RGB lighting design and its soft, tactile switches feel like a dream whether you're gaming or getting some work done. It's a shame that it eats up two USB slots and the wrist rest could've been designed better, but those two flaws do little to change the fact that the Huntsman Elite remains one of the best gaming keyboards ever created.
Pros
✓ Breakneck actuation speeds
✓ Soft, tactile switches
✓ RGB design is gorgeous
✓ The wrist rest is a welcome accessory
✓ Multi-function digital dial is just plain awesome
✓ Much more affordable now compared to its debut
✓ Best typing keyboard ever
Cons
✗ Eats up two USB ports
✗ Wrist rest borders are uncomfortable
In a rush and don't have the time to go through the whole review? Just click any of the links below to jump right to that section:
What is the Razer Huntsman Elite?
Razer unveiled their Huntsman line of mechanical gaming keyboards back in 2018, releasing both the Huntsman and Huntsman Elite simultaneously. They were meant to supersede the Blackwidow line of products and take its place as Razer's new entry in the premium keyboard corner.
Razer sold the heck out of it by boasting about its optomechanical switches which take mechanical switches to the next level by registering keystrokes "at the speed of light". Funny enough, Razer wasn't actually the first brand to introduce this technology but their status in the gaming community definitely helped put the tech on everyone's radar. Two things separate the Huntsman from the Huntsman Elite and that's the latter's inclusion of a wrist rest and extra buttons.
Of course, with new tech comes a premium price tag. At its debut, the Razer Huntsman Elite cost a pretty penny with its $200 price point, but nowadays you can usually find it for around $150 which is a fair bit cheaper than its rivals the Roccat Vulcan 120 AIMO and the Dell Alienware Pro Gaming Mechanical Keyboard.
As for its looks, the Huntsman Elite sports a sleek matte finish with the signature jet black colour scheme that Razer's known for. Its form factor is fairly lowkey save for its wrist rest and media buttons which makes it great not only for gaming but for office use as well. That is until you turn on its flashy RGB lighting complete with underglow.
Editor's note: The Razer Hunstman Elite made it onto the best gaming keyboards of 2020 list!
---
If you're looking for a gaming mouse to accompany the Huntsman, check out our review of the Death Adder Elite
---

Features
Switches
The Huntsman Elite's major highlight is its proprietary Razer Opto-Mechanical switches which are essentially mechanical switches with optical sensors built into them. That way whenever a key is pressed a receiver immediately picks up the key's light signal and registers it at insane speeds making for breakneck actuation. They're extremely soft to the touch too and require only 45 g of force to actuate and a distance of a mere 1.5mm before the keystroke registers. The switches have an impressive shelf life to boot, surviving for up to 100 million keystrokes.
Connection
This keyboard is a wired one and utilizes a braided fibre USB cable that's around 1.83 metres long. Unfortunately, it eats up a second USB port in order to power the RGB lighting.
Accessories
One of the coolest things about the Huntsman Elite is the fact that it comes with a leatherette cushioned wrist rest that's fully RGB capable. It latches on to the keyboard using powerful magnets.
Media Controls
Another welcome feature that's absent from its cheaper twin is the dedicated media controls. The keyboard has three independent media buttons and a nifty multi-function digital dial that can be programmed to control a host of options.
RGB Lighting
The Huntsman Elite offers RGB backlights with 16.8 million colours and 38 customizable underglow points. The wrist rest is also RGB capable and has 24 custom lighting zones which sync automatically when latched onto the keyboard.
Software
You can remap the multi-function digital dial and customize your RGB lighting with the Razer Synapse 3 software suite. You won't have to worry about switching computers either since the Huntsman Elite comes with onboard memory and cloud storage to save all your settings and profiles.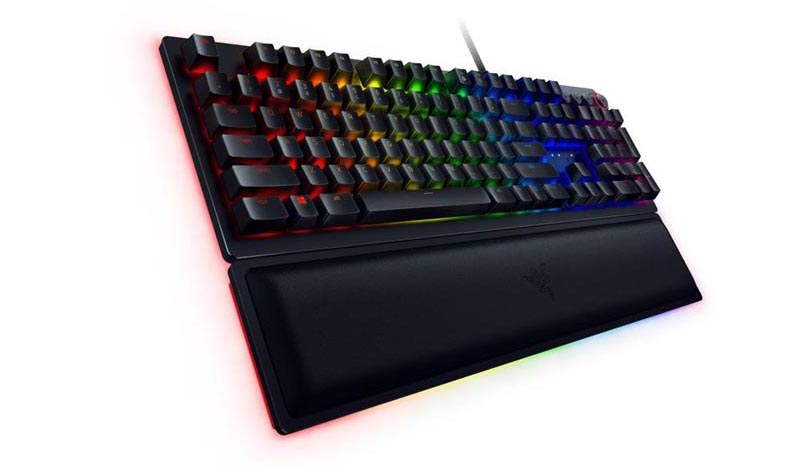 Specs
| | |
| --- | --- |
| Dimensions (without wrist rest) | 44.70 x 13.97 x 3.66 cm |
| Dimensions (with wrist rest) | 44.70 x 22.99 x 3.66 cm |
| Weight (without wrist rest) | 1.22 kg |
| Weight (with wrist rest) | 1.71 kg |
| Switches | Razer opto-mechanical |
| Switch lifespan | Up to 100 million keystrokes |
| Dedicated media controls | Yes |
| Connection Type | USB |
| RGB Lighting | Yes – 16.8 million colours |
| Number of keys | 109 |
| Software | Razer Synapse 3 |
| Accessories | Leatherette wrist rest |
Aesthetics
The Huntsman Elite is a full-sized 108-key keyboard that ditches the louder design of its predecessor – the BlackWidow – in favour of a sleeker, more low profile form factor. It's a fairly plain-looking keyboard coated in matte black from corner to corner and features a sturdy, all-aluminium front plate.
Turning on its RGB lighting, however, gives it all the flair it needs thanks to its individually lit keycaps and subtle underglow. Even the wrist rest has its own RGB lighting that works in perfect harmony with the Huntsman Elite. Speaking of which, its wrist rest is made of cushioned leatherette and accompanies the keyboard with a dignified sense of class.
The media buttons and multi-functional digital dial are located at the top right corner of the peripheral, with the latter standing out thanks to the RBG light strip encompassing it. Overall, it's a gorgeous piece of hardware that has its heart set on gaming, but its minimalist base design makes it great for office work as well.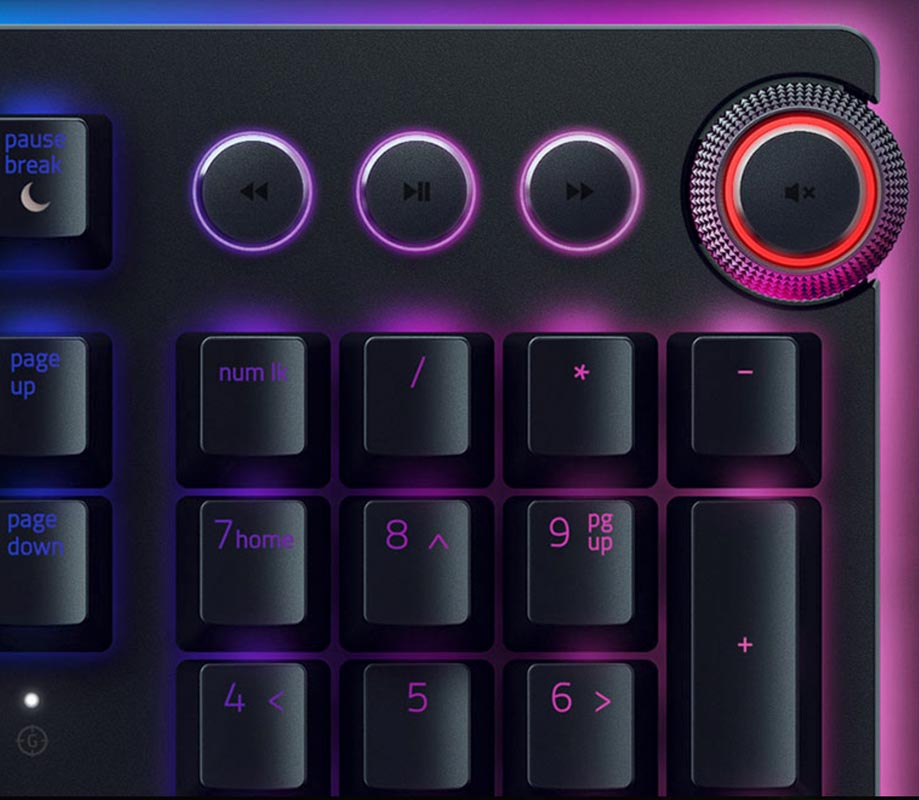 What's it like to use?
The first thing you'll notice about the Huntsman Elite is how light the keys are. Keystrokes land effortlessly but provide enough tactile feedback to feel crisp and satisfying. As advertised, the actuation speeds are blazing fast on account of the optomechanical switches and you'll feel it most when you're doing some high-speed typing. However, some may find the mechanics of this keyboard a little too sensitive and out them off their usual typing rhythm.
It's not nearly as noticeable when gaming, however, since the average gamer doesn't really have the lightning-quick reflexes needed to distinguish the Huntsman Elite from one of its high-performance rivals.
The wrist rest is a wonderful accessory and its cushioned portion feels incredibly comfortable to lay your wrist or palms on. The problem is that metal borders surround the wrist rest and dig into your skin whenever your hand position drifts toward the edges. It would've been far more comfortable had Razer just made the entire wrist rest cushioned.
Customizing the Hunstman Elite is a cakewalk thanks to the intuitive Razer Synapse 3 app. Here you can manipulate the RGB lighting to suit your tastes or change the function of the digital dial – which feels awesome to use, by the way. It defaults to output volume control, but you can change it to adjust microphone volume, mouse scrolling, or even bind it to in-game controls.
Final Thoughts
Despite being released two years ago, the Huntsman Elite still feels like brand new tech. Its insane actuation speeds coupled with its high-quality switches and gorgeous RGB design make it really easy to love (even though it takes up two USB ports) and the added wrist rest is something Razer fans have been pining over for years.
Granted the wrist rest should've been cushioned all the way across, but we'll take it anyway. The media controls are also a welcome feature, with the multi-functional digital dial being particularly useful both in and out of video games.
Last update on 2022-05-15 / Affiliate links / Images from Amazon Product Advertising API