With the Razer Kraken Tournament Edition, the brand sought to bring their THX Spatial Audio technology over to a more modest-priced headset, while still delivering splendid audio and premium comfort. But with its predecessor – the Kraken – already sporting a Surround Sound feature, is it really worth the extra money? That's what we're here to find out, in this Razer Kraken Tournament Edition review.
CHECK TODAY'S PRICE HERE: See at Amazon
Razer Kraken Tournament Edition Review
Design & Build -

7.4/10

Features -

6.9/10

Sound Quality -

5.8/10

Mic Quality -

7.2/10

Comfort -

7.1/10

Total Value -

7.6/10
Summary
The Razer Kraken Tournament Edition's THX Spatial Audio and stellar sound quality compliment each other perfectly to add a whole new level of depth and immersion to your video game experience. Add that to its deep customization options and spectacular microphone and you've got yourself one of the best mid-range headsets for PC gaming.
While it still makes an impressive console headset even without the extra features, not being able to experience THX Spatial Audio or utilize the USB Audio Controller is a massive letdown.
Pros
THX Spatial Audio is every bit as phenomenal as Razer described
Razer Synapse offers loads of customization options
Sturdy build
Attractive price
Terrific microphone
Sound quality is great after some tweaking
Cons
USB audio controller is inverted once connected
Default bass level is overpowering
Fit is a little tight for people with large heads
The headset's best features (including THX Spatial Audio) aren't available on console
Not keen on browsing through the entire review? Just click any of the links below to skip straight to that section:
What is the Razer Kraken Tournament Edition?
Razer has released tons of top-shelf peripherals over the years and, at some point, their name became synonymous with pricey hardware. With the Kraken line of gaming headsets, the tech company developed lower-mid and mid-range offerings to cater to a wider audience.
The Razer Kraken Tournament Edition, or Kraken TE for short, is an offshoot of its older brother with the same name (sans the Tournament Edition part). It was the first of the brand's mid-range headsets to come with THX Spatial Audio – a form of Surround Sound that Razer promises is far more accurate than the standard 7.1. It also comes with a nifty USB Audio Controller that wasn't included with the original.
Given the illustrious Razer name and the fact that it was marketed in a neon green colour so bright you could see it from space, the Kraken TE is undoubtedly a peripheral aimed at gamers. It's a cool-looking headset, albeit slightly on the large side, and comes in a jet-black colourway in case Grinch-green isn't exactly your style.
It retails at a reasonable $99.99, making it 20 bucks more expensive than its predecessor. As of this writing, Amazon has the Kraken TE on sale for around $55 which is a steal.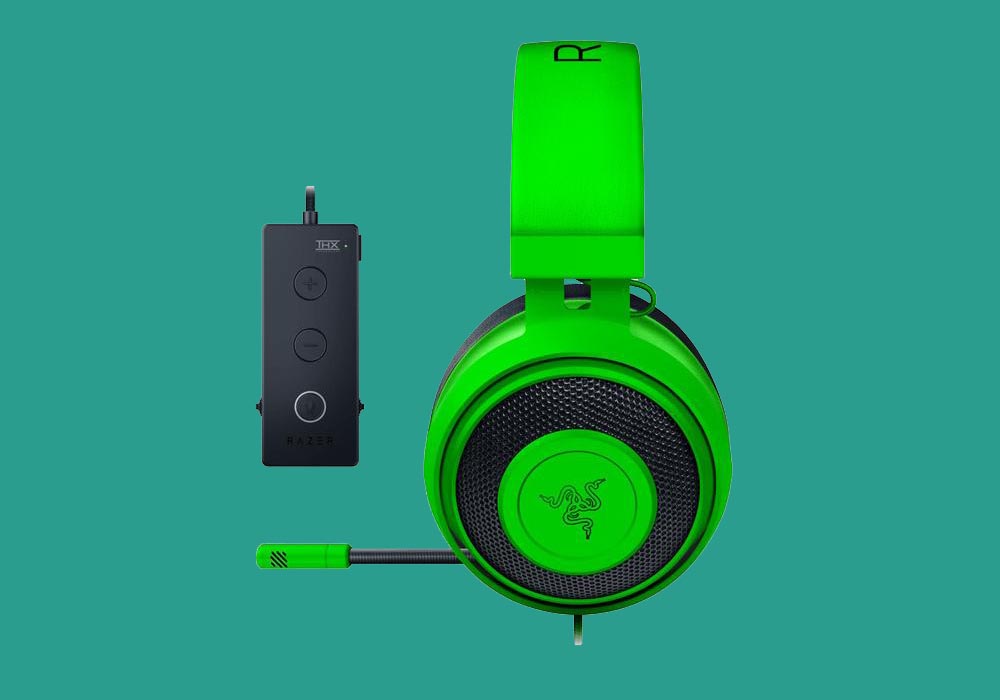 Features
Surround Sound
The Kraken TE comes with THX Spatial Audio, an advanced form of 7.1 Surround Sound that supposedly offers more precise positional accuracy which makes detecting enemies in video games easier and the whole experience more immersive.
Accessories
One of the main differences between the Kraken TE and its predecessor is the addition of a USB Audio Controller which gives gamers a host of extra sound controls. It's worth noting that the controller's features only work with PCs. Sorry console fans.
Connectivity
It's a wired headset that can connect to pretty much anything with a 1/8″ TRRS audio connector. The USB Audio Controller lengthens the cable quite a bit, adds a tiny amount of latency, and ends in a USB port for you to connect it to a PC, PS4, or Switch, though, as previously mentioned, the features are limited to PC.
Noise Cancellation
The Kraken TE doesn't feature active noise cancellation, though it does isolate moderate-level voices and sibilant sounds fairly well. Unfortunately, it has a hard time blocking out bass-heavy noises like loud traffic and planes.
Software
While connected to your PC through the USB audio controller, the headset is supported by the excellent Razer Synapse program which gives you a host of customization options for your sound experience, microphone, and the THX Spatial Audio.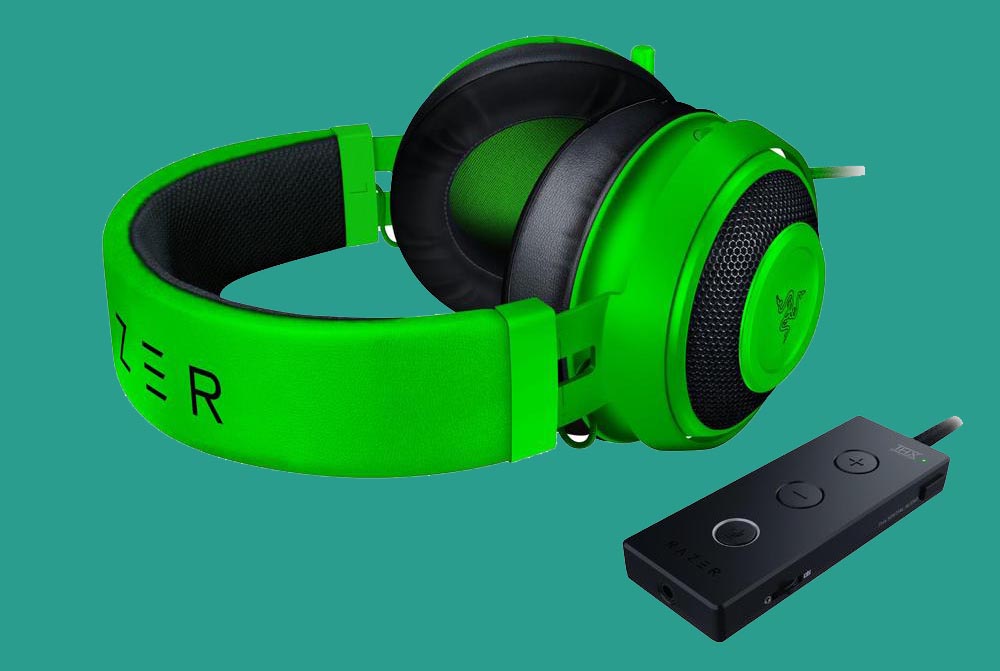 Sound Quality
Straight out of the box, the Kraken TE's sound quality isn't the best, but it's great for gaming and highly customizable to suit individual tastes and purposes. It's quite bass-heavy, as most gaming headsets are, but not so much as to introduce rattling in the headset. The bass does, however, tend to take centre-stage in the overall audio profile, causing the vocals and other instruments to sound less highlighted and a little muddy.
Luckily enough, the audio controller allows you to fiddle with the bass volume anytime you want, so you can set it at a level that allows the mids and trebles to shine more. Also, the equalizer settings on the Razer Synapse are absolutely fantastic and work wonders for fine-tuning the headset's audio profile to its maximum potential.
The microphone's recording quality is stellar and makes your voice come across crystal-clear and very natural-sounding. It also handles ambient noises impeccably, blocking out background sounds even in extremely noisy environments.
With the THX Spatial Audio being one of the Kraken TE's main selling points, we were excited to see if it was all that Razer said it would be. Fortunately, it didn't disappoint. While gaming, the difference between toggling the feature on and off was like night and day.
During my playthrough of Horizon Zero Dawn, the cybernetic whining of the machines and their resounding footsteps could be heard from all around me, and the heart-thumping soundtrack made it feel as though I were surrounded by a mini-orchestra. Unfortunately, the Kraken TE's best feature is notably absent on consoles which is a huge letdown if you were planning on buying it for your PS4 or Xbox One.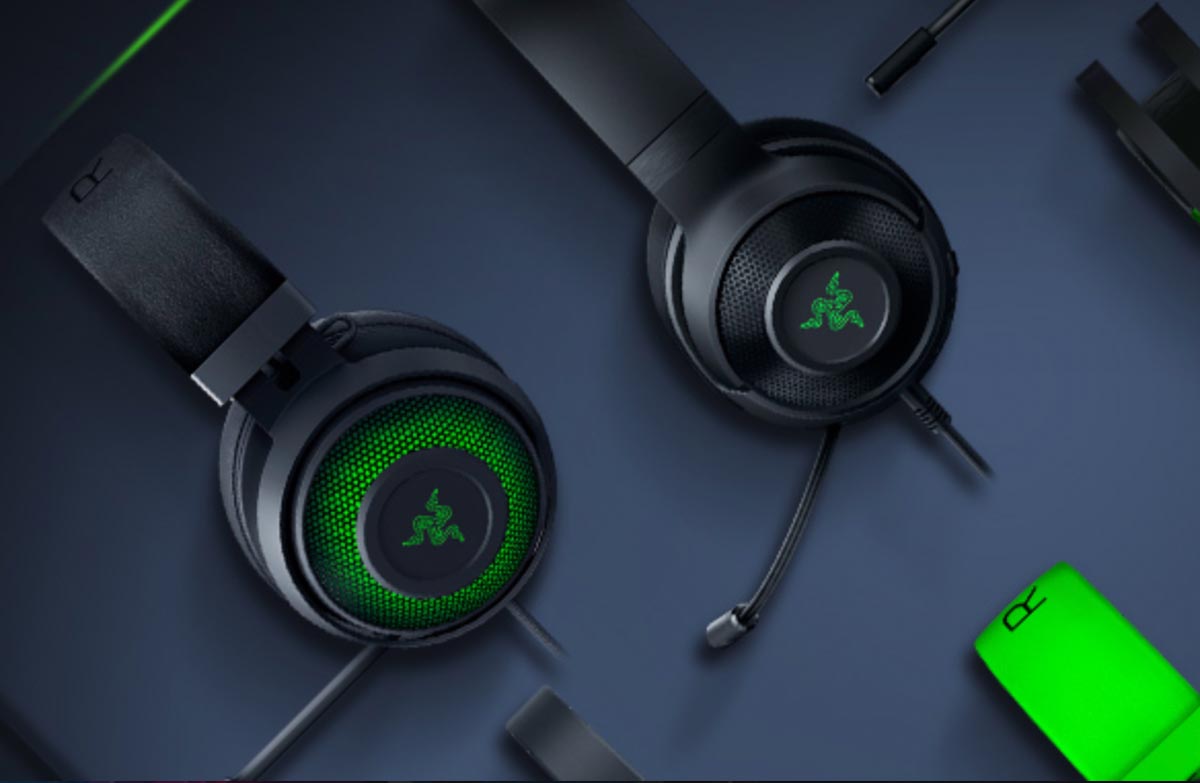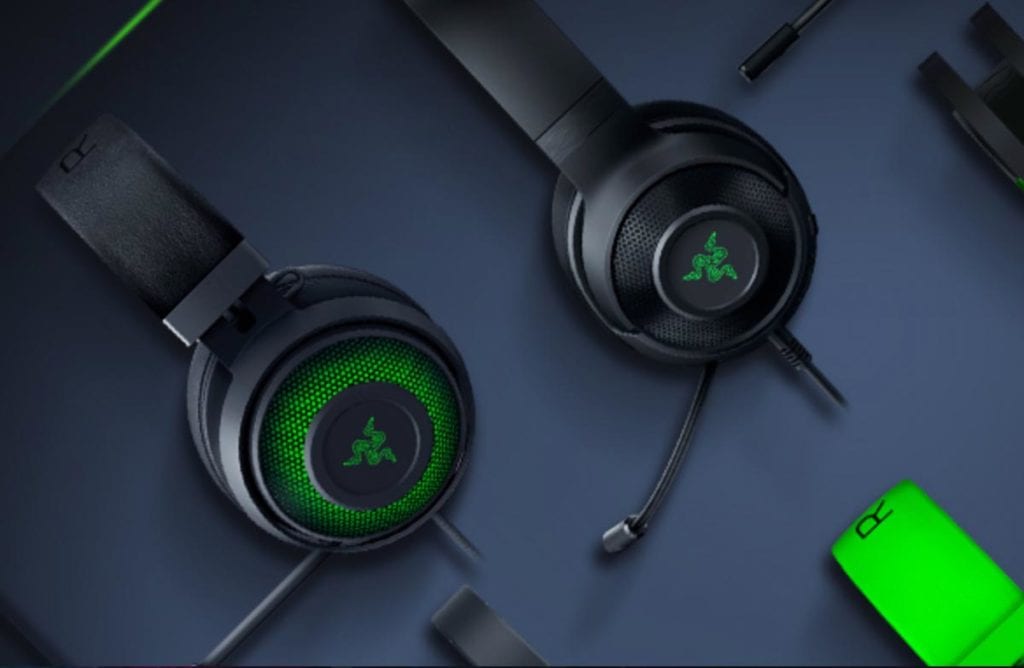 Aesthetics
The Kraken TE's design isn't exactly revolutionary, but it's rugged-looking and easy on the eyes. It a rather large headset with round, heavily padded, oversized earcups that are connected to a metal frame, and a big, cushioned headband on top. The retractable mic sits on its left side and is easy to move out of the way when not in use.
Its jet-black colourway is one-toned and great for gamers who enjoy a subtler, more low-profile look. But if you're looking for something with a little more flair, the neon green colourway sports black highlights all around and a more visible triple-headed snake logo on the outer side of both earcups.
It's remarkably well-built thanks to the sturdy metal frame and high-quality material used to line the earcups. The padding feels comfortable enough on its own, but the grip on the headset may be a little tight for gamers with larger heads as it causes the earcups to press down on your ears, making it irritating for extended use.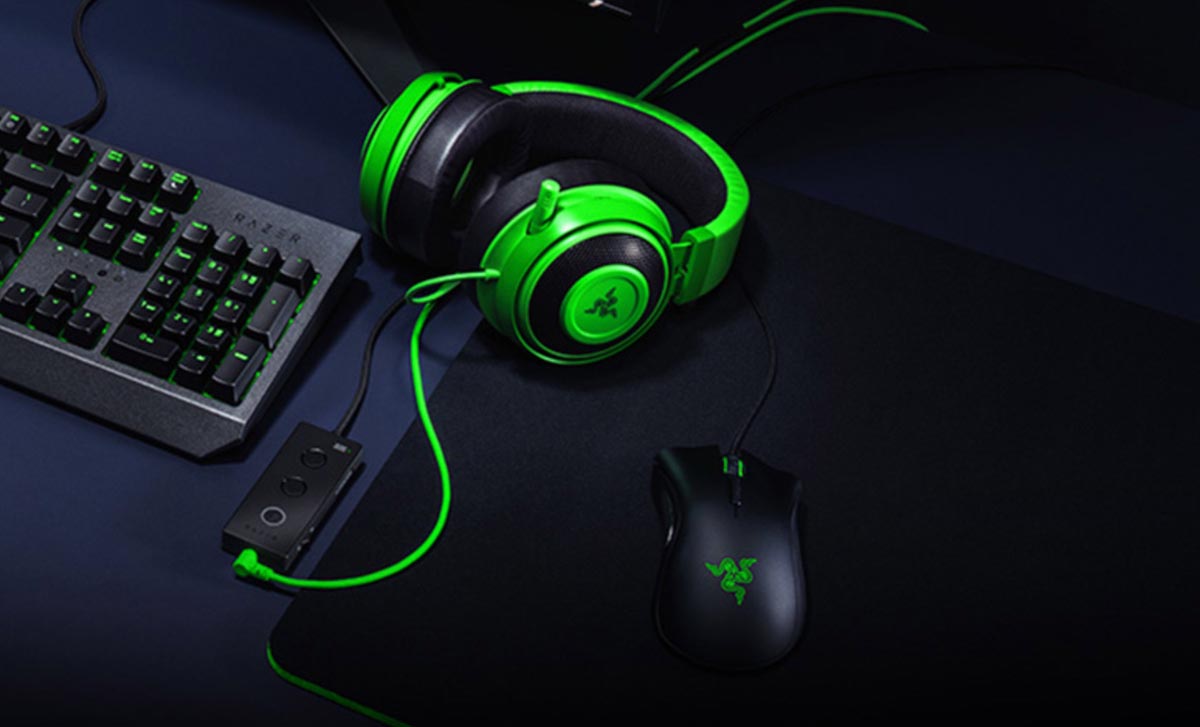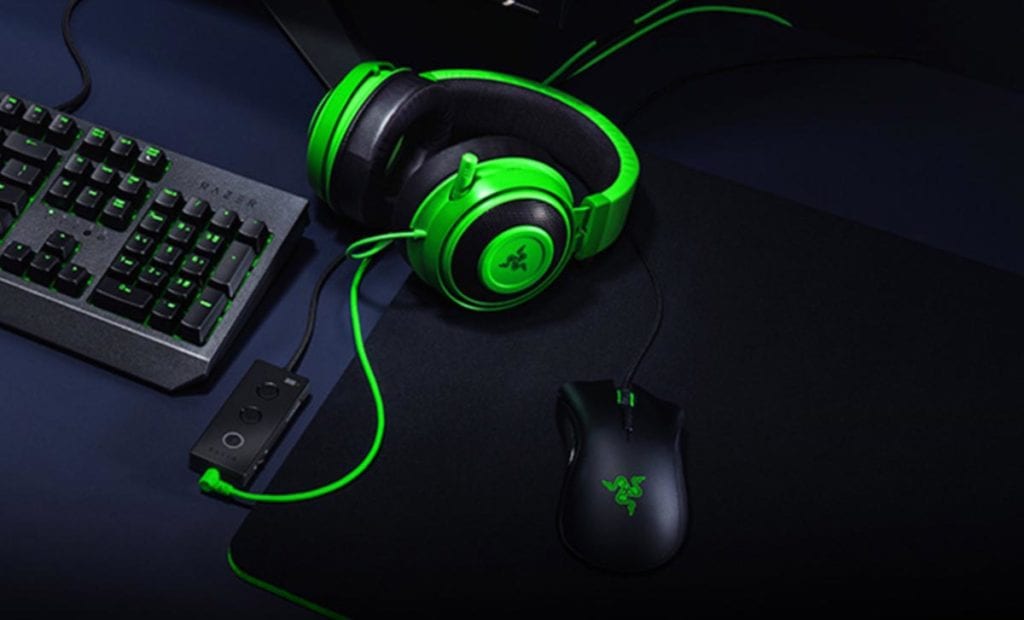 What's it like to use?
Since it's a wired headset, hooking up the Kraken TE is a breeze. You can connect to your PC, PS4, and Switch with the USB Audio Controller, and for everything with a 1/8″ TRRS jack, you can use a standard audio cable. This includes the Xbox One. Of course, even though you're able to connect to a PS4 and Switch with the controller, you won't be able to use any of its features since those are reserved exclusively for the PC.
Razer's Synapse software is one of the best in the industry and its equalizer and THX Spatial Audio customization options can vastly enhance your gaming experience after some thorough tweaking. It's too bad those tweaks don't carry over to your console sessions.
The headset has your usual in-line remote that controls playback volume and a mic switch. All of the other controls can be found on the audio controller, which include volume up and down buttons, a mic mute button, two sliders which control bass and channel mixing, and a THX Spatial Audio button. While the buttons are well-placed and easy to use, the whole thing is upside-down when you connect it to your audio cable which is a baffling design choice.
Its tight fit ensures that the headset remains stable during your viewing or gaming sessions, but the oversized earcups cause it to sway during sharp movements so they won't be much good for exercising.
Final Thoughts
If you do your gaming primarily on PC, then the Kraken TE has a lot to offer. Its already good sound quality can be greatly improved with the Razer Synapse's graphic equalizer, and its signature THX Spatial Audio is an absolute gamechanger. Don't forget the functional USB Audio Controller either, that lets you play with the overpowered bass levels till you hit that sweet spot for video games and movies.
If you're a console gamer, you'll still be getting a comfortable, well-built gaming headset that comes with a fantastic mic, but the absence of all its extra features makes it tough to recommend. Gamers in the market for a superb headset that comes with bleeding-edge surround sound will be hard-pressed to find one better than the Razer Kraken Tournament Edition.
Last update on 2022-05-18 / Affiliate links / Images from Amazon Product Advertising API