Environment-friendly, light, compact, and easy to park, there are many reasons why electric scooters are worth buying. They also have lower maintenance costs and are a more affordable way to get around compared to gas-powered vehicles. Plus, they're fun! So it's no wonder why they're the choice of transportation for many urban dwellers. And if you're one of them and in search of a new e-scooter, then here's something you may want to check out: the Rolley.
Summary
Looking for the best e-scooter in town? Well, look no further. Packed with the smartest features, custom design tires, and a strong yet light body, Rolley is the king of the road. You can even ride it in nature and hilly golf courses.
Pros
Zero learning curve
Anti-theft feature
Many color options
No kickstand needed
Marketed as a "smart electric scooter", Rolley is a Red Dot Award winner in 2018 designed and created by Scooterson. It's said to be so easy and simple that just about anyone can drive it, even for those who can't ride a bike or have difficulty riding kick-scooters. How is this possible? Let's find out in this review. Don't have time to read the whole thing? Just click on any of the links below to skip to that section.
Overview
While there are many benefits of an e-scooter, not everyone is keen on riding one, especially with the many accidents and crashes involving such vehicles. They also tend to get left behind or stolen. Plus, many have a hard time using them. Now, to address such issues, Scooterson designed a smart electric scooter that increases safety and security. It can also balance itself, making it the easiest scooter you can ride.
Now, compared to regular electric scooters with seats, Rolley is significantly smarter. It has many intelligent features, including sharing, anti-theft, and locator. It even uses A.I, motion detection, and predictive routing algorithms to learn how you ride.
On the downside, Rolley is also more expensive. With an MSRP of US$3,490, it is pricier than some of the popular electric scooters around, including Razor UB1 Seated Electric Scooter, Say Yeah Electric Hub Motor Scooter, and Razor EcoSmart Metro. It is, however, within the same price range as other feature-packed e-scooters such as the Phatty G3, Skooza K1S, and Scrooser.
The good news is, you can enjoy Rolley for a much cheaper price when you catch its crowdfunding campaign on Indiegogo. With its "Early Bird" promo, you'll only need to pay US$2,490 instead of its original price.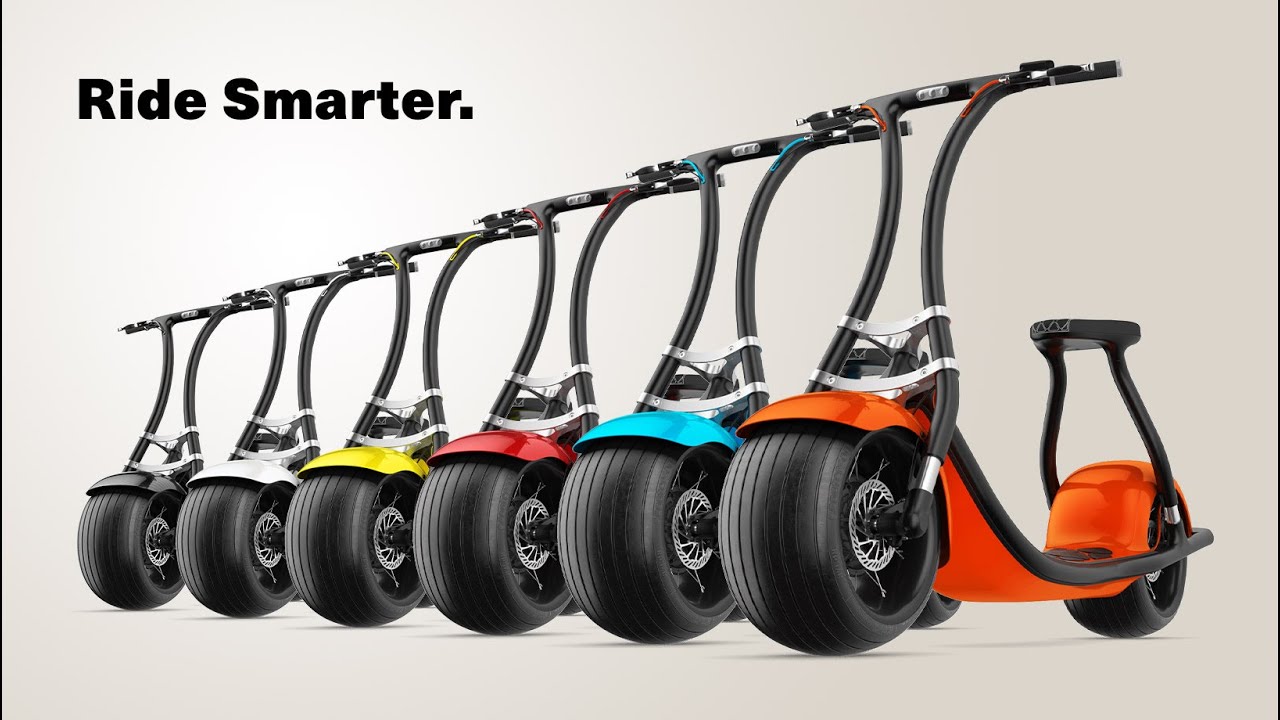 Features
A.I. Powered
What's great about Rolley is that it can learn from your rides and give you suggestions for a better riding experience. When the Smart Mode Acceleration is enabled, the A.I. will take over and adjust your acceleration levels. It will proceed with your route while conserving battery power. As a result, giving you the smoothest and most carefree ride.
Mobile App
Rolley is fully controlled through the Scooterson Mobile Application, and your phone number will act as your unique user ID. Once you've downloaded the app and connected it with your vehicle, you can easily snap your smartphone right into the built-in holder. Your phone will then serve as your dashboard.
Using your phone, you can access the following features:
Lock-Unlock with Face ID
Speedometer (MPH or KMH)
Power meter (Watts)
Battery level
Turn lights on and off
4 levels of assistance (Gears)
Safety Features
To provide you with additional safety while on the road, Rolley is designed with adaptive lights in front and bright tail lights at the back.
Anti-Theft
Here's another cool feature of Rolley. See, when you hop off this e-scooter, it will automatically activate the "Sentry Mode", which is designed to prevent theft. In this mode, you'll get alerts via your phone whenever someone tampers with your vehicle.
Charging Alerts
The app can detect whenever you're at home or the office and send you reminders to charge your scooter at the most convenient times.
Sharing Feature
You can let your friends ride Rolley. While it only unlocks through your phone, this feature will allow you to grant access to your friends and let them ride your scooter.
Find My Scooter
Rolley has a "Find My Scooter" feature, which uses GPS tracking to show where it is on a map. This way, you'll easily know where your scooter is at any time, especially when you let someone ride it.
Now, most of these features can only be seen in the company's Rolley+ model. To give you a better idea, here's a list of the features you can expect from both models:
| | | |
| --- | --- | --- |
| Features | Rolley | Rolley+ |
| Mobile App | ✔ | ✔ |
| Cloud Connected | ✔ | ✔ |
| Sharing Option | ✖ | ✔ |
| Find my Scooter with GPS Tracking | ✖ | ✔ |
| Keyless Unlock – Lock with Face ID / Fingerprint | ✔ | ✔ |
| Remotely Lock and Unlock | ✖ | ✔ |
| Swappable Battery | ✖ | ✔ |
| Over-the-Air (OTA) Updates | ✔ | ✔ |
| Smart Mode Acceleration | ✔ | ✔ |
| Adaptive Lights | ✔ | ✔ |
| Charging Reminders | ✖ | ✔ |
| Smart Riding Suggestions | ✖ | ✔ |
| Automatic Day and Night Mode | ✔ | ✔ |
| A.I. Powered Body-Gesture Control | ✖ | Coming soon |
| A.I. Powered Energy Management | ✖ | Coming soon |
Specs
Based on the company's website, here are the specifications of the Rolley Scooter:
Dimensions

Height: 40.49in (1040mm)
Width: 27.55in (700mm)
Length: 63.77in (1620mm)

Weight
68lbs (31kg)
Capacity
305lbs (138kg)
Materials

Board and fenders: carbon fiber reinforced polymer
Frame tubes: 3D formed, aircraft-grade aluminum alloys
Metallic parts: CNC machined and low-pressure precision casting

Motor

Position: Rear-wheel
Construction: Hub motor with gear drive
Reduction ratio: 1:5
Rated voltage: 48V
Rated power: 750W
Max torque: 80Nm
Efficiency: ≥ 80%
Noise Grade: <55dB

Battery

Median Range: Up to 30 miles (48km) with a 160lbs / 73kg person on flat road
Rated Voltage: 43DCV
Nominal Capacity: 14Ah
BMS type: Smart BMS
Charging time: 3 hours with standard 3A charger
Charging time: <1 hour with EnergyBus Charging Station (still under development)
Max continuous discharge current: 30A
Cycle life: 500 charges (3 years for 200 days of use/year in a normal use-case)

Top Speed

North America: 15-20 mph
Europe: 20-25 kph

Sensors
Temperature sensor (in motor, battery, and controller)
Display
High brightness LED array with USB port for charging your phone
Brakes

Front: Disk brakes
Rear: Disk brakes

Tires

Size: 200/30-11
Technology: Custom Scooterson tires by Kenda

Drive Train IP Rating
IP65
Salt Spray Test Standard
96h
Operating Temperature
-20°C / 45°C
Certifications
ROHS / CE / UN 39.3 / EN 15194 / REACH / UL 2272
Rolley's battery cycle lifespan (500) is significantly lower than Skooza K1's, which is around 1,000 cycles. Meaning, it will lose performance faster. It also has a lower battery capacity of 14Ah compared to Skooza's 19.2Ah, Scrooser's 20Ah, and Phat Scooter's new 23Ah batteries. So it may not last long as the others. But to make up for this, Rolley's battery is swappable. You can purchase an extra battery and swap it easily when your main runs out of charge.
You may also be interested in the best hoverboards for kids.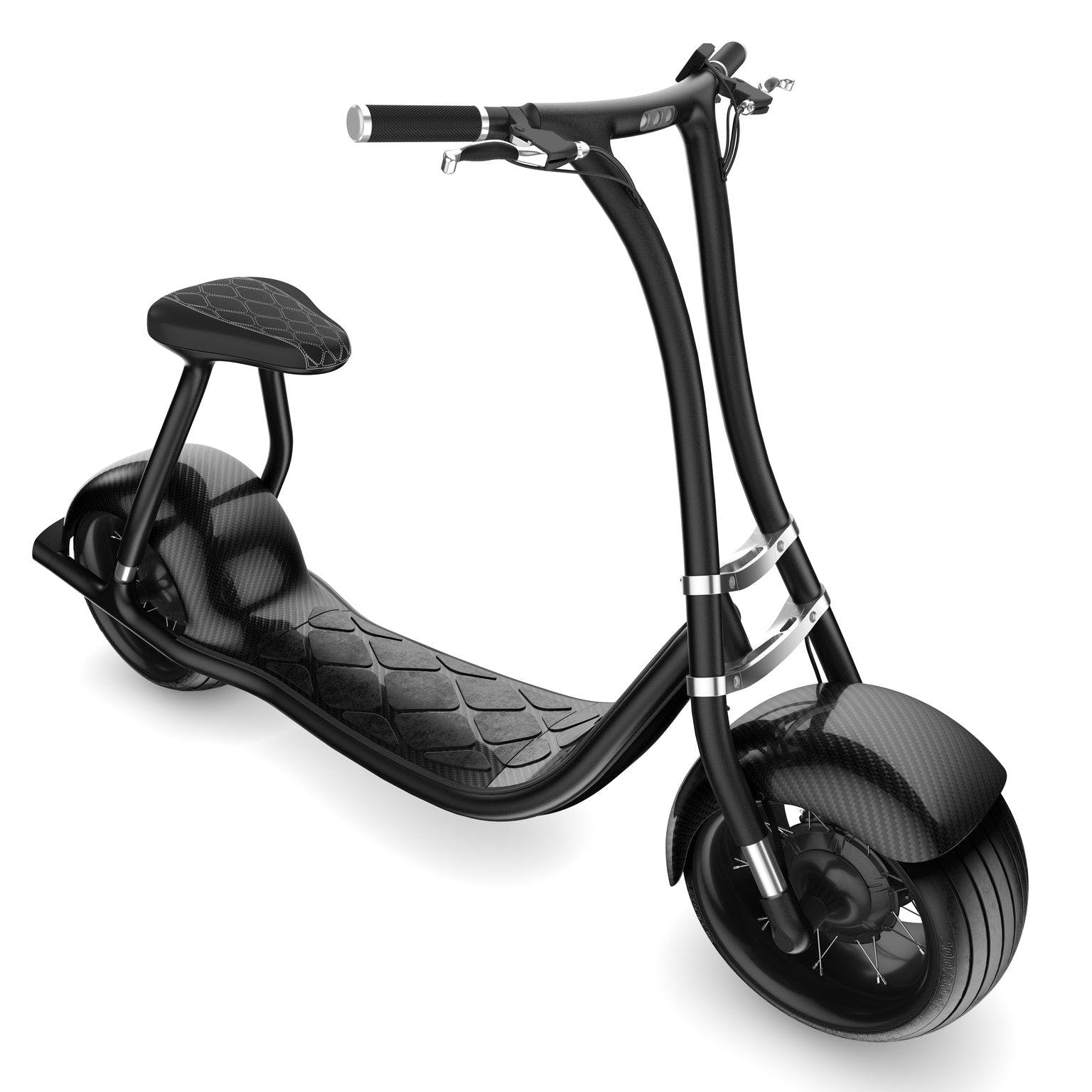 Design
The best thing about Rolley's design is its ability to automatically balance itself. With its huge tires and low design, this e-scooter can stand on its own without needing a kickstand. This also makes it extremely easy to use, even for those who can't ride a bike or kick-scooter. Plus, this makes it suitable for everyone, including the elderly. But having big tires and a low center of gravity isn't unique to Rolley. Skooza also makes use of such features to make their scooter easy to get on and go. Scrooser looks somewhat similar too.
Rolley's body is also worth mentioning. Using aerospace-grade aluminum alloys and carbon-reinforced polymer, it eliminates issues with rust – which is a very common problem in most scooters. Also, by replacing steel, it reduced its total weight by 40lbs, making it surprisingly lighter.
Lastly, Rolley offers the most color options. It's available in red, orange, pearl white, yellow, cyan sky, and black. There are even neon colors to choose from, including neon purple, neon red, neon pink, and neon green.
Final Thoughts
Rolley is proof of how far e-scooters have come. With this vehicle, riding scooters have never been easier. You don't even have to worry about balance anymore. The huge wheels also add safety and better handling, making your ride more comfortable. And since it's packed with security features, you'll be less worried about anyone stealing your scooter.
Overall, with an incredibly good design and considering everything it can do, Rolley is the best smart e-scooter in the market. As a bonus, you can make money with your Rolley. With the sharing features, you can monetize your scooter and earn money by lending it to your coworkers, neighbors, or anyone who feels like using it.
Even better, Rolley is available in a simpler model. So if you're not interested in all those fancy and intelligent features, you have the option to go with the standard and cheaper version.