No gaming experience is complete without the right sound equipment. After all, there's nothing quite like hearing the engine of a race car roaring through a racing circuit, or the satisfying boom of a sniper rifle taking down an enemy from distance. For that utterly immersive video game session, nothing beats a top-notch gaming headset like the Sennheiser GSP 670.
CHECK TODAY'S PRICE HERE: See at Amazon
Sennheiser GSP 670 Review
Design & Build -

9/10

Features -

9/10

Sound Quality -

8.8/10

Mic Quality -

7.8/10

Battery Life -

8.5/10

Comfort -

8.6/10

Total Value -

9/10
Sennheiser GSP 670 Review Summary
Sennheiser's first entry into the world of wireless gaming headsets is a successful one, with the GSP 670 providing gamers with the superior sound quality the brand is known for coupled with a level comfort that's simply hard to beat.
Throw in Bluetooth connectivity and the above-average battery life and you've got one of the most well-rounded wireless gaming headsets on the market. Just make sure to brace your wallet for quite the beating.
Pros
✓ Delightfully comfortable
✓ Stellar sound quality
✓ Sturdy build
✓ Bluetooth connectivity allows you to connect to almost any kind of device
✓ Solid battery life
Cons
✗ Hefty price tag
✗ Missing a stand or case
✗Maybe a bit too large for some
✗ Surround Sound button oddly needs to be configured through the app
While most great headsets could work just fine, most gaming headsets come with unique features geared towards providing an overall better gaming experience.  In this Sennheiser GSP 670 review, we're taking a look at Sennheiser's first foray into the wireless gaming headset market to find out if it lives up to the brand's lofty name. As a note, it should be mentioned that Sennheiser has partnered with EPOS for their gaming headsets, under a co-brand agreement
If you're short on time and can't breeze through the whole review, just click any of the links below to skip right to that section:
What is the Sennheiser GSP 670?
German audio company Sennheiser has been producing high-fidelity sound equipment going on 75 years now and have become a name synonymous with audio excellence. Known for creating consumer and professional headphones, earbuds and microphones, Sennheiser also has a modest repertoire of gaming headsets that have gone down quite well with gamers and critics alike.
The GSP 670 is the GSP 600's younger brother and marks the company's first attempt at a wireless headset focused particularly on gaming but features the sound quality to cater to moderate audiophiles. Sennheiser's GSP 670 sticks to the similar bulky, futuristic look of its predecessor but ditches its 3.5mm audio cable for a more hands-free experience via USB dongle or Bluetooth. It's also along the more premium end of the spectrum with its hefty $319 price tag. Its price isn't unwarranted, however, as the GSP 670 excels in comfort and audio fidelity.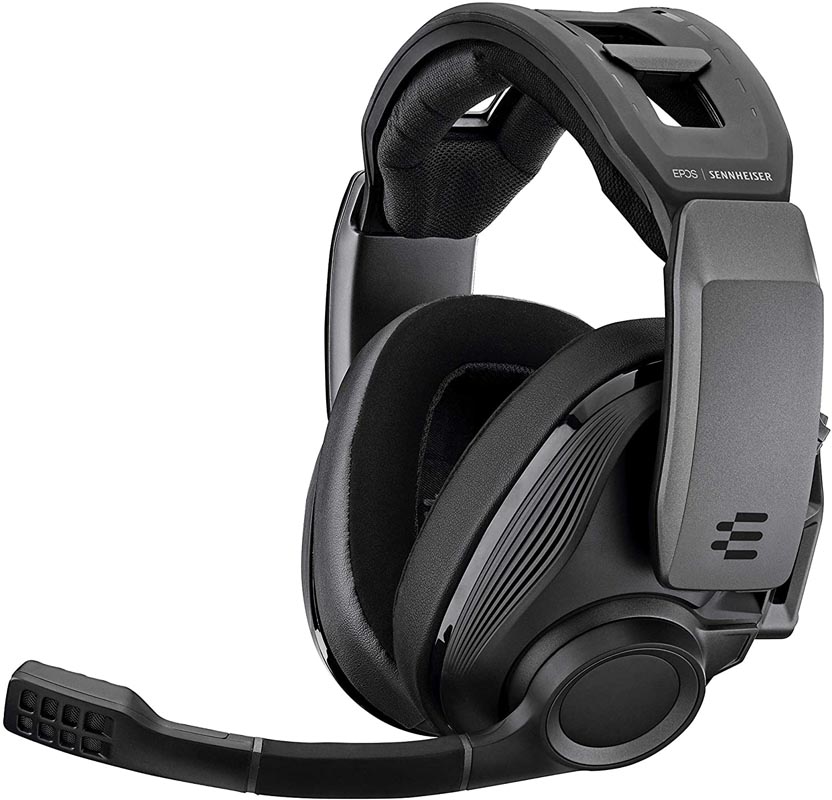 Sennheiser GSP 670 Features
For the price point, you would expect the Sennheiser's to deliver the goods. And they do just that. Below is a breakdown of their main features.
Connectivity 
Whether it's your PC, Playstation4, Xbox one, or smartphone, you can painlessly connect the GSP 670 to pretty much any device of your choosing thanks to its USB dongle and Bluetooth 5.0 connectivity. So you won't have to worry about the headset not being supported by your console of choice.
Battery Life
While using the USB dongle, the GSP 670 lasts up to 16 hours on a single charge, which is pretty solid considering the well-loved SteelSeries Arctis Pro Wireless lasts only around 10 hours. It holds out a bit longer when connected via Bluetooth, lasting up to 20 hours. According to Sennheiser, you can get up to 2 hours of use out of just a 7-minute charge.
Noise Cancellation
The GSP 670 doesn't provide Active Noise-Cancelling (ANC), but its earpads were designed to reduce sound leakage and isolate ambient noise, giving it a high degree of passive noise cancellation while preventing sweatiness. Its microphone also offers satisfactory noise cancellation, capable of blocking out most minor background noises during use. It works perfectly well for gaming and run-of-the-mill recordings, but professionals may want to invest in a dedicated high-end microphone.
Software
The Sennheiser 670 comes with a Gaming Suite app that's required to access certain features like the surround sound, microphone settings, and headset equalizer. The software is fairly straightforward and easy to use and worth taking a look at if only to enable the surround sound function.
Case/Stand
As is the case with the other devices in Sennheiser's gaming headset lineup, the GSP 670 doesn't come with a lot of extras in the box. There's no complimentary stand or case to speak of, which is a bummer.
Sound Quality
As far as sound quality is concerned, the GSP 670 is as spectacular as you'd expect from a Sennheiser headset. The bass is deep and punchy but not overdone while the mids are as accurate as can be. The highs can feel a little tuned down but not in a way that would adversely affect your viewing, listening, or gaming experience. Actually, it's more likely to help mellow out loud, high-pitched screeches and sounds in video games or movies to make the audio more enjoyable.
When it comes to music, the GSP 670's blend of spot-on mids and solid highs make instruments come across flawlessly, while the bass is just bouncy enough to compliment the ensemble beautifully without taking over. As for gaming, the excellent mids and highs bring car engines to life along with the distinct sounds of varying terrain. Weapon sound effects were particularly satisfying when I tested the GSP 670 on Doom Eternal. Grenade blasts echoed with resounding booms that were made all the sweeter with the headset's chunky bass.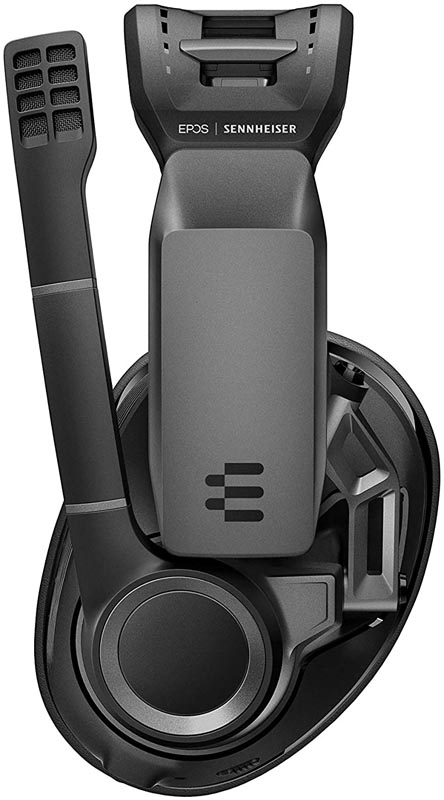 What's it like to use?
While the GSP 670 does come with its own software, it's not absolutely necessary to install it just to get the device running. The headset runs perfectly fine out of the box, minus the surround sound feature that needs to be set up through the app. A pretty weird decision if you ask me.
Operating it is easy as pie. There's a dial on the right earcup that's used to control volume and can also be used to turn off the device when dialled all the way down. On the bottom part of the right earcup, there's another dial to control chat volume and a programmable button that switches between your equalizer presets. This can be bound to another function via the app. The Micro USB charging port can be found on the bottom side of the left earcup, along with the status LED and a slider for pairing Bluetooth devices.
The USB dongle allows you to easily connect to your PC or Playstation 4, but for consoles and devices that don't support it, there's always Bluetooth which comes in incredibly handy especially for gaming. You can also choose to connect the GSP 670 directly to your PC or console through the USB-to-micro-USB cable that comes with the headset. This makes sense if you're using a PC since its USB port should be relatively close to you. Consoles, on the other hand, tend to be further away, meaning you might have to invest in a longer cord. In case you were wondering, the GSP 670 doesn't have a 3.5mm audio connection.
Sennheiser's first wireless gaming headset is one of the most comfortable ones around, with its soft, oversized earpads and the light padding on the underside of the headband, making it easy to go for a lengthy gaming binge without torturing your ears.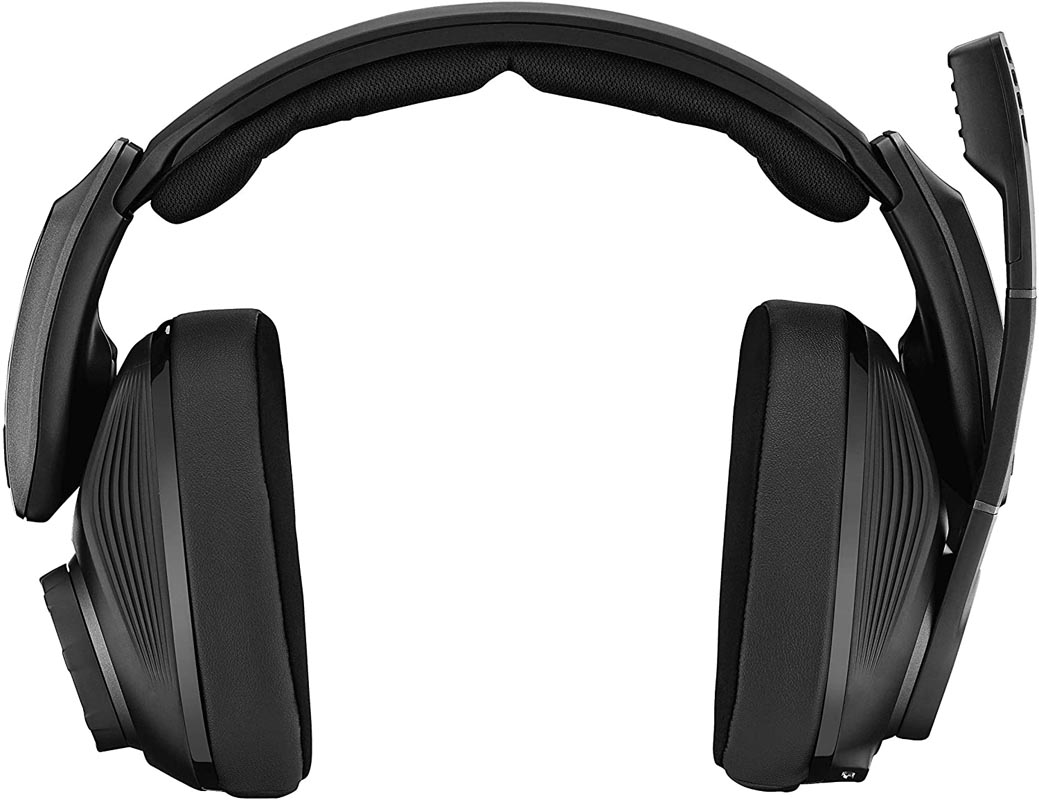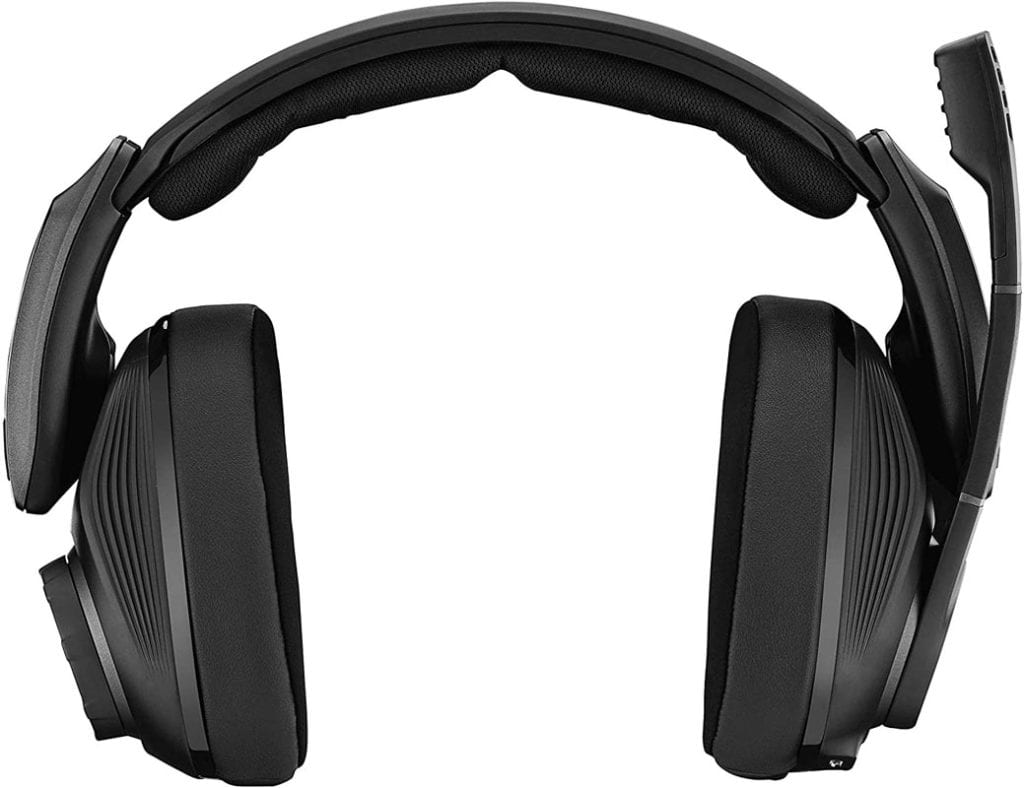 Aesthetics
Whether the GSP 670 looks good or bad falls squarely upon the eyes of the beholder. There's no mistaking it for being a gaming headset, with its brawny, militaristic design that would look right at home on the head of a character from Modern Warfare. Gamers who dig over-the-top designs will find a lot to love about the GSP 670's look, while others who are looking for something more minimalistic might want to look elsewhere.
What stands out about this Sennheiser headset is its size. Even for a gaming headset, it's still pretty bulky. But that bulkiness is what allows for the extra padding on the earcups and headband, giving the GSP 670 one of its biggest strengths – its comfortable build. It's also impressively sturdy to boot, which makes you feel better about its sky-high price tag.
The earcups are oval-shaped and a mix of memory foam and faux leather, while the bottom of the headband is made up of a similar foam wrapped in mesh material. Two sliders sit atop the skeletal headband which can be used to manipulate the headset's fit to your liking. The Sennheiser GSP 670 comes in one colour, which is primarily black with some grey mixed in.
Final Thoughts
Make no mistake, the Sennheiser GSP 670 isn't for everyone. Its steep price point made sure of that. But if you can afford the price of admission, you'll be treated to an amazingly comfortable wireless headset that sports top-notch sound quality and can take a beating to boot.
Plus, the inclusion of Bluetooth connectivity ensures that you'll be able to connect to a wider range of devices and its great battery life means you'll be able to go on several gaming binges before needing a recharge. Sennheiser definitely could've thrown in a few freebies for how much they're charging, but even without a swanky stand to show it off, the GSP 670 is still one of the best wireless gaming headsets out there.
Last update on 2022-05-15 / Affiliate links / Images from Amazon Product Advertising API