Shine Bathroom Quick Review
Summary
Shine is looking to be the premier bathroom assistant especially for people who loathe having to get their hands dirty while scrubbing and disinfecting their toilet. It's smart, easy to install, even easier to use, and completely eco-friendly and chemical-free. The future of toilet cleaning is upon us.
Pros
Automated cleaning & deodorizing system
Eco-friendly and chemical-free
Diagnoses leaks and other toilet issues
Alexa-capable
The future of toilet automation has arrived in the form of Shine – a cutting edge bathroom assistant that seeks to simplify toilet upkeep by doing the lion's share of the work. Whether it's cleaning and deodorizing the toilet bowl, tracking water usage, or detecting leaks, this little guy supposedly does it all.
Is it truly the perfect bathroom assistant every home needs? We've put together this Shine review to find out if this toilet doohickey really does make good on all of its claims.
Can't spare the time to read through the entire review? Just click any of the links below and we'll take you right to that section.
Shine Bathroom Overview
The Shine bathroom assistant is a compact gadget that sits in the general vicinity of your toilet and automates its general maintenance and cleaning. All it asks for is a bit of water and a special eco-friendly cleaning pod and it'll do all the dirty work for you. You won't have to touch anything either since you can just ask Alexa to get the Shine to start cleaning.
Not only can it clean your toilet, but it also tracks its water usage to help save money and can even detect if there's a leak or other issues present that you might have been unaware of. Moreover, it can automatically send repair kits along with a video showing you how to take care of the repairs yourself.
Features
Automated Cleaning and Deodorizing
Throw out your rubber gloves, toxic detergents, toilet scrubbers, and bathroom air fresheners, as Shine is capable of doing all the toilet cleaning automatically while deodorizing the bowl after every flush.
Eco-Friendly & Chemical-Free
Shine utilizes cleaning pods that are completely recyclable and every bit as tough on dirt and germs as bleach. They're also absolutely chemical-free and activated through electrolysis, eventually breaking down into a simple saline solution that's gentle on your pipes and isn't harmful to the environment.
Easy to Install & Works with any Toilet
Shine is perfectly compatible with any toilet and will only take a few minutes to set up without the need for calling in an expert.
Tracks Water Usage
This device is capable of continuously monitoring your water usage which can help you figure out if you're spending too much on water bills due to overuse or unnoticed leaks.
Your Personal Plumber
Instead of asking Google and guessing what the problem is with your toilet, Shine can diagnose your toilet woes for you and even have a repair kit sent over to your house.
Alexa-Ready
Shine works seamlessly with Alexa, so all you have to do is ask it to clean the toilet and Sam – Shine's artificial intelligence – will immediately get to work.
Night Light
Can't stand turning on those bright bathroom lights in the dead of night? Shine comes with its own gentle night light that's capable of illuminating the bathroom for you.
Lengthy Battery Life
Shine lasts up to half a year on a single charge and juicing up the device is as simple as plugging it into a power source via a USB-C cable.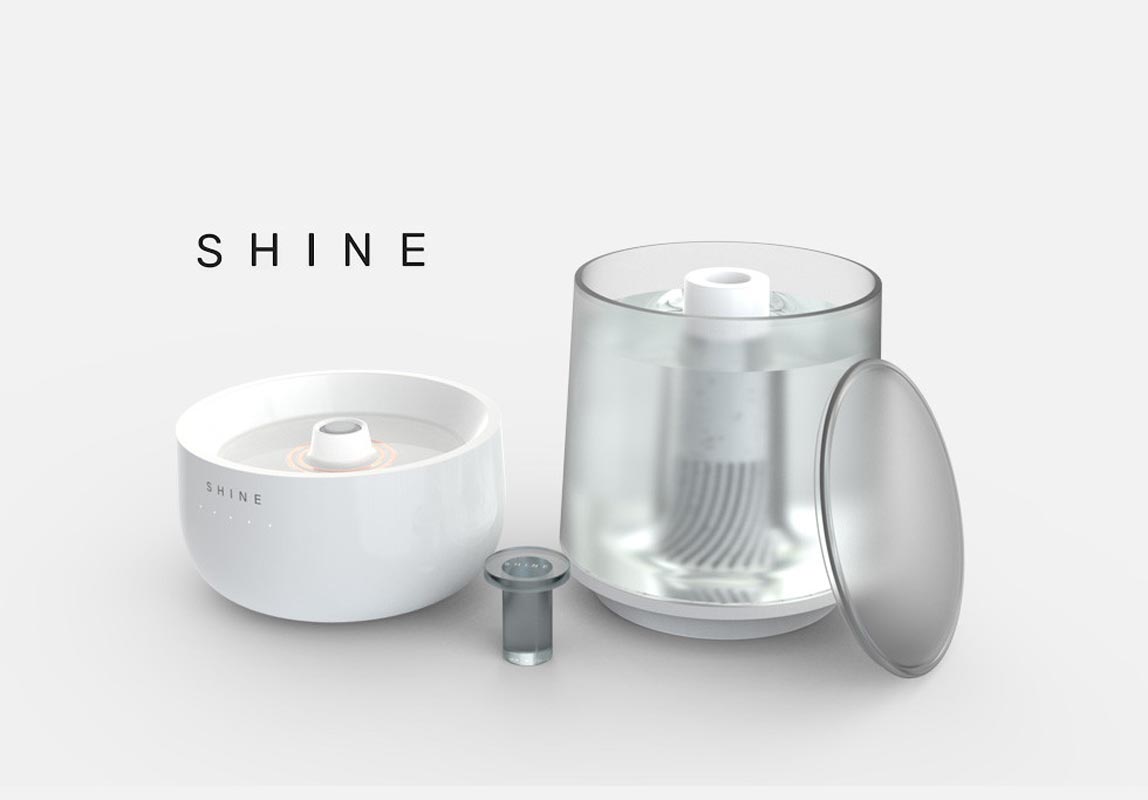 [wd_hustle id="161″ type="embedded"/]
Specs
Device
| | |
| --- | --- |
| Weight | 2.25lbs |
| Diameter | 5.45" (138.4mm) |
| Height | 8" (203.2mm) |
| Tank Volume | 1200ml |
Sensor
| | |
| --- | --- |
| Weight | 25 grams |
| Diameter | 1.55" (39.4mm) |
| Height | 0.3" (7.3mm) |
Spray Bar
| | |
| --- | --- |
| Weight | 15 grams |
| Length | 1.68" (42.7mm) |
| Width | 0.98" (24.9mm) |
| Height | 1.24" (31.5mm) |
| Battery Type | Li-Ion Rechargeable |
| Battery Life | Up to 6 months |
| Connectivity | Bluetooth 4.0 & wifi 802.11 b/g/n |
| Supported Smartphone OS | iOS 10 or later / Android 5.1 or later |
Aesthetics
Shine boasts a stylish all-white design that can easily be mistaken for a high-end humidifier. It's basically a cylinder that's slightly narrower towards the top and rounded towards the bottom.
The top half is transparent and holds the water and the cleaning pods, while the bottom half is solid white. In the middle, you'll find a thin strip that acts as the night light. Overall, it's a simple-looking piece of equipment that's classy enough to be put on display anywhere in your bathroom.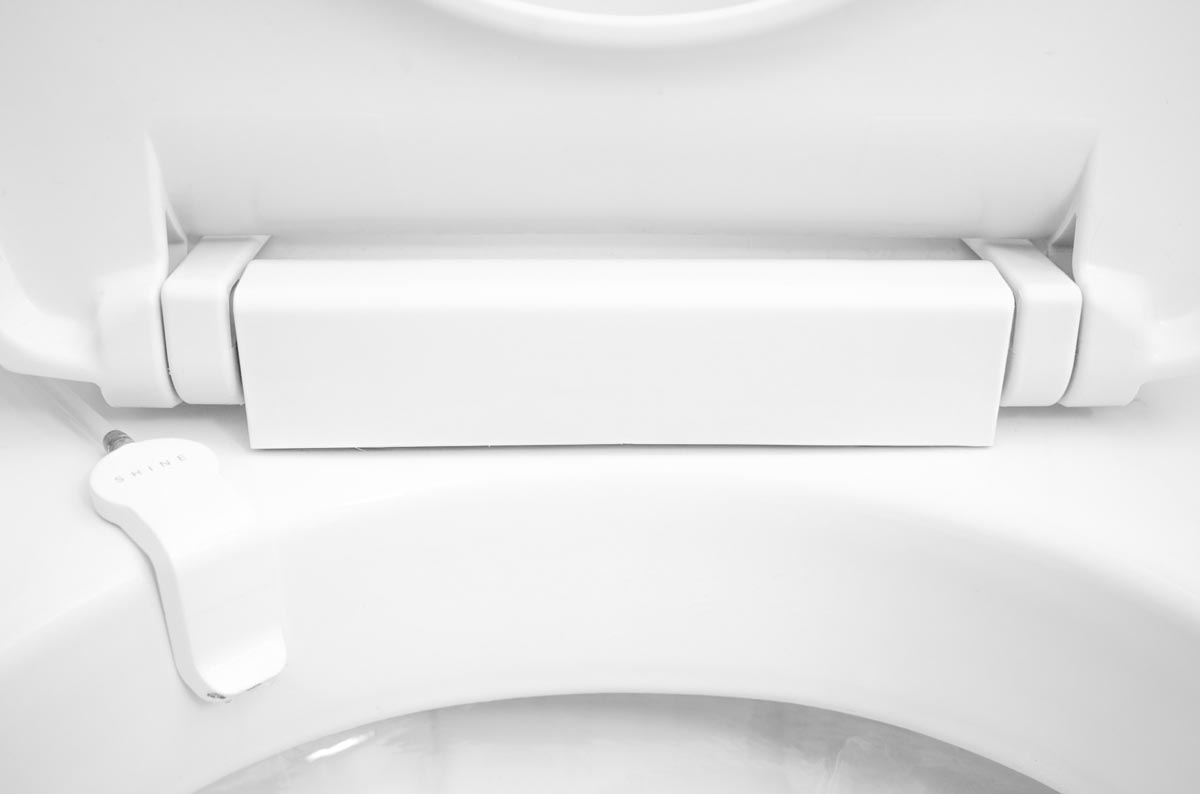 Final Thoughts
If you're looking to take toilet maintenance to the next level, then Shine is hands-down the perfect gizmo for you. It automatically keeps your toilet clean and fresh without the use of harmful chemicals and it's always on the lookout for any leaks and other issues your toilet may be experiencing.
[wd_hustle id="161″ type="embedded"/]
It may come with a hefty price tag, but it will eventually pay for itself with all the money you'll be saving on plumber fees and water bills.