SmartCocoon Review
Summary
SmartCocoon finally manages to solve the problem of uneven temperatures around your home by effectively controlling the airflow of your HVAC system while making it more energy-efficient at the same time. It only takes a couple of minutes to set the device up and its companion app works great despite being a bit simplistic and prone to minor connectivity issues. As far as fan boosters go, SmartCocoon is a cut above the rest.
Pros
Incredibly easy to install
Makes your HVAC system much more energy efficient
Allows you to control the room temperatures in your home individually
Companion app includes some nifty features
Cons
App user interface is a bit simplistic
Ever since the establishment of heating, ventilation, and air conditioning (HVAC) systems, no one has managed to properly address the struggle of maintaining the perfect temperature across the entire house. After all, there's nothing quite as annoying as getting the temperature in your room just right, only to have one of your kids fiddle with the thermostat in the middle of the night. Enter the SmartCocoon.
This smart register booster fan hands you complete control of the airflow in your home, ensuring that the temperature in each room remains just the way you like it. But with so many booster fans claiming that they've solved the age-old dilemma of HVAC airflow regulation, does this one actually live up to its promises? That's what we're here to find out in this SmartCocoon review.
Can't spare the time to read through the entire review? Just click any of the links below and we'll take you right to that section:
SmartCocoon Overview
SmartCocoon is the brainchild of creator Kaveh Raeesi and promises to be the world's first Smart Microzoning Climate Control System, allowing for the pinpoint control of temperatures within each and every room in your home.
It does so by manipulating the airflow in individual rooms when needed and mitigating uneven airflow through the house, leaving all the members in the household feeling comfortable while saving you a healthy sum in energy costs.
You won't have to hire a specialist to help you fit it either, as installing the SmartCocoon is an absolute breeze and it works perfectly well whether your thermostat is of the conventional or smart variety.
Features
Simple DIY installation
Installing the SmartCocoon into the vents of your house is quick and easy and shouldn't take longer than just a few minutes.
Syncs with any kind of thermostat
It doesn't matter if your home is sporting a conventional thermostat or one of the newer smart ones, SmartCocoon connects to them all.
Smartphone app
The booster fan can be controlled through any iOS or Android device, allowing you to set the temperature to your liking and to cycle through the fan's different modes, which include eco, auto, and on/off. As long as you're connected to the internet, the app's firmware remains updated as well.
Wifi Capable
Connecting to the wifi gives you access to all of the great features included in SmartCocoon's companion app, though the device works just fine without an internet connection since it syncs to your HVAC system automatically in "eco" mode.
Adjustable fan speed and scheduling system
SmartCocoon lets you set your desired fan speed and even lets you schedule temperatures for specific times of the day in each of your rooms.
Next-level energy saving
SmartCocoon is controlled by a sophisticated A.I. algorithm that works hand-in-hand with your HVAC system to effectively control airflow and cut down on energy consumption. Installing just one fan can increase the efficiency of your system by up to 11% while setting up two devices can save you an average of 30% in HVAC energy costs.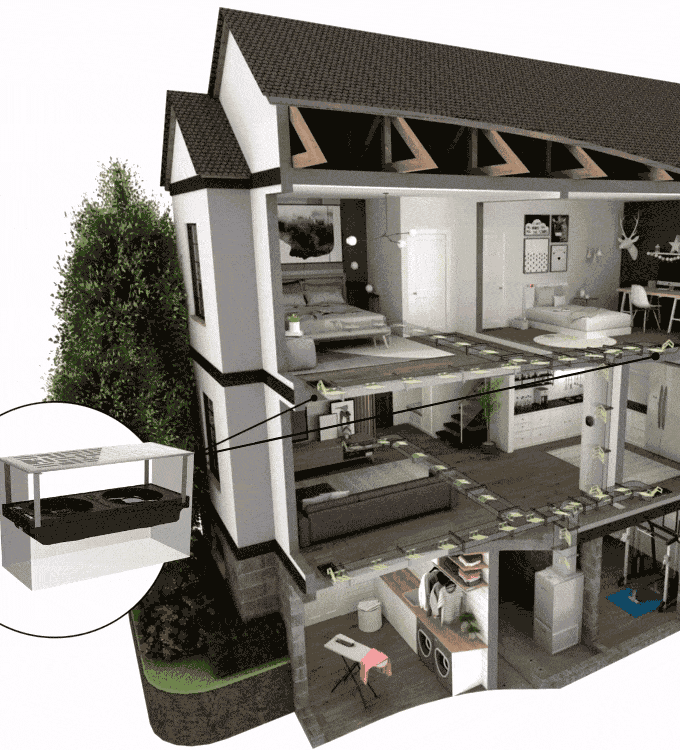 Specs
| | |
| --- | --- |
| Dimensions | 24.13 x 9.4 x 4.45 cm (3.7 x 9.5 x 1.75 inches) |
| Weight | 610 g (1.34 lbs) |
| Power Source | Corded-electric |
| Voltage | 12 V |
| Wattage | 2 – 6 watts |
| Amperage Capacity | 0.17 0.5 Amps |
| Airflow Capacity | 80 – 120 cfm |
| Sound Level | 28 – 42 dB |
| Connectivity | Wifi, Over-The-Air updates, iOS./Android app |
| Compatibility | Conventional and Smart thermostats |
| Battery | N/A |
[wd_hustle id="153″ type="embedded"/]
Design & Build Quality
Though you won't be seeing it all that often, the SmartCocoon booster fan boasts a straightforward design that's sleek and easy on the eyes. It's rectangular in shape, measuring 24.13 cm long and 9.4 cm wide while managing to maintain a thickness of just 4.45 cm.
It's jet-black all over, with two large side-by-side fans occupying much of the device's real estate, and there are extendable vent hangers located on each of the SmartCocoon's corners which can be yanked out when you're ready to have it installed.
In the centre of the device, you'll find a reset button in case you need to manually reboot the SmartCocoon, as well as some LEDs that indicate power and connectivity and a DC adaptor port for power. Overall, the SmartCocoon doesn't exactly break new ground in the looks department, but it's sure to spruce up your vents with its smart design.
Just by holding the device, you can feel how well put together it is, and how sturdy it is. It won't be handled too much, but ut will be put to work a lot and know it's put together with purpose adds a lot of confidence.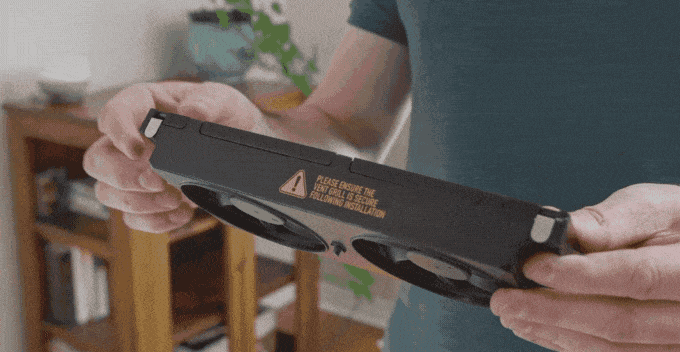 What's it like to use?
Easy installation is one of the highlights of the SmartCocoon, as it takes little more than a couple of minutes to get the fan up and running. All you have to do is pull out your vent grill, clean out the inside with a rag or vacuum cleaner, then simply place the SmartCocoon inside the vent using the four retractable vent hangers found on the corner of the device which you'll use to hang it from the edge of the vent.
The vent hangers can be extended by pulling them outwards all the way and folding them upwards so they're ready to support the device. From there, you just need to connect the DC adaptor to the SmartCocoon and plug it into a wall socket. And you don't have to worry about having a contemporary or smart thermostat since it works great with either.
If you have a wifi connection in your home, you can install and set up SmartCocoon's companion app which allows you to fully customize all the fan boosters you have installed. You'll be able to dictate the temperatures of each of your rooms and control the three modes that the fans operate on.
On/Off mode has the fans remain on or off regardless of whether your HVAC system is functional or not. Eco mode is the most efficient of the bunch energy-wise and ensures that your fan only switches on when you're HVAC system is online.
Lastly, Auto mode creates setpoints for each specific room. In this setting, the fans only spin when the HVAC system is working and if the temperature you set for a room is not being met.
The app's user interface and functionality are fairly bare-bones and the connection does drop out from time to time, though generally everything works as intended.
[wd_hustle id="153″ type="embedded"/]
Final Thoughts
If you're constantly plagued by uneven airflow in your home which leads to inconsistent temperatures across the individual rooms, then the SmartCocoon is the simple solution to your problems.
Through its innovative smart climate control system, you'll be able to regulate the airflow throughout your entire house and finally have the temperatures in each of your rooms exactly the way you like it.
Its easy installation is a huge plus and its simple companion app makes controlling the device easy as pie. And the best part? You'll be saving a ton of money on energy costs in the process. While the device may run into some connectivity issues as far the app is concerned, the SmartCocoon remains one of the best booster fans available on the market today.