The first SmartHalo was a successful project on Kickstarter, receiving over CA$538,723 or more than US$422,000. It was launched in 2015 and continued to make sales over the years. They even struck a deal with no less than Apple, selling through their stores in Europe and North America. Safe to say, the SmartHalo was a big hit.
No wonder why since this device proved to be very effective in navigation, lighting, and protecting your bike from getting stolen. But while it was a complete success, the SmartHalo still had its limitations.
4 years after the release of the SmartHalo 1, the same company launched another successful project on Kickstarter. In May 2019, they introduced SmartHalo 2 – the next generation smart biking device. And just like the first, it gained massive support from backers, receiving more than US$1,333,000.
SmartHalo 2 is a big upgrade from the first-gen, and a lot of the limitations from the first was addressed – or were they? Find out with this SmartHalo 2 review. Don't have time to read the whole thing? Click on any of the links below to skip to that section.
Overview
As mentioned, SmartHalo 1 wasn't perfect. For one, its light was weak. It also has an issue with its design or materials since it tends to break easily. Additionally, it can't fit other bikes, especially if you are using a bar mount for your phone. And some users had a problem with its navigation. Not to mention that you have to use your phone to keep track of your fitness and goals.
Now, many of these issues were solved with SmartHalo 2. It is now more convenient, functional, and smarter. Even the app was redesigned from the ground up to make your experience with this new device better. With that much improvement, you'd think the second-gen will be a lot more expensive.
Surprisingly, it's not. Compared to the first, which had a retail price of US$149, the second-gen costs only US$159 on the company's website. That's only a US$10 difference, which is pretty small considering all the upgrades with the SmartHalo 2 bike computer.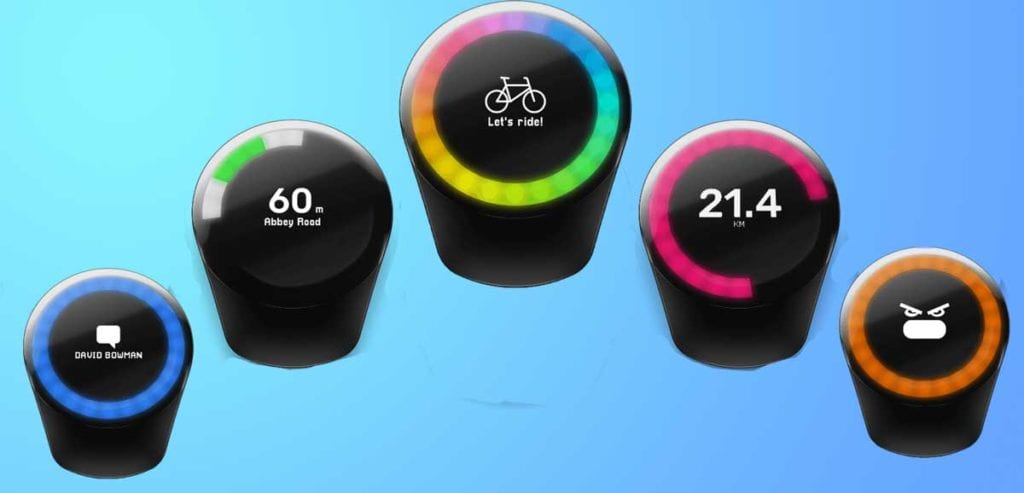 Features
There are many new features on SmartHalo 2, which avid cyclists or commuters will surely love. Of course, it also has the features that made the SmartHalo 1 such a big hit. Here's a quick rundown of what you can expect from this new smart bike device.
Light
One of the problems with the SmartHalo 1 was its relatively weak front light. Thankfully, the company listened and has now made the lights with the SmartHalo 2 stronger. The front light is powerful and is 5 times brighter than the original. It's also compliant with some of the regulations in Europe.  Additionally, the device has a new light sensor that is responsible for turning the light on when needed. It will also shut it off when you are done riding.
Display
Unlike the first-gen, the SmartHalo 2 features PeekDisplay and a 128 x 64 OLED screen, which allows you to see your stats. This is a pretty great upgrade since you don't have to pull out your phone anymore to see your time, mileage, speed, calories burned, trips, etc.
Navigation
Here's where the SmartHalo 2 shines – helping you get to where you want to be. It can navigate you through unfamiliar cities and present you with different routes. Along with the app, you can choose which one is the fastest, flattest, safest, and the company's recommended route.
Alarm
Like SmartHalo 1, the second-gen stays on your bike and become its guardian. If there's anyone meddling with your bike, a 110 dB alarm would be triggered. This is loud enough to scare even the most persistent thief. You can even choose from 3 sensitivity levels, from lenient to vigilant and hardcore – where a single touch can trigger your device.
Assistant
With the addition of the PeekDisplay feature, you can now see who is calling, texting, or trying to reach you. It will even warn you if there are any incoming difficult weather conditions. On the other hand, if you want to ride peacefully, you can simply turn off the notifications.  Certainly, the PeekDisplay made SmartHalo a lot smarter than the first one. Through this feature, you can save shortcuts in the app and set Quick Touch sequences. For example, if you want to go back home, you can assign the "Go To Home" shortcut to 2 taps. You can also set the horn to a single short tap or open your garage door with three taps.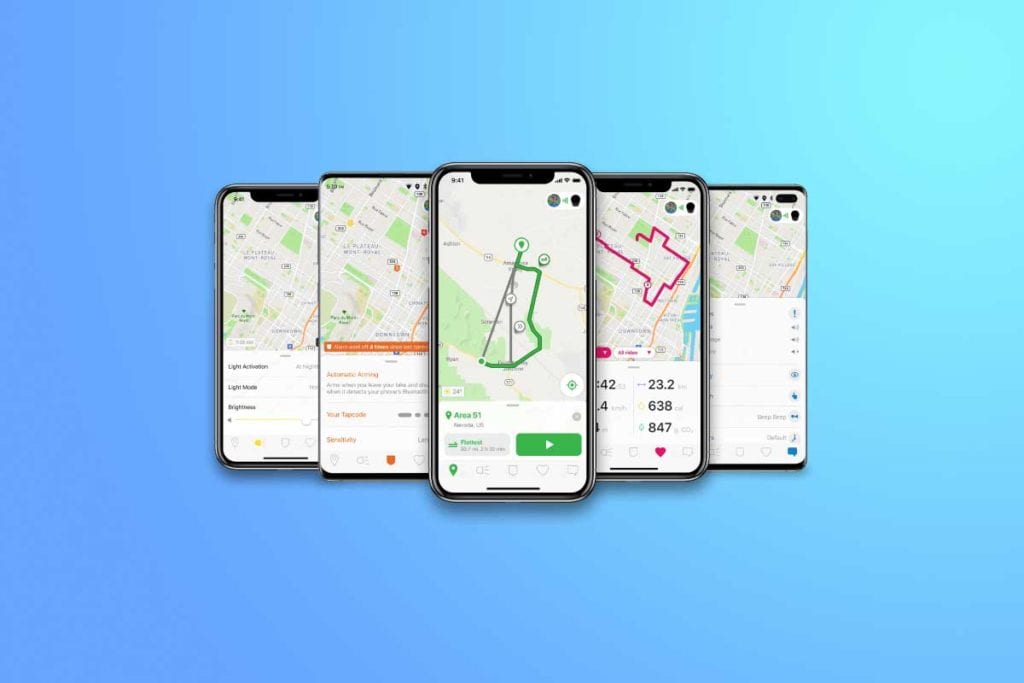 App
The SmartHalo app has also improved. It now has the following features:
Compass Mode: If your only concern is the destination, you can use the Compass Mode, and the device will point you towards your goal, turning greener as you get closer. How you get there will be totally up to you.
Parking Reminder: If you can't remember where you parked your bike, this mode will remind you.
Waypoints: This feature is useful if you need to do a few stops along your way.
GPX: You can now import any GPX in the app.
Specs
Here are the technical specifications of the SmartHalo 2, according to its campaign on Kickstarter.
Alarm
110 dB
Front Light
250 Lumens, White LED
Interface
128 x 64 black and white OLED screen

24 RGB LEDs

Sensors
3 axis accelerometer

3 axis magnetometer

Ambient light sensor

Dimensions
70 x 110 x 24 mm
Battery
v2000 mAh Lithium-Ion
Supported Mounts
SmartHalo Anti-theft Mount (5.4 oz)

Universal Quarter Lock Adapter (4.6 oz)

Weight
153g (with SmartHalo Anti-theft Mount)

130g (with Universal Quarter Lock Adapter)

Weatherproof
IP66 water-resistance
Compatibility
Fits all standard handlebars (22.2, 25.3, and 31.8 mm)
One of the great things about SmartHalo 2 is its long battery life. When fully charged, it can last for 2 weeks. So safe to say, it can easily last throughout a long day trip. And when you need to charge it, you can simply use the HaloKey to unlock the device and plug in the USB cable that comes with every order.
The 128 x 64 OLED is also a great addition. Through the help of the PeekDisplay, you can customize what bike metrics to display. This will give you extra details that can help you while riding.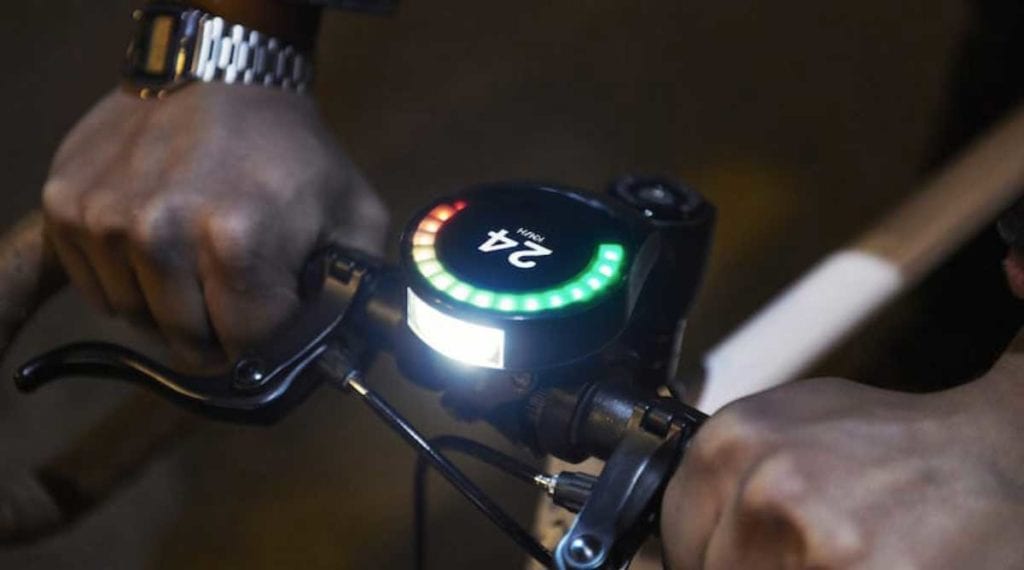 Aesthetics
SmartHalo 2 is a sleek and good-looking device that goes in the center of your handlebars. Similar to the original design, it uses a ring of colored LEDs, which help animate the data it collects. It is neat with a minimal look, even with its 1.5-inch OLED display.
Unfortunately, this screen isn't what we expected it to be. It is not a touchscreen. Instead, the company used a touch surface and placed it below the light-halo lights and screen. It is where you will swipe, tap, or interact with the device.
The good thing is that it doesn't stand out. In fact, it looks nothing at all.  Compared to the original design, SmartHalo 2 is smaller and lighter. It even integrates more seamlessly with your bike. It is also made to withstand the elements, including rain, snow, mud, or potholes.
What's It Like to Use?
What's great with SmartHalo 2 is that it can stay on your bike at all times. You don't have to worry about anyone stealing it (or your bike) since the only way to unlock it is through its unique HaloKey.
Furthermore, the anti-theft mount is also a lot sturdier and doesn't get stuck. Thus, making it more reliable. The company did a lot of work with the 2nd SmartHalo, making it easier to install on any type of bike. This is possible with the two mounts offered: the Anti-theft Mount (included) and the Quarter Lock Mount (sold separately).
With the Quarter Lock Mount Adapter, you can use the device from one bike to the other. Thus, making it ideal on shared or rental bikes. For your main bike, you can use the Anti-theft Mount to protect it at all times.
Conclusion
SmartHalo 2 is a step up from the SmartHalo 1. Every problem users had with the original design has been solved by the newer and better version. And it's not even that expensive compared to the old one. Overall, it is a neat and handy device that can make your rides a little easier.
On the other hand, most of its best features are things you can do with just your phone. Apart from the alarm and light, you can enjoy most of the SmartHalo 2's features by simply mounting your phone and using a fitness app. But if you're on the lookout for a device that's specially designed to making your bike smarter, then the SmartHalo is one of your best options.
Also, there has been a bit of a problem with the delivery of the devices to those who supported the SmartHalo 2 on Kickstarter. Unfortunately, the promised release date of December 2019 was not met, and the new expected date is on March 2021. With the pandemic going on, it's not surprising at all.
So if you are interested in this product, you might have to wait for a while. In the meantime, the company does accept pre-orders on their website.
SmartHalo 2 Review Box
SmartHalo 2
Summary
SmartHalo 2 is a great device for those who spend a lot of time with their bikes. It combines most of what you'll need while on the road: a light, tracking device, navigation, and protection from theft. It even provides you with an assistant, notifying you of important calls or messages.
Pros
Brighter light
Screen to display stat and data
Long battery life
Cons
Delayed delivery time