Recently the number one best-selling consumer electronics device on Amazon Australia, the SoundPEATS True Wireless Earbudsare a huge hit with budget headphone purchasers. As relatively inexpensive wireless earbuds, costing around $40 AUD (check the link above for current pricing), they have True Wireless Sound, so there's no cable connecting them. Coupled with an enclosed charging case, Bluetooth 5.0 and support for stereo phone calls, we were not shocked to find plenty of raving reviews online.
CHECK TODAY'S PRICE HERE: See at Amazon
SoundPEATS True Wireless Earbuds Review
Aesthestics

Features

Total Value
SoundPEATS True Wireless Earbuds Review
If you're on the hunt for a comfortable pair of budget earphones that will last longer than the majority of cheaper options, the SoundPEATS Wireless Earbuds are a great choice. Anybody exposed to premium earbuds should likely stay clear as you will be disappointed. However, for the general music lover they are a great choice which remain light on the wallet.
Pros
Inexpensive
Highly Comfortable
Great Value
Cons
Poor Sound Balance
Confusing Battery Life
There are literally hundreds of these earbuds on Amazon, so we thought we best take a look. Check out our full SoundPEATS wireless earbuds review below and don't forget to hit us up in the comments with what you think are the best value earbuds in the marketplace today!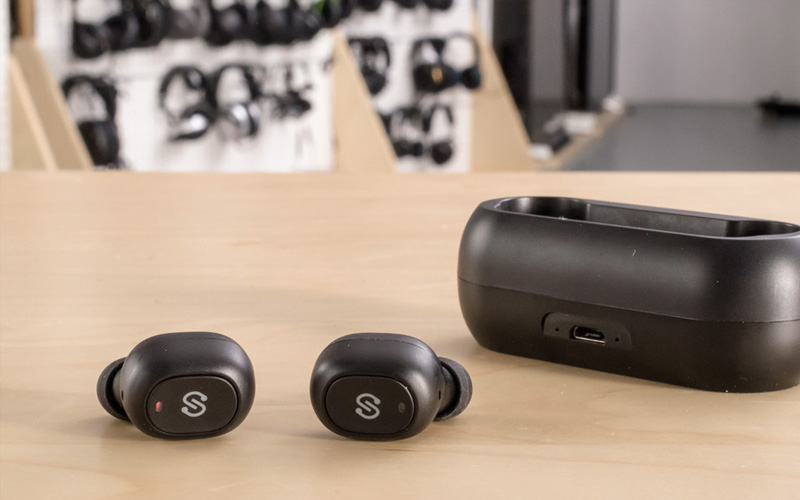 The Look Station
Overall, the look of the SoundPEATS earbuds is above average. Albeit a little plain, they still deliver the high-tech look some people expect from these types of devices. Whilst the design team haven't exactly created something new, but we don't necessarily think that's a bad thing either.
The black finish will keep them looking clean and black has never been out of fashion! If you're in the market for an affordable pair of wireless earbuds that provide a simple yet modern aesthetic, then these could be for you!
There are very few earbuds on the market that give the feeling of not being there at all. The SoundPEATS come close to achieving this benefit. The fact that these earbuds are very small and light is a large part of why they offer good longterm comfort.
The shape of the earbuds is also responsible for their longevity within your ears. Due to angular nozzles, the rubber flanges can be inserted into the ear without any discomfort. It provides a pretty secure fit (you can also change the size of the flanges themselves) that with normal use should never result in a dropped or lost earbud.
Dependant upon the shape of your ear, you may struggle with the likes of the iPhone standard earphones and therefore angular nozzles could be the way to go.
It's important to note that these buds are not designed for sporting activities and will slip out as soon as you start running. We would never recommend cheaper earbuds for sporting activities and you want to be sure of securing a tight fit with whatever brand you choose.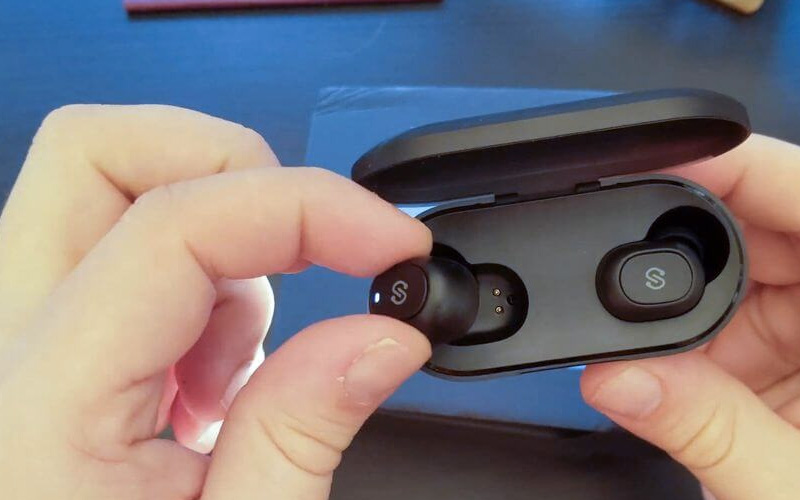 The Performance
Listen, these are budget earbuds so we're not talking audiophile levels of sound quality. However, for the price, you will not be disappointed. There's a reason these are the number one selling electronic device on Amazon Australia after all! The bass on these little guys is surprisingly good and feels quite full for a budget piece of gear. If you're a fan of bass-driven music then these won't offend you to the point of not using them but they won't blow you away either.
The mid-range is meh and doesn't really offer consistent quality from the upper-mids to the lower-mids. Given the cost of the SoundPEATS True Wireless Bluetooth Earbuds, this is to be expected! The highs are better than the mids but don't perform as well as the bass. You'll get decent clarity and cut through, but they don't sound super polished. For those who have worn more premium buds, you will definitely notice the difference.
It's also important to mention that you shouldn't be confused by the 35 hours promised total playtime. Once fully charged, the earbuds will last around 3-4 hours in total. However, they come with a portable charger that will provide an addition 9-10 times worth of charge for your earbuds. Yeah, we were super confused too before reading the small print.
SoundPEATS True Wireless Earbuds Features:
For the price, you would expect to get the bare basics but the SoundPEATS Wireless Earbuds offer features in line with higher range products. Okay, so you're not going to get Apple Airpod quality features, but for $40AUD you'll be surprised. Take a look at the full features of the SoundPEATS True Wireless Earbuds below.
Latest Bluetooth 5.0.
Wireless & iOS Compatible.
Mono & Stereo Mode.
35 Hours Playtime.
One Button Control & Voice Assistant.
Built-In Microphone.
Changeable Earbuds.
Customisable Accessories
The 'TrueFree' nature of the wireless earbuds ensure fast and stable transmission without any tangling of cables. The one-step pairing system is also a feature that we particularly enjoyed with the SoundPEATS. In a matter of seconds, you can be listening to music from your Bluetooth enabled device. This is an important feature in our opinion especially when on the move. The extended playtime is also a bonus. With a compact and lightweight wireless charging case, the SoundPEATS can last up to 35 hours in total with regular charging. This type of technology definitely suits those who regularly listen to music out and about.
Another important mention is that there are varying types available on Amazon. Some come with bigger charging cases, others with upgraded specifications. Be sure to do your research before purchasing and pick the right ones for you!
Inside The Box:
SoundPEATS TrueFree Earbuds.
4x Tip Options.
Micro-USB Charging Cable.
Charging Case.
User Manual.
This 'inside the box' inclusions list is standard across all different types of SoundPEATS True Wireless headphones.  Finally, they haven't confused us all too much there!
–
SoundPEATS Wireless Earbuds Price & Value
Currently, you can pick up a brand new pair of SoundPEATS True Wireless Bluetooth Earbuds on Amazon. Click the link below to view current pricing.
Price reduction
Overall, this is fantastic value for money given the features and sound quality. Of course, there are much better earbuds out there in the market but if you are looking for a comfortable pair of earphones, you won't be dissapointed with the SoundPEATS. After all, how can you go wrong for $40AUD?
SoundPEATS Wireless Earbuds Review Roundup
When we were writing this SoundPEATS wireless earbuds review, we tried not to be too critical given the price. If you're on the hunt for a comfortable pair of budget earphones that will last longer than the majority of cheaper options, the SoundPEATS Wireless Earbuds are a great choice. Anybody exposed to premium earbuds should likely stay clear as you will be disappointed.
However, for the general music lover, they are a great choice which remains light on the wallet. The sound quality is good, the comfortability is high and unless you're a huge music fan, you're probably just looking something that doesn't sound tinny. The SoundPEATS Wireless Earbuds deliver all of this and some more.
We wish they would have been clearer about the battery life as unless you read further, it's somewhat misleading. That said, 3-4 hours is a good length of time before having to plug back into your charging case. The charging case itself it's reasonably sized and great for trips away or long sessions at work when not in the office.
All in all, it's a solid buy.
Price reduction
–
Content Disclaimer: Our 'Soundpeats Wireless Earbuds Review' is totally independent and has not been commissioned by the company in any capacity. Mr Gadget has not received any endorsements for this writing including financial reimbursement, free advertising or Soundpeats Earbuds by way of gift. If you purchase this item via an affiliate link on our website, we may receive a small commission from the seller. We hope you enjoyed!
Last update on 2022-05-20 / Affiliate links / Images from Amazon Product Advertising API