Budget gaming peripherals are all the rage nowadays, with new brands popping up left and right to give thriftier gamers the chance to experience what used to be a luxury limited only to those who can afford it. Smaller names aren't the only ones making waves in the budget market, as the bigger brands are also coming up with their own lower-end models like Kingston's HyperX Alloy Core RGB which we recently reviewed.
CHECK TODAY'S PRICE HERE: See at Amazon
30 Second Review: Steelseries Apex 3
Design & Build -

7.8/10

Features -

7.5/10

Ergonomics -

8.5/10

Typing Quality -

7.6/10

Total Value -

8.4/10
Summary
If you can get past the fact that the Steelseries Apex 3 still uses membrane switches, you'll find an astoundingly quiet gaming keyboard that looks amazing, features fantastic yet functional RGB lighting, and comes with one of our favourite wrist rests ever – all at a price anyone can afford.
I still think that Steelseries should've splurged and included a braided cable instead of the archaic rubber one, but I digress. Move over HyperX Core Alloy RGB, there's a new membrane sheriff in town.
Pros
✓ Great-looking design
✓ Premium RGB capabilities
✓Remarkably quiet
✓ Magnetic wrist rest is just plain awesome
✓ Media wheel works great
Cons
✗ Membrane keys just can't beat out mechanical ones
✗ Rubber USB cable is ugly and unwieldy
Similarly, the Steelseries Apex 3 is also a membrane gaming keyboard that hopes to bring quality looks and performance at a widely affordable price point. But is it still worth considering despite its lack of mechanical switches? We're going to do some digging to find out just that, in this Steelseries Apex 3 review.
In a rush and can't get through the whole review? Just click any of the links below to skip straight to that section:
What is the Steelseries Apex 3?
Steelseries Apex refers to the brand's impressive line of gaming keyboards, which include some heavy-hitters like the premium Apex Pro and the mid-ranged Apex 5. On the lowest end of the spectrum lies the Apex 3, Steelseries' cheapest gaming keyboard that promises the brand's signature style, quiet keystrokes, and water-resistant panel, at a price that most people can afford.
Released earlier this year, it shares many similarities with the other keyboards in the Apex lineup when it comes to looks and even includes the snazzy wrist rest the series is known for. It's got RGB lighting, dedicated media controls, and boasts some seriously silent switches.
Unfortunately, those silent switches aren't mechanical, which is the same hurdle the HyperX Alloy Core RGB had to overcome. Both of them share similar price tags as well, with the Apex 3 debuting at $69.99 but is currently listed on Amazon at a much more affordable $49.99. In comparison, the Alloy Core RGB currently goes for around $40.
Editor's note: The SteelSeries Apex 3 made it onto our list of best gaming keyboards 2020 as an excellent budget choice.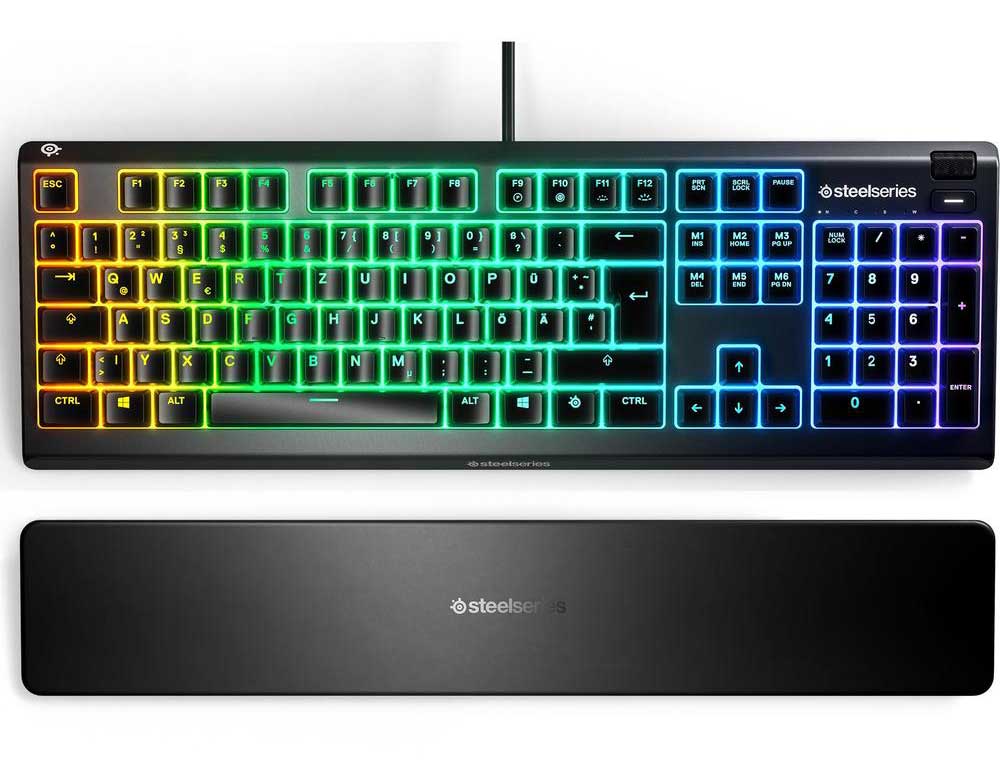 Features
Switches
The Apex 3 utilizes outdated membrane switches as opposed to superior membrane ones and while they are extremely quiet and perform as well as the variety allows for up to 20 million keystrokes, at the end of the day they're still slower and clunkier especially if you've had the opportunity to use a mechanical keyboard for extended periods of time.
Connection
The keyboard connects to PCs using a rubberized 1.8-metre long USB cable. It features three-way cable routing so you can position the cable to the left, middle, or right of the keyboard depending on how you like your setup. It's a shame that Steelseries didn't go the extra mile and just throw in a nice braided cable instead.
Accessories
One of the coolest things about the Apex 3 is the included wrist rest that latches onto the keyboard via powerful magnets. They come with rubberized pads on the bottom that keep the rest steady even during the frantic gaming sessions.
Media Controls
The media button on the top right corner of the keyboard allows you to cycle between various settings and the wheel above it lets you manipulate those settings effortlessly.
RGB Lighting
The Apex 3 offers 10-Zone RGB illumination which is excellent for a budget keyboard and allows for reactive RGB effects in certain games and apps like Discord and Minecraft.
Software
You can use the Steelseries Engine 3 software suite to create macros and customize the keyboard's generous RGB effects the way you like it.

Steelseries Apex 3 Specs
| | |
| --- | --- |
| Dimensions | 444.7 x 151.62 x 39.69 mm |
| Weight | 816 g |
| Switch Type | Membrane |
| Dedicated Media Controls | Media button and wheel |
| Connection Type | Wired USB |
| Cable | Rubberized |
| Cable length | 1.8 m |
| RGB Lighting | 10-zone RGB Illumination |
| Waterproofing | IP32 |
| Number of keys | Full-sized – 104 keys |
| Accessories | Magnetic wrist rest |
| Software | Steelseries Engine 3 |
Aesthetics
The Apex 3 is a full-sized keyboard sporting a Numpad and 104 keys. it looks quite a bit like the other entries in the Apex roster, coated in muted black all throughout and folded towards the top edge, with the media button and wheel located on the top-right corner right next to the full Steelseries logo.
The keys are elevated higher than most keyboards and are widely spaced to allow the RGB lighting to bleed through more. The magnetic wrist rest is a personal favourite that's not only functional but adds greatly to the peripheral's overall ergonomic aesthetic. All things considered, the Apex 3 is a handsome keyboard with brilliant lighting that doesn't at all look like it belongs in the budget section.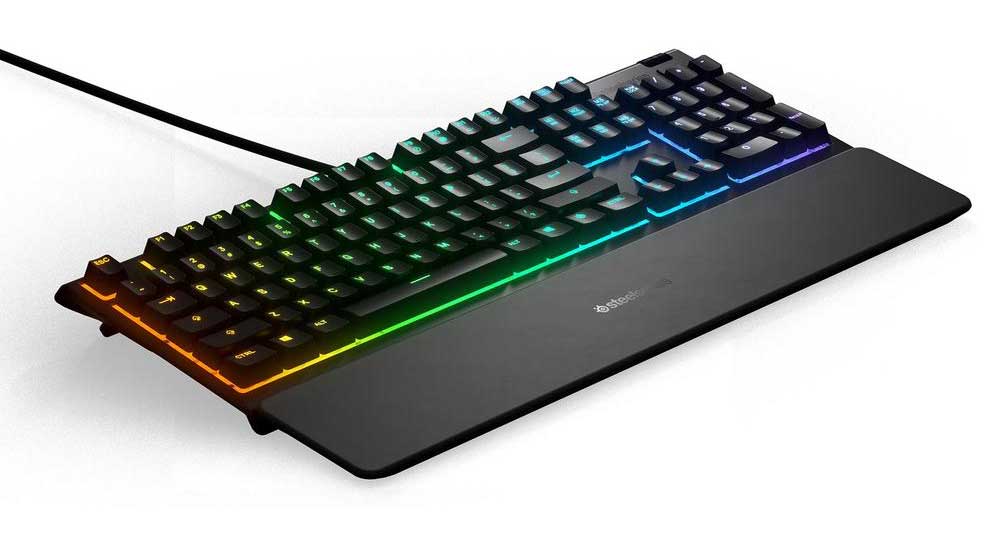 What's it like to use?
The first thing on anyone's mind when purchasing the Apex 3 would be whether or not Steelseries' decision to forgo mechanical switches for older membrane ones ended up biting them in the ass. Well, as far as membrane switches go, they perform great and are remarkably silent even during some intense typing. They're just unwieldy and not nearly as responsive compared their mechanical counterpart and just don't have that satisfying click that a lot of people adore.
Buttons aside, the Apex 3 boasts an IP32 rating that protects it from dust and liquid spills which held up well when we splashed some water on it here and there. Our favourite part of the keyboard came in the form of its magnetic wrist rest which remained stable and felt comfortable throughout all of our tests and it looks fantastic to boot. Firing up the Steelseries Engine 3 was nice and simple and the program allowed us to painlessly experiment with the 10-zone RGB lighting and even assign effects to specific apps. For example, you could make it so that keyboard lights up whenever you receive messages or alerts from Discord which is pretty awesome.
Final Thoughts
With the Apex 3, Steelseries ventured into the uncharted waters of budget gaming keyboards and came out strong despite its risky decision to stick with membrane switches. Sure they're not as responsive and reliable as the mechanical ones, but people looking for a calmer typing experience are sure to appreciate just how silent they are. Add that to the gorgeous design, high-quality RGB lighting, and spillproof build and you've got yourself an excellent gaming keyboard.
While the HyperX Core Alloy RGB is 10 bucks cheaper and a great membrane keyboard in its own right, the Steelseries Apex 3 narrowly comes out on top thanks to its solid software support and fabulous wrist rest. We now have a new favourite membrane gaming keyboard.
Steelseries Apex 3
Ip32 water resistant Prevents accidental damage from liquid spills
10-zone RGB illumination Gorgeous color schemes and reactive effects
Whisper quiet gaming switches Nearly silent use for 20 million low friction...
Premium magnetic wrist rest Provides full palm support and comfort
Last update on 2022-05-20 / Affiliate links / Images from Amazon Product Advertising API