SteelSeries has built quite the impressive catalogue of gaming headsets and is now considered one of the leaders in the market. Our recent review of the Arctis 7 gave us a little more insight into what we now consider one of the best mid-range wireless gaming headsets money can buy.
This time around, we're taking a look at the SteelSeries Arctis Pro Wireless  to see how it stacks up.
CHECK TODAY'S PRICE HERE: See at Amazon
SteelSeries Arctis Pro Wireless Review
Design & Build -

9.6/10

Features -

9/10

Sound Quality -

9.2/10

Mic Quality -

8.8/10

Battery Life -

8/10

Comfort -

9/10

Total Value -

9/10
SteelSeries Arctis Pro Wireless Summary
The SteelSeries Arctis Pro Wireless boasts some of the best sound quality for any gaming headset and is elevated further by its innovative surround sound technology. It grips your head nice and tight without sacrificing any comfort and is rugged enough to hold its own against a few accidental drops.
Connectivity will never be an issue either since you can go wireless, Bluetooth, or wired. While the design arguably could have used a bit more love to go along with its premium status, and its noise isolation could use some work, the Artic Pro Wireless' intimidating price point is justified by it simply being one of the greatest high-end wireless gaming headsets currently on the market.
Pros
✓ Spectacular sound quality
✓ The best surround sound experience in a headset
✓ Trademark comfy yet sturdy SteelSeries design
✓ Wide range of connectivity options
✓ Stable enough not to shift during sharp movements
✓ Spare battery comes in incredibly handy
Cons
✗ One of the most expensive gaming headsets on the market
✗ Mediocre noise isolation
✗ Could've been given a more premium feel compared to its more affordable siblings
The Danish tech company decided to dip their toes in the premium end of the pool with the SteelSeries Arctis Pro Wireless – a highly convenient, audiophile-friendly wireless headset built for gamers. In this SteelSeries Arctis Pro Wireless review, we're going to take a good look at what exactly the headset has to offer, and figure out whether or not it's as premium as its price tag lets on.
Can't spare the time to read the full SteelSeries Arctic Pro Wireless review? Clicking any of the links below will take you right to that section.
What is the SteelSeries Arctis Pro Wireless?
The Arctis Pro Wireless is SteelSeries' deluxe wireless gaming headset and is essentially the technical culmination of all of its predecessors coupled with impressive high fidelity technology. it's near-identical to its sibling – the Arctis Pro GameDAC – but offers wireless and Bluetooth connectivity.
As with all the other headsets in SteelSeries' repertoire, the Arctis Pro Wireless was crafted primarily with gamers in mind, but its excellent sound quality makes it plenty capable of satisfying audiophiles as well. Looks-wise, it's a sleek and elegant device that is perfectly suited for people who don't enjoy overly-intricate designs. Its sky-high $349.99 price tag is enough to send most people running for the hills, but if you've got the coin to spare, the Arctis Pro Wireless has a lot to offer.
Editors note: In fact, the Arctis Pro Wireless is a serious piece of gear that made our list of best gaming headsets in 2020 & best wireless gaming headsets in 2020.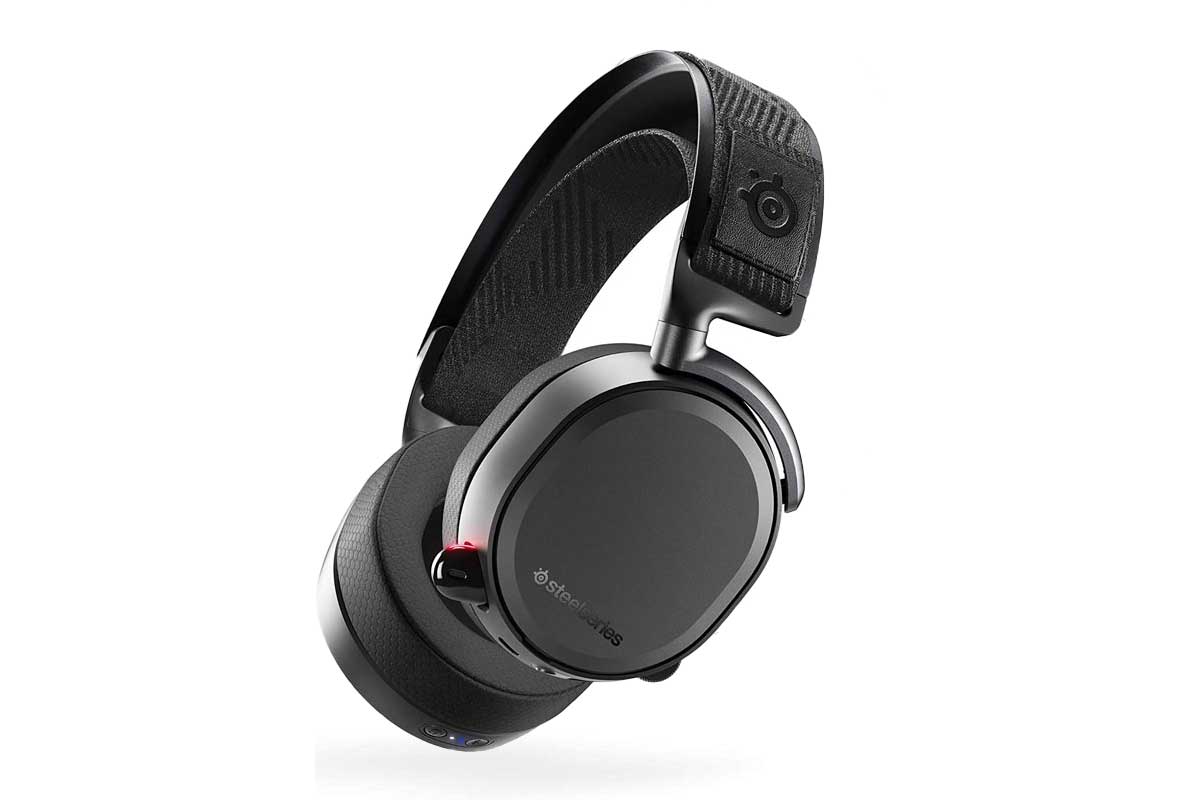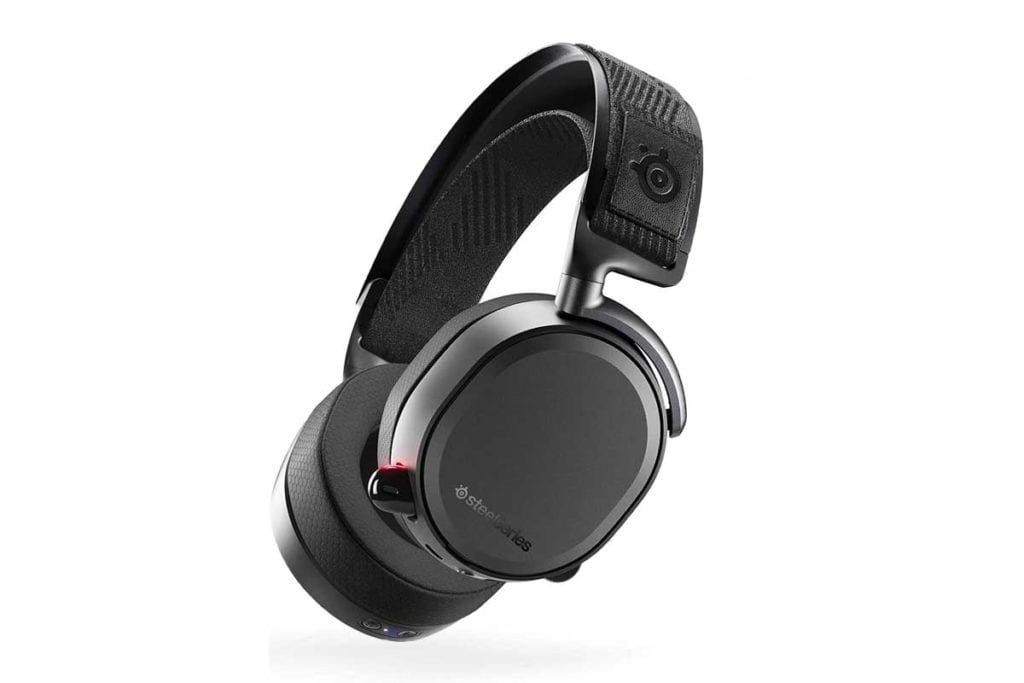 SteelSeries Arctis Pro Wireless Features
Connectivity
SteelSeries' Arctis Pro Wireless features all the connectivity options you could ask for and is capable of establishing 2.4 GHz wireless lossless and Bluetooth connections, in addition to connecting to devices via a wired 1/8″ TRRS cable.
Battery life
The Arctis Pro Wireless' battery racks up around 10 hours of playtime, which isn't particularly impressive. Luckily enough, the headset comes with a spare battery, doubling its usage time to an excellent 20 hours, give or take.
Carry case/Stand
The headset comes with its transmitter and a host of different cables, but, unfortunately, it doesn't include a carry case or stand which would've been a nice touch considering the steep price tag.
Noise cancellation
SteelSeries has yet to introduce a headset with Active Noise Cancelling, so don't expect it from the Arctis Pro Wireless. its noise isolation isn't anything to write home about either and is only capable of blocking out minor ambient noises like mellow side conversations. Bassier and louder sounds pierce right through, making it unsuitable for commuting or lounging in cafes.
Water/sweat proof
There's no water/sweat proofing on the headset to speak of. In fact, the ear cups are lacking in breathability and tend to cause your ears to sweat with extended use.
Software
The Arctis Pro Wireless supports the SteelSeries Engine desktop suite, which allows you to access some nifty features like bass boost, a graphic equalizer, DTS surround sound and more.
Sound Quality
The Arctis Pro Wireless offers some of the most accurate and high-quality sound among all of the SteelSeries headsets. Its bass is punchy and extremely accurate but might be a little on the light side for people who enjoy thumpy bass. Luckily enough, this can easily be manipulated to your liking through the SteelSeries Engine app. Bear in mind that the bass experience may vary depending on how well the earcups fit your ears and whether or not you wear glasses.
Mids are sublime so vocals and more pronounced instruments come across crisp and crystal clear. Trebles also sound great save for a slight tendency for mid-trebles to make higher-pitched sounds seem a bit more shrill. The DTS Headphone:X simulates surround sound as much as physically possible on a headset, enriching your gaming experience by creating a more immersive game world.
The headset's microphone recording capabilities are solid and accurately capture sounds in a detailed manner. It could use a bit more intensity, though, and the mic's lack of volume control is a bit disappointing. Its noise isolation, on the other hand, is top-notch and distinguishes your voice even from noisier environments like internet cafes and crowded rooms.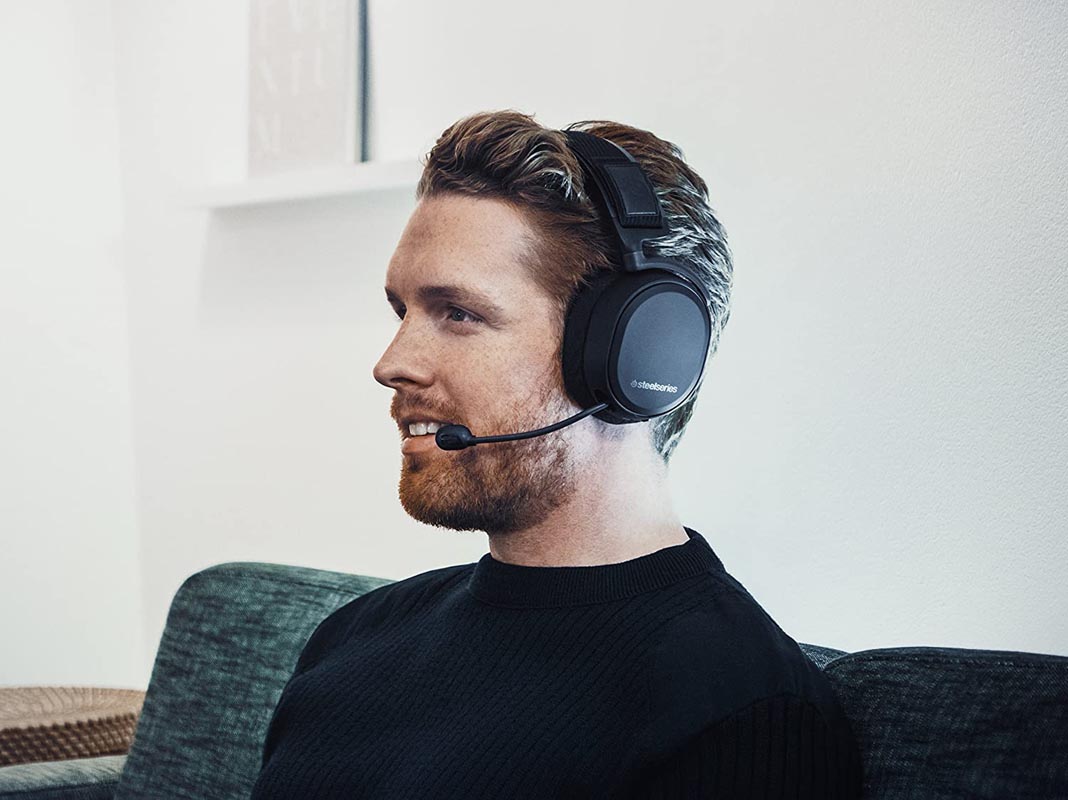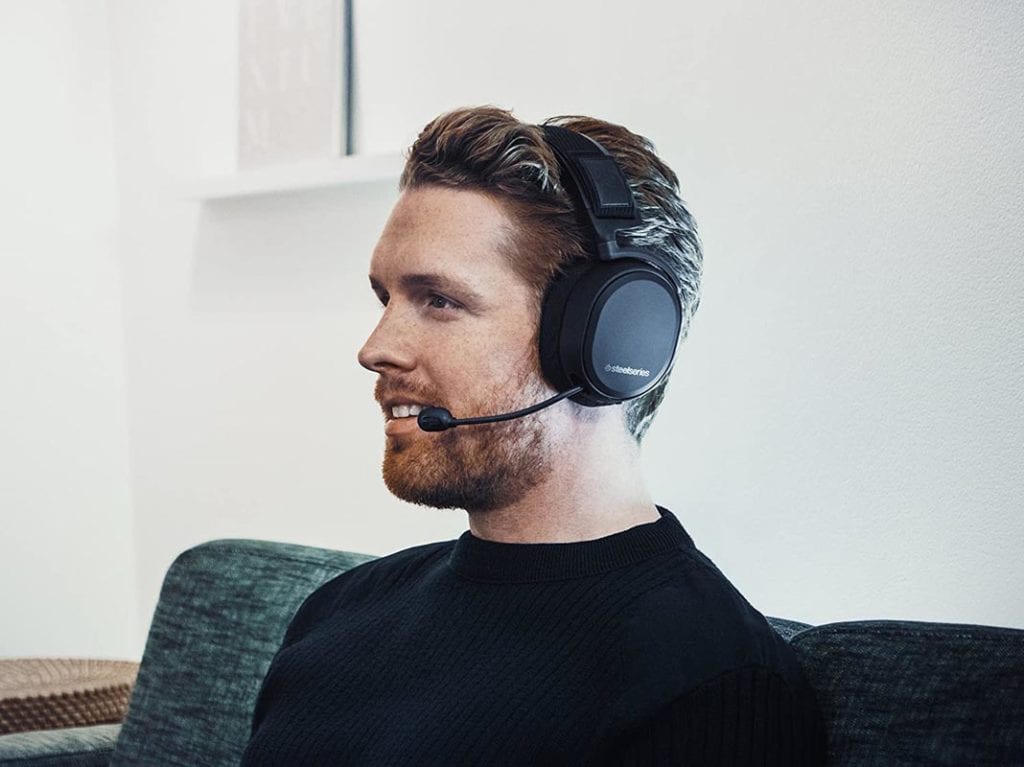 What's it like to use?
Right out of the box, the Arctis Pro Wireless is pretty easy to use once you get the hang of all its dials and buttons. The bottom of the left earcup has a microphone mute switch and a control dial that adjusts volume by default. When using a transmitter, the dial can be clicked inward to access more features like selecting audio sources and equalizer presets.
The retractable mic easily pops out of this side as well. On the bottom part of the right earcup, you'll find the power and Bluetooth sync buttons. If you're using the Bluetooth connection, the Bluetooth Sync button controls calls and music. The power and Bluetooth sync buttons vary in the way they curve, so you can easily distinguish them by touch. Since the Arctis Pro Wireless features three types of connections, it pairs with any kind of device or console without much hassle.
Just like other headsets on SteelSeries' roster, the Actis Pro Wireless is delightfully comfortable thanks to its trademark adjustable ski-goggle headband and soft, well-padded, over-sized earcups. They're nice and stable to boot, hugging your head tight without any discomfort. In fact, they're steady enough to withstand more arduous activities, like running or a day at the gym.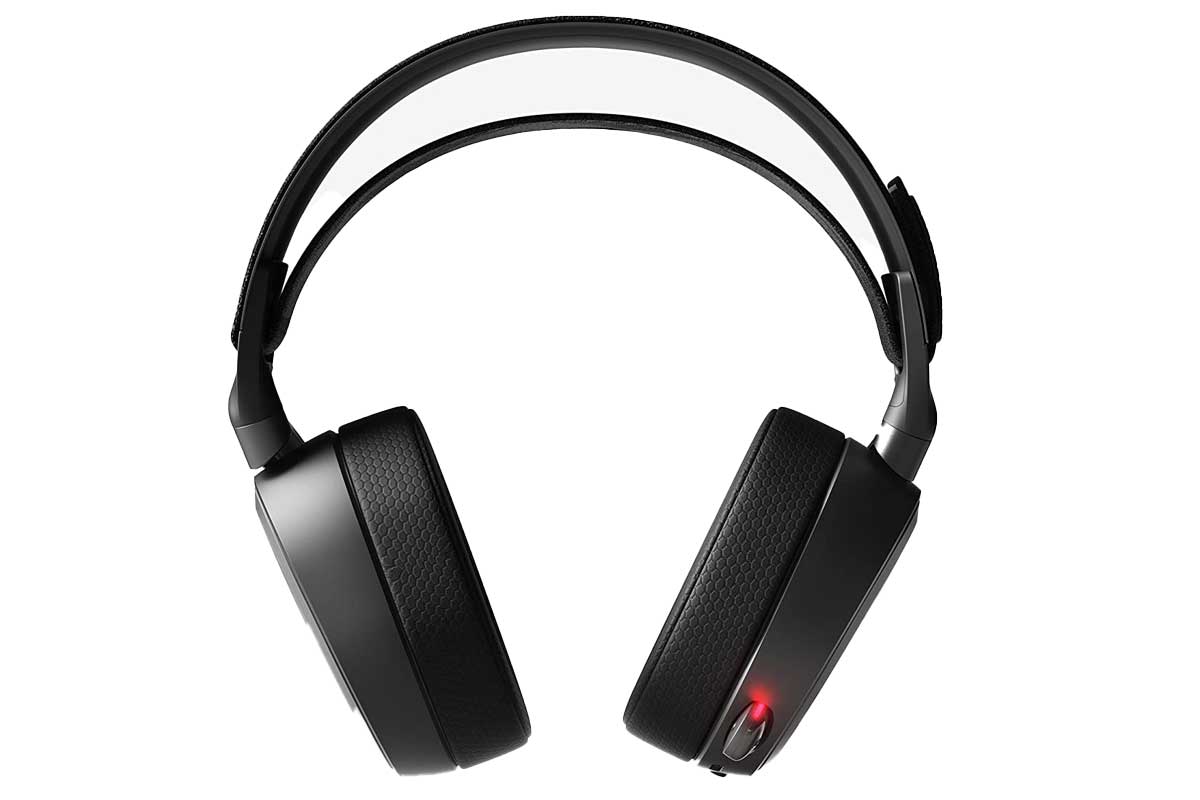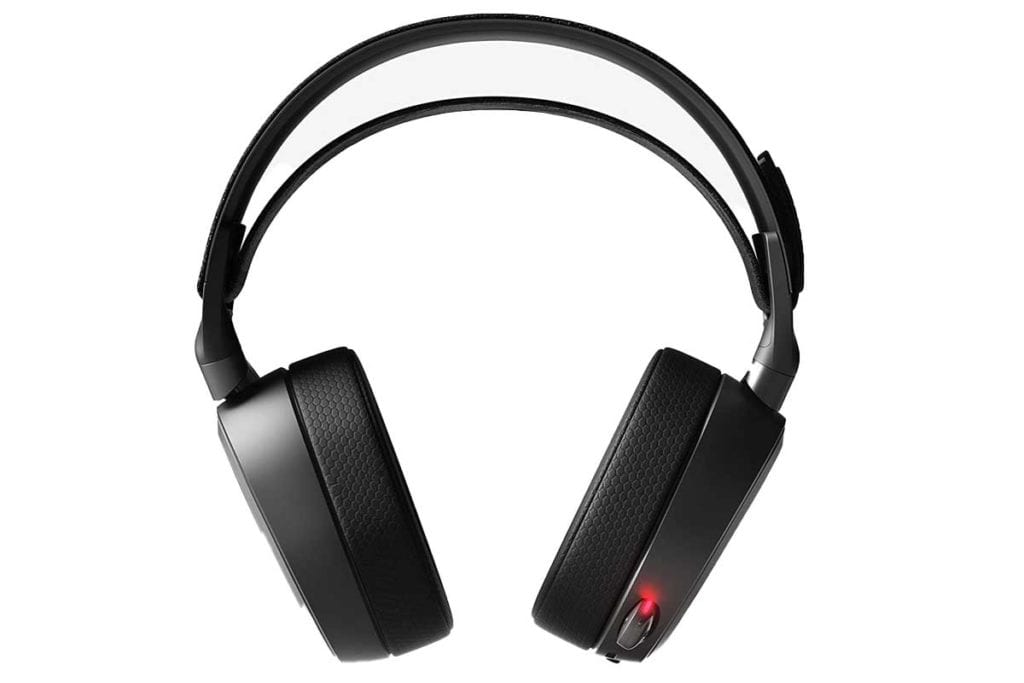 Aesthetics
if you've seen one SteelSeries headset, you've pretty much seen them all. The Arctis Pro Wireless doesn't deviate much from its predecessors, sporting the same sleek, oval-shaped, over-sized earcups and signature ski-goggle headband. It's a clean look that's easy on the eyes and will suit gamers that are more on the minimalist side. People with flashier tastes, however, may be left disappointed.
The Arctis Pro Wireless is as durable as it is flexible. Its earcups feel weighty and tough enough to stomach multiple drops without giving out. The backplates are replaceable in case either get cracked after an accidental spill and its mic is malleable enough to withstand getting bent in different angles without breaking.
Final Thoughts
To be honest, the Arctis Pro Wireless' biggest hurdle is its hefty price tag, which is really the only thing that would make you second-think picking it up. Its sound quality is fantastic and only made better by its unrivalled surround sound technology. Sure, it looks similar to every other headset in SteelSeries' roster, but that's not such a bad thing since it looks and feels great and is perfectly stable.
You won't have to worry about connectivity either, since it supports wireless, Bluetooth, and wired connections, and even comes with a spare battery for a lengthier usage time. The Arctis Pro definitely makes its case as one of the best wireless gaming headsets around.
Last update on 2022-05-24 / Affiliate links / Images from Amazon Product Advertising API