The budget gaming mouse market has quickly gotten saturated over the years, with cheaper brands from Southeast Asia entering the scene and big names such as Logitech and Razer catering to the lower end of the spectrum with products like the G502 HERO and Deathadder Elite.
CHECK TODAY'S PRICE HERE: See at Amazon
SteelSeries Rival 3 Review
Design & Build -

8.4/10

Features -

7.8/10

Comfort -

7.9/10

Total Value -

8.2/10
Summary
If you're in the market for a high-quality gaming mouse but are looking to keep it under $50, then the Steelseries Rival 3 should definitely be on your radar. With its terrific performance, sturdy build, and dazzling RGB lighting, it's easy to forget that the Rival 3 is, in fact, a budget mouse.
Sure, the side buttons could've used a little more love and a slanted style may have been the better design choice, but make no mistake, you're definitely getting a lot of bang for your buck.
Pros
✓ Spectacular RGB lighting
✓ SteelSeries Engine 3 is awesome
✓ Solid performance
✓ Amazing value
✓ Sturdy build
Cons
✗ Symmetrical design is a weird choice for a right-handed mouse
✗ Side buttons feel rigid and can be tough to press
✗ DPI is lower than some of its rivals
Steelseries threw in their own bid with the Rival 3 – a low-priced gaming mouse loaded with features more commonly found in higher-end varieties. In this review, we're going to find if it's worth its price tag or if you're better off going with one of its many rivals.
Pressed for time and can't get through the entire review? Just click on one of the links below to skip right to that section.
What is the Steelseries Rival 3?
Whether it's the Rival 650 wireless that sets you back north of a hundred bucks or the Rival 310 that's just short of that, the Steelseries' Rival line includes gaming mice of varying price levels. The Rival 3 is by far the cheapest among its brethren, sitting at a very reasonable price tag. But that doesn't make it a slouch by any means.
It boasts several features that are commonly found on gaming mice far above its weight class while managing to live up to the high standards of performance that Steelseries has become known for. It doesn't cut corners in the looks department either, sporting an eye-catching customizable RGB underglow and a sleek, minimalist design that makes it great for both work and play.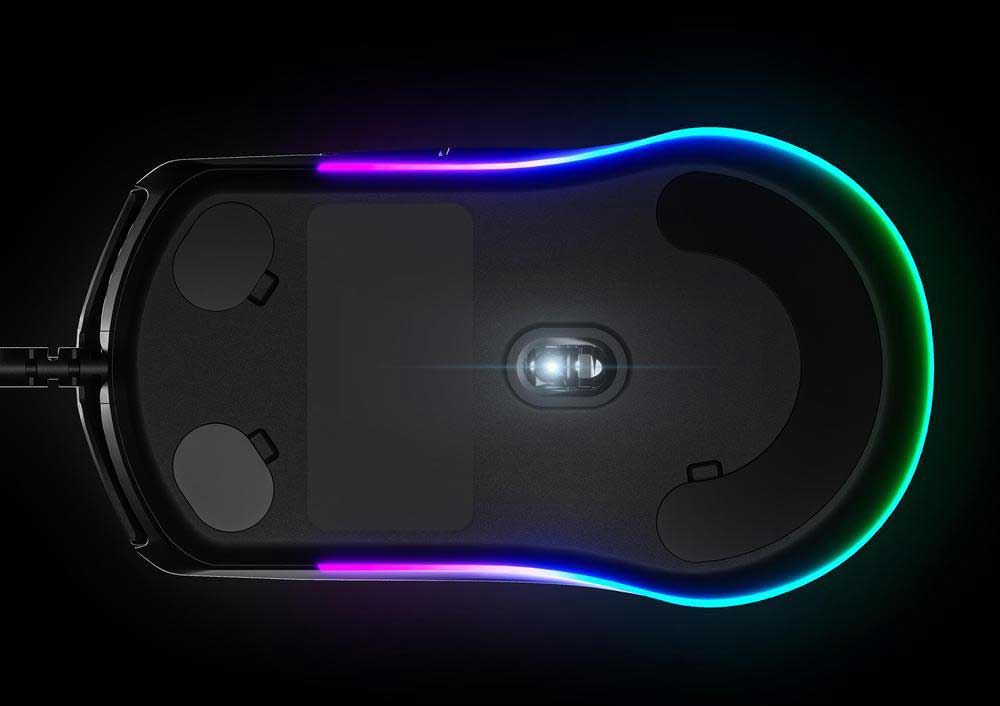 Features
Sensor
The Rival 3 is fitted with Steelseries' TrueMove Core optical sensor which produces a DPI of up to 8500, a polling rate of up to 1000hz, and features 1-to-1 tracking technology. While the DPI is markedly less than the Razer Deathadder Elite, it still performs admirably considering its low price and should be more than enough for the average gamer.
Connection
It's strictly a wired gaming mouse with a USB connection and a standard rubberized cord. A braided cable would have been nice, but that might be asking a bit much. If you're in the market for a wireless option, Steelseries developed the Rival 3 Wireless, though you will have to pony up an extra twenty bucks.
Buttons
There are six buttons in total on the Rival 3: the two primary buttons, mouse wheel, DPI control, and two extra buttons on the side. All-in-all, it has 8 programmable inputs including the upward and downward scrolls.
Software
The SteelSeries Engine 3 is an ingeniously designed, user-friendly software suite that gives you complete control over your mouse's settings. It also works with both Windows and macOS which is a huge plus. The Rival 3 also comes with onboard memory that saves your settings in case you want to switch computers.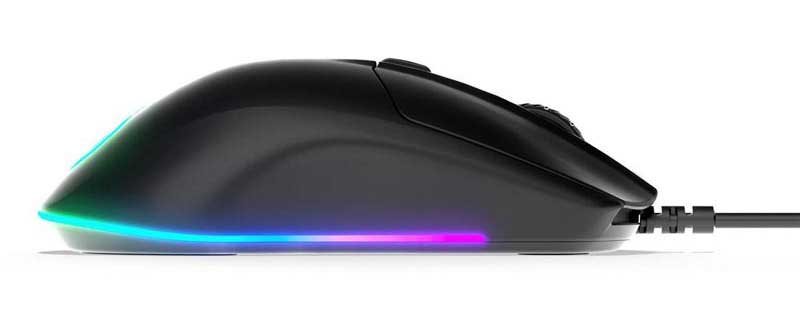 Design & Comfort
When it comes to looks, the Rival 3 is fairly low profile and actually resembles the Logitech G203 quite a bit. It's completely symmetrical and more rounded slightly below the mouse's centre. The trademark Steelseries logo can be found towards the bottom end of the device and is fully RGB capable along with a strip of lighting that runs across the bottom edge of the mouse. Its RGB strip is one of the Rival 3's best features, elevating what would've been a pretty plain design to a cool, low-key aesthetic.
Finally, the two extra buttons can be found on its left side and the whole device has a matte texture. It seems like an odd decision to develop a perfectly symmetrical gaming mouse with a couple of buttons on the left side, essentially making it exclusively right-handed. It would've made more sense if they doubled down on a slanted design or a palm rest of sorts.
Due to its symmetrical nature, the claw grip is the most comfortable method of holding the Rival 3 and is suitable for all hand sizes. Smaller hands, however, can still manage to utilize the palm grip satisfactorily. Either way, I found the mouse to be extremely pleasant to use. One thing that could've used some work is the side buttons which came off feeling a little too rigid for my tastes.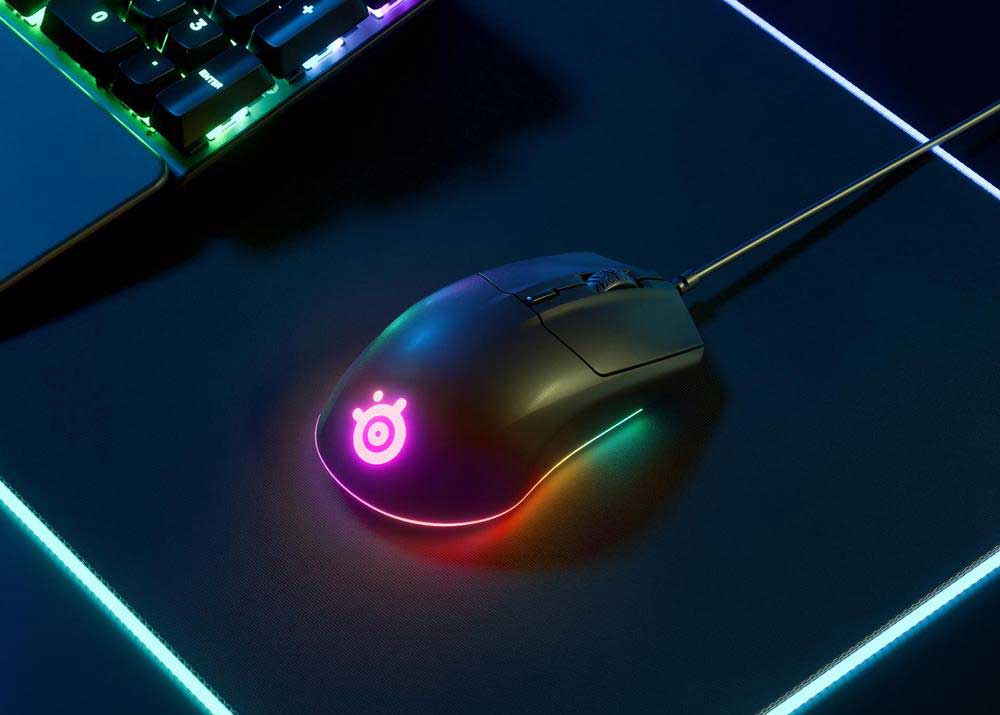 What's it like to use?
The first thing that you'll notice right of the bat is how surprisingly sturdy the Rival 3 is, given its status as a budget gaming mouse. The plastic used feels of high calibre and none of the parts feel at all loose which is fantastic. Its DPI may not be on par with some of its well-known rivals but it still manages to get the job done by feeling tight and precise whether you're gaming or browsing the web. Most people won't really make use of the 20000 DPI setting on a high-end mouse anyway. Its lightweight design makes it ideal for FPS games but it works great as an all-around mouse as well.
My hands are a bit larger than the average person and felt right at home around the Rival 3. Although having side buttons certainly come in handy, the ones on this mouse felt a little stiff and were sometimes tough to press especially in high-intensity situations.
During a few League of Legends matches, there were crucial times when I couldn't activate the spells that I mapped to those buttons which felt pretty frustrating, to say the least. Perhaps they'll soften up with a little more use. Customizing the Rival 3 through the SteelSeries Engine 3 was an absolute cakewalk and easily allowed me to manipulate every aspect of the mouse without any trouble at all.
Final Thoughts
With the Rival 3, Steelseries managed to develop a budget gaming mouse that truly feels like you're getting more than you bargained for. Its solid performance, impressive RGB lighting design, and rugged feel all come together in a sleek package that looks just as good on a gaming desk as it does on a workstation.
If you can get past the stiff side buttons and the confusing symmetrical design despite it being right-handed, you'll be treated to one of the best all-around gaming mice forty bucks can buy.
Price reduction
Last update on 2022-05-15 / Affiliate links / Images from Amazon Product Advertising API