In recent years, budget mechanical keyboards have become a dime a dozen, with countless hardware flooding in from all over Southeast Asia. The likes of Marvo, Armaggeddon, and the more popular Redragon give more frugal gamers a chance at experiencing mechanical keys without having to pay the premium price that comes with bigger brands. The STOGA mechanical gaming keyboard comes from an obscure brand that somehow managed to catch the eye of many serious gamers.
In this STOGA mechanical gaming keyboard review, we'll find out how well this little guy fares against the big boys and whether or not it really is a cut above other cheapo brands.
CHECK TODAY'S PRICE HERE: See at Amazon
STOGA Mechanical Gaming Keyboard Review
Design & Build

Features

Total Value
STOGA Mechanical Gaming Keyboard Review
Don't be deceived by STOGA's obscurity. Its mechanical gaming keyboard punches way above its weight class thanks to a great mix of high-tier mechanical switches, weighty build, and RGB lighting. Its small form factor also makes it a great choice for an external keyboard to go along with your gaming laptop.
Gaming enthusiasts will likely want more RGB customization than the keyboard can provide and its aesthetic may be a little on the basic side for people who enjoy elaborate devices. Nevertheless, the STOGA mechanical gaming keyboard is perfect if you're new to PC building or just looking for a quality RGB mechanical keyboard for a lot less.
Pros
✓ Light on the wallet
✓ Sturdy, weighty design
✓ RGB Lighting
✓ Compact size makes it a good choice as an external keyboard for your laptop
✓ Mechanical switches are surprisingly high quality
Cons
✗ Lack of software limits RGB customizability
✗ Looks might be too plain for some
✗ Could've used a wrist rest
Running low on time and can't read the whole review? Simply click any of the links below to skip to that section:
What is the STOGA Mechanical Gaming Keyboard?
Ask any gamer about STOGA hardware and you'll likely be met with bewildered looks. Heck, I had a hard enough time finding any trace of them anywhere on the internet.
Aside from the one mechanical gaming keyboard in their catalogue, they primarily produce controllers for PC, PlayStation 4, and Nintendo Switch. So imagine my surprise when this seemingly unexceptional keyboard made it to the top budget gaming keyboards lists of several gaming publications.
The STOGA mechanical gaming keyboardoffers quality mechanical switches that can rival the satisfying clicks of the beloved Cherry MX Blues. This tenkeyless keyboard even comes with some solid RGB options to add serious gamer flair to your build.
While its name suggests that STOGA built it with gaming in mind, its practical design and space-saving size make it perfectly suitable for office work as well. Just don't forget to dial down the light show.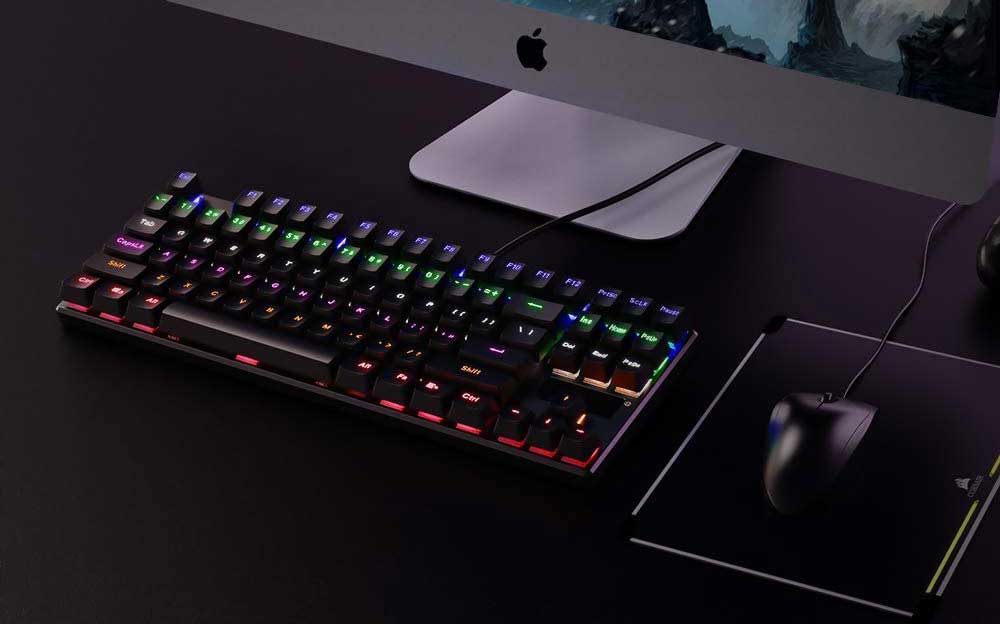 STOGA Mechanical Gaming Keyboard Features
STOGA created a full-sized, small-scale tenkeyless gaming keyboard with high-grade mechanical key switches that have no trouble butting heads with some of its pricier and more well-known rivals. The inclusion of anti-ghosting technology limits mistakenly typed characters and unwanted actions in games. It also comes with slightly customizable predetermined RGB lighting and 14 backlight modes to suit whatever gaming aesthetic you're going for.
It doesn't include software of any kind, which is a bit of a letdown in case you were counting on creating your own presets and tweaking the lighting. Then again, it is a $40 mechanical keyboard, so let's not overreach. The STOGA keyboard does come with media controls, though it's in the form of alternate functions for the F1 – F8 keys. It sports a USB 2.0 connection which is pretty much standard for most devices.
STOGA Mechanical Gaming Keyboard Specs
| | |
| --- | --- |
| Dimensions | 34.798 x 12.192 x 3.556 cm |
| Weight | 0.921g |
| Size | Tenkeyless |
| RGB Lighting | Yes |
| Backlight modes | 14 preset |
| Connection | Wired USB 2.0 |
| Anti-Ghosting | Yes |
| Media Controls | Yes (F1 – F8 keys) |
| Colour | Matte Black |
Aesthetics
STOGAS' gaming keyboard doesn't exactly win any awards for its revolutionary design, but its no-nonsense form factor, void of any pompous logos, is plenty charming in its own right and will undoubtedly be attractive to minimalist gamers who aren't interested in grandiose peripherals.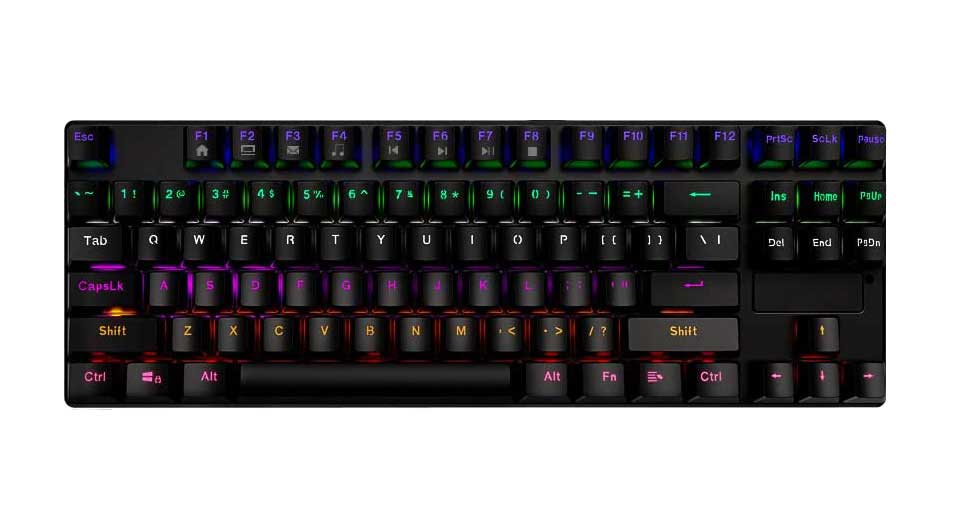 Its sole colour – matte black – may seem unremarkable but it's sleek and functional and works equally well for gaming and desk work. A wrist rest would've been great since the keys are moderately elevated, but that might be asking for too much.
What's it like to use?
For fans of the crisp clicks of mechanical switches, the STOGA keyboard is exceptionally satisfying to use and feels way better than its affordable price lets on. Despite its small stature, it's surprisingly weighty, preventing most accidental slips during intense gaming sessions.
Its compact design makes it space-saving and easy to carry around, so it's a good keyboard to use with gaming laptops that you travel with often. Dedicated media keys would've been a thoughtful addition, but the alternate controls for the F1 – F8 keys work just fine nonetheless. Its RGB lighting should be enough to satisfy novice gaming enthusiast but veteran builders will likely be disappointed by its lack of customizability.
Final Thoughts
I'm not going to lie. Coming in, my expectations for the STOGA mechanical gaming keyboard were fairly low due mostly to its unknown brand. Upon feeling the keyboard's weight and testing its mechanical switches, I'm not ashamed to admit that my presumptions were dead wrong. The key clicks were wonderfully satisfying, far more than you'd expect from a budget keyboard, and its sturdy build feels like it can keep up with years of intense gaming.
Its RGB lighting is fine for starter builders but seasoned gamers will probably want a little more, and the keyboard's look will likely be a little plain for some. All things considered, the STOGA mechanical gaming keyboard is a great entry-level peripheral for beginner PC builders and people who are looking to save a buck or two.
Last update on 2022-05-18 / Affiliate links / Images from Amazon Product Advertising API