As somebody who has experienced life far away from the router, I know first hand the frustrations of a weak Wi-Fi connection. As with many people in a similar situation, I Googled "wi-fi booster" and has the unfortunate experience of finding Super Boost WiFi.
Since then I have seen a lot of questions about this particular company and product so I wanted to break it all down to help people avoid this blatant scam. It's worth mentioning that I have seen the same company promote their product with various names; Super Boost, Super Boost WiFi and Super Boost Wifi extender.
The interesting thing is that WiFi extenders have been around for a while so why is this particular company getting so much flack?
The Red Flags
At first glance, the website looks legitimate enough as well as the Super Boost product itself. On closer inspection, it is apparent that the reviews are fake. Firstly they read as if they're fake but they are also using stock portraits to trick people into thinking they are real.
After browsing the site further you'll notice that everything is just a little bit vague. Usually, these types of devices are promoting the device's speed at every opportunity, but not Super Boost…why?
Well if we look at the footer of the site we can find a link the PDF manual. Here we see that the device uses 802.11n/b/g standard with wireless transmission (300Mbps). This is outdated tech but not awful.
Super Boost is extortionately expensive for these specs. Including shipping and handling, you're looking at $59 USD or roughly A$80 – which is just ridiculous.
What's even crazier is that this very same device can be found on merchant platforms like Amazon and eBay at a fraction of the RRP. What type of business practice is this? Certainly not one of a tech company attempting to build goodwill and long-lasting business.

The Facebook comments on the Super Boost Facebook page are something to marvel at. Their latest post has a thread of 243 comments a9 0% of which are just complaints and back forths between the company and customers.
Looking at the comments we can see some of the scrupulous tactics employed by Super Boost. They are not informing customers or shopping delays, ignoring complaints, offering discounts instead of returns and just making life difficult in general.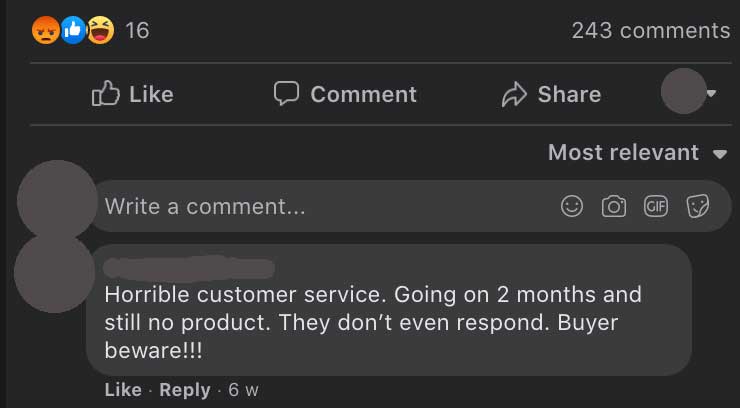 The final nail in the coffin is that you can actually purchase this from sites like Ali Express or Ali Baba as a white label product. This isn't always an issue as long as the brand reselling it is offering a valuer add like really good customer service or support…yeh.
According to users who have actually bought this product, we know that Super Boost maintains this product in exactly zero ways. They do not offer firmware updates or any technical support whatsoever. Great.
Misleading Tech
By now you should know not to buy this device, but if you want even more reasons, let us oblige you.
Looking around online from users who have tested this first-hand we know that this device performs very badly in every respect. It does not come near to the 300Mbps claimed, usually capping out at around 30Mbps download and 9MBps upload.
In addition to this, even when sat right next to the Super Boost, it routinely times out and loses connection from your device. This would be incredibly frustrating to say the least, especially when you bought it to enhance your connection.
Scary Agreements
If you weren't already running away from this thing you will be shortly. Imagine you bought a Super Boost and were already thinking of chucking it through the window of Super Boost's office and then you learnt that any data passing through their device was theirs to now resell. Well, if you're anything like me you'd be ready to do whatever it takes to give them a piece of your mind.
Reading through their privacy agreement is a window into dystopian future. Check it out for yourself, but basically your info is now their info – and they plan to use it!
Shoddy Claims
Even the basic principles claimed by Super Boost are off the mark and rely on consumers not fully understanding how WiFi repeaters should work. If the initial signal received by a Wi-Fi repeater is weak, the output will be weak. There is no way this will increase strength.
What's even crazier is that the technology used by Super Boost is capped at 75Mbps, not the 300Mbps claimed. Because Wi-Fi A/B/N is half-duplex, which means uploads and downloads must alternate rather than being executed concurrently.
Do Not Buy Super Boost
If for some reason you were still on the fence, jump off it now. Do not buy a Super Boost, it is simple as that. As frustrating as having a weak Wi-Fi signal is. There are better solutions on the market. Like mesh routers. In fact, check out our review of the Asus ROG Rapture GT AC5300. This might be a good solution for you.
Super Boost FAQs
No, SuperBoost WiFi is not legit. Their claims of 300Mbps are not true, the product is over priced and the company are difficult to deal with.