ThermBot Quick Review
Summary
In the market for a new-age thermometer that's perfect for using at home or on the go? The ThermBot's compact size, feature-rich software, and sleek design make it one of the best temperature reading devices on the market today.
Pros
Attractive design
Compact size
Chock-full of features
Works with pretty much any kind of smartphone
Cons
Tiny size makes it easy to lose and frustrating to look for
With the coronavirus pandemic continuing to affect the world on a global scale, keeping an accurate read of you or your family's body temperature is now more important than ever. But mercury-based thermometers are invasive and uncomfortable while temperature guns are large and a hassle to carry around. That's where the ThermBot comes in.
The ThermBot is capable of taking your body temperature with pinpoint precision without having to make contact with your body at all. It's also so tiny that's you'll hardly even notice that you're carrying it around. But with new and innovative thermometers hitting the market every day, does this little gizmo have what it takes to stand out? Let's find out in this ThermBot review.
Too busy to read through the entire review? Just click any of the links below and we'll take you right to that section:
Overview
The ThermBot is a nifty miniature temperature reading device that can take an incredibly accurate body temperature reading in no time at all and it does so without ever having to touch your skin. It's so small, in fact, that it's tinier than most car remotes.
You won't have to worry about the gadget ever running out of juice either as the ThermBot takes its charge directly from your smartphone, no matter what kind of port it has. With no clunky software that needs to be installed and a wide range of features developed to make your life easier, the ThermBot is the perfect thermometer to take with you on the go.
Read More: Mudra Band Review Control Your Apple Watch With Gestures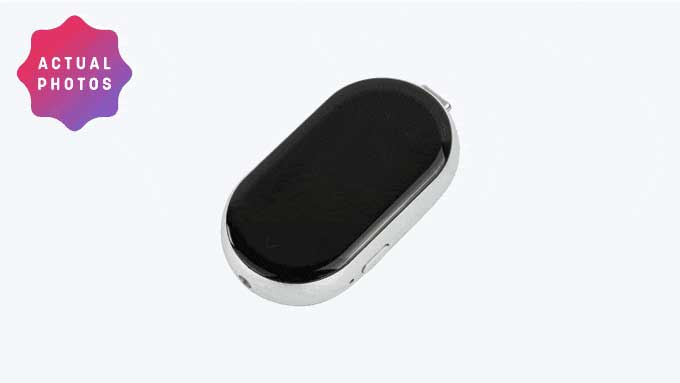 Features
Lightning-quick readings
ThermBot manages to take clinically accurate temperature readings in less than one second, which is far quicker than any mercury-based thermometer which usually takes several minutes.
Battery-less
This device doesn't have a battery of its own and instead connects straight to your smartphone in order to function.
Compatible with a variety of ports
The ThermBot utilizes a USB -C port by default that slides out from inside the device, though it also comes with a USB-C to Lightning and USB-C to USB-A adaptor, making it compatible with pretty much any kind of mobile device.
Works quietly
You won't have to worry about waking up your sleeping child just to take a temperature reading since the ThermBot emits a few extremely subtle beeps to let you know if the reading was taken successfully or not.
More than just a thermometer
ThermBot teamed up with IFTTT (If This Then That) to allow you to connect it to a multitude of different smart devices in your home. You're also given access to millions of applets that you can tailor-fit to your needs.
Specs
| | |
| --- | --- |
| Dimensions | 56.8 x 32 x 11.6 mm / 2.23 x 1.26 x 0.45 in |
| Weight | 22.7 g / 0.05 lbs |
| Reading distance | 1 – 5 cm (0.4 – 1.9 inches) from forehead |
| Display | 135 RGB x 240 dot-matrix TFT LCD |
| Material | Brushed stainless steel and Luobo float glass |
| Measurement | Fahrenheit or Celsius |

Aesthetics
ThermBot is as sleek and minimalist as they come, with an oval design that features silvery brushed stainless steel around the edges and a glossy black finish on the display and rear. The USB port slides out by pushing a knob on the backside of the device, much like how some flash drives are designed.
Size-wise, it's so tiny that you should have no problem slipping it inside the pocket of your jeans or a little compartment in your bag. Moreover, it's light enough that you won't even notice you're carrying it around. This diminutive size can be a double-edged sword, however, as the ThermBot can be frustrating to find inside large bags and runs the risk of being easily misplaced.
Final Thoughts
For people looking for a handy thermometer that's small enough to carry around, gets readings in a flash, and doesn't come with the crutch of a battery, the ThermBot is the perfect purchase. It boasts a host of great features, works perfectly with any kind of smartphone, and looks pretty to boot which is always a plus.
While its tiny size does make it easy to lose and annoying to find in large containers, that's just a minor drawback in an otherwise exceedingly useful gizmo.