Summary
Whether you're at home, exercising, working, or doing sports, here's a cooling device that you can use wherever and whenever. It is portable, stays colder longer, and freezes faster than most ice packs around.
Pros
Freezes faster than other ice packs
Can freeze at room temperature
Stays in place
Stays cold for an extended period
So what makes the THERMONECKS different from other ice packs and conventional cooling products? Let's find out with this review. In a rush and can't read the whole thing? Just click on any of the links below to skip to that section.
Overview
According to a study, neck pain is very common. In fact, it is estimated that about 1 in 3 people get affected by it every year. It can be caused by wear and tear on the cervical spine and in the bones of the neck, which is normal in aging. Whiplash, or an injury that occurs when a person drives into the back of your car in a road accident, can also make it difficult to move your head for several days. Another reason is weak and overused muscles, which can be caused by the following:
Working in front of your computer for a long time
Sleep in an awkward position
Get exposed to a cold draft
Hunch over your phone for too long
Tension
Driving
Sports and other outdoor activities
That said, you can experience neck pain at any time. And when you do, it helps to have quick access to conventional ice or ice packs to alleviate the pain. However, the problem with these cooling items is that they melt and can get you wet. They can't also stay in place, so you can't move around while using them. Not to mention that they require the use of towels or cloth to prevent damaging your skin cells.
Here comes THERMONECKS. With it, you don't have to worry about ice melting and your clothes and body getting wet. It also firmly wraps around your neck, so you can continue what you are doing even while using it. Plus, you can wear it directly without worrying about causing damage or pain to your skin. As a cooling device, it can also help you recover from exhaustion, bring and keep down your temperature for longer, and ultimately feel refreshed.
Unfortunately, even with its discounted price on Kickstarter, the THERMONECKS is more expensive than most of the neck ice packs and ice gels offered in the market. Starting at US$69 for the basic package and US$79 for the full package, it is pricier than the FlexiKold Gel Neck Ice Pack and WORLD-BIO Neck Ice Pack.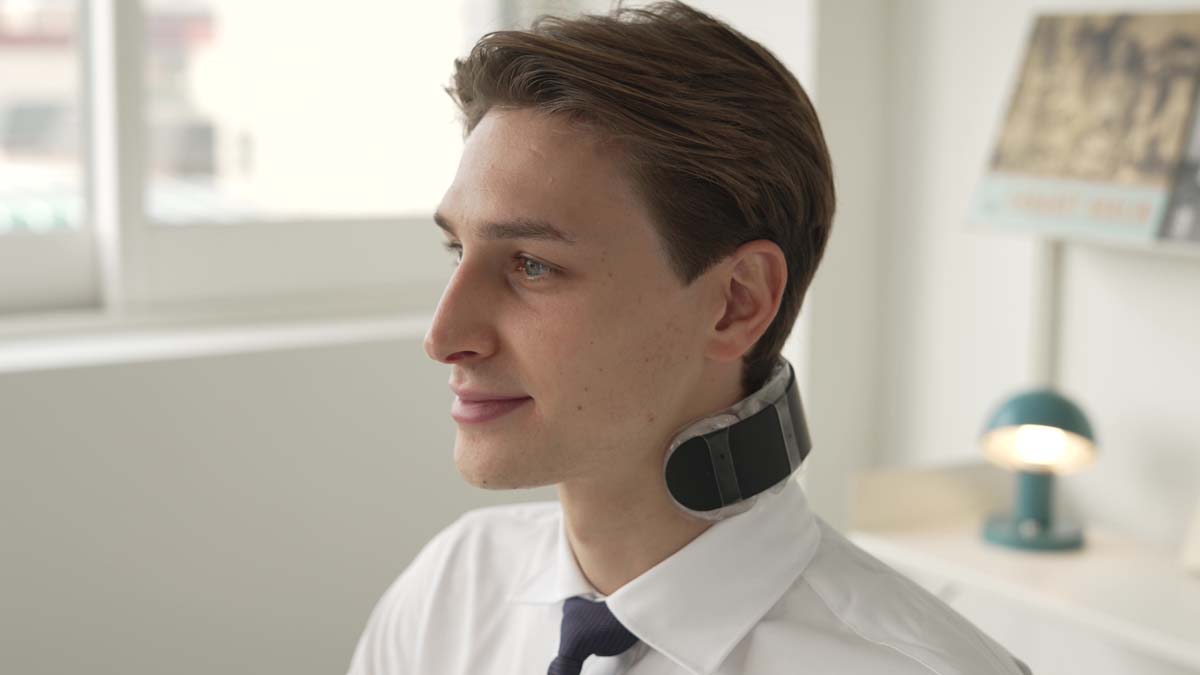 Features
Dual Temperature
One of the most notable features of THERMONECKS is its two temperatures. A single pad offers 57°F (14°C) for the most rapid and dramatic cooling sensation and 68°F (20°C) to make sure you will feel the most refreshed at the safest temperature point.
With the 57°F (14°C) strategically positioned near the cervical spine, which is the most stressed part of your body, you can feel instantly cooler without experiencing any pain or ice burn. On the other hand, the 68°F (20°C) can keep your temperature down for 30 minutes even after the 57°F (14°C) cell has melted. It is also the most effective temperature level to improve your metabolism.
Long-Lasting Cooling
The THERMONECKS provide longer cooling, so you can keep a more comfortable body temperature for an extended period. It can keep you cool for approximately 60 to 120 minutes when indoors and 40 to 70 minutes while outdoors. When not in use, it can keep its temperature for about 4 to 6 hours.
Instant Freezing
What's great about THERMONECKS is that its pad can freeze instantly. Just put it in the freezer, and it will be ready to use in just 20 minutes. This is very impressive since the FlexiKold and WORLD-BIO ice packs require 1 to 2 hours in the freezer to achieve your desired temperature.
Specs
| | |
| --- | --- |
| Temperature | |
| Weight | 0.4 lbs (0.18 kg) |
| Filling Material | 100% plant based fluid |
| Film Material | TPU non-toxic urethan film |
| Freezing Time | 20 minutes (freezer) |
What's unique about THERMONECKS is its use of a fluid that's made entirely from plants while others use bentonite formulations. Not only that but it is designed to freeze up at a specific point below room temperature. So if you don't have access to a freezer, then it's not a problem. Just run the product in flowing water, and it will be ready to use in no time.
The company applied a medical-grade TPU non-toxic urethane film as well, which means frosting is less likely. Such material also prevents water drops from forming when the fluid melts, making it more convenient to use than ice cubes and ice packs.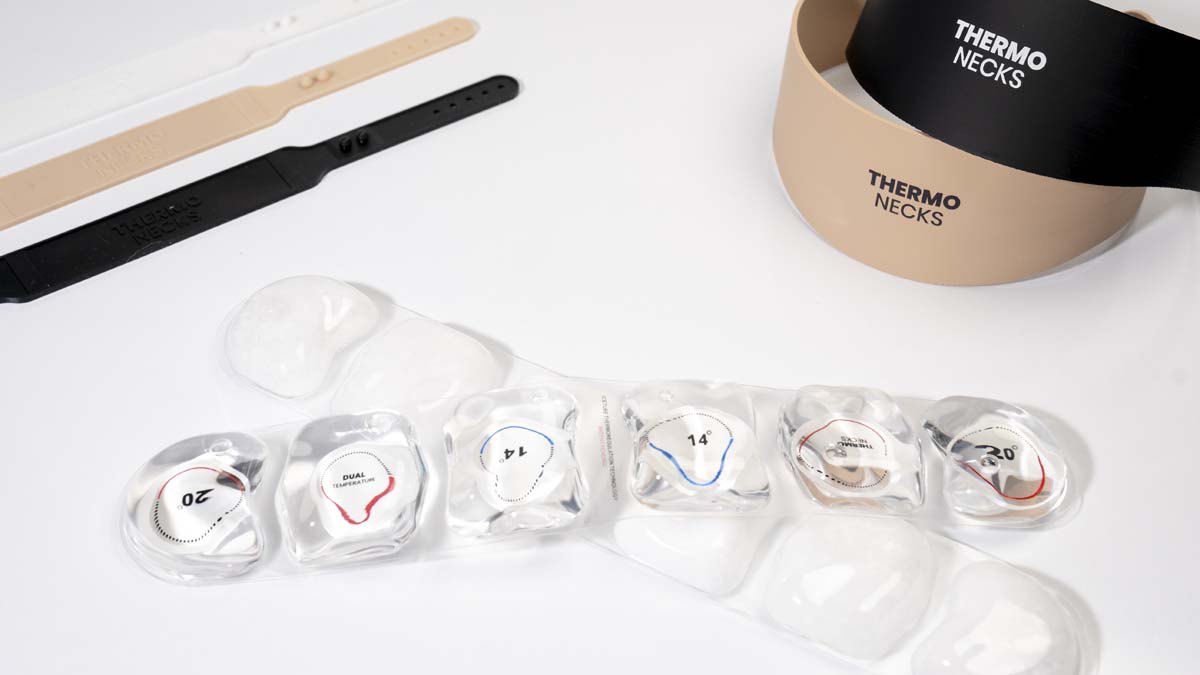 Design
From its name, THERMONECKS is designed to be worn around your neck. But unlike other neck ice packs, it doesn't have hook and loop closures. Instead, it uses an elastic neck support band. You can gently and firmly wrap it around your neck without worrying about choking or the item moving around or falling. So unlike ice packs, ice cubes, or even frozen peas, you can continue working, running, or doing any physical activity while using the device.
Another design feature of THERMONECKS that's worth noting is its portability. Compared to FlexiKold and WORLD-BIO ice packs, it is significantly smaller. This makes it easier to take along on trips, to the office, doing sports, or any outdoor activities. Since it is smaller, it's also more discreet, which makes it more ideal to use when you are not at home.
Adding to its portability is an option to purchase the company's case, which makes carrying the device easier. You can also buy a Super Charger and use it with the case to freeze the cooling pad in just 30 minutes. So even if there's no freezer or running water available, you can still use THERMONECKS to instantly feel cooler or alleviate neck pain. That said, you'd have to spend more if you want to enjoy such features.
Aside from the neck, you can also use THERMONECKS to cool down your forehead, eyes, and other parts of your body with the THERMO band that's included with every purchase.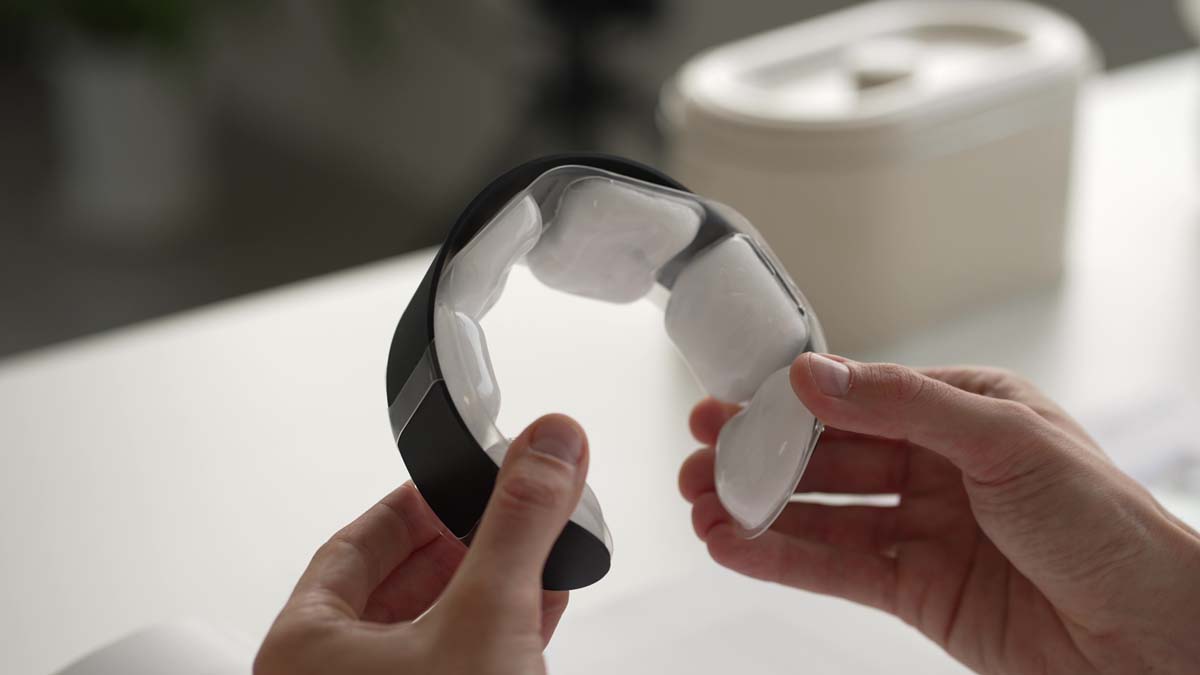 Final Thoughts
With its portability, instant freezing, and dual temperature levels, THERMONECKS is one of the best cooling devices for those who love to work out, do sports, or take part in different outdoor activities. By helping bring down your temperature, it can help you recover from exhaustion faster, make you feel cooler and refreshed, and even make you focus better. It also offers longer-lasting cooling, making it perfect for relieving neck pain, stiff muscles, and inflammation.
Sure, the THERMONECKS is more expensive than most ice packs around. But if you don't want to deal with products that melt fast, make your skin and clothes wet, and take hours to freeze, then it's highly worth it.
Make sure to check out the Kickstarter campaign.