Ever wanted a stock or crypto tracker? A to-do list? A mini-photo slideshow? What about a sleek weather and time display for a more presentable workstation? These are just a couple of things that a Tidbyt pixel display can do for you!
For those 8-bit enthusiasts out there, Tidbyt has launched its retro display project this month on Kickstarter and it has gathered almost $400,000 in funding as of this writing.
Tidbyt only requires a USB-C connection and you're good to go! It can also display anything you want as long as it fits in its P3 RGB 64 x 32 pixels LED matrix which is enough to fit an auto-updating Twitter feed.
This tiny block also has its own CPU powered by a 32-bit Dual-core Xtensa LX6 as well as Bluetooth Low Energy and Wi-Fi 2.4 GHz connectivity.
Read more: Terraplanter – Crowdfunded Hydroponic Planter
Schedule Displays and Adjust Brightness
The mobile app is very useful if you want to organize your daily lifestyle. Want a display reminder that informs you of the tasks that you need to do today once you wake up? The built-in scheduler in the app makes this possible.
You can even chain multiple displays to show simultaneously every 5, 10, or 15 seconds. This is useful if you're into trading stocks, forex or crypto and want a peek at your watchlist while doing your deliverables for the day.
It also has other lighting controls and a night mode when you're about to sleep. Tidbyt also has smart controls to adjust its brightness once the sun rises and sets.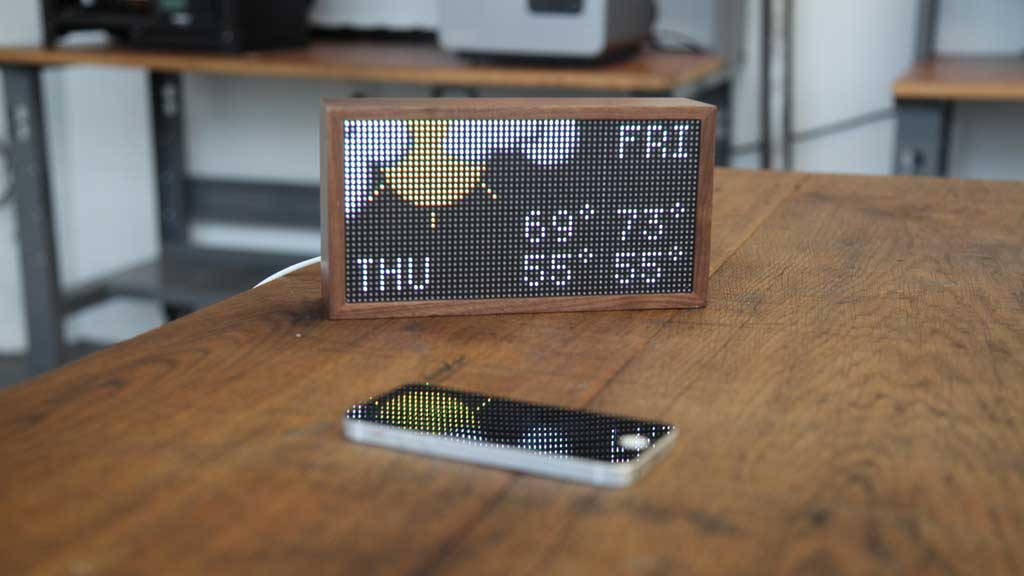 Go Crazy With Your Own Future Ideas
Not only does the Tidbyt have a lot of display options, but also you can run your own Python code for your own custom display using their existing development guide.
Some creative developers have taken advantage of this feature and one of them even created a mini Pokedex out of Tidbyt. If you enjoy tinkering with hardware, the team is planning to include a firmware development kit to push the functionalities of your Tidbyt to its full potential.
Units are already available for pre-order and shipping is pushed back later to September 2021. This is because the team mentioned that there's currently a hardwood lumber shortage plus a slowdown in shipping logistics.
But they have been working on setting up a manufacturing line in Shenzhen so hopefully, the production gets moved to an earlier date once logistics have been resolved.
Get your own Tidbyt at a Kickstarter special price of only $159 in select countries.