Skiing can be considered an extreme sport if we take into account the factor of safety. Transporting thru skiing is something not pursued by many because gliding on snow seems like a difficult task, but once you get the hang of it, it becomes a walk in the park for you. Skiing can prove to be fun and if it's not fun for you then either you're doing it wrong or it's just not for you.
Below are some of the basic skiing tips to make sure you have the best experience you possibly can, and these tips will make it worth your while.
Take Skiing Lessons
Taking lessons seems like a very obvious tip but having proper lessons is actually the most useful one. If you've gone through all the trouble to get your tickets and equipment, and are on the mountain sitting in the chairlift, what's the point if you don't know how to do what you came to do in the first place? Lack of knowledge sucks the fun out of the whole process. The main purpose of skiing is to enjoy and have fun. Some people learn on their own while some need some help to get on their own feet. Either way, taking advice from professionals and practice is a great way to make sure you're improving each and every day and adding a lot more fun to the equation.
Double-check your Equipment
Your skiing equipment plays a vital role in the experience you'll have on the mountain. Before the start of every season, you must ensure your equipment is in good shape and if you feel like something's wrong, take them to the local shop and get your equipment checked. Renting or borrowing the equipment doesn't matter but it has to match your body type to ensure you have the best experience. Different types of skis are available and you must decide which suits you the best with the help of a professional.
Listen to Music
Music is a great motivator. On your way up the mountain, listening to some peaceful melodies would be a great idea to start skiing. If you listen to music whilst skiing, you'll find that it gives a new dimension to the whole experience. Just make sure it's not too loud so if anybody calls you, you should hear it. Too much shouting or listening to very loud music is also not advised because such things are harmful and may cause an avalanche. If you keep the music to yourself then it's the best tool to make sure your time skiing is fun.
Get a Map
A map may be the most important thing in your inventory during skiing. You should know the ins and outs of the place you're about to be skiing at. Wherever you go skiing, make sure to always take a map before going towards the mountain and have it tucked in your jacket pocket. A dry pocket would be more preferable so the map doesn't get damaged due to humidity. The map shows the routes and the difficulty levels with its different coloring. You need to know where to start and where to end. Make sure to know your ability, look at the map and then plan your descent only if you believe you can make it. Don't go knocking on the wrong door. The different colors mark the difficulty level and terrain.
Green is for beginners
Red is easy
Blue is intermediate
Black is hard
Stay Hydrated
Skiing is fun but it is still a very demanding and tiring activity. Water is essential to keep you up and going for the whole day. Your body and muscles function because of this water and hydration is the key. Make sure you carry a water bottle in your inventory or backpack to save yourself from dehydration. As you have warm clothing on your body that causes sweating, water is also essential.
Put on Warm and Comfortable Clothing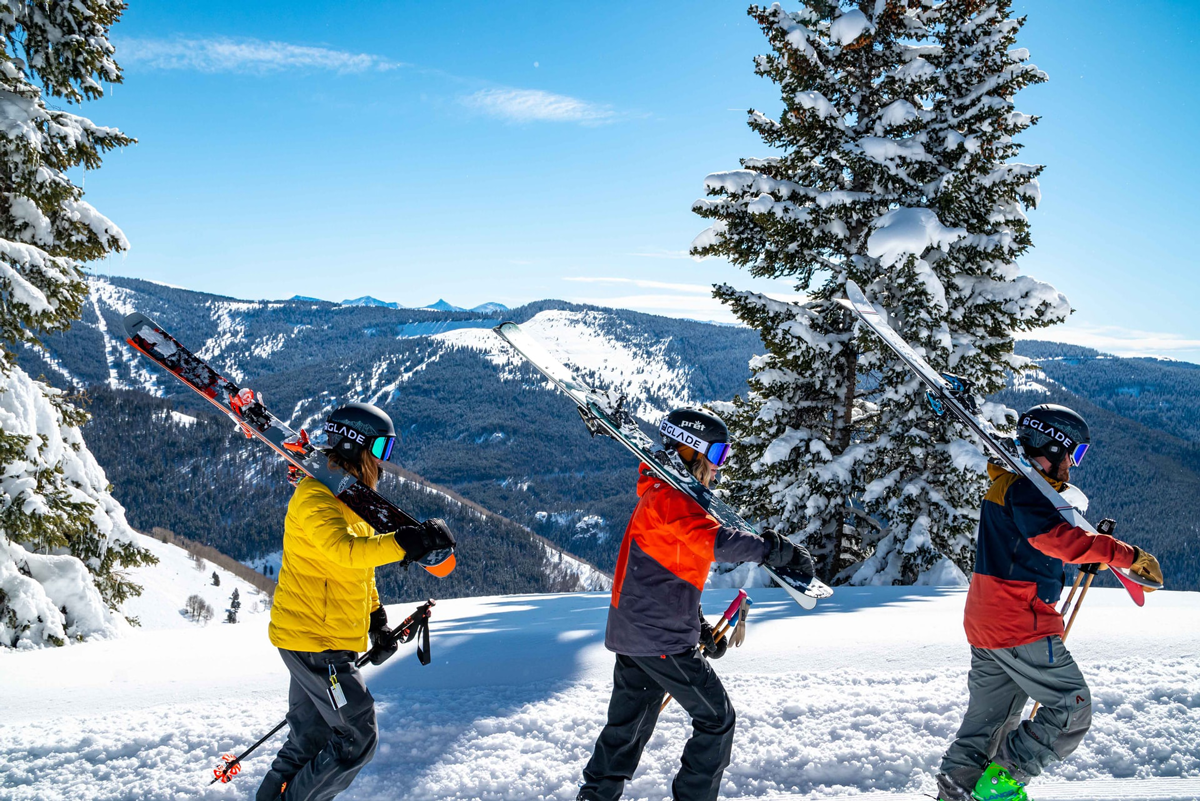 Staying warm is gonna play a huge role in your enjoyment on the mountain. If you feel like you're getting a bit cold, it's probably because you're dressed wrong or maybe lacking. Here are a few tips to follow and make sure you're dressed properly for the occasion:
Cotton needs to be avoided. Never wear it especially in a wet climate.
Layering up is a good technique to stop the cold. The base layer comes first which should be of wool and then the insulating layer comes which is followed by the waterproof or windproof jacket.
Skiing is an amazing sport. There's no doubt that skiing has a risk of injury and is not as easy as other sports but then again, there's a risk in everything. In this sport, some rules are needed to be met and certain requirements are to be fulfilled before you sit in that chairlift and start your ascent to the mountain. So, when you sure have followed those, then you're good to go!