While not quite at the level of obscurity as, say, the STOGA mechanical gaming keyboard, VicTsing is another relatively unknown brand trying to stand out among the slew of budget gaming peripherals flooding the market. The VicTsing RGB Mechanical Gaming Keyboard is their attempt at providing gamers with an RGB gaming keyboard that sports mechanical switches and sits at fraction of the price of better-known competitors.
CHECK TODAY'S PRICE HERE: No products found.
VicTsing RGB Mechanical Gaming Keyboard Review
Design & Build

Features

Total Value
Summary
VicTsing completely surpasses expectations by developing a sturdy gaming keyboard with quality mechanical switches, solid RGB backlights, and a stylish detachable metal frame, all for less than 40 bucks. It even comes with software support that lets you fiddle with the backlights more and allows you remap controls which is awesome.
They should've gone with Cherry MX Speed switches, I know, and combining the Numpad and arrow keys works better in theory than in practice, but you just can't beat the value that VicTsing brings to the table. Easily a frontrunner for best budget mechanical gaming keyboard.
Pros
✓ Weighty, sturdy build
✓ Detachable metal frame adds tremendous value
✓ Software allows you to customise RGB backlights and remap controls
✓ Budget-friendly price
✓ Built-in keycap puller is a nice touch
✓ Spill-resistant and has drainage holes
✓ Compact design
Cons
✗ Cherry MX Speed switches are better for gaming
✗ Numpad/arrow key placement feels clunky at times
✗ Base keyboard design may be too plain for some
Can it compare to the dozens of well-established brands already out there or is it just another cheap gaming keyboard trying to entice gamers with its mechanical keys and flashing lights? That's what we're going to find out in this VicTsing RGB Mechanical Gaming Keyboard Review.
Can't spare a few minutes to read the whole review? You can just click any of the links below to skip right ahead to that specific section.
What is the VicTsing RGB Mechanical Gaming Keyboard?
VicTsing made its debut in 2015 and is a fledgeling tech company that's primarily focused on creating desktop accessories for less. That's not to say that computer peripherals are the only things they make since they also design video projectors and car accessories as well. The company already has a handful of keyboards under their belt, with the being one of the few that's built particularly for video games.
Priced for those on a budget, VicTsing's gaming keyboard offers customizable RGB lighting and solid mechanical switches for those who aren't keen on shelling out as much cash as they would for a Razer or Corsair. It's a neat-looking keyboard that would fit just fine at home or in the office and has the added advantage of being pretty compact considering it includes a Numpad unlike STOGA's tenkeyless mechanical gaming keyboard.
Features
Gamers who enjoy a good light show will love the VicTsing Mechanical Gaming Keyboard's customizable RGB backlight that features 18 adjustable lighting modes. If you're looking to fine-tune the backlight, create your own presets, or even remap some of the controls, the device comes with its own software that allows you to do just that.
The keyboard uses Cherry MX Blue switches which may be great for some but not so much for others. Don't get me wrong, Cherry MX Blue switches are quality stuff but are at their best when used for typing thanks to its increased tactile feedback and the longer actuation distance and time it takes to press down on the keys – something that's not particularly good for gaming since you'd want the superior reaction speed of something like Cherry MX Speed switches.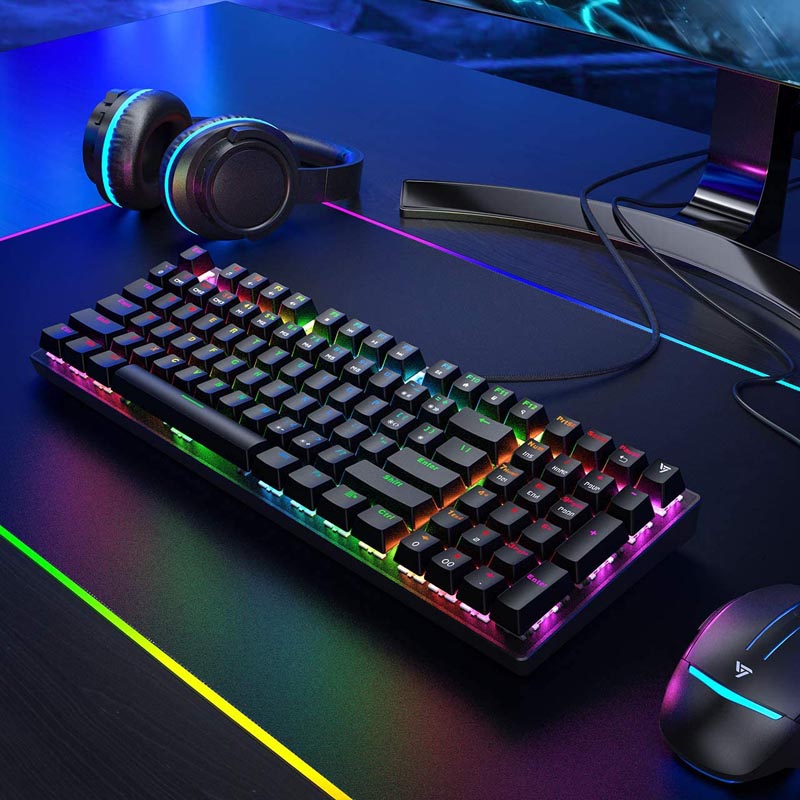 The MX Blues are also known for their notoriously loud clicks which some people really enjoy, but those who prefer their mechanical keyboards on the quieter side may just find them annoying. On the plus side, you won't have to stress about removing the keycaps since the keyboard comes with its very own keycap puller that's hidden on its backside along with a spare keycap.
The VicTsing RGB Mechanical Gaming Keyboard is spill-resistant so having liquids near your device shouldn't worry you too much. It's even designed with a couple of drainage holes at the back that you can use to remove accidental liquid spills by tilting the device. There's also a groove towards the top of the keyboard's rear where you can store its cable to save space and minimize clutter.
---
Here's our list of the best water-proof keyboards if you're prone to spiling drinks.
---
Specs
| | |
| --- | --- |
| Dimensions | 42.80 x 17.50 x 5.51 cm |
| Weight | 1.12 kg |
| Size | Full-sized – 96 keys |
| RGB Lighting | Yes |
| Backlight Modes | 18 preset |
| Switch Type | Cherry MX Blue |
| Media Controls | Yes (F1 – F12 keys) |
| Spill-resistant | Yes |
| Connection | Wired USB |
| Dedicated software | Yes |
Aesthetics
VicTsing's mechanical gaming keyboard isn't much to look at, really. It sports a compact, ergonomic, no-nonsense design that really doesn't say "gamer" save for its RGB lighting. While this may be disappointing for people who enjoy wilder designs, minimalists and users who plan on taking the keyboard to the office will adore it. The base keyboard comes in jet black but you can opt to purchase the white detachable metal frame for a whopping $2 extra which is just incredible value.
The metal frame gives the keyboard a noticeable bump in style thanks to the contrasting black and white colours. This puts it a few steps ahead of the STOGA mechanical gaming keyboard when it comes to eye-candy.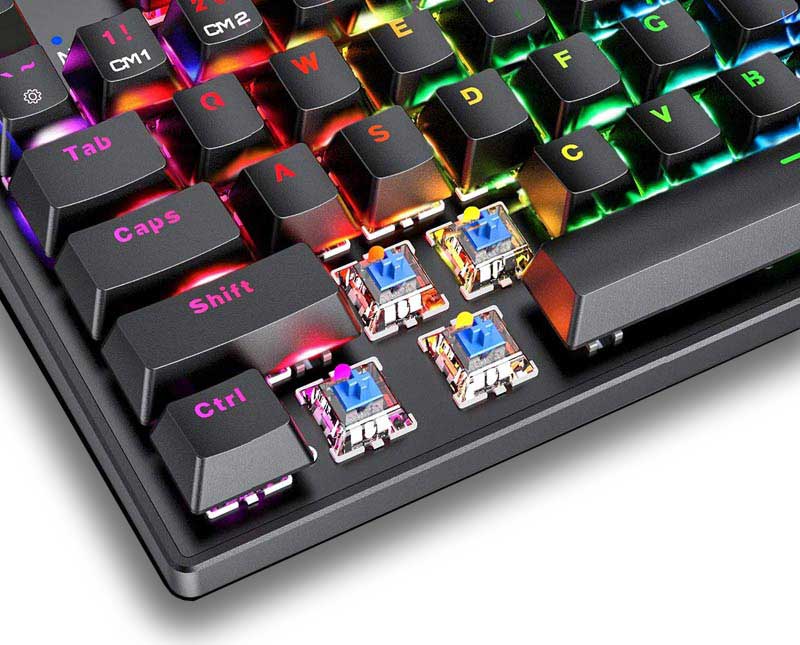 What's it like to use?
The keyboard's keys are crisp and responsive and feel just as comfortable as a lot of the more expensive mechanical keyboards out there. After all, you can always count on Cherry MX Blue switches for satisfying tactile feedback. However, as previously mentioned, they feel better for typing on account of the longer switches and lengthier actuation times compared to MX Speed switches that are more geared towards a better gaming experience. A wrist rest would've also been a welcome feature, but shouldn't really be expected with a sub $40 price tag.
Using VicTsing's proprietary driver software to manipulate the RGB lighting is simple and straightforward and the fact that you can remap the keys is a huge plus for gamers who enjoy more customizability with their controls. One of my chief concerns with the HyperX Alloy Core RGB was its lack of software support, so it's nice to see a lesser-known brand show them how it's done. The backlights look great and offer lots of different modes to switch through, although it would've been nice if the characters on the keycaps themselves lit up as well but that's just me being nitpicky.
One of the best things about using VicTsing's mechanical keyboard is how weighty and sturdy it feels. Weighing in at over 1 kg, the keyboard feels secure on your desk and avoids shifting even during intense gaming sessions. It definitely doesn't come off feeling cheap. The compact design is fantastic for saving space or for use as an external laptop keyboard. The Numpad and arrow keys share the same space and can be switched between using a dedicated button on the top right of the keyboard that bears the VicTsing logo. While it's a novel idea that gives the device some extra legroom, it can feel unwieldy at times especially if you're still getting used to it.
Final Thoughts
VicTsing didn't pull any punches when they designed their mechanical gaming keyboard. They just wanted to give gamers a little bit of everything, and that they did. For an affordable price, you're getting top-shelf mechanical switches, a highly customizable RGB solution, remappable keys, and a magnetic detachable frame. Heck, they even threw in a keycap puller and a spare keycap.
No products found.
It offers software support, which is more than I can say for some of the leading brands out there, and feels comfortable and sturdy to use. While going with the Cherry MX Blue instead of the MX Speed might be a tad questionable and grouping the Numpad and arrows keys together tends to be confusing at times, that does little to hold back the VicTsing  RGB mechanical gaming keyboard from being one of the top budget gaming keyboards out there.
Last update on 2022-05-18 / Affiliate links / Images from Amazon Product Advertising API