Summary
If you're after an Android TV projector that's small enough to bring along on trips or to your buddy's place, then the XGIMI MoGo Pro+ is your best bet. It has exceptional video and audio playback, expansive storage, a compact design, and you can even use it as a portable speaker when you just feel like relaxing to some tunes. Its price is steep but excellence hardly comes cheap.
Pros
Crisp visual quality
Auto keystone correction is a must for portable projectors
Compact design is incredibly handy
Can be used as a portable speaker
Miss the experience of catching a movie in the theatre with family and friends? With the pandemic still lingering, there's no telling when the next time we'll be able to watch a flick on the big screen. The XGIMI MoGo Pro+ looks to remedy this by providing moviegoers with a bite-sized cinema that they can take with them wherever they go.
It's a portable projector that promises crisp visuals, stellar sounds, an impressive battery, and a smart system. But does such a tiny gizmo really have enough under the hood to show movie buffs and casual watchers a good time? We've busted out the popcorn and decided to try the little guy out for ourselves, in this XGIMI MoGo Pro+ review.
Can't spare the time to read through the entire review? Just click any of the links below and we'll take you straight to that section:
Overview
XGIMI is a tech company that specializes in high-spec laser TVs and multipurpose smart projectors. Since the debut of their first smart projector back in 2014, they've managed to partner up with some big names, including Google, Harman/Kardon, and Texas Instruments, providing quality products to everyday users.
Their MoGo Pro+ is an Android TV portable projector that outputs in full HD and offers crisp audio through its Harman/Kardon dual speaker. It's also about the size of a bottle of water, meaning you can effortlessly carry it around, and its top-shelf build ensures that you can watch movies well into the next decade without it breaking down.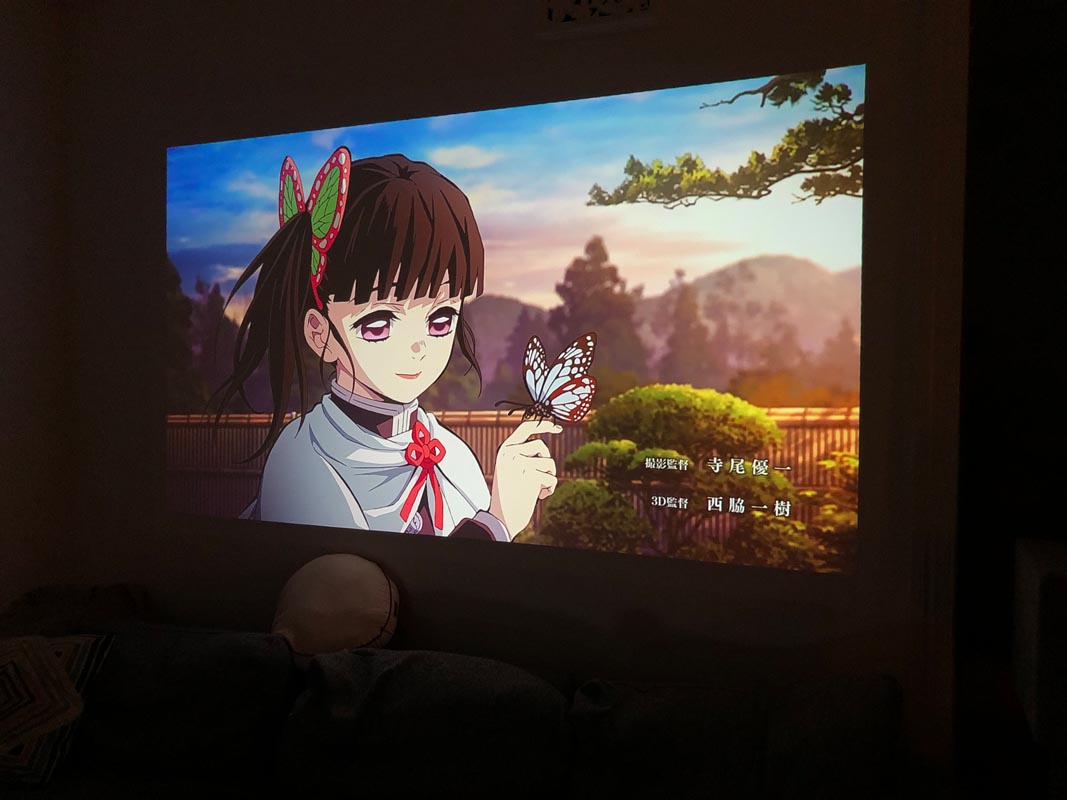 What's it like to use?
Overall this was a delight to use, with a relatively easy setup (minus some small hitches) and a quality user experience once things were up and running. It connected to the Wi-Fi seamlessly and quickly, unfortunately there were some small issues associating my Google account, but this could have been for a number of reasons. In the end, I used the "Connect from phone" option, which worked first time.
Due to the layout of my room, I was forced to position to projector at an off-angle, which would have been a big problem for less sophisticated projectors, but is no problem for the XGIMI MoGo Pro+ and it's auto keystone feature which calibrates the image with respect to the angle of projection. This worked like an absolute dream and is a huge plus in the portability department.
There is a stand which helps to vertically angle the projector and the option to attach tripod if needed, which I didn't. Nonetheless a nice addition.
I connected my laptop to the XGIMI MoGo Pro+ using HDMI in order to watch my usual anime-heavy diet of evening shows. There are a number of pre-installed apps built into the system including Netflix, Prime, Stan and Disney+.
Despite these options, I had already planned on an anime session and sat down to enjoy it. The image quality is very good, even when positioned at an off angle. The auto keystone tech is really good! One downside is the built-in speakers which were on the quieter end, but they did sound relatively nice.
Another night, I decided to move the projector outside, and the image quality was still very good, despite there being more ambient light. It truly is a portable projector and does an excellent job both inside and outside.
The battery lasted just over 1.5 hours on average, which is enough to get through most films, but if you're planning on a longer session, then I'd advise to plug it in!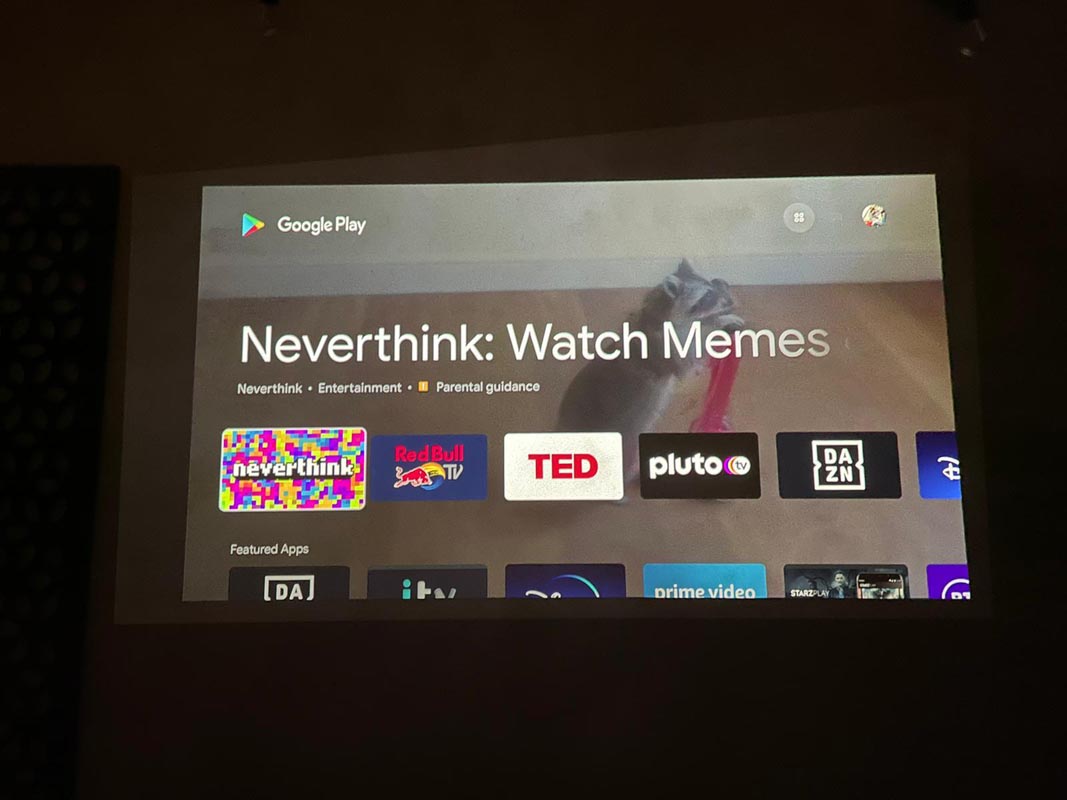 Features
Full HD Resolution
Unlike most mini-projectors that sacrifice visual quality for a smaller stature, the MoGo Pro+ manages to achieve 1080p Full HD resolution for a crystal clear viewing experience.
Auto Keystone Correction
This is an algorithm coded into the device's processor that allows it to self-correct its lens to accommodate the surface it projects on. Without this feature, you'd have to adjust the lens and projector manually or else your image will likely appear distorted and difficult to look at.
Dual Speaker System
The MoGo Pro+'s sound system is comprised of a Harmon/Kardon dual-speaker that's tuned by professionals Gold Ear Lab, so you can expect punchy audio that's ideal for both movie watching and sound tripping. In fact, the projector doubles as a portable speaker that you can connect to either via Bluetooth or a 3.5mm audio cable.
Portable Design
It's a tiny little device that stands a mere 14.7cm high and weighs just shy of one kilo. With a size and weight like that, carrying it around in your hand is a breeze and you can easily toss it into pretty much any backpack for when you want to bring it with you on a trip.
Integrated Stand
The projector has a small stand hidden at its base that allows you to elevate it between 0 to 30°.
Unobtrusive Auto Focus
Don't worry about twisting or moving the MoGo Pro+. It includes an autofocus feature that automatically compensates, keeping the picture crisp at all times.
Generous Memory
Don't have access to the internet while you're out and about? The projector comes with 16GB worth of storage for you to load up with films and music for you to take with you on your outings.
Long Shelf Life
Due to the efficiency of the MoGo Pro+'s LED light source, it's able to consistently provide you with quality visuals for upwards of 30,000 hours, meaning it can comfortably keep on kicking for the next decade or so.
You will also like the Bluetti 500 portable power station!
Specs
Optical Parameters
| | |
| --- | --- |
| Display | DLP |
| Luminance | 300 ANSI LUMENS |
| Standard Resolution | 1920 x 1080 (1080p) |
| Specialty | 3D |
| Display Chip | 0.23" DMD |
| Compatible Resolution | 2K/4K |
Projection Parameters
| | |
| --- | --- |
| Projection Ratio | 1.2:1 (76-INCH @2M) |
| Off-axis | 100% |
| Auto Keystone Correction | Vertical: ±40° | Horizontal: ±40° (2D) |
| Projection Method | Forward, Backward, Hang Ceiling |
System Parameters
| | |
| --- | --- |
| CPU | AMLOGIC T950X2 |
| RAM | 2GB |
| GPU | MALI-G31 |
| Storage | 16GB |
| System | Android 9.0 |
| Mirroring Display | Chromecast |
Sound Parameters
Ports
Input
1xDC

1x HDMI

1x USB 2.0

Output
1x Headphone
WiFi
Dual-band 2.4/5GHz | 802.11A/B/G/N
Bluetooth
Bluetooth 4.2/5.0
Electrical Parameters
| | |
| --- | --- |
| Noise | <30dB |
| Power Dissipation | 65W |
| Power | AC100 – 240V | 50/60Hz |
Other Parameters
| | |
| --- | --- |
| Size | 146 x 105.5 x 94.5 mm |
| Net Weight | 0.9kg |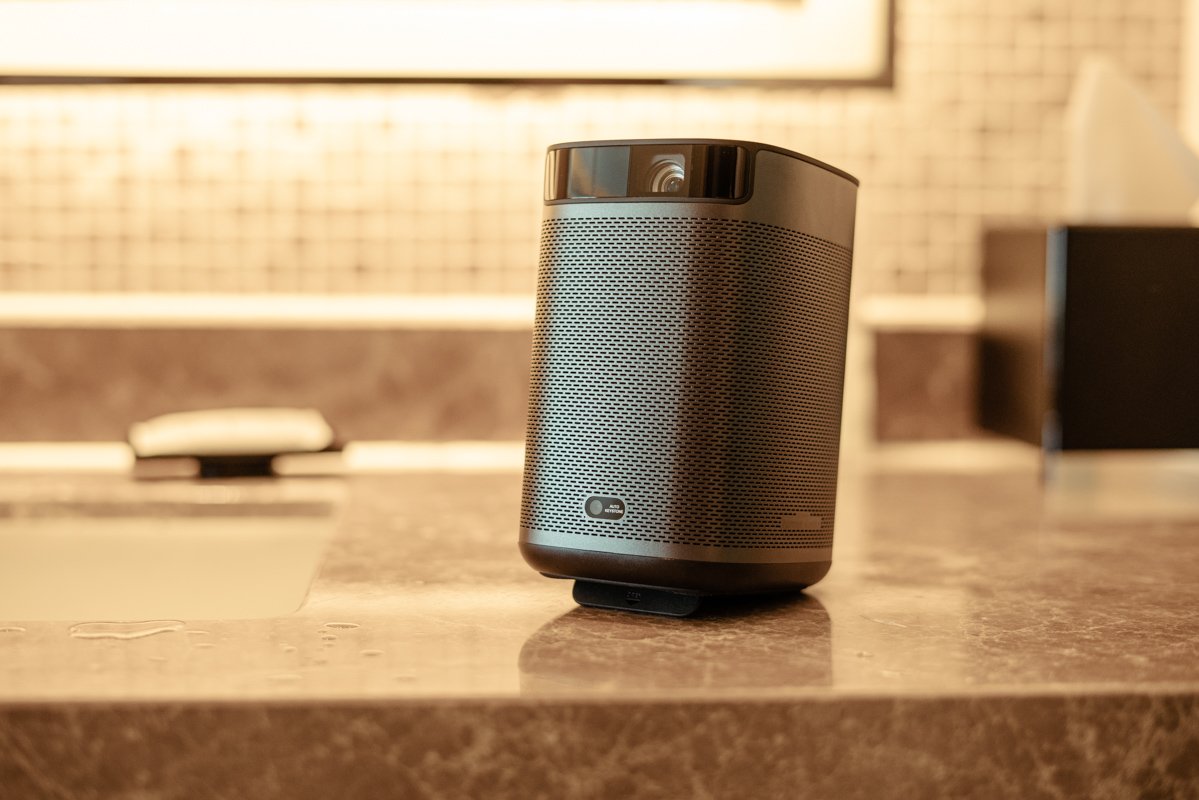 Aesthetics
The MoGo Pro+ sports a cuboid shape with rounded corners and flat ends. It stands vertically, with the lens located towards the top of the device, while the majority of its body is perforated like a speaker in order to emit sound. At the back, you'll find the power button along with four different ports and at the bottom, there's a little stand you can flip open to give the MoGo Pro+ a bit of an incline.
The projector is mostly dressed in a classy coat of grey, though there are a few black highlights towards the top and bottom of the device. It's easy to mistake the MoGo Pro+ for a portable speaker since it bears quite a resemblance to a lot of the ones you can find on the market nowadays.
It's an eye-catching piece of equipment whose design is a pleasant departure from that which we've come to expect out of portable projectors.
Conclusion
The XGIMI MoGo Pro+ is an interesting take on portable projectors, featuring sharp Full HD visuals that are optimized through an auto keystone correction system. It's also got a solid Harman/Kardon sound system for an exceptional audio experience and enough built-in memory to house a bunch of your favourite movies and songs.
To top it all off, it boasts a sleek design and it's compact and light enough to effortlessly take with you wherever you're going. Perhaps its only hitch is its hefty price tag which is a fair bit steeper than a lot of the competition. If you can spare the coin and are in the market for a high-quality portable projector, the XGIMI MoGo Pro+ is the cream of the crop.