Buying wine gadgets can be an arduous task if you're trawling the web in search of the perfect wine accessory. We've tried to make this task much easier by putting together this list of the best wine gadgets we could find! If you need an electric wine opener, we got you covered. Wine thermometer, tick! Wine chiller, yep here!
This list of wine gadgets will enhance your wine drinking experiences and take your wine game to a whole new level!
Also, if you're more of a beer drinker, click here to look at our favourite beer gadgets!
Feel free to skip ahead to any of the wine gadgets below:
WAERATOR Instant 1-Button Electric Aeration and Decanter Wine Pourers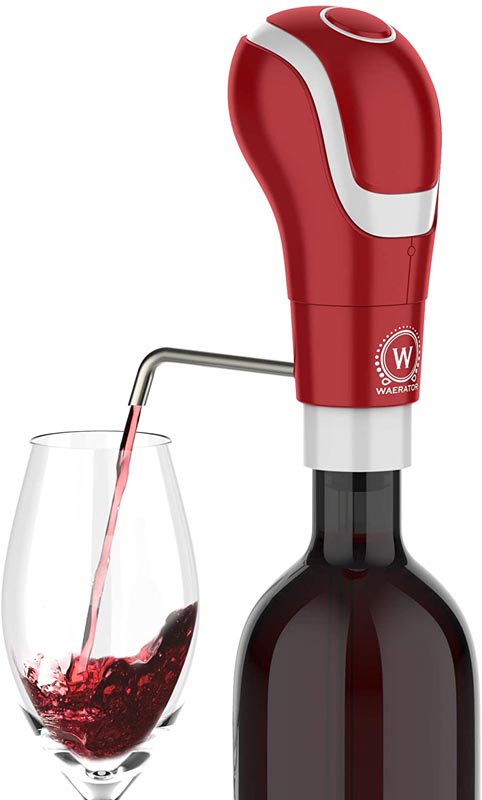 WAERATOR Instant 1-Button Electric Aeration and Decantertakes the wine tasting experience to a whole new level. It minimizes the waiting time for the aeration and tannin oxidation from 30 mins. – 1 hour to a single push of a button.  This great innovation not only dispenses your wine but it also preserves its great quality for up to 4 days.
Because it has a dual infusion and suction system—and it vacuum seals—it preserves the wine better than the ordinary cork.  This makes a handy tool to have when going out to vineyards for wine tasting adventures. Or even when going out for a romantic picnic out on the park. Why? Because it's battery-operated so you can have it at the ready anytime!
Things you should know:
Its cleaning maintenance is so easy to do
A great gift, especially for wine lovers
It needs 4 AAA batteries
Some customer reviews note that the device is great but doesn't last as long
---
Cuisinart Electric Wine Opener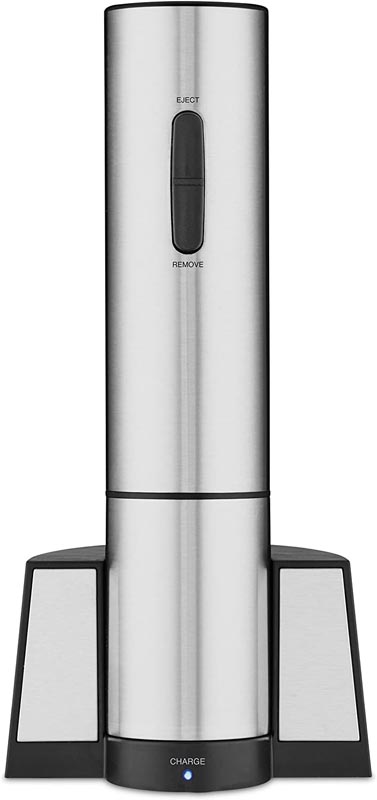 The Quisinart Electric Wine Opener is the answer to corks shooting everywhere when popped!  It's a rechargeable automatic corkscrew that can open up to 50 bottles in one full charge. It is also very easy to use with a simple click of two buttons — one for uncorking (Remove) and the other for releasing the cork (Eject).  It is stainless steel so it's strong enough to take the pressure of removing that tight-fitted corks. It can seamlessly both synthetic and natural corks without breaking them.
Things you should know:
It's light-weight as it only weighs 2 pounds
It's cordless so it's handy to have around
There's a foil cutter included
May not be best for busy pubs and restaurants as it'll shut down on you when it reaches the 50-bottle limit.
---
Corkcicle Air 4-in-1 Chiller, Aerator, Pourer, Stopper

The Corkcicle Air is a chiller, an aerator, a pourer and a stopper — all four in one.  For its chiller feature, it's made from BPA-free plastic and non-toxic freeze gel. Other users testified to being able to leave the Corkcicle Air for months at a time without having any issues.
There's built-in aerator feature as well to assure enhanced profile of any of your wine. But how does it pour out the wine, you ask? The spout is inside the cork. The top part of the cork serves as the cap and when taken off, you'll see the pour spout. It won't leak because the cork is tightly screwed in from within the bottle (the stopper feature).
Things you should know:
The pourer and stopper feature is so convenient — removing the hassle of corking and uncorking each time you need a drink.
The cork only measures 7/8″ diameter so it won't fit bottles with larger mouths. It will only be compatible with standard-sized wine bottles.
---
Coravin Model Two Plus Pack – Wine Preservation System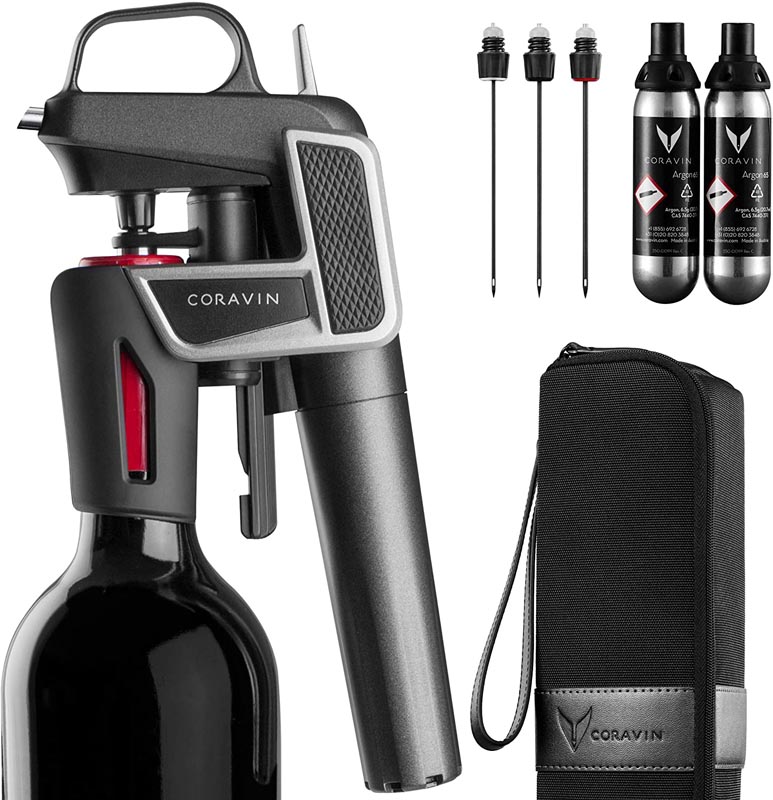 The Coravin Model Two Plus Pack lets you enjoy wine without the hard labour of removing the cork. It gives you the freedom to have any wine you want at that moment and not just what's already open in the fridge. It comes with two option: the Model Two Premium and the Model Two Plus Pack.  With the plus pack, it has everything you need to get started. You have the wine preserve, 2 Coravin capsules and 3 replacement Coravin wine needles — all packed in one stylish and durable carry case.
Things you should know:
It makes wine bottle opening easier
It has its own carry bag so all parts are in one place
The whole process may be confusing or too hard to figure out for the non-tech savvy
With the model, both premium and plus pack, there are only 2 Coravin capsules. Each capsule is only good up to 15 pours of 5-ounce glasses.
You will either buy extra Coravin capsules separately or opt for Model Eleven with 6 capsules in the pack.
---
Vacu Vin Wine and Champagne Bottle Snap Thermometer

Remember those snap bracelets that we so loved when we were kids? Now, adults can have one too but for their loved wine bottles. It's called the Vacu Vin Wine and Champagne Bottle Snap Thermometer.  With as simple as snapping this flexible band around the outside of your bottle, it'll be able to measure the current temperature of your wine or champagne. And we all know that wines should be at their perfect temperature before we drink them.
For those who are not sure what their wines' perfect temperature is, Vacu Vin has got you covered because the package includes a reference chart with for a variety of wines and champagnes.
Things you should know:
It's best for serious wine lovers who prefer to take their beverage at its perfect temperature.
It won't read both in Celcius and in Fahrenheit, you have to buy a version of either of it.
Temp reading may not be as accurate
---
Huski Wine Cooler – Premium Iceless Wine Chiller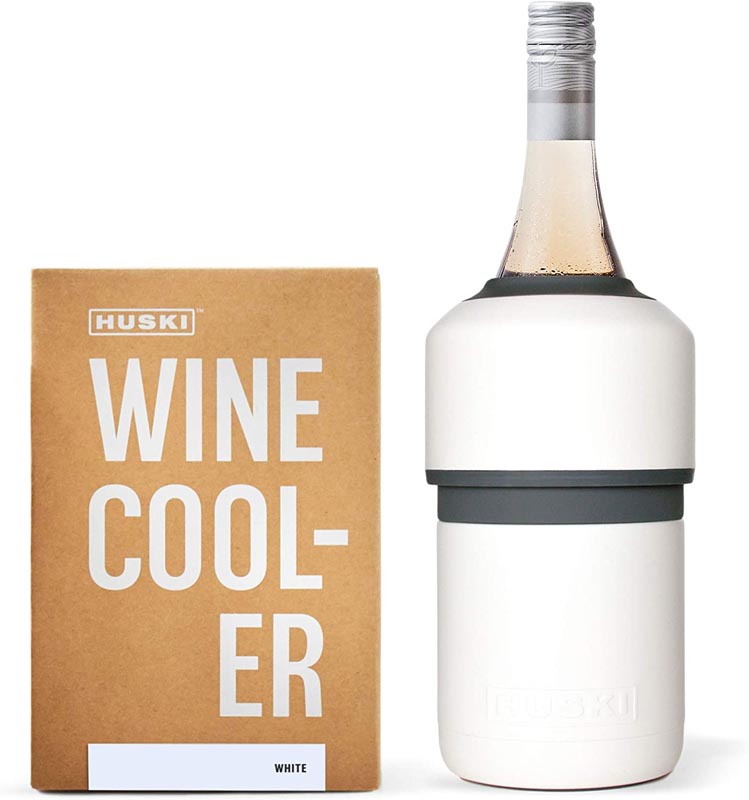 Take the mess out of letting your wine bottles sit on ice buckets for ice with the Huski Wine Cooler/! It's a premium iceless wine chiller that keeps your wine bottles chilled for up to 6 hours. It's the ultimate wine accessory!
You can't go wrong with this as your gift, either for a birthday, a housewarming or for a wedding, especially for the wine lovers. It's also best to have around, most especially at the outdoors like picnics or barbeques.  Like a great thermal container, the Huski Wine Cooler is triple-insulated; its double-walled, vacuum insulated, and copper lined. Its internal copper plating is designed for improved thermal efficiency.
Things you should know:
It eliminates the wet and messy condensation experience that we are used with ice buckets and other coolers
It will only fit most standard 750ml wine bottles. It won't fit bottles such as Dom Pérignon, Bollinger, Krug, Korbel and other wider or taller bottles.
---
OXO SteeL Wine Stopper and Pourer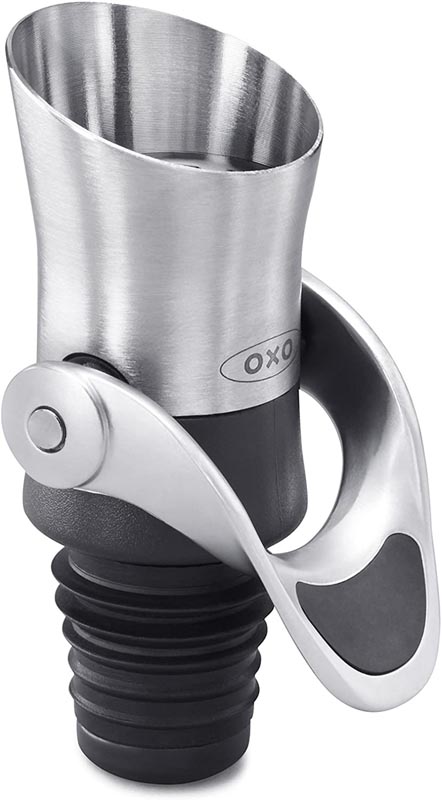 The OXO SteeL Wine Stopper and Pourer/ is a simple contraption that does the trick — it works as a great pourer and a stopper. There's no complicated instruction nor added power supply needed. It's as simple as screwing it on your cork-fitted wine bottle. Lift the lever to pour the wine without spilling and lower it down to close the opening. It's elegant looking, i's durable and it's so easy to clean. Not to mention, it's so light to the budget.
Things you should know:
It accommodates all size wine bottles
Dishwasher safe
It can only preserve the wine for short-term storage
---
Sovrano Wine Gems – Set of 4 Stainless Steel Wine Chillers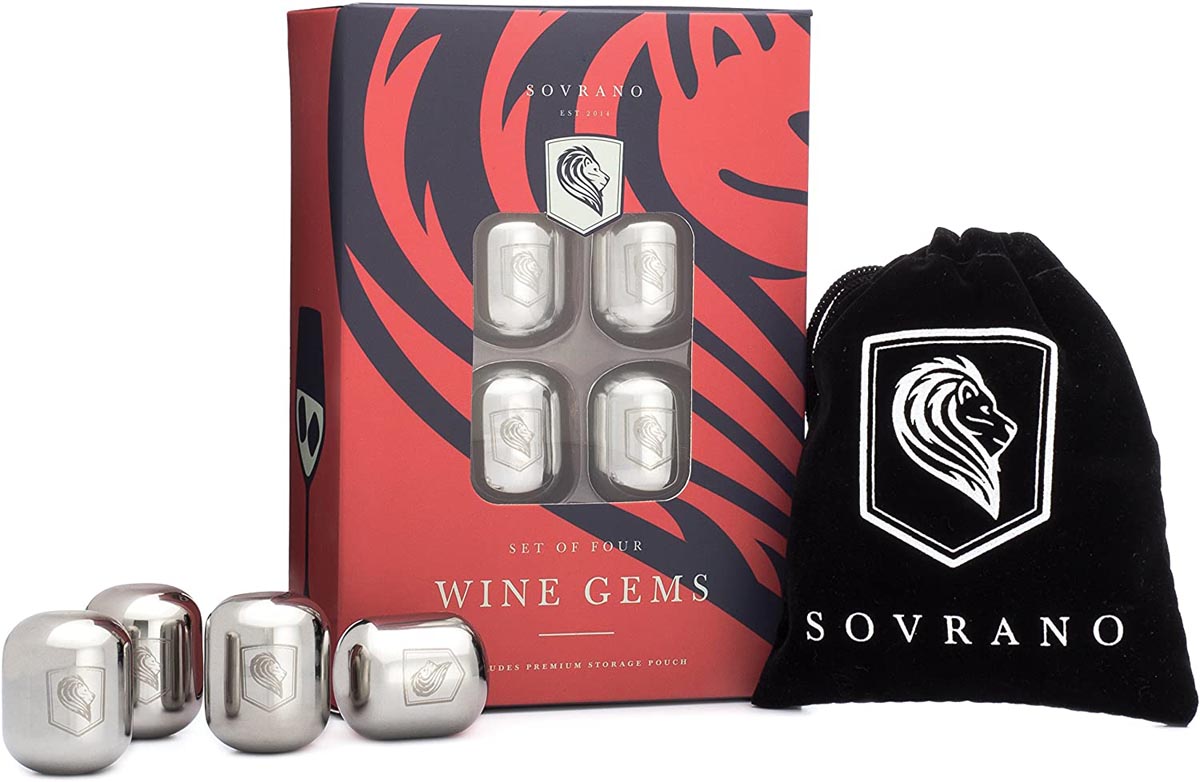 Sovrano Wine Gems/
Sovrano Wine Gems is the perfect alternative to ice! Diluted ice can ruin the taste of your wine. That's other wines are best served at its perfect chilled temperature so that you won't need to put in ice on your drink.  But that can be solved with Sovrano's wine gems.
They are made from solid food-safe stainless steel, which means they will never stain or rust.  It's another iceless way to chill your wine in your glass. It's not filled with any chilling liquid nor do you have to put water inside.
With this, you are assured that there will be no melting of any kind within your glass so your wine will stay as pure.  All you have to do now is keep these gems on its own pliable ice tray and pop them to your glass to keep your wine chilled.
Things you should know:
Perfect for gifts
It's not too small for you to accidentally swallow them
You have the option to put only one or two in and not the whole set.
There's no definite time duration as to how long the gems can keep your wine chilled.