The best cooling fans offer much-needed respite in warmer weather and keep you cool at a much lower cost than air conditioners.
If you're sweating at night and suffering in the day then it's probably time that you seriously consider doing yourself a favour and picking up a fan to get you through those nightmare 30ºC+ days and nights.
TL;DR: The #1 Cooling Fan for Most People 👇
Price reduction
De'Longhi 360° Pedestal Cooling Fan
This fan is the fan you wished you had when you first thought about buying a fan.
It ticks every box you would ever need a fan to tick and even some extra ones, like nature mode.
Nature mode will simulate a breeze by taking advantage of the oscillation and speed levels. It's really cool stuff!
So if you need a fan to keep you cool, busting with features, and at a more than fair price – you've found it!
How We Picked the Best Cooling Fans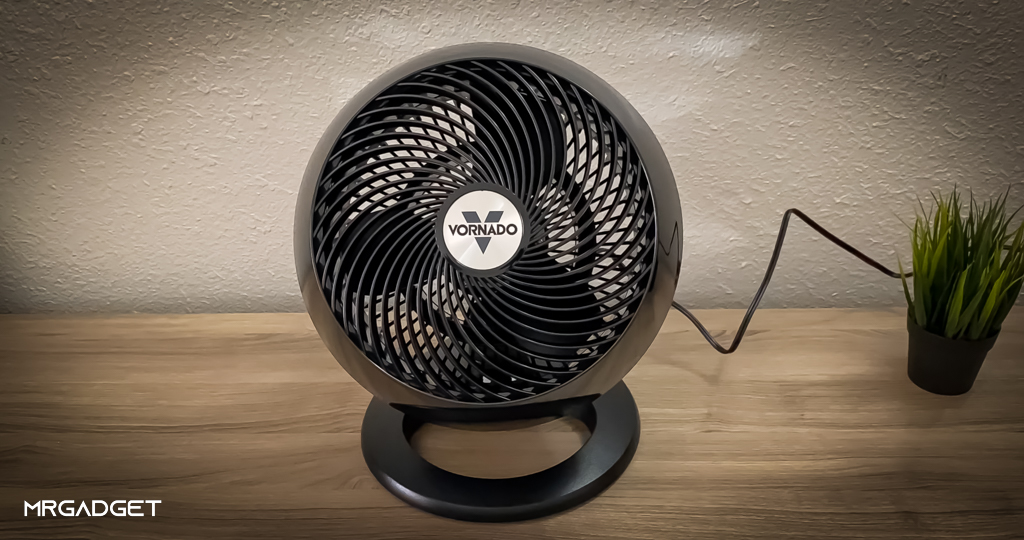 Cooling fans are a dime a dozen and come in many types, shapes, styles, and price brackets. There are 100s of different fans to consider and to help you out we thoroughly researched the best fans available to buy in Australia.
We did this by identifying 63 different fans from well-known brands in the marketplace, as well as some lesser-known brands that caught out eye. We then grouped them based on fan type and cost. With these different groups of fans, we then compared their features, attributes, customer reviews, and testimonials.
With this research method, we were quickly able to remove over 40 fans that didn't cut the mustard. We then repeated the process twice over until we were left with the 7 fans you see below!
The Best Cooling Fans to Buy in Australia
Best for Most People
De'Longhi 360° Pedestal Cooling Fan
Vornado Air Circulator 660
ANGELO Bladeless Fan 2 in 1 Airflow Cooler
Goldair 117cm Wifi Enabled Tower Fan
Heller 50cm High Velocity Floor or Desk Fan
Control Method
LED Display with Buttons / Remote
LED touch screen & remote
App and on-device buttons
Best for Most People
De'Longhi 360° Pedestal Cooling Fan
Control Method
LED Display with Buttons / Remote
Vornado Air Circulator 660
ANGELO Bladeless Fan 2 in 1 Airflow Cooler
Control Method
LED touch screen & remote
Goldair 117cm Wifi Enabled Tower Fan
Control Method
App and on-device buttons
Heller 50cm High Velocity Floor or Desk Fan
1. De'Longhi De'Longhi 360° Pedestal Cooling Fan DEAPF40WH
Price reduction
Why we like it:
360° automatic horizontal oscillation
 3 wind modes: Normal, Nature and Sleep
90° manual vertical oscillation
Minimalist and sleek aesthetic
LED Display
What customers say:
"Great product, was quite easy to assemble and the 360 oscillation is so cool to improve the air flow of the room." – Peter P
The De'Longhi360° Pedestal Cooling Fan takes the number 1 spot on this list thanks to its all-around cooling ability at an affordable price point. It doesn't offer every bell and whistle found in some of the 400 dollar + fans, but what it does is cool you and the air around you down excellently.
It does this using high-quality blades designed to effortless move and cool the air down. The 360-degree oscillation is a rare feature among pedestal fans and one that provides much more flexibility and functionality. Instead of just moving air at the usual 90-degree angle, this fan can create air currents around the entire room.
There is also the nifty "nature" setting which simulates a cool summer breeze that adds a cooling breeze usually found only on fans that cost much more. This is a great feature that can help create a much more relaxing atmosphere, especially on those hot summer nights.
On top of the great cooling features is a durable and high-quality build that also looks great. This certainly doesn't look like one of the cheap pedestal fans and wouldn't look out of place in any trendy living room!
So if you're after an effective, stylish, and affordable high-quality cooling fan this summer, look no further!
---
2.
MI Smart Standing Pedestal Fan 2 ACCS
Price reduction
Why we like it:
Powerful yet quiet
100 different speed settings
Innovative nature mode that simulates wind
120-degree oscillation
Remote controlled and App integration
What customers say:
" The fan is assembled in 5 minutes, the design is very beautiful. Well made and good feel
App connection worked without any problems for me, and then the integration into SmartHome and Alexa. " – Amazon Customer
The Xiaomi Mi Smart Standing Fan 2, Smart Fan, BLDC Motor, Control Via App, Double Blades, Voice Control, Up to 100 Ventilation Levels, Silent Mode, White, Italian Version takes the top spot on this list of the best cooling fans due to its combination of strong airflow, low noise, and versatility. It uses a double blade to generate strong airflow that is 15% more air volume than a single-bladed fan.
This makes it incredibly effective even in larger rooms, particularly when you take into account the oscillation mode which ensures the airflow reaches every corner of the room. Arguably the most impressive thing about this fan isn't the amount of airflow it produces but how quietly it does it too!
Many Amazon customers specifically mention how quiet this fan is even on the highest level of the three speeds settings on offer. On the low, this fan is almost silent, while still being more than enough to create a more comfortable environment.
It's also an incredibly versatile cooling fan thanks to its adjustable neck that can go as high as 48″. This makes it suitable in more situations than other fans thanks to its more precise positioning.
It's not just versatile but also convenient and innovative. The app integration makes controlling the fan an absolute breeze (get it?!) and allows for some truly impressive customisation. It offers an incredible 100 different speed settings, letting you find the perfect speed for you. And if you want a more natural wind flow, then just set it to nature mode and it'll simulate a comfortable spring breeze. Very cool indeed!
And all of this is underlined by incredibly solid build quality from the metal fan cage to the heavy-duty base. So, if you're looking for the best fan to keep you cool this summer you've found it!
---
3. Vornado Air Circulator 660
The Vornado Air Circulator 660 is a very popular fan among Australian consumers and with good reason. It offers a lot of bang for the buck and does an excellent job at circulating large volumes of air to help keep you cool.
Despite its relatively small size, the Vornado Air Circulator 660 can move large volumes of air up to 30.5 meters away, and when on the highest speed setting it moves just shy of 1000 cubic meters of air per hour. Now that might not mean a lot to you, but that's a lot of air movement, which equates to a much more comfortable and cool environment.
Although it has a near 360-degree oscillation, it's actually better to focus the power stream of air towards a wall across the room which will deflect the air and create a comfortable circulating breeze throughout the room.
Now, it probably won't win any aesthetic design awards, but it still looks sleek, modern and won't look out of place even in the trendiest of rooms. It has an understated aesthetic that focuses more on function rather than form, but this means you're getting more fan for your money, unlike other fans who charge heavy premiums for "aesthetics".
---
4. Dimplex High-Velocity Oscillating Floor Fan
The Dimplex High-Velocity Oscillating Floor Fan is a no-nonsense floor fan that generates a lot of airflow in a classic aesthetic that values function over form.
It has a relatively large 40cm diameter to pull through large quantities of air and distribute it across even the largest room in your home. There are three speed settings to choose from with the highest pumping out a serious amount of air.
It has a wonderful gunmetal finish to add a touch of sophistication to your home or office, with a simple yet attractive design. The only downside to the design is it's pretty much limited to the floor unless you have a large amount of spare space on a table or desk.
However, as a fan, it's excellent. It has an oscillation mode, can tilt up and down, and even comes with a 2-year replacement warranty! So, if you're looking for a floor fan that offers strong airflow, look no further.
---
5. ANGELO Bladeless Fan 2 in 1 Airflow Cooler
Why we like it:
LED touch screen
90 ° rotary wind
Looks awesome
Cooling and heating
What customers say:
" I like the tilt function which is much better than my Dyson tilt function. I also use the cool air fan to air the bathroom after wiping the tiles after shower to prevent molds from growing. It does the heating and cooling jobs for me at a reasonable price." –  Reinita
The ANGELO Bladeless Fan 2 in 1 Airflow Cooler looks very similar to the Dyson models but costs a fraction of it. It also offers similar functionality in the fact this fan not just cools but also heats the air before fanning it through the room.
This is the fan all-around fan you need if you want to stay cool in the summer and warm in the winter. It lacks the output of some of the other fans on this list but makes up for it with its versatility and aesthetic.
It still does a great job at cooling with its 10-speed settings, 180-degree rotation, and bladeless fan design. It offers a lot of adjustability with not just its rotation but also verticle tilting.
There's also a nifty remote included that does everything you need it to if you're too lazy toget up and control the settings from the onboard LED touch screen.
So if you were thinking about dropping some serious coin on a Dyson, perhaps take a closer look at the ANGELO Bladeless Fan 2 in 1 Airflow Cooler instead!
---
6. Goldair 117cm Wifi Enabled Tower Fan
The Goldair 117cm Wifi Enabled Tower Fan is a high-tech fan that focuses on convenient cooling with its wifi capability, Goldair app integration, and digital temperature display.
But that doesn't mean it's all talk, it does an excellent job at what you want a fan to do, cooling down the room. It has 3 speed settings and 4 wind modes to help you find the perfect combination for your personal cooling preferences.
It does all of this in a modern and sleek package that can be tucked into a corner while still delivering powerful airflow across the entire room. This is perfect when you consider the oscillation mode which delivers the airflow evenly across a wide-angle.
So, if you're in the market for a contemporary-style cooling fan with some high-tech features, perhaps take a closer look at the Goldair Tower Fan.'
---
7. Heller 50cm High Velocity Floor or Desk Fan
The Heller 50cm High Velocity Floor or Desk Fan is another top-quality no-nonsense fan that doesn't break the bank but will certainly provide a powerful stream of cooled air.
This floor fan is larger than the Dimplex floor fan which means it can draw in more air and output more air as well. The only downside is that is a little bulkier and heavier if you plan on moving it from to room.
There are three-speed settings to choose from, but be aware that the largest setting is quite loud. However, this is the price you pay for a powerful output with cheaper fans.
Saying that the build quality is excellent, it's very sturdy and it's black design works in almost any room. So if you're looking for a budget fan that will keep you cool this summer, check out the
---
8. Coleman Rechargeable Table Fan
The Coleman Rechargeable Table Fan is the cheapest fan on this list but is still considered one of the best fans to buy in Australia due to its versatility and low cost. This can run on either battery or mains, making it perfect for desks or in tents.
It only has two fan settings, but how many do you really need, and how many can you expect for such a low cost. The higher setting is surprisingly powerful is more than enough if you're sat close to it. This certainly will not create enough airflow to cool an entire room, but it will cool you down if you sit in the airflow.
It's very lightweight at just 840 grams making it ideal for moving around the home or into the garden. Overall this is an excellent portable fan suited to small rooms, desks, and the great outdoors. So, if you're looking for a budget small fan, look no further!
---
Cooling Fans: Buying Guide
Learn everything you need to know to get the best cooling fan for your needs.
Different Types of Cooling Fans
Let's take a look at the different types of fans available:
Pedestal Fans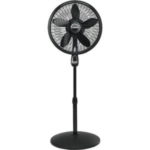 Pedestal fans are most likely what you imagine when thinking of a fan. They're generally a bladed fan attached to an adjustable neck that can change height and direction. They're typically more powerful than other standing fan types like tower fans and bladeless fans.
There can be a lot of variance in cost, power, and size with pedestal fans, but they typically offer good value for money by delivering strong airflow at lower costs.
Pedestal fans will generally be suited to most people's needs due to their power,  oscillation feature, ease of use, ease of assembly, durability, and adjustability.
However, they can be quite large and dominate smaller rooms. They may also be quite noisy in the highest settings, but this is true for most types of fans.
Tower Fans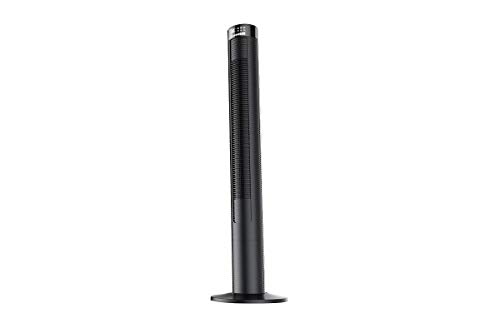 Tower fans offer a lot of versatility and have become increasingly popular over the last decade or so thanks to their form factor and excellent functionality. They're much more versatile than pedestal fans due to their slimness and often included additional features.
They're a good choice for households with children or pets thanks to the blades being safely housed within the tower itself. Much like pedestal fans they more often than not have oscillation modes and multiple power settings. More expensive models come with LED displays, air quality monitors, remote controls, and other premium features like air purifiers.
Bladeless Fans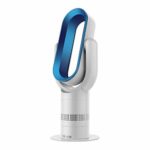 Bladeless fans are one of the newer designs and rose in popularity thanks to Dysons bladeless fan. However, they were actually first invented by Toshiba.
Bladeless fans are similar in design to tower fans but offer a more modern aesthetic and talking point. Their performance is also very similar. However, despite the name, bladeless fans don't work using magic and actually do use hidden blades usually stored in the base of the stand. The air is then amplified using the oval-shaped funnel.
These fans are very quiet, while still being able to deliver a good amount of airflow, although lower than average than pedestal and tower fans. They're very easy to clean, relatively lightweight, and often come with additional features like air purification and humidifiers.
They are usually more expensive than more basic fan designs, but ultimately you're getting a unique design with some additional features, so they are fairly priced. However, some of the Dyson bladeless fans are pushing the limit of what is considered fairly priced.
Desk Fans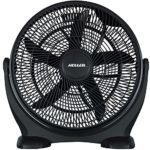 Desk fans are perfect for home offices or smaller rooms that don't require much power to produce enough airflow for a cooling effect. Generally, they are smaller bladed fans that produce less air but use the same method as pedestal fans.
They often lack features like oscillation but can be usually be tilted vertically. They're lightweight so they can easily be turned to face you directly or moved from room to room with ease.
Of course, with fewer features and power, they come in at a lower cost. Despite their lack of power compared to larger fans, they can still be suitable for smaller rooms like bathrooms, small offices, or bedrooms.
Floor Fans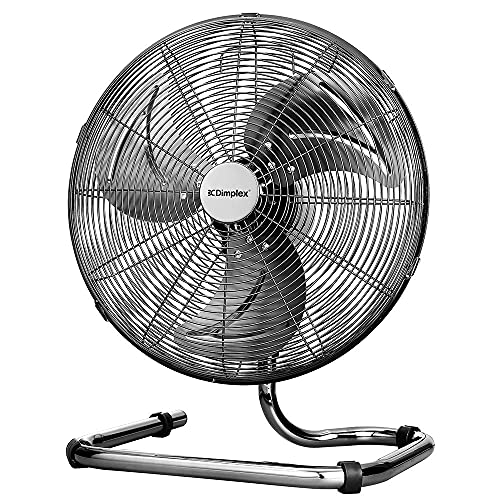 Floor fans as the name suggests are designed to sit on the floor and blow the cooler air throughout the room and create a circulating air current. These types of fans excel in larger, open-plan rooms that allow for air currents to be produced.
They rarely have an oscillation feature, although some do, but the Dimplex High-Velocity Oscillating Floor Fan does!
Opt for a floor fan that has the good build quality and at least 3 different speed settings. Also, make sure the base is sturdy and won't tip over easily if knocked by something. Just be aware that since these fans are on the floor they do pose some danger to pets and children.
Additional Features
Some fans come with additional features that can be quite useful in some circumstances. Usually, you have to spend the big bucks to get good performance in all areas but depending on your needs it may be worth considering combining two appliances into one.
Humidifier
Some fans offer a humidifier feature, which adds moisture to the air in the room. This feature is especially useful in dryer climates or seasons. It prevents fans from blowing dry air around the room. We would recommend buying a stand-alone humidifier since they perform much better than combo units.
Misting
Rarely seen in home fans, but somewhat common in handheld fans, the misting feature sprays water vapor into the air to help cool the surface more quickly.
Key Features to Consider
There are some key features you should always pay attention to when buying a fan.
Fan Speed Settings
We would recommend choosing a fan with at the very least two-speed settings, but preferably at least three. It provides more flexibility when it comes to airspeed, which translates into colling ability but also noise and energy usage. The more speed settings the better.
Fan Modes
More premium fans (and some cheaper ones) can program the fan to operate differently depending on your needs. This can be as simple as fan speed but also more complicated operations can be programmed such as sleep mode, which will slow the fan speed down after a set amount of time to quiet things as you drift off to sleep.
Adjustability
The ability to adjust the height and angle of a fan can only ever be a good thing. Most pedestal fans allow for both whereas other types of fans offer less adjustability.
Remote Control
Fans that come with a remote control offer a lot of conveniences and allow for changing settings just like you would with your TV. More premium fans often come with an app that functions in the same way but usually has some additional features as well.
Noise
Noise is an often overlooked aspect when it comes to buying a fan. Most people enjoy a little white noise in the background, but some fans absolutely roar on the highest setting. Make sure you know what you're getting yourself into because fan noise can range quite widely. We recommend choosing a fan that doesn't exceed 70 decibels.
---
You may also be interested in:
Last update on 2022-05-18 / Affiliate links / Images from Amazon Product Advertising API