ⓘ We are reader-supported and may earn a small commission at no additional cost to you if a purchase is made through one of our links.
Managing air quality in your home can make real and meaningful impacts on both your health and comfort. Humidifiers are one such appliance that can help manage certain issues like dry skin and agitated nasal passages.
The best humidifiers are quiet, require minimal maintenance, look good and help relieve numerous ailments. They work excellently in combination with essential oil diffusers, with some humidifiers even having them built-in as an additional feature,
TL;DR: The #1 Humidifier for Most People 👇
So, if you want to improve your home or office's air quality, a humidifier could do just the trick.
The Best Humidifiers to Buy Today in Australia
1. Best Overall Humidifier: Philips Air Humidifier Series 2000
The Philips Air Humidifier Series 2000 takes the top spot in our list of the best humidifiers,  thanks to its excellent functionality and clean aesthetic. It does a fantastic job of adding moisture to the air quickly and without much noise at all.
There is a 2L capacity, which isn't the largest on the list, but it is sufficient for around 24 hours' worth of use. The digital humidistat will detect the current air moisture levels every 3 seconds and then add moisture into the air until it meets the designated moisture levels set by you. Anywhere between 30% and 60% moisture levels are considered healthy, and the Philips humidifier helps you with presets of 40%, 50%, and 60%.
Unlike a lot of other humidifiers, this device employs a 360-degree design to help deliver moisture evenly across the room, which prevents moisture build-up on walls or even on the floors. And thanks to the NanoCloud technology, the water particles are so small that bacteria are less able to take a ride on it.
Overall, this is a top-quality humidifier that looks great and performs even better!
---
2. Best Humidifier for Large Room: Ionmax ION90 Ultrasonic Humidifier
Dry air inside your home can bring about health concerns such as bronchitis, sinusitis, and even nosebleeds. This problem can be eased with the help of the Ionmax ION90 Ultrasonic Humidifier. This humidifier keeps the air moist enough to help you and your family avoid health problems brought about by inhaling dry air.
Using this device in your home can also help alleviate the symptoms of colds and allergies, as well as prevent chapped lips and dry skin. This is due to the way this humidifier maintains the right humidity level within your rooms.
Maintaining the humidity in your home can be done with the help of a built-in hydrostat and humidistat. These two work in tandem to continuously maintain and moderate the humidity level while letting you know what these levels are at the same time.
Other notable features this machine has that make it a great addition to any room include its ioniser, which helps keep air fresh and clean, and its UV Bio-Photocatalyst Sterilisation, which deodorises and sterilises the air. It also has a demineralisation filter that prevents mineral build-up and dissolves mineral salts as well as removes additives to soften the water you use in it.
The Ionmax ION90 can produce both warm and cool mist, with the former giving you faster humidification when you need it and the latter helping keep temperatures low while you increase moisture in the air. It also has a large 6.5 litre tank that lets you operate this machine for up to 21 hours straight.
Speaking of operating times, this humidifier can be programmed to run from anywhere between 1 and 9 hours with its built-in timer setting. It can also be left to run continuously, and you don't have to worry about the water running out since it has both a water shortage indicator and an auto-switch off feature that activates when the tank is empty.
This device is also very quiet when it's in operation, which is why you can keep it running even when you're asleep.
---
3. Best Value Humidifier: Breville The Smart Mist Humidifer
The Breville The Smart Mist Humidifer being third on this list seems almost unfair until you realise just how good the first two humidifiers are. This is arguably the most high-tech humidifier on the list and also one of the best-looking humidifying units.
There is a water purifier cartridge that is designed to filter out impurities in the water tank prior to being evaporated across your home. This is in addition to the water atomizing transducer that produces a fine mist to further reduce bacteria, reduce sound levels and be more efficient.
There are 7 different mist levels that are effective in rooms up to 40m², making it the perfect addition to almost any home at any time of the year.  It's able to emit both cool mist and warm mist depending on the season.
Breville was also very clever with the design and usability. Refilling the water tank is the easiest of any of the humidifiers on this list. Just simply lift the 5L tank, fill it and slot it back in. No fiddly bits, no spillage, just a simple and satisfying mechanism.
And, if that wasn't enough, there's also an aromatherapy function that can help soothe and relax you while also improving the quality of the air around you.
---
4. Best Humidifier for Aromatherapy: BEURER Air Humidifier with Aromatherapy
The BEURER Air Humidifier with Aromatherapy is an excellent humidifier that can also be used for aromatherapy. It has a smaller effective range than most of other the humidifiers on this list, but this is reflected in the price. This is a humidifier suited to smaller spaces like apartments, bedrooms, or offices.
The capacity is also on the smaller side of things at just 2 liters, but again, this is fine for smaller spaces where you won't need moisture pumping in around the clock. The aromatherapy function is great and is certainly a value add, but this product excels thanks to its ease of use and simplicity.
This no-nonsense humidifier is reliable, affordable, and does everything you want a humidifier to do, and it does it reasonably well. The only downside is that some users have reported some moisture build-up on a nearby surface if oriented the wrong way, but this can be fixed by just moving it.
So, if you're in the market for an affordable, yet still quality humidifier, this is the one for you!
---
5. Best for Most People: Philips Air Humidifier Series 1000 with NanoCloud Technology
Philips Air Humidifier Series 1000 is the little brother to the Series 2000 we looked at previously., But don't let it trick you into thinking this isn't worth your consideration, because, for the low cost, you'll struggle to find a better humidifier.
The NanoCloud technology employed by Philips makes meaningful improvements to the air quality and how the moisture particles are formed. It is a three0stage approach that starts with an absorbent filter that removes large impurities like hair and dirt. Stage 2 evaporates moisture in a way the water particles are smaller than other humidifiers, which helps reduce bacterial transmissibility. Finally, the moistened air is then dispersed in a circular fashion from the top of the unit to ensure more consistent coverage.
It's also incredibly easy to use with a no-nonsense approach that makes it perfect for those who want better air quality and not another smart device to endless program. And this approach is also seen in maintenance where it has been designed for quick and effective cleaning.
---
6. Best Humdifier for Baby Room: SmartDevil Small Humidifier
The SmartDevil Small Humidifier is a tiny humidifier with a tiny price tag. It only has a 500ml capacity, which is the smallest on this list, but it deserves its place due to the ridiculously low fee and its suitability to often forgotten rooms that don't warrant a bigger humidifier.
We recommend the SmartDevil Humidifier for baby rooms because it is whisper quiet, producing about 29dB when running.
For the insanely low fee, this SmartDevil Small Humidifier does a surprisingly good job, if positioned in the right room. It's incredibly quiet, easy to use, and surprisingly good at dealing with dry air.
Additionally, it has a built-in night light feature which is a welcomed addition, and the fact it is USB powered makes it very suited to sitting on a desk.
There's not much more to this product, so if you're after a budget humidifier, this could be the one for you!
---
How we Picked the Best Humidifiers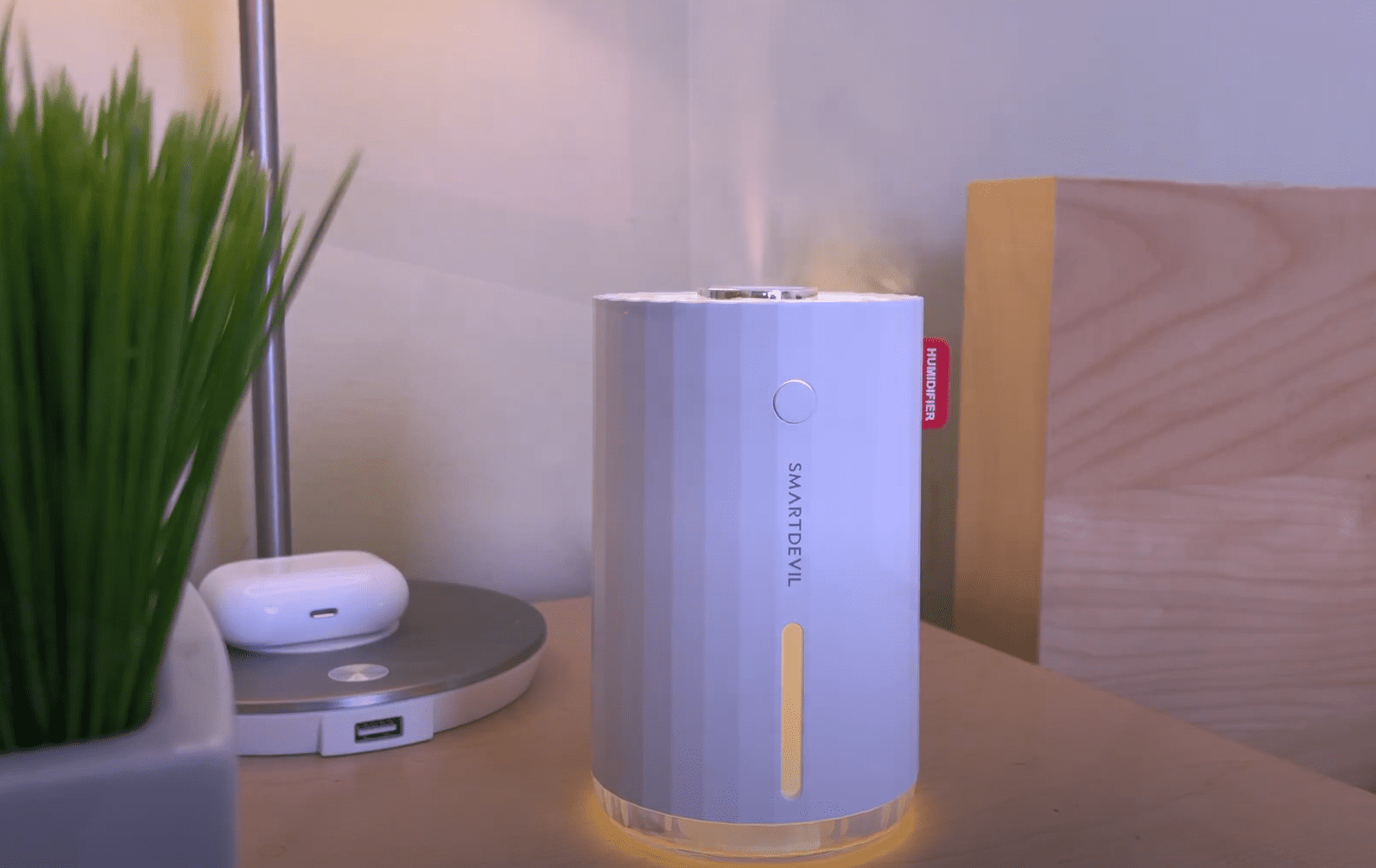 The procedure that we used for testing the humidifiers is the reverse of what we did when testing the best dehumidifiers in Australia. We used the same room (a 25 square metre basement) with the window closed.
Our team used a digital hygrometer to measure the humidity level before starting the test. We took three readings and averaged the results to get a humidity level of 43%, which we used as our baseline.
The tests were conducted in January, which explains the low humidity levels in Melbourne. Our initial plan was to run a dehumidifier to lower the room's humidity but we didn't have to since mother nature had already done that for us.
We placed the test models in the room one at a time and ran them for 2 hours at low, medium, and maximum humidification. Also, we measured the humidity level at intervals of 30 minutes to check if there was any change.
The output of each humidifier was tested by comparing the data collected. We also measured the noise level using a decibel metre. This helped us separate the quiet models from the loud ones.
Our team also compared the humidifiers, taking into account ease of maintenance and use.
Humidifiers: Buying Guide
There are some important considerations to take into account before buying a humidifier. There are common benefits claimed by manufacturers which we will put to the test by referencing the scientific literature on the subject. The aim of this buying guide is to make you a more informed consumer with the aim of helping you choose the best humidifier for your needs.
What are the Most Important Considerations When Buying a Humidifier?
Let's take a look at the most important aspects buyers should familiarise themselves with before buying a humidifier:
The Different Types of Humidifiers
There are a few different types of humidifiers, let's give each of them an overview:
Cool Mist Humidifiers
The majority of humidifiers are cool mist. They are typically an evaporative or ultrasonic method to create mist. They are designed to help reduce nasal inflammation to make breathing easier.
Warm Mist Humidifiers
This type of humidifier uses a heating element to steam the water. The water is then dispersed using a fan. Because of the energy requirements used to heat the water and then to disperse they cost more to run and are louder.
There is also the added risk of causing burns if the water is somehow spilled. So keep this type of unit well out of reach from children.
Evaporative Humidifiers
This type of unit uses a fan air through a moist wick filter which adds moisture to the air. This newly moist air is then dispersed into the room. Be aware that you will be replacing the filter sem-frequently.
Noise Levels
If you plan on using one of these in the bedroom, then pay attention to the sound levels. Some of the fan-operated humidifiers can get a bit noisy and might be a distraction in the day and a disturbance at night.
Bacteria Management
Bacteria can build up on some humidifiers so pay attention to how this is mitigated. Some use a UV light to sterilise the water, others use NanoCloud technology to create water particles too small for bacteria to hitch a lift on.
Water Tank Capacity
The smaller the water tank the more frequently you will need to refill it. This isn't a big deal with conservative use, but if you plan on using one daily it can become quite annoying. Anything over 3 liters should minimize the need to refill daily with reasonable use.
If you're wondering what types of water you should use with a humidifier for best results, then check out our guide.
Easy to Refill
This follows on to how easy it is to refill. Some designs are quite frustrating and make it a bit of a chore. Whereas others have been very ergonomically designed.
Ease of Cleaning
Cleaning a humidifier is essential to maintaining the hygiene of the humidifier and the vapor it produces. Keep this in mind when selecting a unit as some can be quite difficult to clean.  Look for one with an easy to access water reservoir as this is the main area of concern.
Benefits of Owning a Humidifier
Here will we will assess the validity of some of the claims made by the manufacturers, paying particular attention to the health claims.
Do Humidifiers Help Prevent the Spread of Influenza?
Some manufacturers claim humidifiers can help limit the transmissibility of viruses and prevent colds and viruses, and in particular influenza, within a home. Is this true, if so, to what degree is it true?
A 2013 study conducted in France states that:
presence of an air humidifier in the living room was a possible protective factor
Our guide delves deeper into this subject by assessing the effectiveness of humidifiers in preventing colds and allergies.
Can Humidifiers Help Limit Asthma and Allergy Symptoms?
There is insufficient evidence within the literature to make this claim. The evidence is at best limited and therefore is not endorsed by Asthma Australia.
What Risks Can Humidifiers Pose?
There are numerous risks associated with owning a humidifier. Most of which can be completely mitigated with proper usage.
Can Humidifiers Damage the Lungs?
There are many studies that conclude humidifiers that use disinfectants can cause serious lung damage. Thankfully these types of products are now banned.
One such study found that:
This study revealed a statistically significant exposure-response relationship between HD and lung injury.
---
You may also be interested in:
Last update on 2023-12-11 / Affiliate links / Images from Amazon Product Advertising API