The best dehumidifiers can make your home more comfortable, help improve the air quality and even assist in dealing with allergies and some health conditions. There are different types of dehumidifiers ranging in size, function, capacity, and effectiveness.
Whether you need a powerhouse for a large space or a more portable dehumidifier for your apartment, this list has you covered!
TL;DR: The #1 Dehumidifier for Most People 👇
How We Picked the Best dehumidifiers in Australia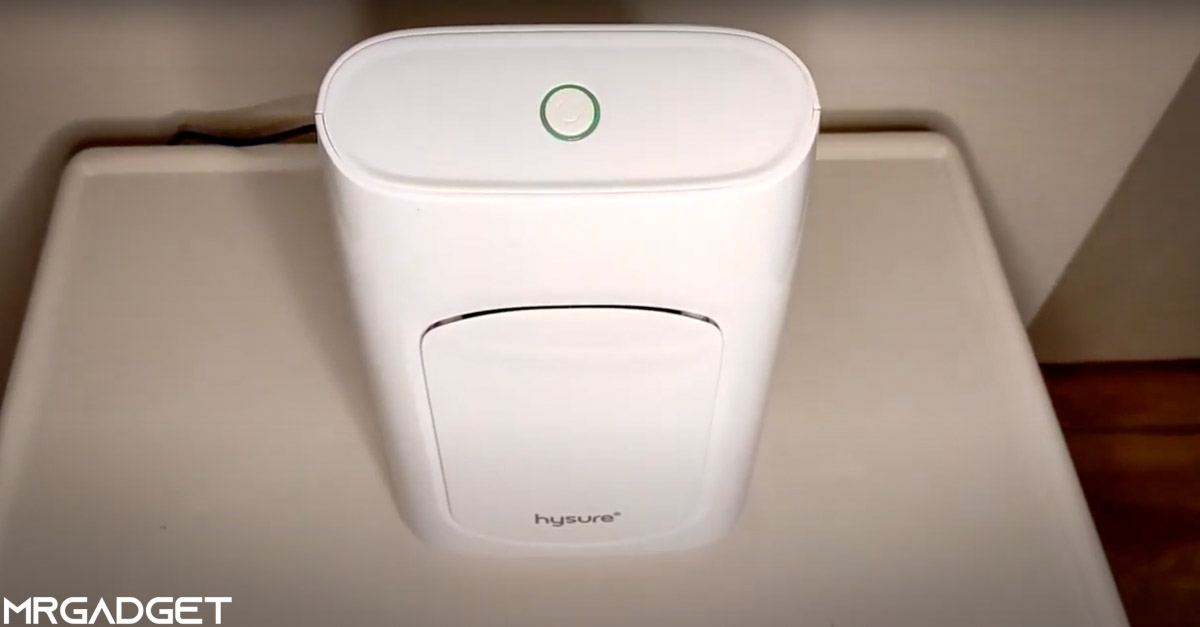 We have put together this list of best dehumidifiers in Australia by extensively assessing the different units available for purchase in Australia. We looked at all of the major marketplaces, retailers, crowdfunding products, and independent brands.
In total, we looked at 33 different dehumidifiers. We then grouped them into similar price categories and compared them against one another to reduce the list down to 15 finalists. These were then compared head-to-head based on their price, specs, functionality, customer reviews, and testimonials.
The list you see below truly represents the best dehumidifiers that Australia has to offer!
The Best Dehumidifiers in Australia
The best dehumidifiers based on moisture extraction, size, and moisture extraction capability:
1. Best Overall: Hogarlabs 4000 Sq Ft 50 Pint Dehumidifier
The HOGARLABS 4000 Sq Ft 50 Pint Dehumidifier takes the 2nd spot as the best dehumidifier available in Australia. It ticks absolutely every single box a premium dehumidifier should tick, and it does it with style too.
This dehumidifier excels at helping to maintain optimal humidity in rooms as large as 4000 Ft, making it a great solution for pretty much any house or apartment. Take advantage of its digital humidity sensor which provided real-time and incredibly accurate readings. Combine this with the automatic dehumidification control and your space will maintain 40%, 50%, 60%, 70%, and 80% room humidity, depending on your preference.
There's a special laundry mode that helps dry clothes indoors much quicker by extracting the evaporated moisture out of the air. This is ideal for those who are sick of seeing a clothes horse in their living room for too long and dealing with the resulting moisture.
So, if you're looking for one of the best dehumidifiers money can buy, look no further!
---
2. Best for most people: Vacplus 1,500 Sq. Ft. Dehumidifier
The Vacplus 1,500 Sq. Ft. Dehumidifier is a step up in price but also a step up in functionality and capacity. This dehumidifier is designed to deal with large rooms and large volumes of air. There's no air purifier functionality, but my god is it good at managing moisture levels!
This National Asthma Council Australia-approved dehumidifier can extract a whopping 17 liters per day from the air and function with a high level of efficiency in a room up to 125³.  If you own a large property or have a large room you need taking care of this is the dehumidifier for you.
There's even a continuous drainage hose that is included if you want this bad boy running night and day without having to continuously empty the water tank. Just like the above dehumidifiers, this unit has a special laundry mode to help dry clothes more quickly.
So if you need to protect your property from mold, condensation & moisture damage, remove musty smells, and help with improving the overall air quality, then you should certainly consider the Ausclimate Cool Seasons Premium 10L Desiccant Dehumidifier.
3. Best overall: Breville The Smart Dry Dehumidifier
The Breville The Smart Dry Dehumidifier takes the second spot on this list of best dehumidifiers thanks to its large 10L capacity and all-around quality.  Just like the Philips Series 5000, it also doubles as a 2-stage air purifier, which is always nice.
All of the controls are located on the top of the unit and are incredibly easy to use. There is a built-in screen that provides detailed information relating to the status of the air in the room or which mode is currently activated. This is one of the easiest to use dehumidifiers.
There's also a useful night mode, which works on a quieter setting but also dims the built-in light to help you sleep.
It's a very effective dehumidifier, with it able to quickly pull out moister from the air in a small room. In a small room, it is able to reduce the humidity from 75% to 50% in an hour and will continue to drop to the designated percentage from there.
Overall, this is an exceptional dehumidifier that can quickly pull moisture from the air. It works excellently in the bathroom, laundry room, and bedroom, making it very versatile. Its relatively large capacity is the cherry on the cake, although there are larger capacities on the market.
---
4. Best value dehumidifier: Colaze 1800ML Electric Dehumidifier
The Colaze 1800ML Electric Dehumidifier takes the fourth spot on this list of the best dehumidifiers thanks to its excellent value for money and brilliant functionality. It costs a little less than some of the other dehumidifiers, but don't let that put you off! This guy is excellent in smaller spaces like apartments and can help you out in numerous ways.
This dehumidifier can remove  1.8 liters of moisture per day and help maintain a comfortable environment, dry clothes, prevent mold, and alleviate allergies. What more do you want at this price point!
With auto-humidity settings, 3 levels of dehumidification, a timer function, as well as a built-in night light- it's hard to find a better value for money product on the market. The only reason it's listed this far down is due to its lack of air purifier function and limited capacity.
However, if you have a small apartment or room and just need a dehumidifier, this could be the best dehumidifier for you!
---
5. Best budget dehumidifier: Hysure 700ml Compact and Portable Dehumidifier
The Hysure 700ml Compact and Portable Dehumidifier is the little brother to the previous Hysure unit we looked at but still has a place on this thanks to its excellent value for money.
It's small in size and capacity, but that makes it ideal for small spaces like bedrooms or small living spaces. It's designed to work effectively in rooms from 5-25 m2 and can extract 300ml per day. This is the lowest extraction rate on the list, but not everyone needs more. It can store the moisture in its 700ml capacity tank, meaning you won't have to empty it every day like some of the dehumidifiers on this list.
A downside is that it is a bit noisier than some of the other smaller units, but ultimately there is always a trade-off when buying a cheaper product. Overall, this is an excellent purchase if you want to manage air moisture on a budget.
---
6. Best portable dehumidifier: BLACK+DECKER BXEH60001GB 900ml Portable Mini Dehumidifier
The BLACK+DECKER BXEH60001GB 900ml Portable Mini Dehumidifier is an excellent dehumidifier designed for smaller rooms up to 30m2. It's able to extract up to 250ml of water per day and store it in a 900 ml tank. Once this is full, it will automatically switch off until emptied.
It's a very quiet unit at 40db that's perfect for the bedroom, kitchen, bathroom, or laundry room.  Scoot it from room to room with ease using its rotatable wheels and ergonomic handle.
The buttons are located on the top of the unit, with a digital display showing the current settings, air quality, and timer. On the front of the unit is an indicator light that lets you know when the unit is full.
This may not be the most powerful dehumidifier, but it's one of the most portable and perfect for small apartments where you may want to move it from to room, rather than buying multiple units.
---
7. The quietest dehumidifier: Miguo Dehumidifier
The Miguo Dehumidifier is the smallest unit on the list in both size and capacity. This makes it a relatively specialised dehumidifier only suited to rooms up to 15 square meters.
What it lacks in size it makes up for in value for money. It may not be the best dehumidifier on the market, but it is the best value for money. It's relatively effective at extracting moisture with 300 ml/day capacity, making it better suited to dryer climates, but can still work in more humid climates in smaller spaces.
This is probably best suited to very small rooms, laundry rooms, or office cubicles. This isn't recommended for people looking to improve the over air quality 0of their home and if that is the case you should consider one of the first three dehumidifiers on this list.
Unlike the Hysure above, this unit is very quiet, so won't cause any distractions or noise pollution. So if you're in the market for a small, portable, and quiet dehumidifier, this one could be for you!
---
Dehumidifiers: Buying Guide
Dehumidifiers are used to help maintain a more comfortable environment but also make health-related claims. The best dehumidifiers also cost large sums are relatively complicated products. This buyer guide will help inform your purchase and test some of the claims made by manufacturers by referring to peer-reviewed scientific literature.
What to Look for When Buying a Dehumidifier
Dehumidifiers are relatively complex products with a few different considerations that everyone should pay attention to, let's take a look at them.
Automatic Humidity Detection (Humidstat)
A humidistat will monitor the current moisture and allow the device to extract the moisture until it meets the designated moisture level that you have set. This is a critical feature that all of the best dehumidifiers should have since it facilitates a critical function of dehumidifiers – accurately monitoring and reducing the air moisture measurably
Effectiveness in Different Climates
High levels of humidity are present in a range of different climates are not limited to just high or low temperatures. Make sure that the dehumidifier that you buy is suited to the climate you live in. The majority of dehumidifiers are effective in lower temperatures, where some dehumidifiers' performance will suffer. IF you live in a climate with temperatures frequently hitting 10-15 degrees Celcius, you may want to speak to the manufacturer to get performance metrics relevant to that temperature.
Air Purification
Some of the top dehumidifiers are 2-in-1 units that also include an air purification function. Typically they are not as effective as stand-alone air purifiers but do serve a useful purpose and should be considered when buying an expensive dehumidifier.
Water Tank Capacity
The size of the water tank will determine how often you will need to empty it. With some dehumidifiers extracting multiple liters a day you may find yourself emptying the tank more often than you want.
Continuous Drainage
Continuous drainage solves the issue of emptying the water tank by using a drainage tube to empty the moisture directly to a drain. This is very useful if you plan on running it constantly and don't want to constantly empty the tank.
Portability
If you plan on taking the dehumidifier from room to room, then you may want to opt for one that is lightweight and compact. Some of the larger units also sit on wheels to make it a little easier to move around.
Noise Levels
Some units are quite noisy and will distract you or impact your sleep. The best dehumidifiers include a sleep mode, which is dramatically quieter. Some of the smaller units are quiet by default due to a lack of overall power.
What are Some of the Common Claims of Owning a Dehumidifier?
Here will look at the claimed benefits of owning a dehumidifier according to the literature.
Do Dehumidifiers help Chronic Asthma?
The jury is still out on how effective dehumidifiers are at alleviating asthma, with one such study published in 2013 concluding the following:
There is currently scanty evidence (only one trial originating from Scotland) to indicate whether dehumidifiers are of clinical benefit to patients with asthma.
Do Dehumidifiers Reduce House Dust Mites?
A contributor to asthmatic symptoms is the presence of dust mites. It is claimed that dehumidifiers reduce house dust mite (HDM) but this is up for debate, with one study concluding the following:
Neither the dehumidifier nor the behavioral intervention had a major effect on HDM counts or allergen levels. However, the study did have a number of limitations relating to size, timing of intervention, and running of the dehumidifiers. The secondary data analysis may indicate some effect of dehumidification, but clearly, this effect was small. There is a need for more information on the effects of reducing ambient humidity on the distribution of HDM within their habitats.
Do Dehumidifiers Extract Pollutants from the Air?
This is another common claim made by manufacturers and it does have a basis in the scientific literature. It has been shown in the following study that humidifiers are an effective means for collecting pollutants from an indoor space. The study concludes the following:
The GC-EI-TOF-MS chromatograms obtained for the extracts of dehumidifier water samples contain a large number of semi-volatile compounds. Variations among sampling places, and the reasonable agreement of data obtained in the same room, with different dehumidifiers, confirm that condensed water samples are useful for qualitative analysis of the chemical composition of indoor areas.
How do Dehumidifiers Work?
There are three main types of dehumidifiers, each using a different method to extract the moisture, let's take a quick look at each of them:
Thermo-electric dehumidifiers
Uncommon and not very effective. These types of dehumidifiers take advantage of the Peltier effect which simply put converts electricity into a temperature difference. This is a relatively complex effect that is explained in more detail here.
Desiccant rotor dehumidifiers
These types of dehumidifiers work by using a desiccant, which is a substance that helps to absorb moisture). It typically rotates and collects moisture at one point and is then dried with a heating element at another part of the rotation.
Refrigeration dehumidifiers
This is the most common type of dehumidifier on our list and also the most effective. It uses the tried and tested method of drawing in air, cooling it down to extract the moisture, then reheating the air and blowing the air back into the room.
---
You may also be interested in:
Last update on 2022-05-24 / Affiliate links / Images from Amazon Product Advertising API