ⓘ We are reader-supported and may earn a small commission at no additional cost to you if a purchase is made through one of our links.
The best steam mops make cleaning hard floors a breeze. Gone are the days of giving yourself a bad back from scrubbing stubborn stains, with a steam mop the hot steam does the hard work for you!
Mops are necessary tools for keeping the floors clean, but they can be a chore to use. If you have children or pets in your household (or just want things extra clean) steam mops might just solve all of those problems!
TL;DR: The #1 Steam Mop for Most People 👇
Steam mops feature pressurized water tanks that shoot out jets at high pressure when connected with an attachment wand and grip pad; steaming away the dirt on any surface from hardwood to marble without leaving behind residue traces like traditional mops.
The Best Steam Mops to Buy Today in Australia
1. Best Steam Overall Steam Mop: Bissell Steam Mop, 19404, Purple Powerfresh Pet
The Bissell Steam Mop, 19404, Purple Powerfresh Pet is tough on stains but gentle on floors. This makes it ideal for cleaning all types of flooring. And that is why we ranked it best overall in our list of best steam mops.
You can even use it on sealed floors, making this one of the most reliable and versatile steam mops that you can consider adding to your cleaning kit. It steams up fast, so it won't waste your time. We got the unit up and running in less than two minutes.
Nonetheless, you need to keep in mind that the steam generated within the first minute is not that powerful but it gets stronger, allowing for effective removal of stains. The kit is inclusive of useful accessories that will help you remove stubborn stains from your floors without straining yourself. Simply attach the scrubby pad and you will be good to go.
To add to its list of features this steam mop ships with two fragrance discs that can eliminate bad odour. This makes it a great choice for pet parents. It will leave your floors clean and smelling fresh. The accessories are very easy to attach, so you won't experience any problems when working with this unit.
With the Bissell steam mop, you can adjust the steam level depending to the type of stain that you are dealing with.  Because the head has a swivel design, you can slide it under furniture with ease. To top it all up, this steam mop is lightweight, so it won't weigh you down when you are cleaning.
---
2. Best Steam Mop for Wood Floors: BISSELL PowerFresh Slim Steam Cleaner Mop
The BISSELL Powerfresh Slim Steam Cleaner Mop is our number two pick for the best steam cleaner in Australia. It is a lightweight machine with smart features that allow you to choose between high or low steam based on your cleaning needs.
This steam mop can safely clean even the most delicate wooden floors without leaving a single scratch. The accessories included in the kit made our work easier, as we were able to scrub off sticky and dried stains from our hardwood flooring in just a few minutes.
The versatility of its design allows for easy storage. As such, you can convert this steam mop into either a portable handheld unit for those tight spots or a traditional floor mop. The included attachments ensure your floors are left spotlessly clean.
The BISSELL PowerFresh Slim Steam Cleaner System is the space-saving way to steam mop any surface all while using less time and cleaning power. Convert from a handheld to a wall-mounted device with its unique design.
Use your favourite attachments for dusting light soiling or getting up debris from carpets! Whether you need high-pressure steam, low-pressure steam or both the BISSELL Powerfresh Slim Steam Cleaner Mop will help you get the job done.
---
3. Best Value Steam Mop: PurSteam Steam Mop Cleaner 10-in-1
No products found.
The   doesn't have great reviews on Amazon Australia but that shouldn't scare you from trying it out. Besides, most of the bad reviews are a result of it having an American plug. Other than that, this unit performed well in all the tests that we conducted.
There should be no residue left behind after you power through all everyday messes and tough sticky messes with its magical water-powered steam technology which thrives on demand by simply pressing the trigger after filling it up with water.
A convenient triangular foot contributes to its slim profile for cleaning hard-to-reach spots like corners and tight spaces. It's lightweight, nimble and quick to heatup, making it an absolute dream to use around the home.
The 340 ml water reservour is capable of producing enough steam for around 25 minutes, so you'll be able to clean all but the largest of homes on a single fill.
It also double as as a handheld steam cleaner to help provide a deep steam clean to almost any suitable object around the house.
---
4. Best Steam Mop for Vinyl Floors: H2O Mop X5 Basic Mop 5 in 1 All Purpose Hand Held Steam Cleaner
The H2O Mop X5 Basic Mop 5 in 1 All Purpose Handheld Steam Cleaner is both versatile and affordable. We ranked it as the best steam mop for cleaning vinyl floors due to how it performed during testing. It allowed us to remove dried mustard stains, coffee, and ketchup from the vinyl floor sample without breaking a sweat.
To add to this, it comes with several accessories that can come in handy when cleaning windows, countertops, and other surfaces. Additionally, you can use it as a garment steamer. This unit is lightweight, weighing approximately 2.5 kilograms, so you can use it for an extended duration without straining your arm.
Plus, the grip area is ergonomically designed to give you a firm grip that is equally comfortable. The water tank is strategically placed to give you easy access when making refills. But it doesn't end there, the tank is transparent, so you will always know the amount of water left in the unit.
The included measuring cup has a spout that will enable you to top up the tank without spilling the water all over the place. You can use the limescale tool when cleaning this unit. That way, it will be less likely to clog over time.
When used correctly, it can also sterilise your floors, saving you the cost of using detergents. If you are looking for a steam mop that is efficient and versatile, the H2O Mop X5 is the way to go.
---
5.  Best for Most People: BLACK+DECKER 10-in-1 Steam Mop
The Black+Decker 10-in-1 Steam Mop is designed specifically for use on surfaces such as hardwood, laminate, tile, and vinyl flooring. Featuring 180-degrees swivel steering and soft nylon bristles that are scrub-friendly, this steam mop allows you to tackle various surface types without damaging them.
These are just but some of the reasons why most people prefer it over other steam mops on the list-imagine buying a steam mop that can do it all. Aside from floors, we used this steam mop for cleaning  kitchen worktops. It heat ups fast and delivers a steady stream of steam, allowing for quick and easy removal of stubborn stains.
With the convenient handheld component of the 10-in-1 configuration in hand (while attached to the base), you can take back control over your entire household by tackling tasks like kitchen countertops or sinks; dust furniture anywhere; going into crevices; cleaning corners; or safeguarding stainless steel appliances.
It also features an inbuilt water filtering system for longer life as well as a removable, easy-to-fill water tank that just needs tap water. So why not invest in something you can use all year long? You deserve that sparkling clean feeling every day of the week
---
6. Best Steam Mop for Tile: Bissell Steam Mop Select
Want to clean your floor tiles but don't want to use a standard mop and bucket? The Bissell Steam Mop Select is the right cleaning tool for you to use. This steam mop is the perfect cleaning device for use with a variety of floor types, even sealed hardwood floors.
It left our wooden floor sparkling clean and also did an exceptional job at cleaning the tile flooring material that we used during the testing process. Some of the great features this mop has include its titanium handle, which weighs under 7 lbs., its swivel head,  and a 18-foot power cord.
The long cord allowed us to work huge swathes of flooring with minimal limitation. It comes with two different mop pads – one for general cleaning and another for scrubbing. For your standard cleaning jobs, use the soft mop pad, but if you need to remove stubborn messes off the floor, the scrubbing pad is what you need.
The micro-fibre mop pad is more suited for cleaning  smooth tile surfaces, while the scrubber will provide you with commendable results when cleaning wooden flooring. These pads are triangular so that you can easily manoeuvre it around furniture and underneath tight spots. The shape also helps you reach areas that are usually difficult to get to with a standard shaped mop.
Also worth noting is that these mop pads are machine washable, so you can use them and throw them in the washer once you're done cleaning. This saves you money and reduces the addition of more garbage to landfills.
The main advantage you get when you use this mop is it doesn't need soap or any cleaning solution for it to work effectively. All you need to do is fill the water tank, attach the right microfibre mop pad, plug it in, turn it on, and start mopping!
Cleaning with the help of a steam mop eliminates the need for harmful chemical solutions, particularly when you aim to kill harmful bacteria and germs while doing so. The natural germ-killing power of steam will help you eradicate up to 99.9 percent of germs while you clean.
Another great feature that this mop has is its removable water tank. This allows you to refill it when you need to without having to worry about spills or getting the body of the mop wet. Just detach this tank from the mop, refill, and reattach.
---
7. Best Steam Mop for Laminate Flooring: Shark S1005UK Cleaner Steam Mop
The Shark S1000UK Cleaner Steam Mop is everything you would expect in a quality steam mop. With multiple settings to choose from, the hassle of pre-cleaning your floors is eliminated.
Deep cleaning is easy with the Shark Cleaner Steam mop with only three steps: flip, fill and clean! It performed better than the other steam mops that we tested on laminate flooring. Plus, it boasts a variable steam system that adjusts in two levels for targeted steaming whilst switching between an automatic setting for sealed hard flooring like tiles and marble.
Additionally, the Shark S1000UK Cleaner Steam Mop features settings for both steam mop cleaner and handheld steamer to help you get tough spills, sticky messes, pet hair or other stubborn dirt off your floors with ease. However, we had to increase the steam output to the maximum level when cleaning greasy stains.
The included accessories allow you to clean surfaces beyond just the floor. With this innovative design, you'll never have to use chemical cleaning products.
---
8. Best Budget Steam Mop: BLACK+DECKER 1300W 5-IN-1
Effectively remove fresh and dried stains from your floors with the BLACK+DECKER 1300W 5-IN-1 Steam-mop. Put away all of those old, time-consuming cleaning products in favour of this handy budget steam mop. It's the cheapest mop that we bought, but that doesn't mean it is not reliable.
It has a long-list of features and can be used for cleaning a wide range of surfaces, thanks to its versatile design. For things like greasy floors, BLACK+DECKER's versatile attachments are perfect for tackling hard surfaces around the house. Just one button release and you're ready to get started on virtually every household chore!
It produces  a powerfully jet of hot steam that penetrates deep into stain while distributing heat evenly to destroy bacteria for a deeper clean than anything else – even your old-fashioned mops! It lifted dried mustard and ketchup stains with repeated passes. Nevertheless, it did not do a great job when cleaning greasy stains..
On the plus side, it features a well-designed double tank system that keeps water constantly topped up so you spend more time on cleaning instead of waiting around for it to boil or refill itself. Perfect for everyone who has a busy lifestyle!
Give yourself more chances at multitasking while giving your family or guests cleaner spaces without all the hassle!
Very afford
---
How We Researched The Best Steam Mops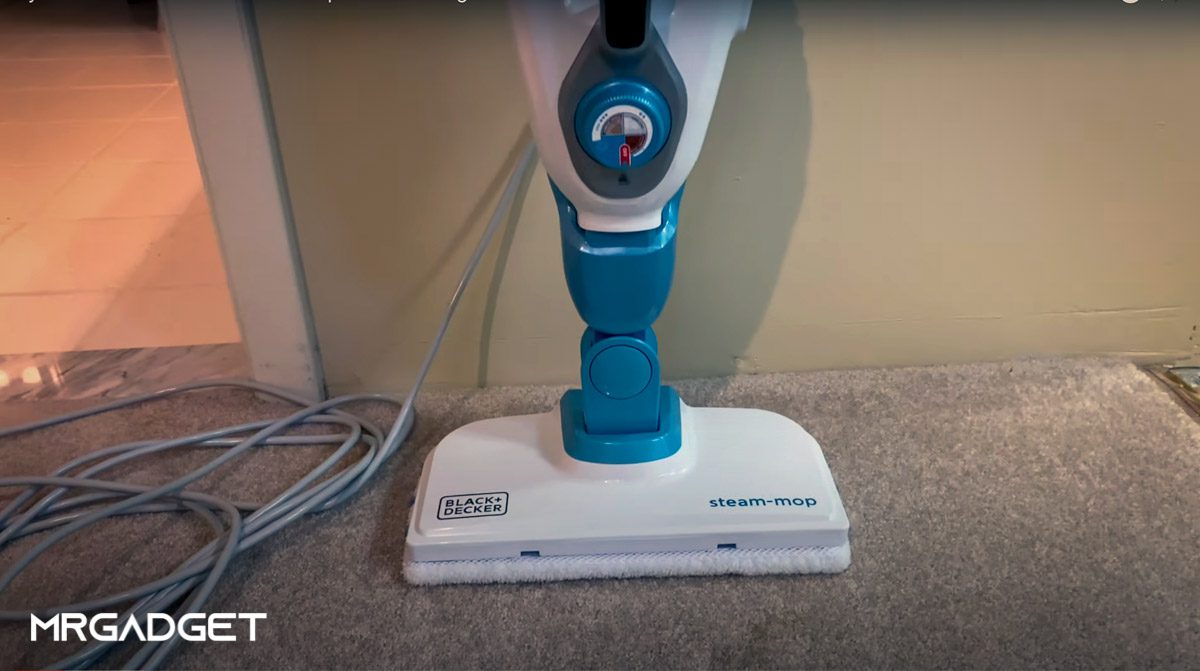 We researched and tested 7 of the best steam mops over a period of 2 weeks. The selected steam mops were tested for steam output, ease of use, and versatility. We also considered the capacity of the water tank, cord length, and included accessories.
First off, we bought 60 x 30cm flooring materials made of vinyl , tile, marble, and laminate. Our floors are made of hardwood, so we didn't have to purchase wooden flooring material. For this test, we stained the flooring materials and a patch of our floor with mustard, coffee, ketchup, mud, and wine.
We let the stains set in overnight to make the test more realistic. The next day we tested the steam mops on each type of stain and compared the results, taking into account the time taken to remove the stains and the amount of steam used.
All the steam mops lifted the coffee and wine stains with just a few passes. However, there was a significant variation in performance when cleaning hard-to-remove stains such as mustard, mud, and ketchup. We also stained the materials with kitchen grease as an afterthought and tested each steam mop to see how they perform when it comes to cleaning heavy stains.
In addition to doing these tests, we spent several hours reading through customer opinions and also consulted professional review sites to better understand how the mops perform in the real world.
Steam Mop: Buyer's guide
This section will help you better understand what makes a good steam mop and how to choose the one that is right for you:
What to Consider When Buying a Steam Mop
Before you pick up a new steam mop take a look at the important things to consider. These key factors make a big difference in the quality, user experience and suitability of a steam mop.
Tank Capacity
Steam mops are fitted with water tanks that allows the machine to generate steam. Tank capacity may vary from one steam mop to another depending on the model and brand that you go for. If you know that you will be cleaning a large area, you should consider buying a steam mop with a large capacity tank.
Weight
This is probably one of the most important factors that you should take into consideration when shopping for a steam mop. Ensure that you pick a lightweight unit that you can work with extensively without weighing you down. Moreover, lightweight steam mops are easier to manoeuvre and will allow you to get the work done within the shortest time possible.
Steam Controller
A good steam mop should give you full control over the the amount of steam that is released from the mop with each application. This feature can come in handy when cleaning  different types of flooring  and surfaces or when dealing with  stubborn stains.
Power Cord
It sounds simple, but having a high quality, long, and easily stored power chord goes a long way when cleaning. You should particularly consider the lenghth of the power cord since this will determine how far you can reach when the mop is plugged into an outlet.
Detachable Water Tank
Instead of lumping over the entire unit to your sink, instead, choose a steam mop with a detachable water tank to make your life easier. They are very easy to fill up and also more convenient when it comes to cleaning.
Swivel head
If you plan or cleaning tight spaces and awkward angles pick up a steam cleaner with a swivel head. Steam mops with swivel heads can easily slide under sofas, beds, and other hard-to-reach spots.
Accessories
Some steam mops come with additional accessories that can prove helpful in different scenarios. These accessories will allow you to customise the mop to match a variety of task descriptions. That said, you should always check if the steam mop in question has all the accessories that you may need.
How to Choose a Steam Mop
Not sure whether a steam mop is right for your home? Though it isn't recommended to use them on every floor type, if you have pets that get messy or spills frequently then this might be just what's needed!
Is It Friendly to Your Floors?
All of the models we test leave some residual moisture on hardwood floors, even if it is sealed. If you have parquet or expensive maple boards this can cause damage to your flooring in certain areas and result in unsightly rings where water seeps through from elsewhere. Additionally, older waxes might begin appearing fuzzy after use due to heat haze caused by steamy cleaning sessions.
Does it Kill Germs?
Do you want a steam mop that kills germs? If so ensure that the one you buy does. Most claim to do so, but some are specifically designed with it in mind.
How Do Steam Cleaners Work?
A steam mop is a type of household appliance that creates and releases heated water, or "steam." This vapor cleans dirt from hard surfaces by loosening grime with pressure. Users can easily clean throughout their homes without the use of harsh chemicals because most steam mops are able to kill 99.99% of germs without the use of chemicals.
Do Steam Mops Actually Kill Bacteria and Viruses?
There is a lot of marketing around the idea that you can kill or eradicate bacteria with steam. However, these claims come with limits to what surfaces they actually work for and how long it takes before those zones are sanitized.
It is claimed by many of the manufacturers that 30 seconds of cleaning will kill 99.99% of bacteria and viruses, which is true for the majority of cases. However, practically it is unlikely that you would want to spend that much time cleaning such a small portion of your home.
Will Steam Mops Clean Stains and Spills?
We all want a do-it-all device and the best steam mops come pretty close.
Can Steam Mops Clean Spills?
No, not really – you can get away with cleaning very small spills but for any substantial amount of liquid you will need to use a traditional mop or a towel. Steam mops are designed to removed stubborn grime and dirt rather than absorbing liquids or cleaning dust.
Can Steam Mops Remove Stains?
A steam mop is a great first step in removing tough stains from your floors, but be aware that it's not the best for getting out old and stubborn stains.
Should Steam Mops Be Used on Floor Boards?
With the exception of cork tile surfaces, steam mops are a good option for hardwood floors. They will not damage most other types of flooring but be aware that they may warp pallet boards or coatings on wooden surfaces depending on how well your individual manufacturer has designed their product with these issues in mind.
---
You may also be interested in:
Last update on 2023-12-02 / Affiliate links / Images from Amazon Product Advertising API