The best bathroom power scrubbers can take a big job that requires a lot of elbow grease into a quick and almost enjoyable process. Just like electric toothbrushes or power drills, the mechanical nature of power scrubbers does most of the work for you! Say goodbye to hours of scrubbing.
How We Selected The Best Bathroom Power Scrubbers
Choosing the best bathroom power scrubbers is not an easy task due to the sheer number of options available on the market. There are an incredible amount of these services on eBay, Amazon and every other major online retailer. With this tall task, we spend many many hours sifting through potential scrubbers. After a lot of time, we managed to reduce it down to this list of the best bathroom power scrubbers.
With this shortlist we completed a deep-dive on each of the units assessing their pros, cons and overall value for money. Finally, we scoured the net for reviews on these specific units to see if we missed anything worth mentioning. What you see below is the result of dozens of hours of research boiled down to an easily digestible and comprehensive list of the best bathroom power scrubbers.
Best Bathroom Power Scrubbers Overview
1. MECO Electric Spin Scrubber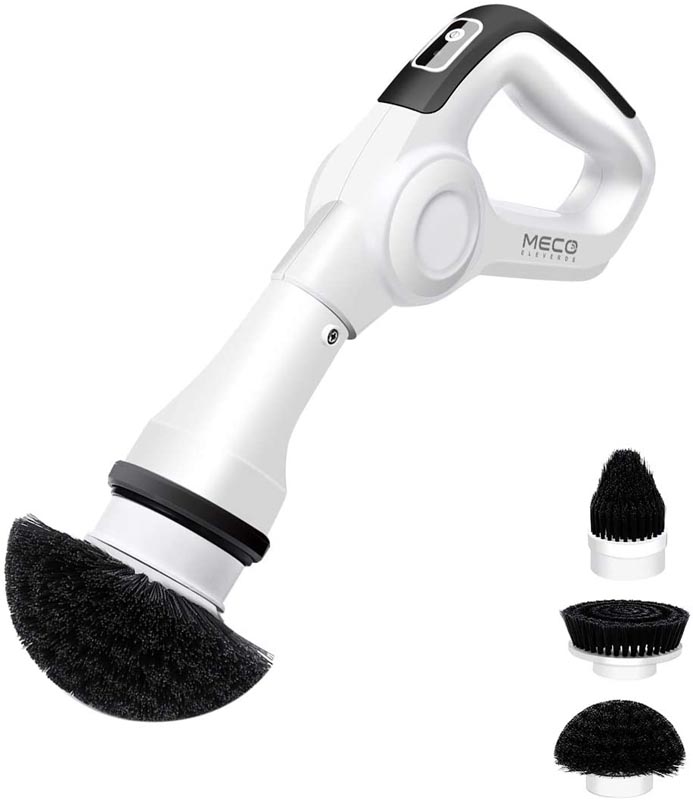 The MECO Electric Spin Scrubber takes care of your hand your home!
It is equipped with the latest cordless design and it's lightweight! This makes cleaning so much convenient, more efficient and gets more coverage. Not to mention, it's armed with a highly-sealed waterproof design making it resistant to wet and splashing water cleaning condition.
It carries a built-in waterproof plug, the Waterproof IPX6, to make sure the water doesn't enter the electric spin scrubber.
It comes with 3 kinds of brushes to meet your ultimate cleaning needs; There's one for bathtubs and sinks, one for floor, tiles, ovens and stoves, and another for tight places like window sills. It's definitely an all-around spin scrubber!
Things you should know:
You have to charge it for about 4-5 hours before the first use
Only works for up to 60 minutes
It has a speed of 350 RPM
Ergonomically designed to keep you from getting tired
---
2. Rubbermaid Reveal Power Scrubber 

Don't be fooled by how it looks, the Rubbermaid Reveal Power Scrubber is not a mechanical toothbrush.
But what it does is somehow the same; it cleans the in-betweens of tiles (the grouts), the nooks and cranny of showers and bathtubs. It makes sure it brushes out the household cavities that normal brushes can't reach.
Though small in size (literally just like a battery-powered toothbrush) the Rubbermaid Reveal Power Scrubber is durable, not to mention, water-resistant. It's also efficiently designed to scrub 60 times per second—makes cleaning so much faster.
This small machine has the capability to release 6 volts of power.
It makes cleaning so much comfortable as well with its ergonomically designed grip with rubberized moulding.
Things you should know: 
It comes with three brushes: Multi-purpose Brush, Grout Brush, Large Multi-purpose Brush
It needs 2 AA batteries for power
---
3. Homitt Electric Spin Scrubber with Rechargeable Battery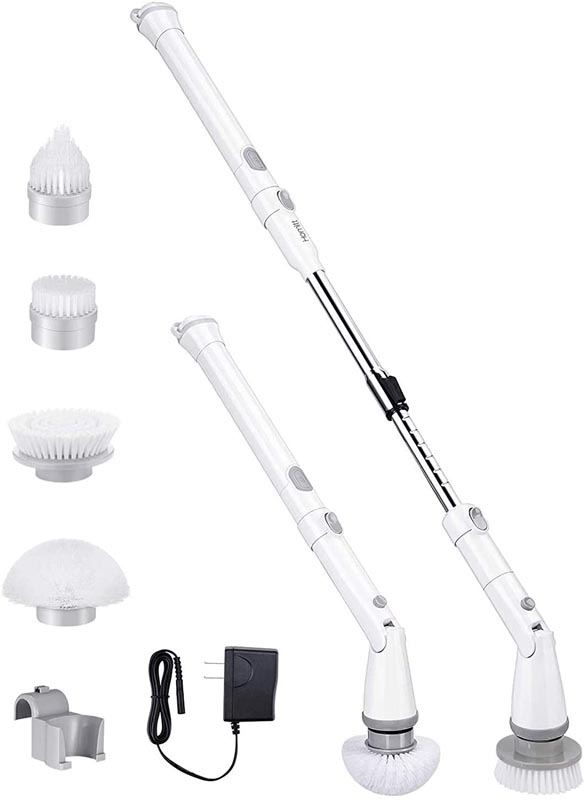 The Homitt Electric Spin Scrubber is a great tool to have especially for those who have Arthritis. It gets the job done twice as fast and much easier than what you are used to.
Unlike the MECO Electric Spin Scrubber, the Homitt only takes 3.5 hours to charge and is good for use for more than an hour. One of its neat features is its upgraded rechargeable powerful battery that carries two advanced durable 3. 6-volt 2150mAH battery.
Just like a tornado mop, this spin scrubber is also extendable up to 21-inch long—no more hard-to-reach places. Say goodbye to neck and back strains!
Things you should know: 
It comes with 4 multi-purpose brushes: Spin Scrubber Extra-wide flat brush head, Small flat replacement brush head, Round Bristle head, and Corner scrubber head.
It comes with a portable hook where you can just hang it after use.
It takes 3.5 hours to charge and it can't be used while charging
Good for 50 to 60 minutes of normal use and 1.5 hours for empty rotation
---
---
4. Electric Spin Scrubber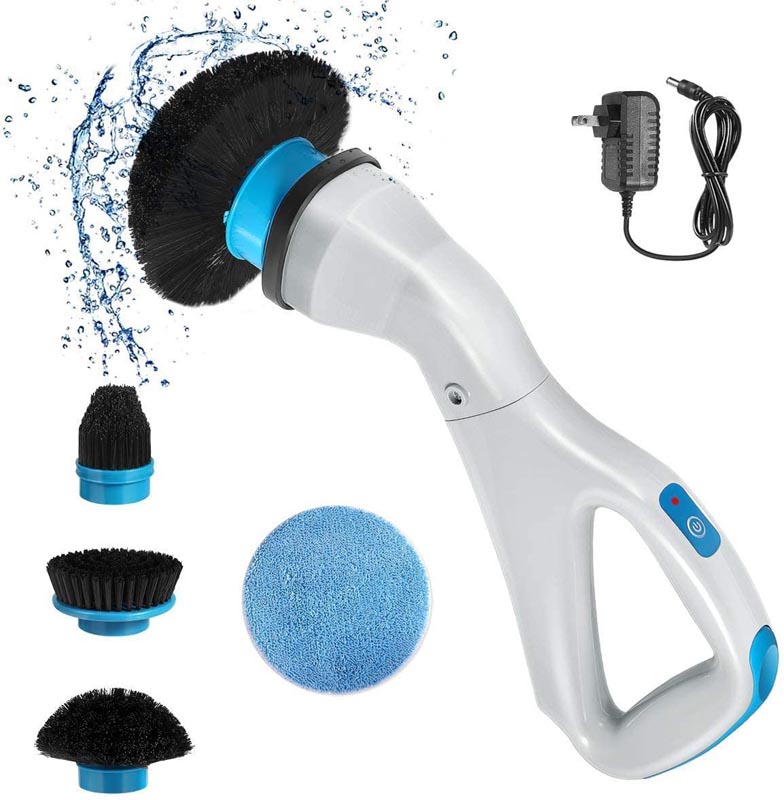 This Electric Spin Scrubber is great for use anywhere because it is a cordless and rechargeable cleaning tool. It scrubs heavily running at 500 RPM.
It's so durable that you can even use it to clean your car wheels. In one package, it offers a wide range of brushes that makes this tool handy anywhere and in any cleaning situation.
The handle is designed ergonomically as well, making it easier to use, without the fear of back pain nor wrist pains.
Things you should know: 
It's only good for 30 minutes of use after 6 hours of charging.
The package includes a scrubber, a cleaning brush, a corner brush, a flat brush and a microfiber pad.
---
5. BLACK+DECKER Power Scrubber Brush (PKS160)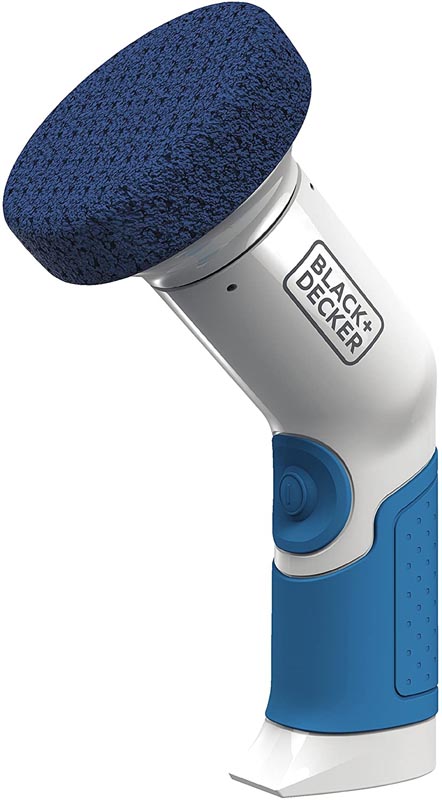 The BLACK+DECKER Power Scrubber Brush (PKS160) is designed in a way that you can still clean while fully submerging underwater when cleaning. So it just made pool cleaning a lot easier.
But it also makes a great tool to have to clean deep dishes and pots, casseroles dishes, greasy pans and glassware. It has a rubber over-moulded handle for slip-free use, comfort and control.
The BLACK+DECKER Power Scrubber Brush has a scraper-edge as well making it easier to remove those tough, baked-on food. Although some users say that the pads get worn easily after more than 20 minutes of use.
Things you should know: 
It's a powerful tool but the strength does weaken when the battery slowly dies.
It needs 4 AA batteries
Each package comes with 2 heavy-duty scrub pads
The scrubber may look bigger in person than on the pictures online
6. TACKLIFE Power Scrubber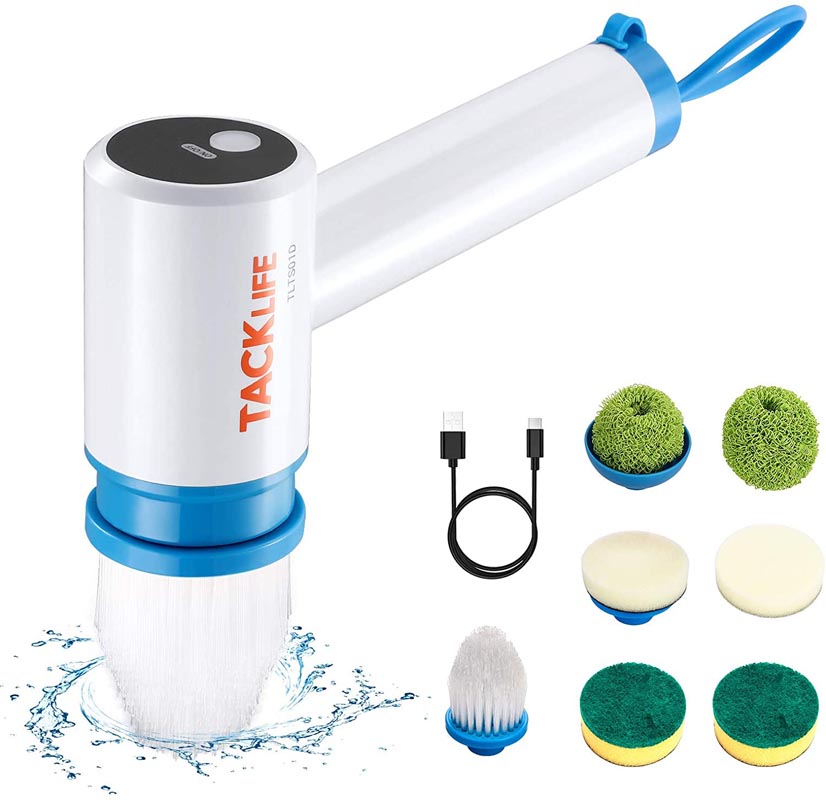 The No products found. has the least charging time among all others mentioned in this list. It only needs 3 hours of charging time, which can already provide up to one hour of continuous use.
It's exterior is designed for long use as well. At first glance, it looks like a mechanical face scrub, but it does clean better—more than spots and stains. It has a powerful motor with a 400 RPM speed.
It's also waterproof. To use this scrubber to its greatest potential, you have to soak your things first with detergent before you start scrubbing.
No products found.
Things you should know: 
It comes with a 16-piece attachment set. The sponge brushes, cloth brush, nano brush, and brush holder come in 2s, while the power scrubber and the pointed brush only has one of each.
It's actually a great tool for dishwashing, most especially for when you do heavy washing daily like in restaurants or when you are in the business of food catering.
---
7. RevoClean 4 Piece Scrub Brush Power Drill Attachments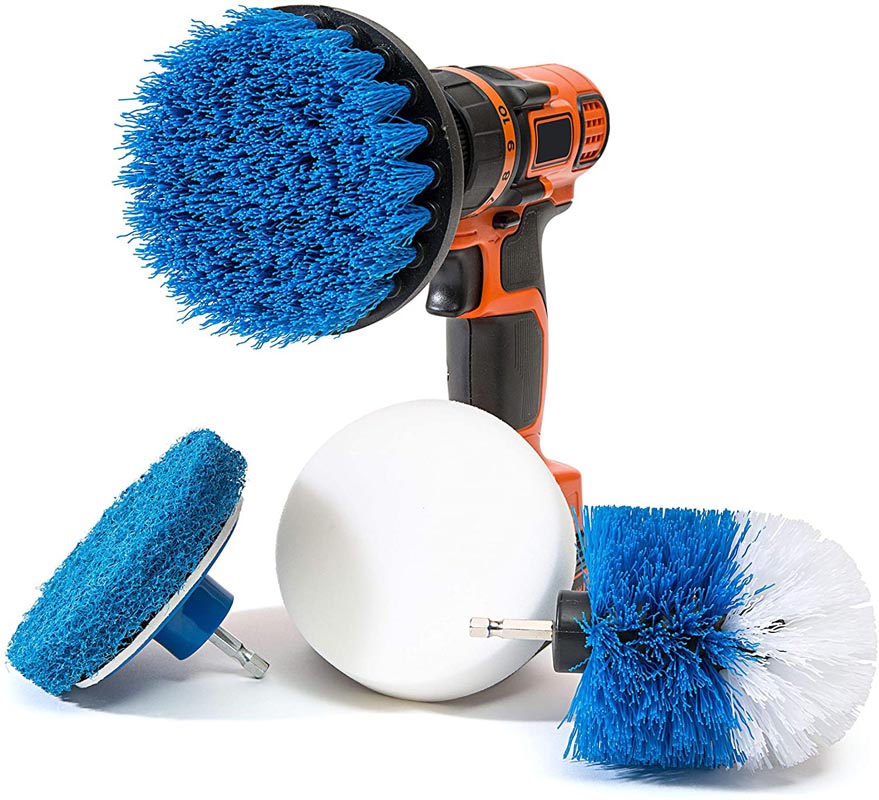 Get a professional quality cleaning but within the budget with the RevoClean 4 Piece Scrub Brush Power Drill Attachments. It's a 4-in-1 cleaning kit that includes two different types of nylon round brushes, a non-scratch scrubber, and a non-scratch sponge.
And just like the Holikme, the brush attachments can be used with any other electric drill. So if you have one lying around, all you need to buy are the attachments.
The RevoClean is proven by many users that it cleans grouts effectively, making your bathroom floors brand-new looking once again.
Things you should know: 
The round brush for hard-to-reach places is a bit big that it may not be able to reach all nooks and cranny.
It can clean any surface; from bathroom tiles to showers, carpets, and even marbles, mirrors and windows — without scratching any surfaces.
---
8. Holikme 8 Piece Drill Brush Attachment Set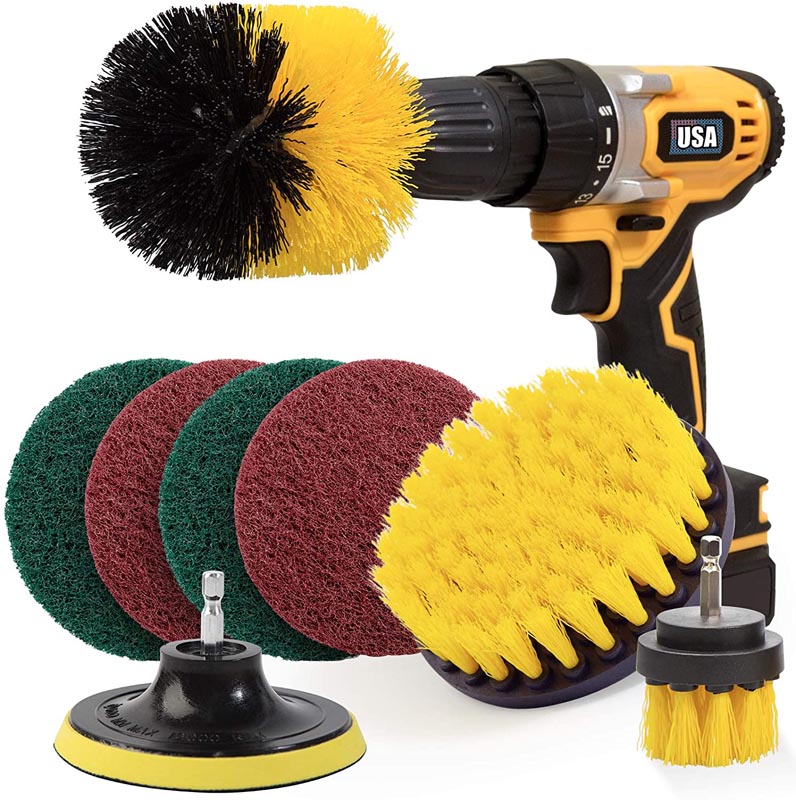 The Holikme 8 Piece Drill Brush Attachment Set is like your handy drilling tool but for your cleaning needs.
The handle and the machine itself looks closely similar to a drilling tool, but the attachments are power scrubs, brushes and pads. Don't feel intimidated to how it looks because it's designed for a deeper clean result.
The brushes are made of nylon bristles that won't scratch surfaces like on floor tiles and toilets. It's also an efficient tool for getting those hard burned coals off your kitchen pans. The bristles are purposely designed to be stiff make sure they get the toughest dirt out.
It's an 8-piece set where the brushes are categorized by colours. The green pads are stiffer and thicker than the red ones, but both are scouring pads. While the yellow ones are the actual nylon bristle brushes.
Then there's the black one that's for the heavy cleaning on grills, lose paints, furnaces, and baked-on food surfaces. The white brush has soft bristles that are good for windows, carpets, glass, and leathers.
It actually offers all types of brush for all types of cleaning.
Things you should know:
The cleaning drill is sold separately
Almost all types of drills are compatible with the brush attachments
---
Best Bathroom Power Scrubber Buyer's Guides
Below is a detailed guide on what you should look for when buying a bathroom power scrubber. Here are the most important features:
1. Motor
The motor dictates the power and rotation speed of the brush head or mechanism.  Ideally, you would want to choose a power scrubber with at least 200RPM, which from our research is the minimum requirement to scrub out tough stains. Just bear in mind, that the more powerful the motor the more of a drain it is in the battery, so a higher RPM may become a liability if you are attempting to clean things outside away from plugs.
2. Brush Heads
The brush head defines the level of abrasion at the point of contact and arguably makes the biggest difference in the level efficacy. This is true if you buy a power scrubber all-in-one or just a pack of brush head attachments for power drills.  Make sure you purchase a power scrubber that has the appropriate brush head for the job you have in mind. You don't want something too rough for delicate surface and you don't want something too soft for persistent stains.
3. Weight
Weight is something that isn't immediately obvious but quickly becomes apparent when using a power scrubber for longer durations. The aim of a power scrubber is to make cleaning tasks easier but an overly heavy one can create a lot of work. Make sure you choose a bathroom power scrubber that you can comfortably hold for at least a few minutes at a time
4. Versatility
Power scrubbers are often very versatile devices that can accomplish a lot of different cleaning tasks. ake sure you buy one that is suitable for a range of cleaning jobs to save you money in the future. A lot of the versatility comes in the form of the brush heads but there is also versatility in some of the bathroom power scrubbers themselves.
Bathroom Power Scrubber FAQs
[select-faq faq_id='19691′]
[select-faq faq_id='19693′]
[select-faq faq_id='19695′]
---
The 3 Best Selling Bathroom Power Scrubbers
Last update on 2021-05-17 / Affiliate links / Images from Amazon Product Advertising API