ⓘ We are reader-supported and may earn a small commission at no additional cost to you if a purchase is made through one of our links.
Dust can cause severe hardware damage to electronic devices. If you own gadgets with electromechanical parts, you should consider buying the best electric air dusters. With the help of an electric air duster, you can safely blow away dust particles from keyboards, printers, computer motherboards, device ports, cameras, etc. Electric air dusters are not only convenient but also eco-friendly. Plus, they can be a great alternative to compressed air cans and dusting brushes.
The air dusters that we have hand-picked for you are equipped with powerful motors that will help you get the job done within the shortest time possible. Additionally, some models feature a dual-mode design in that you can use them for blowing or sucking dust. These pieces of equipment are not only effective when it comes to eliminating dust but can as well be used for clearing away pet dander from sofas and air conditioners.
TL;DR: The #1 Electric Air Duster for Most People 👇
If you are a tech enthusiast, then you must be aware that excessive accumulation of dust on electronic components can cause overheating. Well, you can prolong the lifespan of your gadgets by using any of the electric air dusters that we have reviewed below. We have covered a range of models to increase your chances of finding the most ideal choice for your needs. Additionally, we tested most of the air dusters to ensure you only get the best.
The Best Electric Air Dusters to Buy Today in Australia
1. Best Air Duster for PC: IT Dusters CompuCleaner Xpert
The IT Dusters CompuCleaner Xpert is not only our top pick but also the best value electric air duster on the list. It comes with a range of accessories that can help you clean your PC, game console, and any other dusty gadget  that may require dusting. With up to four nozzle attachments to choose from, this device allowed us to clean our PC with the utmost ease.
Furthermore, it has 2 speed settings that you can use in different scenarios. The highest speed setting is ideal for deep cleaning hard-to-reach areas, while the lowest setting can assist you when blasting off dust particles from delicate components.
To get the best from this air duster, ensure that you attach the right nozzle and employ the most appropriate speed setting. What's more, it comes with three ESD brushes that will help you remove stubborn dust from surfaces. The micro bristles are gentle on fragile parts, but tough on dust.
Additionally, the nozzle attachments are very easy to swap, so you can switch from one accessory to another in seconds. The internal air channels are scrupulously designed for enhanced performance. To make it even more reliable, this electric air duster is factory tested, so you can use it with no worries.
Besides, we also tested it to see if its performance corresponds to the good reviews it has on Amazon. Speaking of reviews, the IT Dusters CompuCleaner Xpert has the most reviews on the list and boasts a 4.7-star rating as of the time this piece was written.
Although the motor has a rating of 550W, it can deliver powerful blasts of air and will enable you to blow away even the thickest blanket of dust with a single pass. This electric air duster is trusted by professionals the world over, so you can buy it knowing that it will deliver good results.
The fact that it is lightweight makes it even more convenient because you can blow off dust extensively without experiencing fatigue. However, we noticed that the unit runs hot when used continuously, so you need to take breaks, especially when tackling large dusting tasks.
---
2. Best Air Duster for Keyboard: ByeBug Cordless Air Duster & Vacuum 2-in-1
If you are looking for a versatile air duster that can effectively clean your keyboard, the ByeBug Cordless Air Duster & Vacuum 2-in-1 may just be the right choice for you. This is more than your average electric air duster, thanks to its dual-mode design.
You can use the blower function and can as well employ the suction mode when clearing away dust. This makes it ideal for cleaning keyboards and other electronic gadgets with buttons.
You can easily switch modes by turning the upper collar clockwise or counterclockwise. The suction mode has a maximum pressure rating of 8kPa, while the blower function can generate wind speeds of up to 30m/s. Best of all, you can take it with you just about anywhere.
It can even be used for cleaning car dashboards, seats, air conditioners, etc. Included in the kit are 2 easy-to-attach brush nozzles that will give you quick and easy access to all dusty areas. Moreover, you can customise the air duster according to your needs.
The foldable side handle can come in handy when blasting air into narrow spaces. You can also detach the top part, so it will all depend on what you are cleaning. The other thing that we liked about this air duster is that it is both lightweight and compact.
It won't weigh you down, and neither will it strain your wrist. The ByeBug TAD057 can run continuously for 30 minutes on a fully charged battery. This may, however, vary depending on the speed setting that is in use.
With this air duster, you can thoroughly clean dust-coated gadgets without using dust brushes. It can help you remove pet dander, bread crumbs, and microscopic dust particles from your bedding and other surfaces.
---
3. Best for Most People: Koonie Cordless Air Duster
The Koonie Cordless Air Duster features a built-in 6000mAh battery, making it similar to the ByeBug Cordless Air Duster & Vacuum 2-in-1.
It has a simple design and is also fitted with a high-performance motor that can deliver 33000 revolutions per minute (RPM). This creates powerful gusts of air that will allow you to blast off dust from your hardware.
Like all units that we tested, the Koonie Cordless Air Duster is both versatile and efficient. Its use can apply when cleaning consoles, printers, keyboards, cameras, device ports, to mention but a few. The nozzle attachment is meticulously designed to maximise delivery.
As such, it will convey compressed air directly to the spot that you want to clean. The motor compartment is purposely vented to increase air intake. Aside from that, the vents allow the unit to run cooler, so don't expect this air duster to overheat. This makes it safe for cleaning gadgets with delicate integrated circuit systems.
On top of that, it can help you extract dust from sofas and any other surface that may require you to use a unit of this type. This cordless air duster is counterweighted, so it won't fall over provided that you place it on a flat surface.
Depending on your preference, you can use the automatic function or manual mode. You can switch modes using the included switch. And because it is cordless, you won't have to worry about tripping over pesky power cords whilst cleaning.
Nonetheless, we feel that the handle needs improvement. Also, the battery requires up to 3 hours to juice up, which can be a limiting factor in case the unit runs out of power in between the dusting session.
---
4. Best Cordless Air Duster: SooPii Cordless Air Duster
The SooPii Cordless Air Duster is probably one of the most powerful cordless units that our team tested. This model has great features that will help you blast off dust and other debris from your electronic gadgets. The 15000mAh battery will provide you with about 50 minutes of uninterrupted runtime. However, this only applies if the battery is fully charged.
Plus, there are multiple ways through which you can recharge the battery. That being said, you can use a car charger, power bank, computer, or an outlet. Besides, the manufacturer has included a USB-C charging cable and power adapter in the package for your convenience.
There is also a charging indicator light that will let know when the battery is fully charged. The light will flash during the charging process and will glow steadily once the battery has reached its full capacity.
Both the light and speed control buttons are strategically placed for a hassle-free user experience. And like most electric air dusters on our review list, this unit features low and high speed settings. The former will provide you with 40m/s of wind speed, while the latter delivers up to 70m/s.
If you are cleaning devices with fragile circuitry systems, you should consider using the low speed setting. The highest speed setting is more suited for deep cleaning purposes.
To add to its list of features, the motor is designed in such a way that it can dispense air at a steady rate regardless of the angle that the air duster is in. This will, in turn, allow you to reach all the areas that you want to clean without the motor stalling.
But it doesn't end there; this product comes with a handy carrying bag that you can use during storage. And because it's compact, it can fit nicely into most glove compartments, so you can pull it out whenever you want to clean your car seats.
---
5. Best Electric Air Duster for Electronics: Xasla 15000mAh Electric Air Duster & Vacuum
The Xasla 15000mAh Electric Air Duster & Vacuum features a high performance motor that can deliver up to 77,000RPM. Additionally, it can compress a large volume of air per unit time, providing you with the power that you need to blow away or suck dust.
It comes with removable precision nozzles that can safely direct compressed air to the target areas. We used this air duster to clean one of our CPUs and the results were amazing. Two of the nozzles have bristles that will help you lift stubborn dust particles. It also performed well when we used it on the other electronics that we cleaned.
The other thing that we liked about this air duster is that it's compact, so it will give you easy access to hard-to-reach spots. To add to this, you can fold down the nozzle for easy storage. The air inlet is fitted with a filter to safeguard the motor against debris and other particles that may damage the moving parts.
It will provide you with commendable results in all dusting applications, thus making it one of the go-to air dusters that you can buy. Plus, this air duster comes with a 15000mAh battery that you can use for charging your phone and other devices.
---
How We Researched the Best Electric Air Dusters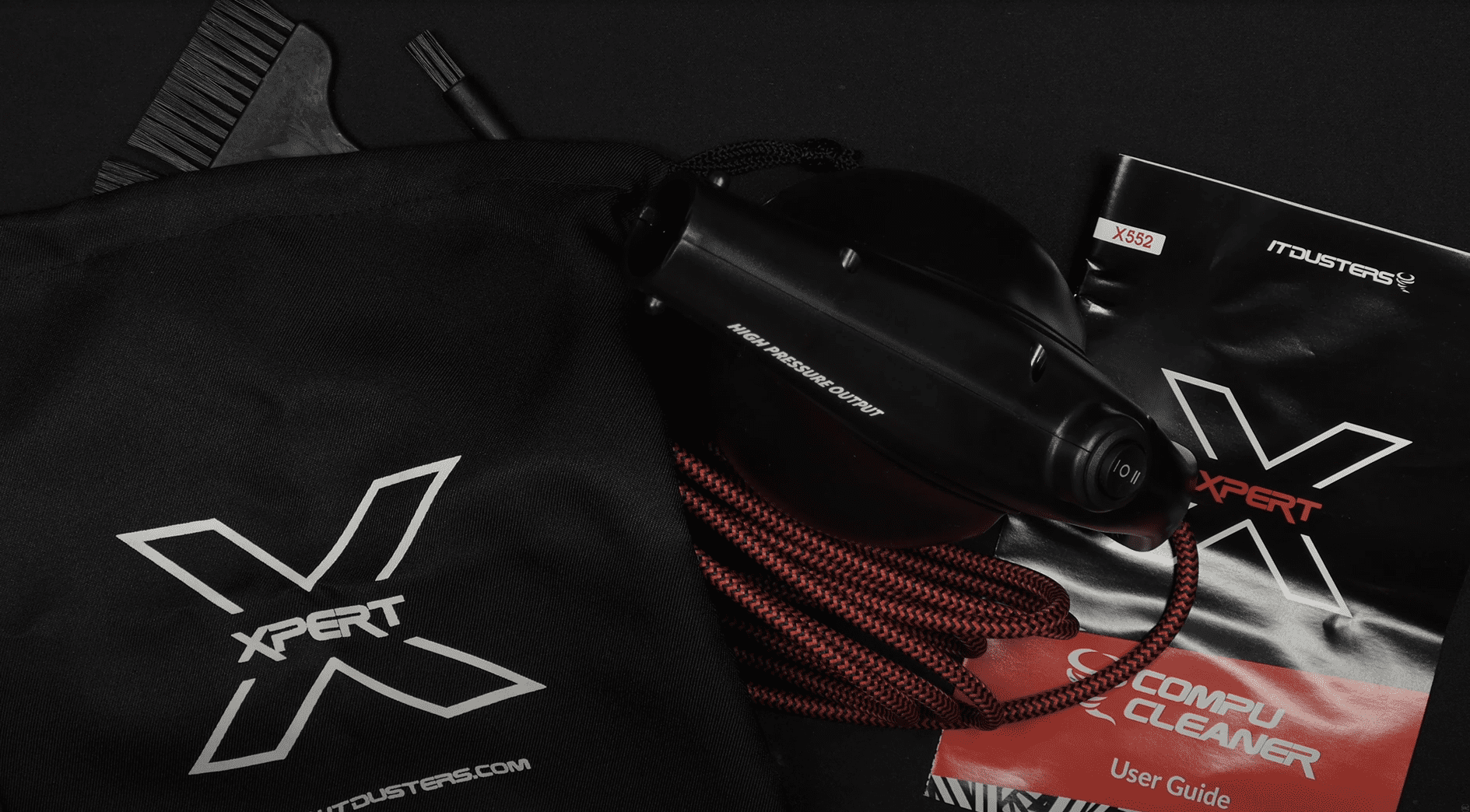 We spent two weeks researching and testing the best electric air dusters we could find in the Australian market. The air dusters were tested for air flow to see how well they can blow away dust particles.
Additionally, we evaluated the test models to check whether they are ergonomically designed and easy to use. We used the air dusters to clean laptop keyboards, CPUs, an Xbox, PC, PS5, and a printer.
During the testing process, we applied all the available speed settings to assess the performance of each unit. All the air dusters that we tested easily removed topical dust on most of the electronics that we cleaned.
However, we had to attach the bristle nozzles to remove deeply embedded dust. Some of the models came with specially designed nozzles that allow for direct delivery of compressed air.
As such, we were able to direct compressed air to the target areas without experiencing any problems.
Electric Air Dusters: Buying Guide
If you are in search of an electric air duster, there are things that you need to consider in order to find a unit that offers value for your money. As earlier stated, there are a number of factors that we took into account during the selection process. Furthermore, air dusters vary when it comes to performance and also have different features.
What to Consider When Buying an Electric Air Duster
Here are some of the things that you need to consider when picking an electric air duster:
Motor speed
Electric air dusters are fitted with different types of motors. With that being said, some models are more efficient than others, so you should see to it that you pick an air duster that can deliver the power that you need. Motor speed is often measured in revolutions per minute (RPM). The air dusters on our review list have a motor speed of 33,000-60,000 RPM.
You should keep in mind that motor speed can affect airflow. Air dusters with high-speed motors can deliver a powerful airflow and will allow you to blast off even the tiniest dust particles. Airflow is measured in cubic feet per minute (CFM) and is often indicated in the product specifications.
Power source
You can go for cordless or corded air dusters. Cordless air dusters draw their power from built-in rechargeable batteries that will provide you with extended runtimes. The main advantage of using cordless air dusters is that they are portable. As such, you can carry them to wherever the work may take you. In addition to this, a cordless air duster allows for limitless manoeuvrability.
The ByeBug Cordless Air Duster & Vacuum 2-in-1 is one of the best battery-powered air dusters that you can buy. On the other hand, corded air dusters draw power directly from outlets. This means you can operate them continuously without worrying about anything.
Nozzles attachments
Air dusters come with different types of nozzles. When buying one, you should select a model with easy-to-attach nozzles that can help you access hard-to-reach areas. The type of nozzle that you use can impact airflow, so ensure that you use the right attachment for the job.
Some models feature additional accessories like dusting brushes that you can use for other cleaning applications.
Handle design
Most electric gadgets have delicate components that can easily get damaged during cleaning. You can prevent this from happening by choosing an air duster with an ergonomically designed handle. This will not only give you full control over the air duster but will also provide you with maximum comfort during usage.
Charging time
Charging time should be considered when buying cordless air dusters. Ensure that you pick a unit that can charge to full capacity within a limited duration. You should also consider the maximum runtime of the battery.
Price
The price of an air duster may vary depending on the brand, features, and accessories included in the package. You should choose these units based on your budget and needs. Our review list consists of air dusters that come at different prices, so you can select one that suits your budget.
Features to Look for When Buying Electric Air Dusters
Besides the factors that we have mentioned above, there are key features that an electric air duster ought to have:
Adjustable speed 
Most air dusters have two speed settings that you can use when blowing away dust. As such, you can set the motor to operate at low or high speed. This makes them ideal for cleaning a variety of gadgets.
Work light
Some air dusters feature bright LED work lights that will illuminate the area that you are cleaning. This feature can come in handy when blowing dust from delicate gadgets as it allows you to see what you are working on.
Replaceable filters
Air dusters are fitted with filters that prevent the ingress of dust particles into the motor compartment. This will not only prolong the lifespan of the motor but also allows it to run smoothly while staying cool.
---
You may also be interested in:
Last update on 2023-12-11 / Affiliate links / Images from Amazon Product Advertising API