ⓘ We are reader-supported and may earn a small commission at no additional cost to you if a purchase is made through one of our links.
The best office chairs offer excellent ergonomics that increase comfort, productivity, and overall well-being. With the pandemic changing the way we work, a good office chair has become increasingly important. Now you need one for the office, but also one for home.
They are a large part of our working lives but oftentimes we make do with a dining chair or in some cases garden chairs! Well, this guide will help you improve your workspace and level up your productivity.
TL;DR: The #1 Office Chair for Most People 👇
The Best Office Chairs You Can Buy in Australia Today
1. Best Office Chair for Lower Back Pain: Ergotune Supreme V3 Office Chair
The Ergotune Supreme V3 is an office chair that I have personally used for a long period of time and am more than happy to say it is the best office chair in Australia. It ticks every box you expect from a premium office chair and even takes on the likes of the super-premium Herman Miller chairs!
This office chair comes in different sizes ensuring no matter your height, you'll be sitting on something specifically designed for your build. In addition to appropriate sizing Ergotune take great care in ensuring their chair is as comfortable as possible in every area.
The Ergotune Supreme V3 offers excellent lumbar support with 11 points of adjustment. There is an extremely comfortable and supportive headrest that once you use you'll wonder how you lived without it.
The breathable DuraWeave mesh fabric covering the seat and backrest is cool and comfortable and perfect for long sessions. Unlike heavier fabric or leather chairs you never get "stuck" to the seat in warmer weather which is always a plus during the warmer months.
There's also a lot of adjustability when it comes to tilt and height. But it's not just limited to that the armrests can be adjusted in height, backward, forwards and pivoting horizontally.
The build quality is excellent making the chair very sturdy and squeak-free. It's not too heavy either, with the right balance between sturdiness and maintaining a lightweight being achieved.
So if you're looking for an office chair that you'll love using for the foreseeable future then you cannot look past the Ergotune Supreme V3!
---
2. Best Office Chair for Airflow: Sihoo Ergonomic Office Chair
The Sihoo Ergonomic Office Chair is one of the most popular office chairs on Amazon Australia, with over 700+ ratings and a very impressive rating of 4.4!
This chair is designed with productivity in mind. With a mesh back for optimal airflow, a premium cushion for extra comfort, and the full suite of adjustable elements, the Flash Furniture office chair does it all.
There are heigh adjustable padded armrests, back height adjustments, back angle adjustments, seat tilting, and of course heigh adjustments. All of this together allows you to tinker with things until you have it set up perfectly for your body shape!
It has an easy assembly process with clear instructions that make it an absolute breeze to set up. So, if you're looking for a new office chair that can do it all, then consider the Flash Furniture Mid-Back Office Chair!
---
3. Best Office Chair for Big Person: MIUZ Executive Chair
The MIUZ Executive Chair is arguably the most stylish office chair that we tested. Despite being stylish, there is a surprising amount of substance to be found.
We recommend this office chair for big people because it is wide and sturdily built. Of course, it won't be in the same league as some of the other office chairs in this list in terms of ergonomics, but its style can really make a room look complete!
It uses a cushioned backrest for support and breathability and a thick padded seat cushion for long sitting sessions.
This chair borrows its design from the 80s with a masculine and strong style that would look great in almost any office environment.
The brown PU leather has a classic tone that works excellently with the black armrests and wheelbase. So, if you're in the market for a stylish budget office chair, this is well worth your consideration!
---
4. Best Office Chair for Posture: KERDOM Office Chair
The KERDOM Office Chair is a popular office chair among those looking for a premium experience without the price tag. It features a reclinable backrest that you can tilt up to 120 degrees.
We were able to make quick and easy adjustments from 90 degrees to the maximum adjustable angle, thanks to its straightforward design. Moreover, this chair offers adjustability everywhere you would expect, from the height of the chair to the angle, the armrests, and even the lumbar support.
There's no option to adjust the distance of the seat to the backrest, but that is typically only found in much more expensive chairs. It uses a combination of a mesh back and a high-density cushion to provide a very comfortable sitting experience, even after long hours.
The other thing that we liked about this office chair during testing is that you can flip up the armrests. That way, you can easily slide the chair under your work desk, creating more space in your office when needed.
Also, the chair is very easy to assemble.We (two people) put all the parts together in about 12 minutes. The instructions are very clear and easy to follow!
So, if you're in the market for a modern-looking office chair that delivers in terms of style, comfort, and functionality, this could be the one for you!
---
5. Best Value Office Chair: MIUZ Ergonomic Mesh Office Chair Gaming
The MIUZ Ergonomic Mesh Office Chair Gaming takes the fifth spot in our list of the best office chairs, thanks to its superior comfort, ergonomics, and adjustability. It includes an adjustable curved headrest, two-way lumbar support, adjustable armrests, and a 90-120 degree reclining backrest.
There are even features usually only seen in the highest-end chairs. For example, you can adjust the position of the armrests by sliding them back and forth, but the real winner is the ability to adjust neck and head support. This is indicative of the quality seen throughout this fantastic office chair
This office chair also takes advantage of premium materials, which don't just last longer and offer better durability but actually increase the comfort and support for the whole body.
The premium mesh back adapts to the shape of your back and supports you where you need it most. The 'w' shaped seat cushion is designed for long sitting sessions and uses high resilience mesh to provide a durable, transformation-resistant, and incredibly comfortable base.
To top it all off, this office chair comes with great instructions that make the assembly process very clear, quick, and easy. No messing around for hours trying to decipher a bunch of low-quality illustrations. Instead, you'll have it put together minutes after it is delivered.
So, if you're in the market for one of the best office chair currently available for purchase in Australia, look no further. It's incredibly comfortable, ergonomic, and aesthetic – oh and did we mention it has a 1-year warranty? Well, it does!
---
6. Best for Most People: Artiss Office Chair
The Artiss Office Chair will take you back to simpler times when offices had zero computers and smokos didn't exist because you could just light one up at the desk!
And the quality doesn't stop with the classic aesthetic, it's found throughout all of the functional design as well. This office chair uses high-quality material throughout from the chrome-plated aluminum armrests to the viny, ribbed backrest.
It's a little firmer on the backside compared to the modern mesh style or cushioned seats you see more commonly in a modern office, but that's not to say it isn't comfortable. Just be aware, this chair is on the firmer side.
It employs 5 dual-wheel castes from an incredibly smooth roll, with t same smoothness found in the swivel mechanism as well. The chrome-plated aluminum frame looks the part and is also incredibly sturdy as well. The same sturdiness is found in the padded armrests too.
Once again, users report that this is incredibly easy to assemble, with some reporting 10 minutes! So, if you want an incredibly stylish Eames-style office chair, this is the office chair for you!
---
7. Best Office Chair for the Money: Ekkio Executive Office Chair
The Ekkio Executive Office Chair effortlessly blends modern design with comfort and functionality. It takes a bold approach to its aesthetic with a striking blue cushion that contrasts with the black and silver finish seen elsewhere in the office chair.
It uses a combination of mesh and high-quality foam cushioning to provide a supportive, comfortable, and breathable seating experience.
This is further improved by the adjustable lumbar support that removes the need for a lumbar support cushion. There's also a mesh headrest for full-body support.
It's a highly adjustable office chair that can rotate 360 degrees, tile from 90-115 degrees, that locks at different stages, as well as an adjustable gas cylinder for height adjustments.
The chair is connected to a very sturdy 5-point wheelbase that's designed to support up to 330 lbs. The wheelbase uses incredibly smooth casters to allow for easy maneuvering over the floor without causing any damage.
Overall, this is a striking chair that offers excellent comfort and wouldn't look out of place in any office environment!
---
How We Picked the Best Office Chairs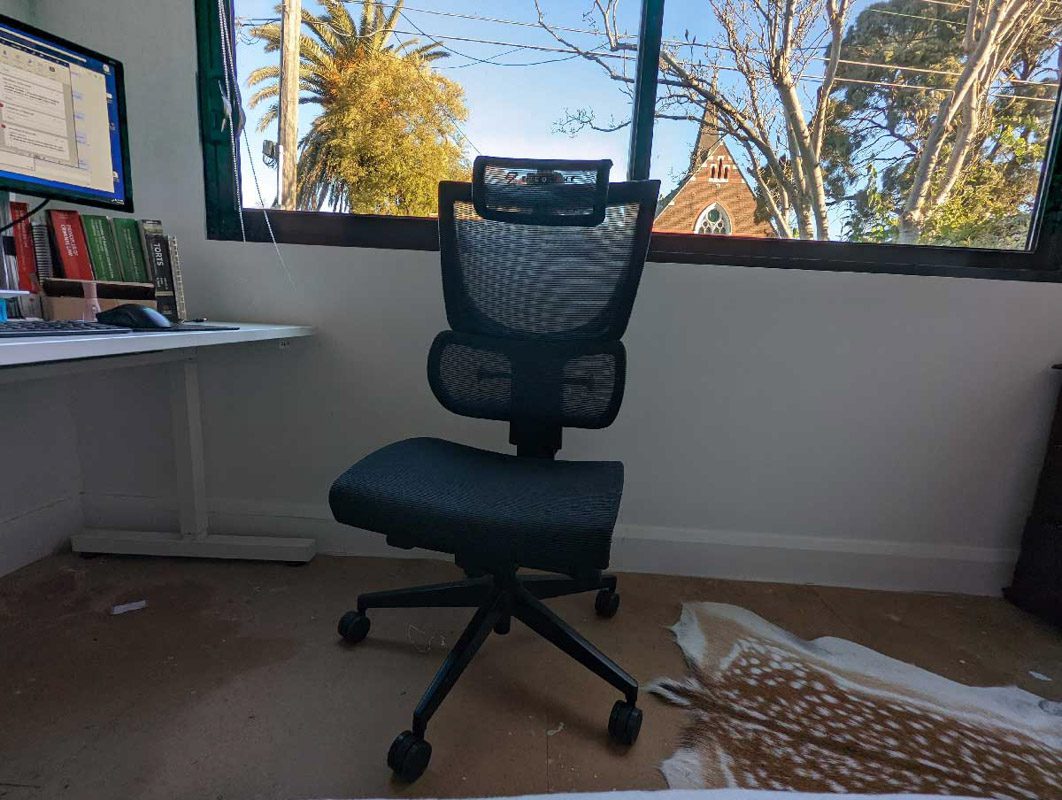 We looked at over 25 different office chairs across the Australian marketplace, considering options from well-known brands, independent retailers, marketplaces and furniture stores.
Our team then picked 7 office chairs and tested them for comfort, durability, and adjustability. We created a panel of seven testers who helped us evaluate the chairs for three months.
We had the panel sit on the selected office chairs for several hours throughout the testing period and asked them to give an honest opinion about how they felt when it comes to the just-mentioned factors.
They mostly used the chairs for regular office work such as typing, writing, during meetings, and more. Additionally, we asked our testers to make use of all adjustability settings available on all the adjustable test models.
We also tested the castors on different surfaces to see how smoothly they roll. After this, we ranked the office chairs, taking into account all our findings.
Office Chair: Buying Guide
Buying an office chair is an important purchase. It impacts your health, productivity as well as forming a large part of the office aesthetic. They say you should always spend good money on things that separate you from the ground, be it shoes, a mattress, or in this case an office chair.
Before you decide which office chair to spend your money on it's a good ideal to learn about the main considerations, why they're beneficial and how to best adjust them for your particular body type.
The Benefits of Owning an Office Chair
There are numerous benefits to owning a good office chair. In this section, we'll reference the scientific literature to determine the real benefits, rather than just the claimed ones:
Office Chairs Increase Productivity
High-quality office chairs increase productivity due to numerous factors. This first study researches the impact that a noisy chair can have on people's health and productivity. They state the following:
The issue of noise generated in professionals office chairs, as noted, can cause inattention, irritability, stress, disturbed sleep at night, among others…
This next study assesses the productivity increases of using an ergonomic chair along with ergonomic training. The study has shown that:
It was found that the chair with the training group had a productivity increase of 17.7%. The benefit-to-cost ratio was 24.6:1. These findings provide strong evidence of the benefits to using well-designed cost-effective ergonomic interventions in improving worker productivity.
Office Chairs Support Better Health
Many office chair manufacturers talk about the health benefits of owning a good ergonomic office chair, but how true are these claims?
This first study examined the "effect of office ergonomics intervention in reducing musculoskeletal symptom growth over the workday and, secondarily, pain levels throughout the day." From this study it was shown that:
Workers who received a highly adjustable chair and office ergonomics training had reduced symptom growth over the workday.
This next study looks at the benefit of using an office chair with lumbar support. It concludes the following:
Sitting on a novel dynamic chair resulted in less lumbar flexion and less back muscle activation than sitting on a standard backless office chair during a typing task among pain-free participants. Facilitating lordotic sitting with less muscle activation may reduce the fatigue and discomfort often associated with lordotic sitting postures.
This study also looks at the impact of using an office chair with and without lumbar support. It concludes:
The degree of angulation of the backrest support of an office chair plus the addition of lumbar roll support are the 2 most important factors to be taken into account when considering seating factors likely to favorably change head and neck postural alignment, at least in asymptomatic subjects.
What to Consider When Buying an Office Chair
There are some key factors that you should always pay attention to when buying a new office chair. Here is a breakdown of each of them.
Chair Height
Chair height is arguably the most important consideration. It dictates a lot about your posture and comfort but also how it integrates with your desk. You want to ensure that not only the chair height is comfortable for you, but also that it's comfortable for you when working at your desk. If it's too high or too low compared to your desk that it can detrimentally impact your comfort and productivity.
Seat Size
The seat size plays a large role in the comfort of the chair. You want to ensure that when you sit on the chair the base of your spine is touching the backrest and that the seat extends to the point just before your knee joint.
You'll also want to ensure the seat width is sufficient and comfortable for you. Some office chairs are much more narrow than others, so keep that in mind while shopping.
Back Height
Office chairs typically come with different back heights; low, medium, and high. Some variants offer an extra-high backrest for taller people. Obviously, the level of support depends on the height of the individual using the chair but usually, a high back office chair will support up the shoulder blades, a mid-chair supports below the shoulder blades, and a lower back chair will support up to the curvature of the spine.
Back Support / Lumbar Support
According to scientific research, proper back and lumbar support are critical to spinal health and as a result productivity and happiness. Different office chairs offer varying levels of support in different places. At the very least you should buy an office chair with lumbar support as it has been shown to promote better spinal health. Look for a chair with adjustable lumbar support.
Mesh or Upholstered
This is a hot topic in the world of office chairs with some manufacturers opting for a full mesh design, others for a full upholstered design, and a growing trend of hybrid chairs utilising both. There are pros and cons to each, but it is generally accepted that fabric chairs offer superior ergonomics, as long as they offer an adjustable lumbar support mechanism.
Mesh chairs are still able to provide excellent ergonomics, as long as they're high quality and offer adjustable lumbar support. Another benefit of mesh chairs is the breathability factor which cant be downplayed especially during warmer times of the year
Arm Rests
Armrests are another hot topic in the office chair world. It comes down to personal preference and how you want to sit in your chair and how you sit at your desk. Some people prefer to be very close to the desk and use the desk itself for arm support. Others prefer to use the armrests provided by the chair.
If you do opt for an office chair with armrests then make sure they are at the very least height adjustable.
---
You may also be interested in:
Last update on 2023-12-02 / Affiliate links / Images from Amazon Product Advertising API